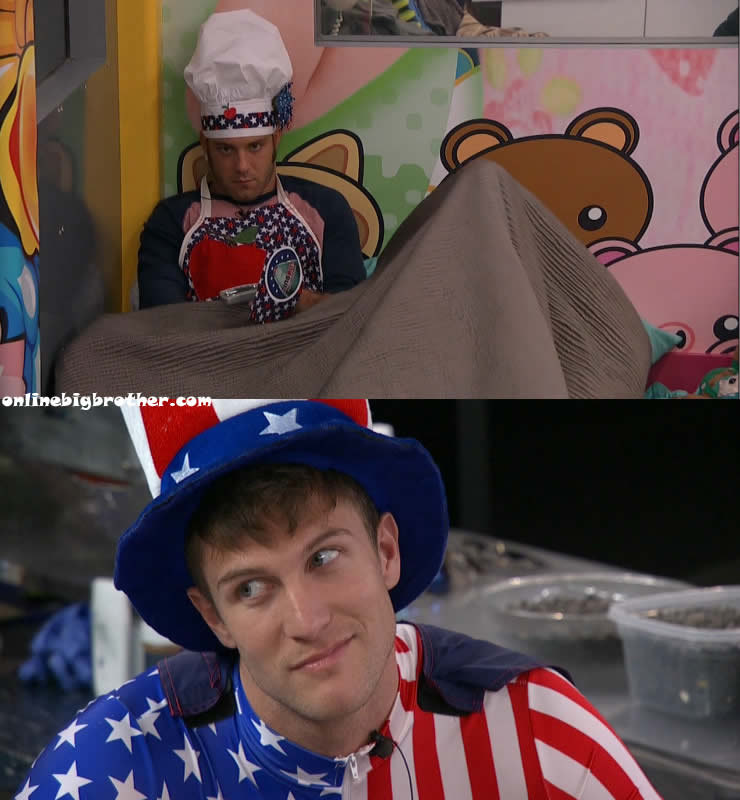 After the double eviction we finally saw a shift in who holds the power in the game and witnessed a whole wack of games get destroyed. As was planned Zakiyah went home, followed by Corey winning both the HOH and Veto. Corey put up Bridgette and Michelle and told everyone he wanted Bridgette out. Paulie rubber stamped this. Bridgette goes home followed by Victor winning the second HOH of the night.
Paulie blew a fuse after what happened the days leading up to and after Zakiyah leaving. It was clear on Thursday night that Corey/Nicole and Paulie are alone, the rest of the house wanting them out being sick of their sh1t for the past 5 weeks. Before nominations Nicole gets the Super safety Care package. This protects her from being nominated. the nomination ceremony goes down, Victor puts up Corey and Paulie.
Corey,Paulie and Nicole hope if they can win the Power of Veto someone from the other side has to go up and they can flip 1 vote, at this point they think they can flip Michelle and get Natalie nominated as the replacement. The thing is this is left for Paulie to pull off. Nicole and Corey essentially lock themselves in the Tokyo room while the rest of teh house parties in the London room.
Paul, Michelle and Natalie call Paulie out one more time before the Power of Veto Competition. They bring up his scheming and pitting them against each other, they bring up his douchie comments about Natalie and Bridgette, They highlight his comp wins and shady behavior. People brings sup how shitty he was about Zakiyah.. etc. Paulie does himself no favours and blows a fuse.. After the blow up JAmes lets COrey and Paulie know that one of them is going home regardless of who wins the POV.
Victor wins the Power of Veto ensuring both Paulie and Corey stay on the block. At this point Paulie knows he's the target, he has a mental break, Tells everyone his psychiatrist told him he's playing with fire being in the house.. Paul wants the other side to put paranoia in Corey and Nicole. Make them think they are all on the fence and leaning to keep Paulie. They encourage Paulie to campaign telling him he might have a chance. Paul wants to rattle them so much so they don't win the next HOH.
Paulie tries to cut deals with everyone in the house. Before the POV Ceremony he's trying to claim that he was always just loyal to the boys alliance. Tries to get Victor to use the veto on Corey so they can get out a girl. He uses things like his aunt having cancer, being a loyal person like Cody was etc etc.. Victor doesn't budge and keeps the Veto unused..
After the POV Ceremony Paulie starts up another round of campaigning this time saying they can "weaponize" him to get James or Victor out and if he doesn't pull it off he'll just quit. At one point he told a group of people he wouldn't put any of them up.. Victor later pointed out that leaves just the plant .. Paulei even asked them all to open their tickets up so he could know what his ticket was. (It's ridiculous)
After the the Veto was played the week more or less became dull, they really didn't pull off making Nicole and Corey paranoid. There was a couple times but ultimately James reassuring them every 5 minutes Corey is good didn't help. It's sad cause this would have been fun to watch. Paulie didn't go all cut throat on Corey and while he did campaign it's was ridiculous campaigning. Corey and Nicole are isolating themselves from the rest of the house, in her mind they are Jeff and Jordan. Her delusions are starting to become becoming more and more.
Last minute campaigning by Paulie hours before the live show.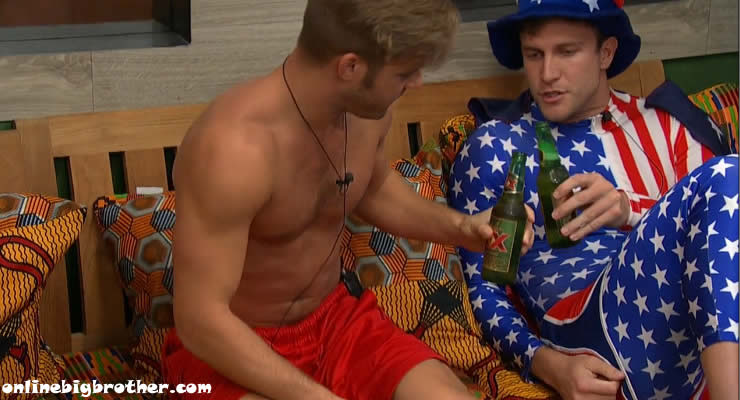 Predictions for tonight
Paulie goes home by a vote of 5-0
Paulie has the round trip and wins HOH. Michelle wins the Co-HOH puts Corey up. Corey goes home. Nicole latches onto Victor for a late season showmance.
Actual results
In Paulie's eviction speech he stays positive and at the end tells Michelle she missed out on one thing this summer … a showmance. He then goes to dip her and give her a kiss.

Michelle votes to evict: Paulie
Nicole votes to evict: Paulie
James votes to evict: Paulie
Natalie votes to evict: Paulie
Paul votes to evict: Paulie
Evicted House Guest: Paulie by a 5-0 vote.
Paulie has a one way ticket and will not re-enter the house. That's the end of round trip ticket twist … what a flop. Paulie says he was trying to play the sympathy card in the house and says crying doesn't work as well for men as it does for women.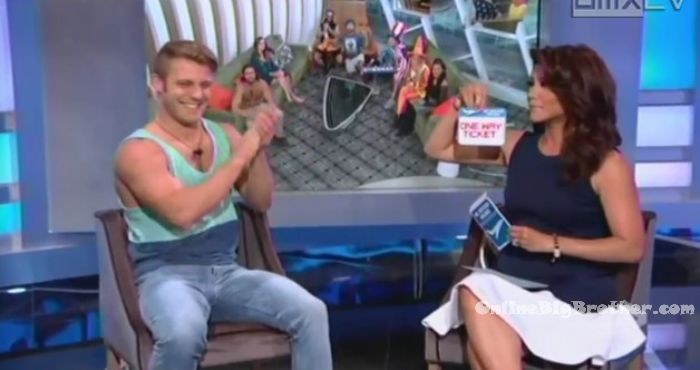 Paul had the round trip ticket. He jumps up and says solved the riddle and got the round trip ticket!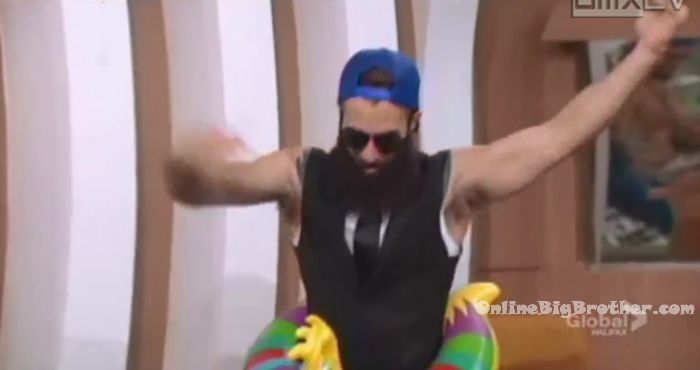 Please note: The #BBLF will be back up tonight b/t 10-11pm PST. The Houseguests are filming something awesome! #BB18

— Big Brother (@CBSBigBrother) August 19, 2016
Tomorrow's special Friday episode the county fair party with Ziggy Marley.
Julie Chen announced that there will be a jury buy back.
HOH Winner: ?
Show your support by making a donation.