POV Holder:
Victor
POV Competition
Aug 13th
POV Used
?
POV Ceremony
Aug 15th
HOH
Victor
Next HOH
Aug 11th
Original Nomi1nations:
Paulie AND Corey
After POV Nominations:
? AND ?
Have Nots
Michelle AND Nicole
Watch the next week of the feeds for FREE – 1 week Trial!
POV Players: James, Paul. Nicole, Corey, Paulie, Victor
POV Host: Natalie is the host
Power of Veto Winner: Victor
James won $5,000
Paul has to run around the house hitting checkpoints all week long
Corey has to wear a Unitard – "patriot-tard"
Paulie has make pies when a noise sounds for the rest of the season
Nicole got a vacation
The Veto came down to Victor and James. James says that Victor told James to go for the 5G's and he would take the veto. (Another comp win for Victor to get to his 10 comp win goal)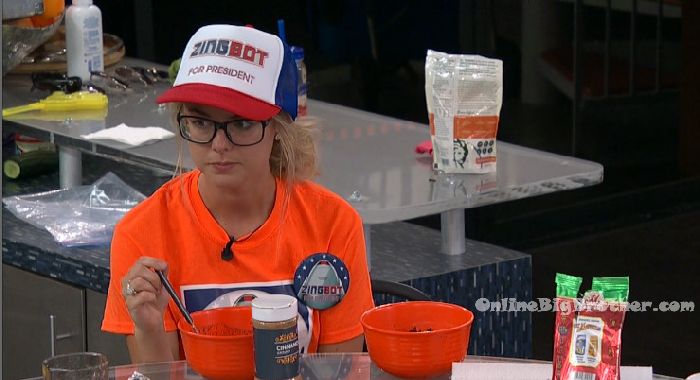 4:40pm When the feeds return – They're all wearing Zingbot hats that say "Zingbot for President". (I can't wait to hear how bad Zing bot roasted them all.)
In the bedroom – Paulie says if he takes him down and puts someone else up I know he still has the votes to get me out. At the end of the day the votes are going where they're going. I'm going home, I don't want him up next to me. I want to at least have something to fight for and campaign. James and Paul hug him and Paulie leaves.
Paul tells James and Natalie that he has no sympathy from this point on. Let's not forget the 28 hours ago when we were getting shit on (by Paulie). James says we're voting him (Paulie) out. He is going. Natalie says he is gone!

Paulie comes up to the HOH room and tells Vic congrats on winning the veto. He says he won't campaign against Corey and would prefer if he used it to take him off the block. I would like to try and fight for my life. The same way how you at least had two people to campaign against. I don't want to campaign against Corey. If you don't want to do that its competely up to you. I won't campaign against any guy. If you do take him down there are options you would put up where I would still go home. Vic says I hear you. Paulie says I appreciate it. They hug and Paulie leaves the room.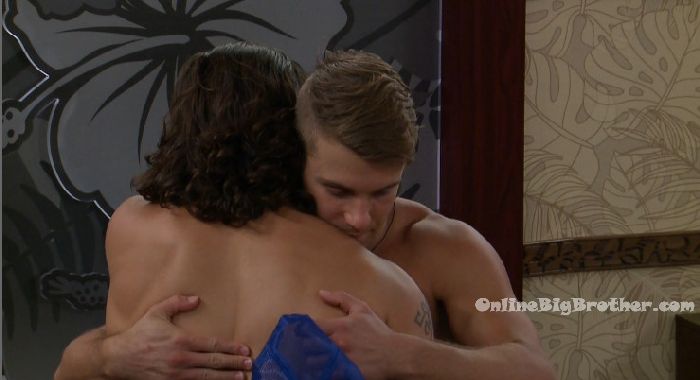 4:55pm Big Brother blocks the feeds..
5:15pm The feeds are still blocked..
5:30pm CBS is such a tease.. the feeds are still blocked.

5:35pm The feeds return – Vic, Paul, Corey, Nat, Nicole and James are in the kitchen. Paul asks so you when you read it, it said we have to wear it all week? Nicole says yes. Paul tells Corey you better be a shower and not a grower bro! Corey says a grower. Nicole comments how Zingbot called someone ugly and it wasn't even an insult. Paul says I'm sorry but I got told to SHUT THE F**K UP! Nicole says I can't believe he swore. Vic says his ZING was said in Spanish "You are a douche bag". Corey says his was You can't sweep her off her feet because Hayden did! Paul says his full zing was "You have a lot of catch phrases – Your boy, friendship, pissed. Well I have a catch phrase you can all get behind. SHUT THE F**K UP!" Nicole says it was so funny that he swore.
Havenot room – Michelle is talking to the camera about how Paulie is going home. I feel bad about blowing up his game and all of that crap, but it's a game. She talks about how exciting it was to have Zingbot come into the house. Paul joins her for a minute. She tells him she was talking to the live feeders. He tells her to tell them to hook a boy up! Michelle says yeah give us a care package. Paul leaves. Michelle says na I don't deserve one.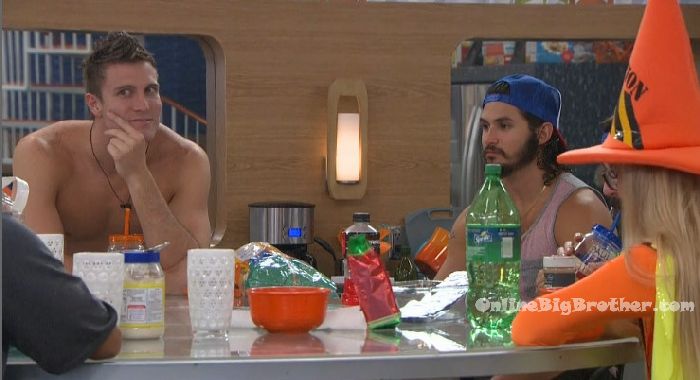 FLASHBACK and watch everything you missed:
CBS All Access 1 Week FREE Trial!
5:55pm – 6:05pm In the bedroom – Natalie tells James that she is proud of him today. Last season you gave up everything, so I'm glad you got the 5k. Nat says hosting was fun. I just need more practice at it. When I don't take my medicine my memory is even worse. Nat says that she's so glad she's had James because he's kept her level headed. James tells Nat I've always had your back. Nat says I've had yours too. James says I know. Paul joins them and jokes they should use the veto on Paulie. James says Paulie was so pissed when he went out there and it was a crap shoot. Paul says he was studying the memory wall before and I asked him what he was doing… he said just staring at the wall. He thought it was going to be face morph one. Paul says that Paulie over shot and got zero. Nat says I'm happy Nicole got the vacation. James says shout out to Natalie's parents .. I hope you don't hate me. (James's zing was something about whether Nat's parents would like him.)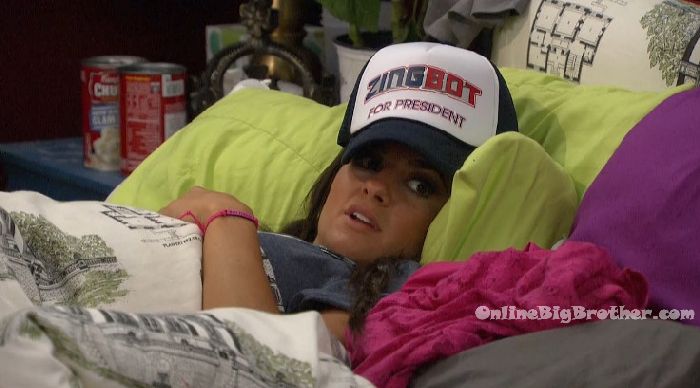 6:10pm – 6:20pm Nicole says I did not expect him to take the power of veto from you. I wanted you to take it because I knew James wouldn't take it from you. I didn't want Paulie to win because then I knew you would be going home. Corey says I need two more votes. Nicole says you have me, Nat and Michelle 100%. Corey says I don't know what to say in my speech. I want it to be good. Nicole says Paulie is going to put up a big fight to stay. Corey goes to talk to Paulie. Corey says sorry about all that. Paulie says it was close but the odds were against us. I asked him to take you down. I'll f**king beg him if I have to. I asked him to give me the same chance to campaign against someone because I said I wouldn't campaign against you. I think they'll still vote me out. Nicole joins them. Corey says hopefully if you do go you have the round trip ticket. They talk about how if he doesn't have it there might be a jury buy back and how he could win it against Da and Z. Paulie says if I do go .. I just know they're going to trash the f**k out of me. James is the one that crushes me the most. Natalie isn't a good person. Corey says I'm going to try and give a good speech and back you up. Paulie says thats only if we're sitting next to each other man. I don't want to go out saying something nasty but I feel like Nat will slam me the way she did to Vic. Nicole says I don't think she will, she had repercussions when Vic came back and you might come back. James says he is standing by her. She will forget about him the moment she is out of this house.

6:30pm The house is quiet with most of the house guests sleeping. Nicole says she can't wait to talk about Corey's unitard in the diary room.