POV Holder:
?
POV Competition
Aug 13th
POV Used
?
POV Ceremony
Aug 15th
HOH
Victor
Next HOH
Aug 11th
Original Nomi1nations:
Paulie AND Corey
After POV Nominations:
? AND ?
Have Nots
?
Watch the next week of the feeds for FREE – 1 week Trial!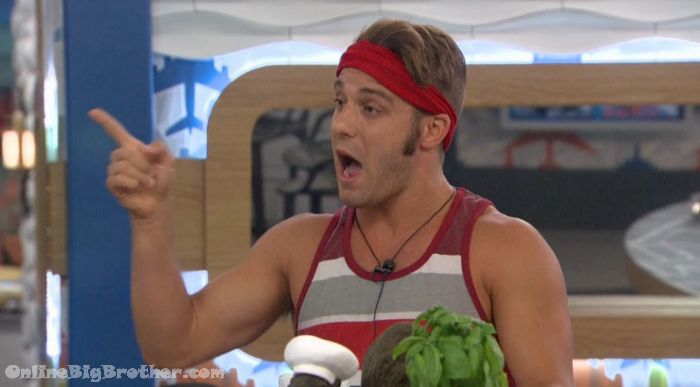 9:34am Kitchen They call out Paulie
Paul – Theres one person you trust in the guys alliance.. Is it me .. who is it?
Paulie – i'm sticking with the guys alliance
Paul – I'm offended man.. Who is it that you trust.. You said one person
Natalie asks him if he said it was hilarious to put her up
Paulie says he did along with everyone else in the house except for James.
Paulie – I manipulated everyone in the house except the guys I am working with
Paul says he had a distaste for JAmes because of things Paulie was saying and James had a distaste for Paul because of what Paulie was saying.
Paul – I had your back
Michele – I had your back until you screwed me over
Natalie – you manipulated us
Paul – why is my name getting tossed around once again..
Paulie says he trust the guys hasn't "tossed" any names out
Michelle – you said you only trust 1 guy in the all guys alliance
Paulie says he got screwed over by 3 outta 5 people in his alliance
Paul doesn't believe that PAulie has his back says PAulie was playing them all.
Paulie – I had you back every time you were on the block
Paul – you're tossing my name out there
Michelle – you are trying to put people against each other.
Paulie to Michelle – you manipulated everyone to save yourself twice
James and Paul says Michele isn't manipulating anyone she's straight shooter
PAulie scoffs, "JAmes I know man you threw me under the bus.. I put together a team for us.."
James – I don't want to hear anything about loyalty and respect when you sit there right before nominations talking about well James is a good possibility of being a backdoor option lets throw the girls up one of the girls come down .. you know James he made his bed let him lay in it..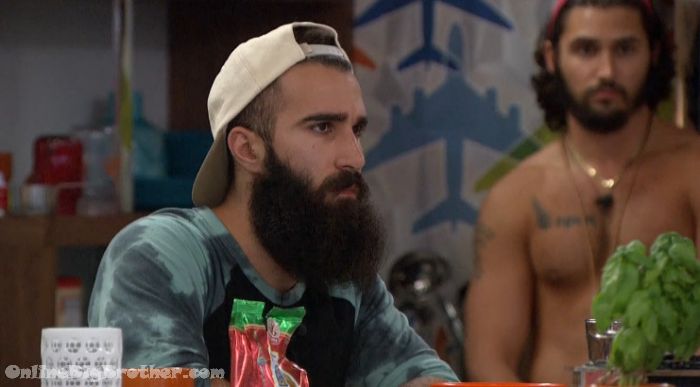 Paulie to Paul – so I'm the one that had that conversation you can say that with a straight face
Paul- Yup I can 100% say that
Paulie – you can say that with 100% straight face that i'm the one that tossed his name out there for a backdoor
Paul – YES YES. .right before noms ..
James – james was the backdoor options
Paul – I never tossed your name under the bus
Paulie – I never tossed your name except for
Michelle – Except for
Paul – I had your back and I fully trusted you and when I heard you using my name as a target
They start calling PAulie out getting them all against each other etc etc…
Paul – you never trusted me man.. So fu** me
Michelle – no not f*** you cause you're not on the block
Michelle starts calling Paulie out for Backdooring victor. Paulie says the entire house wanted victor out, all the girls were saying he makes them feel uncomfortable.
James calls Paulie out for the boob comments says that's got to stop
Natalie – you said I was as fake as my boobs.. STOP CALLING ME FAKE
Natalie – James isn't blinded by my boobs
Michelle – you said James was using Natalie For america's player
Paulie – he said that in the have nots
James – no i didn not.. I said last season I Stuck with my girl that's why I won America's player
PAulie – you guys backstabbed the f** outta me
They start calling him out for all the things he said about Natalie, Boobs, buts, flirting etc.
Michelle asks why he never offered to kiss her under the bed if he's flirty with everybody.
Michelle now asking why he was throwing Paul's name under the bus by telling everyone he's squeezing up natalie's thighs
Paulie says natalie is lying about things..
Michelle – Natalie wouldn't lie about this
Paulie – you convince the guys in my alliance to turn on me
Michelle – LOL you convinced them
Paulie says no he wanted to set up the detonators like Cody and Derrick did ride or die to final 5,"loyalty loyalty loyalty, cody, Derrick.. Clip ..loyalty"
Michelle – you are not going to be Cody and Derrick.. Nobody in here is like Cody and Derrick.
Paulie – I thought from a loyalty perspective
Michelle – loyalty my ass
James – what was that 3 person alliance for with victor..
Victor – more than a week ago..
Michelle about the guys alliance Paulie is saying he was loyal to- "If this was your plan from the beginning why did you send Victor home"
James – seems like you were covering a lot of basses
Paul says Double eviction just went down and Paulie is saying they need to backdoor James
Paulie – I was emotional
Michelle – if you say loyalty one more time I will shoot myself in the head..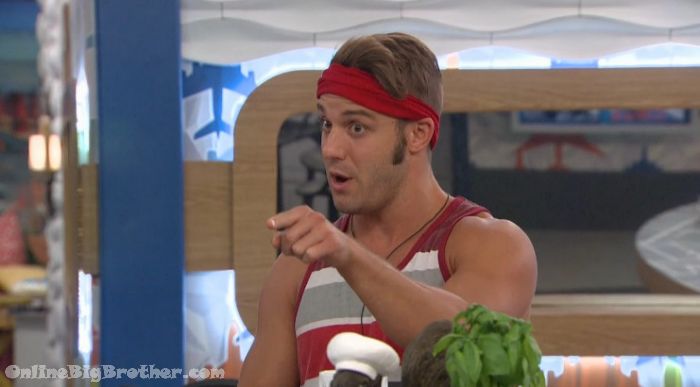 Paulie is accusing that Michelle of lying
Michelle is saying she's never lied about anything Paulie has done.
Michele says Paulie was playing everyone and they all know that now.
Michelle – each and every person in this house has information that will support my hypothesis
James – how do we make final 3 with two sides of the house
James says Da'Vonne made final 2 with everybody and that's why they targeted her
Paulie says his final 2's were just within the people of the alliance Da'Vonnes final2's were with people on the inside and outside.
Michelle -Are you ready to play veto or what
Paulie – I'm always ready to play veto.
Michelle- Awesome. I hope you have a clear head
Paulie says he's been in bigger games than this her calling him out won't rattle him
Michelle – sure like you were ready for the next two HOH's
Paulie now claiming to have thrown the HOH that Victor won, "I didn't want to win it I wanted to see cards played.. I was not trying to win any of the HOH's " (recently)
Paulie – I knew if it was Double it was the ball pit and nobody is faster than me on the house
Paulie bringing up Cody and Derrick again
Paul wonders why cody and Derrick are brought up so much on this season ..
Michelle – you made a bond with Zakiyah and you were about to clip her
Paulie says he stuck with the boys all along.. His bond with Zakiyah was personal
They tell Paulie Zakiyah was saying Paul and james were her targets and Paulie was gung ho to keep her so if he's so gung ho for the boys why did he want to keep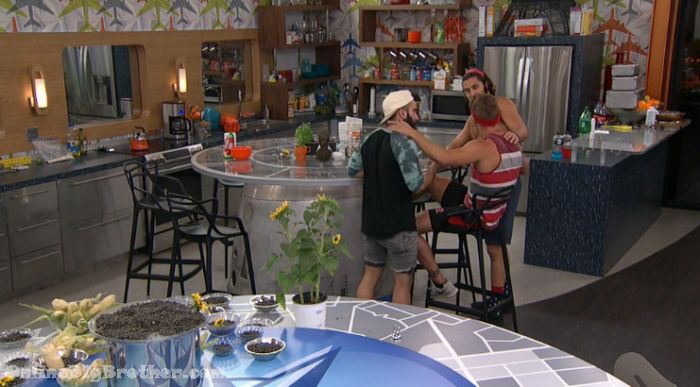 10:24am Kitchen Paul, Victor and PAulie
Boy hug it out
Paul – Look brawj .. you're a f***g blowj, a scam and a f***g rag, f*** this game I don't give a sh1t
Paulie – If i'm still on the mother f***G block don't be a$$hole and be going in different f***g rooms.. hang out with your boy.. I don't want you guys pissed off at me..
Paul – I'm not pissed at you
Victor – we're just talking about Game that's game talk
Victor and paul are still into paulie hanging out after the show.
Paul explain they understand in the real world they don't have HOH's they don't have to clip someone every week he understands the difference between the 2 worlds.
Paul – I am not mad.. We're going to love we're going to blowj
Paulie – the 5 of you were going to the end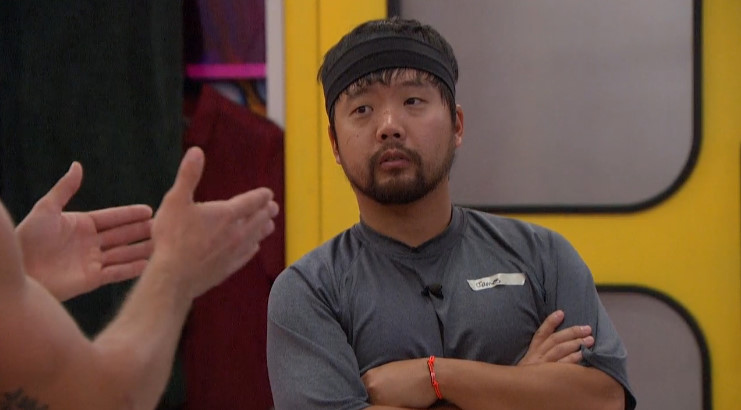 10:32am Paulie, James, Corey Tokyo room
Paulie – I hold a lot of information about everybody.. I can get information about everybody
Paulie tells james if he's not around to protect Corey and Nicole James has got to do it.
Paulie says if it's James and Corey on the block on thursday send him "the f*** home"
Paulie – if he's sitting up there please do not let this kid go home
James – alright you have my word
Paulie – if I'm up there and you want to send me home that's fine..
James – I have experience under my belt there's no secret one of you are going home.. It's no secret I'm being straight up with y'all
James – whoever wins that veto… y'all have decisions to make, I can tell you he'll put Michelle up the ouse is going to want to vote one of you out"
Paulie – the house is going to want to vote you out but this might not be something you want to do"
Paulie says he wants to flip the house back with the three of them, "To where we had it before all this sh1t hit the fans bro us 3 were sitting pretty.. "
Paulie says if Veto isn't played everyone can vote him out.
Paulie – if it's Natalie i'll be asking you as a boy to keep the homie in the house for us .. (f**k off)
James – ya
Paulie – lets flip the house
Paulie – Vic is keeping the noms the same, Paulie isn't using the veto.. And if Nicole wins she's pulling Corey down.
Paulie – 2 votes are going the other way if you want to beast it out
Paulie – when the girls start ganging up the personal attacks start coming out.
James wants to know when the whole thing started with paul and Vic. Paulie is claiming it was their idea they came to him and he was just playing along, "I'm like ok"
James – you should have told me
Paulie – I was wary where the information would go
James- if you would have kept me more connected..
James says Paul told him that Corey was "Spit balling" putting James up
Corey – dude… honestly I swear on my mothers life I did not do that. (hmmm)
Corey – again bro you know where my loyalties stand I got HOH what did I do
Paulie and Corey claiming backdooring James was never an option
Paulie – Paul still won't admit he grabs Natalie's upper thighs bro
Paulie – I've never touched that f****g girl
Paulie mentions he understands when James sticks u for Natalie.
Paulie – I know you do that because you have Natalie's back but at some point you have to have your boys back when people are coming at him for that sh1t (f u)
Paulie – I'll tell you straight up bro I hope you and Natalie have something
Jame s- I hope so to man.. but.. if if not I mean
Paulie – I hope so, i'm not going to be the one telling you I told you so
James – people have this misconception like when I get off the show like I'm automatically expecting to have this full blown relationship.
Paulie – I'm not having that misconception
James- or marriage and kids …
Paulie says Paul and Michelle are the biggest liars in the house and they were involved in flipping James.
Paulie says he knew Paul was goign to turn on him and he knew that Victor would cross reference but he thought the three of them were bullshit proof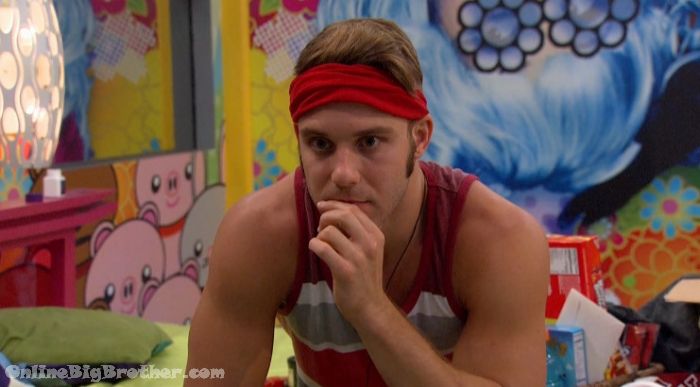 10:59am Paulie and Corey
Paulie says this season is filled with people what want to blow sh1t up
Corey – not very many loyal people
Corey – Damn man
Paulie – bro one of us is going to win this veto and a girl is going up we have to put our faith in James again.. Hope he pulls the knife out and if he doesn't then we better hope one of us has the round trip ticket.
Corey – let do it bro
(Paulie is a douche but gotta love the fight in him. )