POV Holder:
Victor
POV Competition
Aug 13th
POV Used
?
POV Ceremony
Aug 15th
HOH
Victor
Next HOH
Aug 11th
Original Nomi1nations:
Paulie AND Corey
After POV Nominations:
? AND ?
Have Nots
Michelle AND Nicole
Watch the next week of the feeds for FREE – 1 week Trial!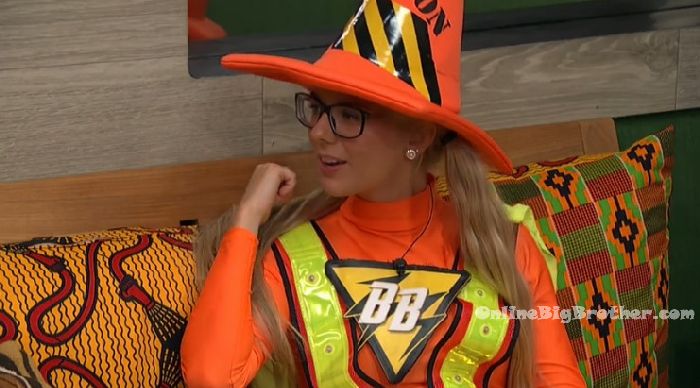 7:10pm – 7:20pm Nicole and Corey head into the safari room. Nicole comments on Corey's unitard is a "patriot-tard" Nicole says she wants to us the trip to go to hawaii. Corey asks what are you trying to take me on a honeymoon? What about Miami? Nicole gets mad that he wants to go somewhere to party and she wants to go some where to relax. She gets mad but calms down and they continue to talk about the vacation. They question whether Hawaii is part of the USA. (Really?!) With Nicole's vacation its good for anywhere in the USA. Corey says I have a bad feeling I might go. Nicole says I don't think Natalie or James would vote you out. Corey says everyone says don't get in a showmance but I don't think its hurt us. Corey says I want to go right after Vic. Nicole says don't say that to anyone else until after Thursday. Nicole tells America please give Corey a care package! Nicole says he is threatened by you and me but not my James and Natalie. Corey says I know. Paulie joins them. Paulie says you think about life a lot in here .. I think about my family a lot and about my ex .. just the way it ended. (Big Brother blocks the feeds.) (They broke up because of all the attention after Cody was on his season.)
FLASHBACK and watch everything you missed: CBS All Access FREE Trial!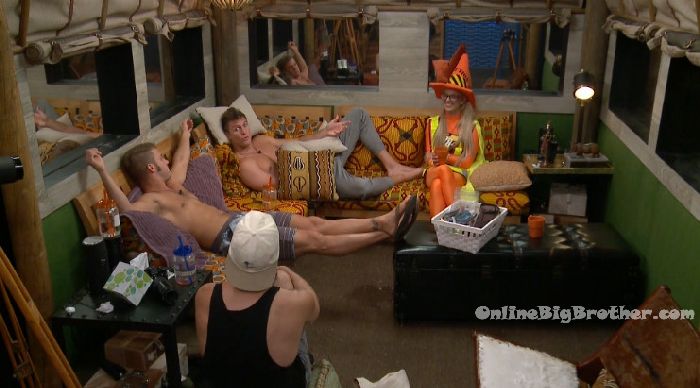 7:30pm – 8pm Paulie says I know people's character .. deep down I know Vic, Paul and James have good character. Do I believe those two girls (Nat and Michellet) have good character .. no. paulie says he's had "dark times" in his life. Whether it was struggling to start my first business .. or wondering where the rent cheque was coming from because I was struggling to start my first business .. or breakups with an ex. I asked my psychiatrist if it would be good to come in here and he said I was basically playing with fire. So I basically lied about everything to get in here. I told everyone I've never gone to a psychiatrist because I knew I wouldn't get on. Big Brother switches the feeds. When the feeds switch back – Paulie and Paul are talking. Paulie says for some reason they are believing her over me. I put my trust in the double eviction. They I went up … on top of all the ganging up. I am shocked that James was in on it. If there was a knife that hurt the deepest was his. Vic I am not mad at. If Z was still here coming after one of you guys I would tell her to holster it. I apologized in here to her (Nat) and then she came at me again. Paulie says I love this game and I love Vic .. that's why I went to Vic and asked him to give me a chance to stay in here. I would rather people lie to me that I'm staying and I go out like that.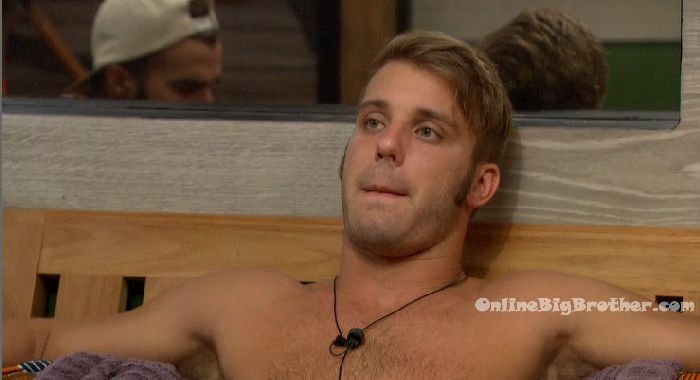 8:10pm – 8:35pm Paulie says the whole ganging up on me .. it wears on you. Paul says I know man, I can see it. You can't see James without him hanging off Natalie.. so I can't see him. Paulie tells Paulie he needs to just go sleep for a good 12 hours. Paulie says I just keep trying to close my eyes and get into that deep sleep but I can't. Paul tells Paulie to ask for a sleeping pill or something. Paulie says They can but the thing is I panic when I take things like that because my body tries to fight it… Big Brother blocks the feeds. Paulie says I just hope Vic gives me the chance to campaign against someone else because I will not campaign against you (Corey). Corey says we got boned! Corey asks Paulie if he wants to crush some beers tonight? Paulie says I think its best to stay away from alcohol .. its kind of a depressant and I shouldn't in this state.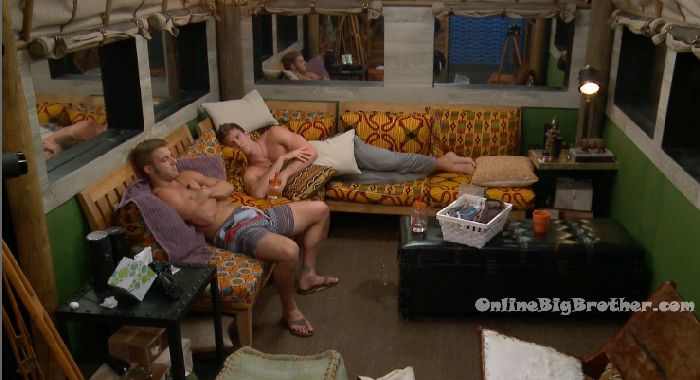 8:40pm Big Brother calls Corey to the diary room. (Its time for his Patriot-tard) Paul tells Paulie if you ever need to vent, I'm right here. Paulie says I just need my homies. This f**king sucks .. I want to tell you guys about everything but I'm tired of being ganged up on and everyone cross referencing everything. I'm not oging to throw you under the bus letting people know we were together. I wouldn't let anyone know the three of us were together. Paul says likewise bro. I can honestly say I didn't toss you under the bus to anyone. Paulie says I was close to Corey since the beginning. Paul says I know that.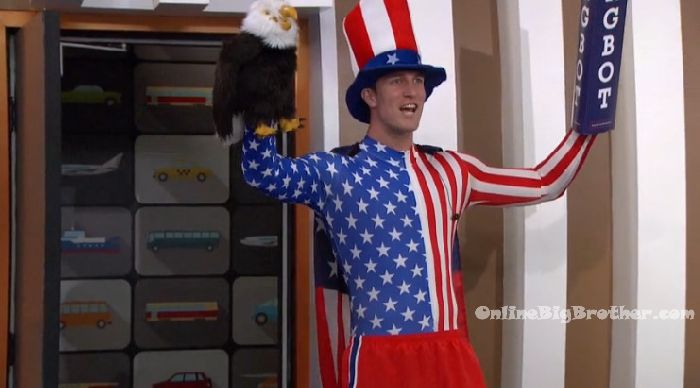 9:35pm – 9:50pm Corey comes out of the diary room wearing his "Patriot-tart" costume. Hey everyone come check out my Patriot-tard! God bless America! He says he has to wear the eagle and sign on his hands at all times. If he is in the shower he has to keep one on and hold it outside the shower. Nicole asks are you kidding me?! James says that bird is everything! Nicole asks if his costume is on backwards.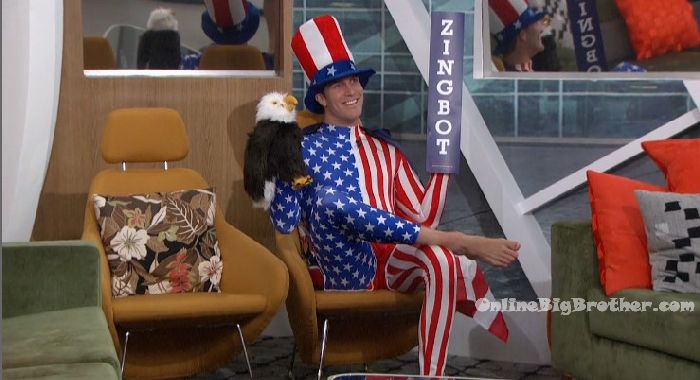 Corey "Hey Everybody! Come check out my PATRIOT-TARD! God Bless America!"@bigbspoilers #bb18 pic.twitter.com/95WECRcmK3

— Dawg (@DawgsBigBrother) August 14, 2016
9:55pm Vic says so we're happy! Mission accomplished. Vic hugs James and Nat. Oh man plan is in full swing. James says I don't understand why he took the veto from Corey. Vic says he could have taken the vacation and no one would have taken it from him. He said he didn't want to campaign against him. Nat says you didn't have to backdoor either of them. You gave them a chance. Big Brother calls Paul to the diary room. (Its time for his costume) Paulie says I think she had feelings for me but at the end of the day I think she could have protected me more. She literally sat there in silence. She could have said I was a good guy. I feel like a damn fool because what happened before I came in there crushed the f**k out of me. And then this happened. The wiser part of me said lets see what happens outside of here.

10:15pm In the London bedroom – Natalie says I am gunning hard for the HOH. I don't want to be put up as a pawn any more… if people are going to put me up, I want them to put me up for a reason. I'm ready to make big moves. 100 P's. I'm tired of playing someone else's game. I want to do something. I need to win a comp guys. James says you'll win one. Nat congratulates Vic on his win.
They talk about how Paulie got a punishment too in the veto. He has to make a pie whenever a noise goes off for the rest of the summer. Paulie says he has to make pies for the rest of the summer. I'll do one or something but then I'll take a penalty vote.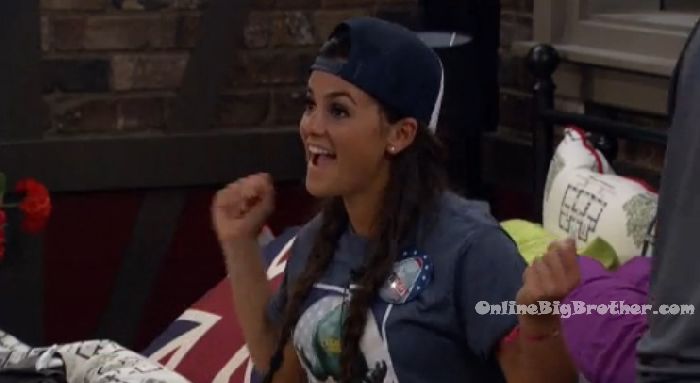 10:20pm Kitchen – Michelle, Natalie and Paulie talk about taking flights. Paulie says he flies a lot and its starting to get to him. Michelle tells him to ask his doctor for a xanax. Paulie says whenever he takes stuff like that it has an inverse reaction to it. Michelle tells him to take it with alcohol. Its not recommended but it works. When I went to Europe I did it and it helped.
10:40pm Natalie, James, Corey, Meech and Victor are talking in the kitchen. They talk about Paul's security costume and what it might be like. Natalie says she thinks he'll have to pat them down. He'll get real inappropriate with the guys. James says I'm going to pack all sorts of things like knives.