POV Holder:
?
POV Competition
Aug 13th
POV Used
?
POV Ceremony
Aug 15th
HOH
Victor
Next HOH
Aug 11th
Original Nomi1nations:
Paulie AND Corey
After POV Nominations:
? AND ?
Have Nots
?
Watch the next week of the feeds for FREE – 1 week Trial!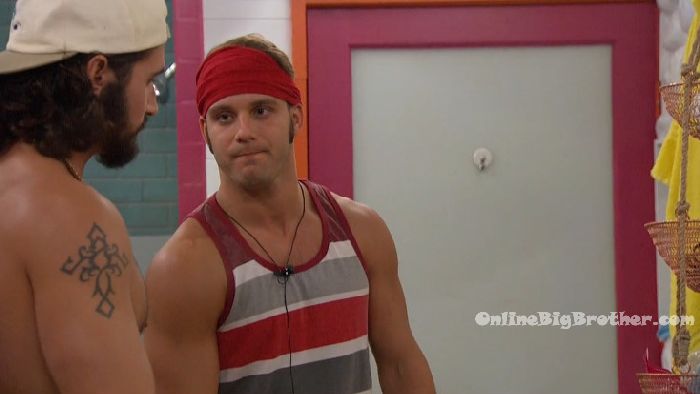 Victor Nominated: Paulie & Corey
FLASHBACK and watch everything you missed: CBS All Access FREE Trial!

6:20pm When the live feeds return – Victor points out that the havenots are done at midnight. Michelle says I might pass out before. James says he hasn't eaten all day. In the bathroom – Vic tells Paulie its just strategy. Paulie says got you homie, we're all good. Vic says when you put me up I was cool about it so I'm hoping you would be too. You've got a chance to play in the veto. Its not a backdoor. Paulie says I get it I put you up. Did I expect you to go home, no. I was on the outside of an eight person alliance, yes. Early on in the game when people threaten you when you're on the outside of an alliance. Vic says I just want a hand shake. Paulie shakes his hand. Vic says respect it. If you win the veto and come off you can come after me fair game. Paulie says I won't because I'm about fair game. Vic says do what you have to do to get off. Paulie says I will do what I've gotta do. They head to the kitchen.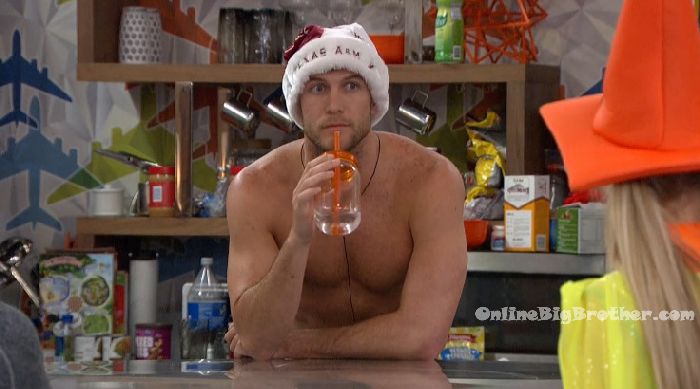 London bedroom – Natalie and Michelle are talking. Michelle was laughing during the nomination ceremony. Natalie says they laughed at you when you were crying. Nat tells her to be the bigger person and apologize. Michelle asks what Paulie mad? Nat says she doesn't think so. I'm just glad Paul followed through with the plan. We have to go hard for the veto. Michelle says we have to get Paulie out to make sure Vic is safe next week. Nat says We have to have Victor's back. Nicole joins them. Nicole says thank you America for giving me safety otherwise I would have been up. I know so much information that I want to tell them but I won't. I hate that the most loyal people are up on the block right now. Michelle says I disagree. To me they weren't and to Z. Michelle says I don't think Corey is the target. I know I'm not voting him out. Nicole asks and now what, all the guys are going to fight all week? Michelle says its good for us.
6:30pm In the kitchen – Paulie asks Corey are you good homie?! Corey says yeah. Paulie asks who did say I wanted to backdoor you? Vic says it was a meeting way back with Da. Vic says at the end of the day I didn't even get a chance to play in the veto and you two both get to play in the veto. Paulie says all five of us I though things were a certain way. Vic says I thought so too until I found out it wasn't. Nicole says Corey could have backdoored anybody yesterday and he didn't. Corey asks what did I do to you brother? Vic says I think you two are closer than anyone and I'm just trying to split you guys up. Paulie asks why not Natalie? Vic says because you guys are stronger. Vic says when you didn't want to put up Nicole its like you want her to stay. Paulie asks why didn't you put her up. Vic says because she's super safe. Paulie tells Paul we brought you in with us. Paul asks why am I getting tossed into this. Vic says maybe I got the strategy wrong with putting you up. Paulie says I think we're all just as close. I proved my loyalty with the boys by not pulling Z down. Z was programmed to not go after anybody.
Victor says logically it didnt make sense for Michelle to go home. Z was a better competitor. Vic says I couldn't vote after I made my nominations. I didn't make sense for me to push my opinion when I couldn't play in the HOH next week. Paulie says if you're scared to voice you opinion… Vic says I'm not scared. It was my strategy. Vic asks oustide of this four were you in any other alliance? Paulie says no. Go get Nicole and ask her. Vic asks did I do this to you when you put me up? Paulie says no. Vic says then don't get made at me. Vic says at the end of it I really like you guys as people. Paul says only one person is going to win this game so lets just swallow that pill. Vic says this boils down to I went up and I went home. Paulie asks if I do go out are you guys then going after him? Vic says I don't know. Paulie says I wasn't asking you. James says my vote is going to the person that makes the most hostility. Paulie says I see that was directed at me. James says if I had been put up I would be fine. I'll go to the jury house and watch netflix. Vic tells Corey I really do want to go to Dallas. Corey says its all good. Nicole comes to grab Corey and they talk in the safari room. Nicole says I know you're not the target. I went off on Meech for laughing. Corey says I know I'm not the target but I could still go home. If I win the veto I'll take you down. We just need to win the veto. Paulie is in there freaking out on Michelle which is making him a bigger target. I blame James for all of this. Corey says I do too. Nicole says I need to talk to James and make amends with him. Nicole sasy Meech and Paulie are going at it! Nicole says I don't think you're going anywhere though.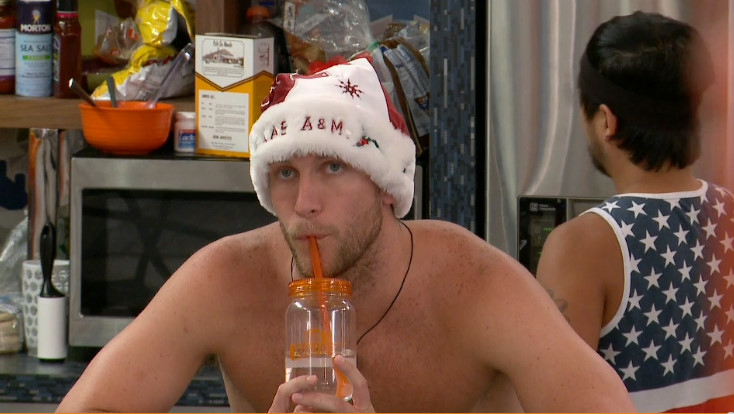 In the kitchen – Vic says everything changes in this house all the time. That's why it was better to align with you guys and now we'll make it to the final four. Vic tells James I think its time for you to get your next HOH. Nat asks what about me? Vic says anybody.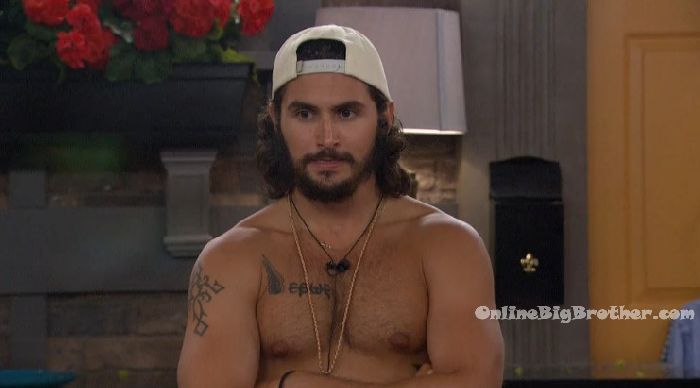 Corey says if James is up against me, I think I would go home. He would have Natalie and Michelle. Corey says its dangerous for me to throw Paulie under the bus. Nicole says its dangerous for you to throw him under the bus until you're for sure stayin up there. Nicole says if I do try and go work with anyone in the house it will be like the joke. Like what happened with Frank. Imaging if he has the round trip ticket. In the back of my mind that's what gives me a little bit of hope. The thing is they better not pitch that he is a big target (to keep in the house). I don't want Paulie to win the veto. I need to rope in James and Nat. Nicole says its not a dumb move to get out Paulie. Corey says worst case scenario is Paulie wins and pulls himself off. I would feel better if I am up there next to him.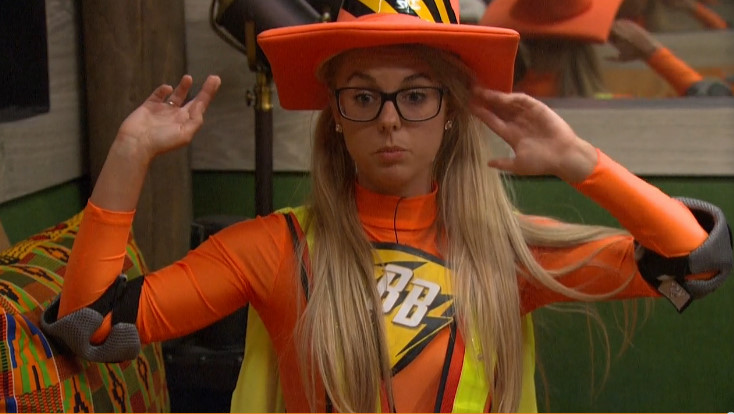 8:15pm – 8:40pm Paulie and Paul are talking in the london bedroom. Paulie says we did what we needed to do to surivive. The loyalty is what cracked in the group. Oh course the girls are going to be pissed, I manipulated the sh*t out of them. Vic joins them. Paulie says Real talk if you do get to pick havenots please don't pick me. Paul says if corey was picked he would literally die. Vic says I would feel like a sh*tty person if I picked you guys. Paulie says I did put you in harms way. The one flaw in my game was the loyalty of what I thought it was. The girls had a right to be pissed at me because I manipulated the information out of them. Paulie tells Vic if I win the veto and I come off… we're square. Paulie asks if I do get myself off will the replacement be a girl? And will they go home? Vic says the replacement will be Michelle and I don't know if she would go home. If your goal is to get one of us gone .. we trusted each other on loyalty. Vic says I went home on a 9-1 vote not even the first person that left went out like that. I had to win 3 times to get back into this house. I didn't get a chance to play you do. Paulie says you're not the first person I am going to go after. If we're up there, one of us has to go home. I will never campaign against him. If I pull myself off I am not coming after you. Vic leaves. Paulie and Paul agree that was a pretty good conversation. Paulie says I just hope if one of us come down he does put up Michelle. Paulie tells Paul I will never throw you under the bus or backstab you. When it turned into a game strategy we PP'd on people. I can honestly say if I do pull myself off I will not go after him (Vic) .. what James did pulls more weight.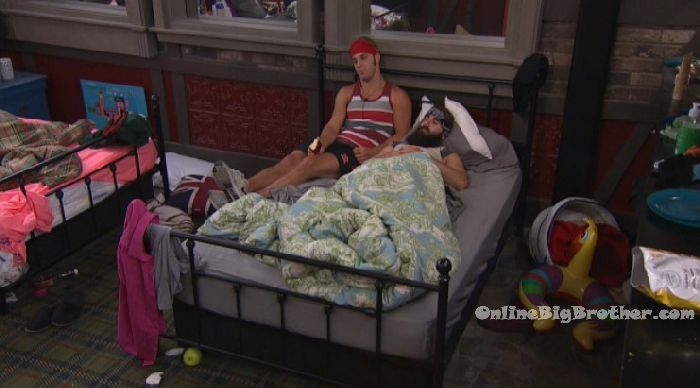 HELP keep the spoilers coming. Show your support by making a donation.
"CO-HOH"
WEEK 4 – August 14th to August 19th
This winner automatically becomes Co-HOH, sharing all HOH perks and responsibilities for the duration of the week, including choosing 1 of the 2 nominees.
[polldaddy poll=9496376]