POV Holder:
?
POV Competition
Aug 13th
POV Used
?
POV Ceremony
Aug 15th
HOH
Victor
Next HOH
Aug 11th
Original Nomi1nations:
? AND ?
After POV Nominations:
? AND ?
Have Nots
?
Watch the next week of the feeds for FREE – 1 week Trial!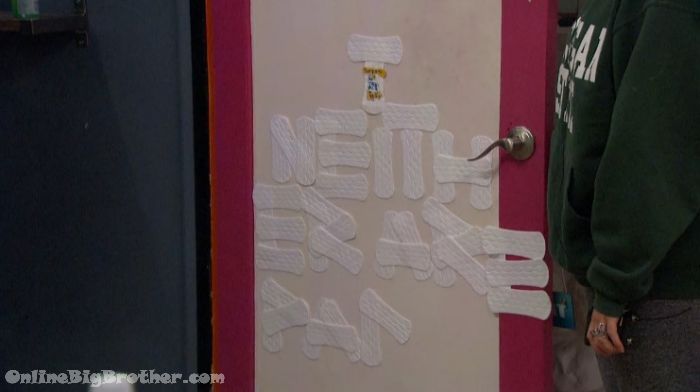 10:23am Bathroom Big MEECh discovers a douchebag relic
Says "Tampons are not toys"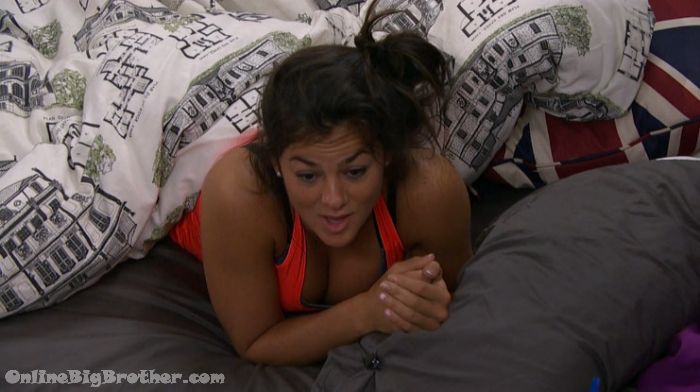 10:44am Cam 1-2 Natalie and Michelle london
Meech tells her somebody plastered the bathroom stall with pads and wrote "tampons are not toys"
Natalie says she went to the bathroom this morning and asked at the door if there was anybody in their. PAulie was. She waited outside for a couple minutes and he didn't finish so laid down. She waited a long time, "He was doing that to make me wait"
Meech – DEEHA.. It all makes sense now
Natalie – I literally almost peed my pants..
Natalie is certain it was Paulie that ripped up and threw her underwear around. Talks about how she talked to everyone about it and only Paulie was sketchy, "Why would you do that to someone make them wait to go to the bathroom and waste all the pads"
Meech – Who do you think is going up
Natalie – honestly I really hope he puts Paulie and Corey up
Michelle – I hope it's not use because that's what they want..
Natalie – they want to clip James because they went against Dudes the bro code
Michelle – 3 of the guys wanted me to stay
Michelle – I wonder what the care package is it's already 10:30
Nat – I'm proud of us
Meech – If we didn't expose him he would have made it to the end.. We really did blow up his game
They agree Nicole is the biggest snake, Natalie says when James was HOH Nicole in the middle of the night would just stare at the memory wall, "Really weird"
Michelle thinks that Nicole might screw Paulie and Corey over.
Nat – she's here to win.. She should have never told me in the bathroom she's playing a feisty game
Natalie says all she's been doing all week has been to be nice to Nicole and Corey and now she finds out they've been talking bad about her behind her back all season.
Natalie – they are so fake.. They play on the weak
Natalie – they have nothing on me they had to use my shit with Victor that we hashed out and called me a cry baby i'm not a crybaby.. I saw his true colours and they aren't beautiful
Nat – I don't think he's emotionally ready for this pressure cooker.. He has too much paranoia because he's named dropped to much .. he's been playing hard all season
Meech – hot mess.. Get angry really easy
Nat – he's spiteful that's the worst trait a human can have
Nat – I'm done playing nice with Corey, Paulie and Nicole.. I'm done being their friends they've hurt my feeling too much
Meech wants to get everyone to call Nicole out to call her a sneak
Natalie – it's funny how she waits for the cameras to be off before she twirls her hair to make fun of me
Michelle – I never liked her much her season.. She doesn't like girls..
Natalie – Oh my god I wish I had won HOH , my speech would have been epic
Paulie , Nicole Congratulations on making it on the block .. Nicole for the first time this season.
"Paulie, you know, you keep saying i'm fake, you've made fun of my breasts and my personality that is something I take pride in"
"I haven't done anything to you, to upset you, I would have quoted all the things.. "
"You say I'm a Jersey Girl and we're all fake, you also told james he's blinded by my boobs, I guess you're always thinking about them cause that's all you've been talking about"
"It's funny you said my kindness will always get me thru this game or out of this game, but I have a really big heart and guess what you are on the block you think i'm fake, well don't mistake my kindness for weakness because kindness also kills"
"Nicole you are a snake slithering in the dark, I've been trying to be your friend all season and you've never opened the door to get to know me both of you think I'm fake and you've never given me the chance to let me show you who I am, I've tried so hard. "
"I'm going to go off on her .. "
"You make fun of me when the cameras are off and on, that's really hurtful"
"Thanks guys for hurting my heart, when i have been nothing but genuine, selfless and giving in this house and you take my positivity as fake but when we leave these doors you see" (she got a little carried away with the mother teressa edit she gave herself but that would have been a fun speech none the less)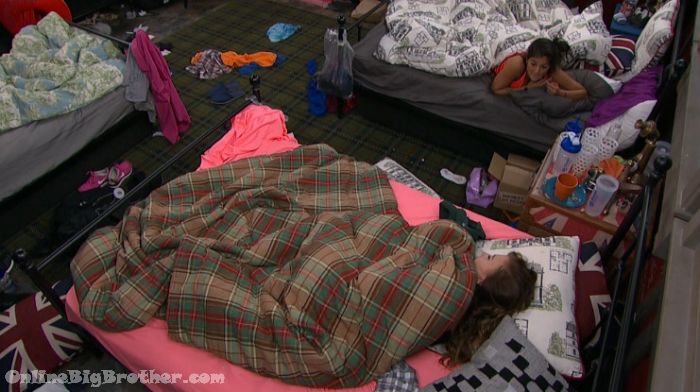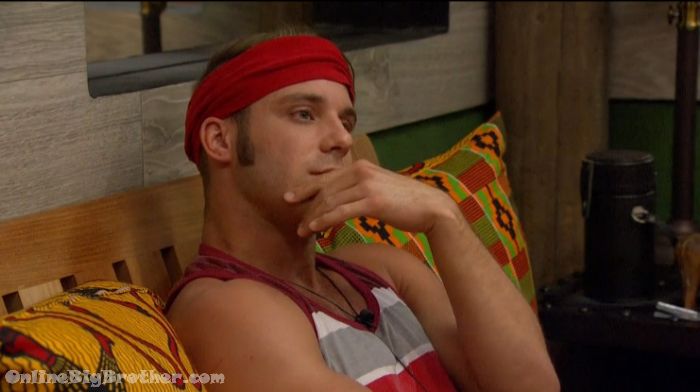 11:03am
Whispering going over the House flip last night but just saying bits of sentences.. .
"Here are the facts, James flipped and took the side of Michelle, Bridgette and Natalie. Cause…. They must have had Paul and Victor. "
"Show the card today and win the veto tomorrow this will force everyone to show their cards "
"I could say that alliance was strategy we had the numbers"
"Soooo michelle blew up my game, probably threw me under the bus by saying I was in an alliance with her, Zakiyah, Nicole and Corey."
"Which would rationalize in everybody's mind because Da'vonne was saying the same thing and Michelle knows that"
"Michelle would use that it would definitely make James and Paul wary of me.. Victor wary as well"
"Which would make James want to screw us sending Zakiyah home keeping Michelle because now she flipped that makes sense"
"Paul was on board, they told him everything I was feeding them about him"
"I'm going to put it out on the table after the nominations" (?)
"Michelle you were right about 1 thing…. She threw my game under the bus… strategy.. Numbers.. Jersey girl.. Paulie… Paulie.. Number 1 .. i'm the best.. Greatness.. Playing Vanessa's game.. Meet and greets.. "
(Ok I got carried away.. Sorry ;) )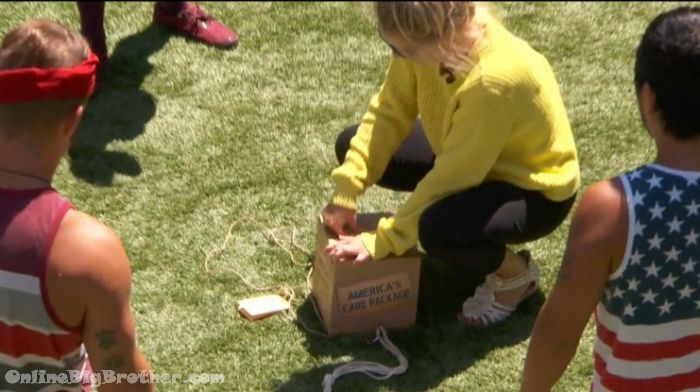 11:44am America's super safety
Scrunchies, clips, mosquito spray and bath oil along with …
"Super safety congratulations nicole America has given you super safety with his power not only are you safe from eviction this week you are safe from everything thanks to a super safety costume Congratulations and stay safe in there."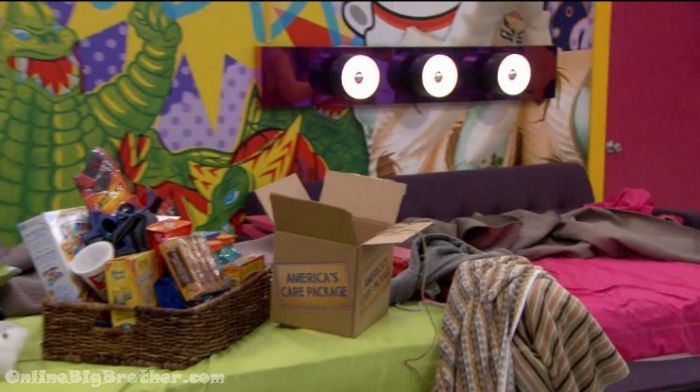 12:04am Nicole thanks America for the prize
Nicoel – I got pony tails that I really fricken needed"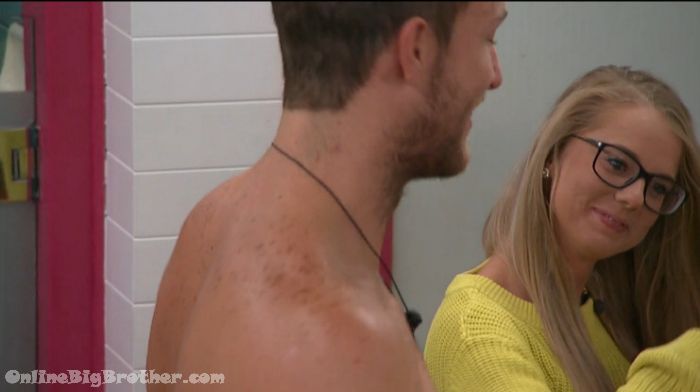 12:07am Bathroom Nicole and Corey
Nicole – people are PISSED
Corey – that is so good for our game, so good
Nicole – I was afraid, makes me feel good that they want me safe..
Corey – oh my gosh.. that is so freaking good
Corey – I just have to survive, Paulie has to survive
Nicole – what if I'm safe from Zings.. that would be lame ..
Corey – safe from teh block safe from eviction .. dude that sis so good
Nic – Victor doesn't look happy about it
Corey says Victor isn't happy because now he has to put up a guy. (lol)
Nicole – thank you America
Corey – I 1000% wanted you to get that
Nicole – cause you are not in trouble right now ..
Corey – dude.. dude… that was so frickin BIG .. dude we have to win HOH.. we're going Deep..
Corey – I feel like Michelle and Natalie this week.. Michelle or Natalie will leave this week
Corey – I hope Michelle leaves because Natalie already got a care package
Corey – Me or Paulie will win the care package (indeed)
Corey – I don't think Paul will get it.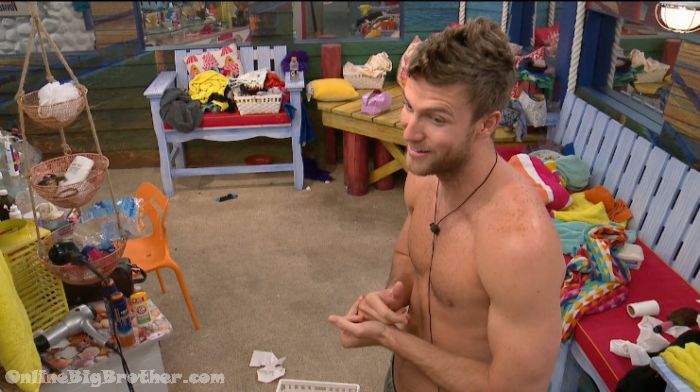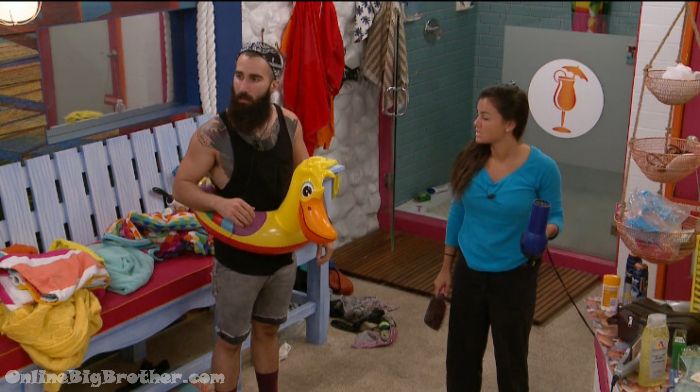 12:43pm James and Natalie
Natalie says if one of them comes down someone from their side now has to go up but she's not worried they have the votes to keep that person.
Jame – yup, I'm not worried about it.. it's just that Nicole is safe..
Nat – ya that's fine, we don't want Nicole out like right now
James – no not right now but Honestly ..
Nat – she'll abandon ship
Paul comes in
Paul – perfect.. perfect
Paul – perfect
Paul says this is perfect Meech has already volunteered to go up as the pawn.
James – It's going to happen.. one of them is going home
Paul – We need to pull out a win next week.. if one them stays they are coming after me and him.. and you (James and Paul)
They talk about the certainty of Paulie or Corey leaving this week
James – I never thought I would say this but I trust Victor.. I never trusted Paulie ever I was just working with him
1:00pm Nicole gets her costume she looks like a safety witch
A safety witch #BB18 @DawgsBigBrother pic.twitter.com/fmaWB2Yz2R

— OnlineBigBrother.com (@bigbspoilers) August 12, 2016