POV Holder:
Victor
POV Competition
Aug 13th
POV Used
NO
POV Ceremony
Aug 15th
HOH
Victor
Next HOH
Aug 11th
Original Nomi1nations:
Paulie AND Corey
After POV Nominations:
Paulie AND Corey
Have Nots
Michelle AND Nicole
Watch the next week of the feeds for FREE – 1 week Trial!
Victor did not use the Power of Veto Nominations stay the same Paulie and Corey are on the block
Paulie is the target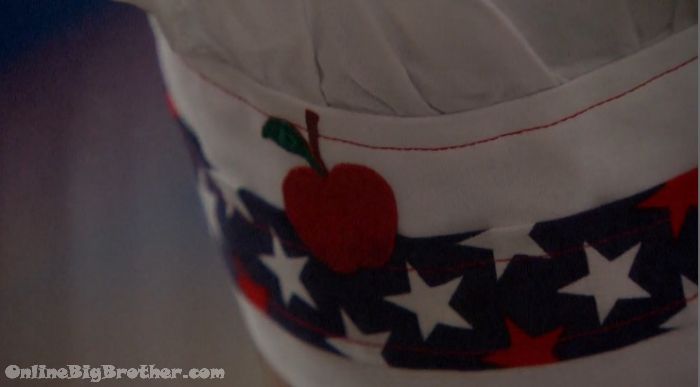 9:57am Kitchen Paulie and Paul
Paulie says the pitch he's given Victor and Paul is win win for them. If he wins they are safe and if he doesn't win he goes back on the block.
Paul doesn't think it's that easy to get Paulie back on the block asks him who will do it.
Paulie says he'll tell whoever wins the HOH to put him up. (And if it's Nicole and Corey won't happen)
Paulie says if they get rid of James the two of them can control Natalie to as far as they want. Paulie says he's going to bounce back to Jersey if he goes to Jury with 5 weeks left. if there was 4 days in Jury he can handle that, "I really don't want to f***g go there"
paul – once the number crunch down it'll be every man for themselves..
paulie – I was saying I'm don just let me do something to help these guys.. it's all of us against Michelle and Natalie.. the odds are there..
Pauli is saying he's trying to do the honerable move to the people he "D overed" because he's been "D overed"
Pauli – my word on my family there's no going back on that..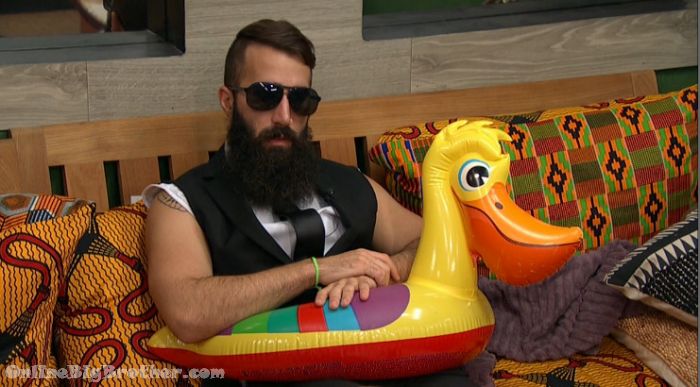 10:27am Safari room Paul
Paul- There is some people in this house who are starting to do a little weird stuff. A lot of sympathy cards, sore loser-eque behavior.. It's getting old to be honest.. Not a fan of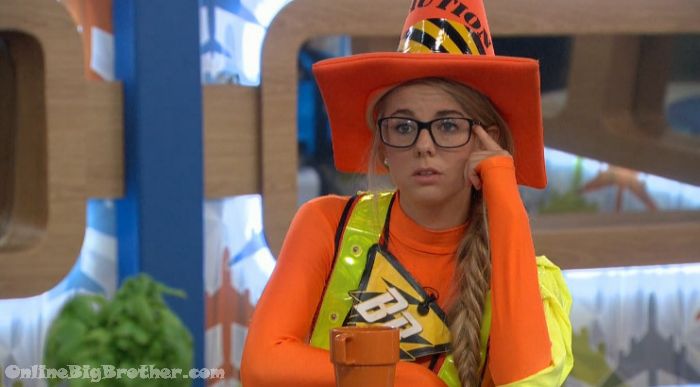 11:55am Nicole and Paulie
Nicole is saying strategically that is a very good deal paulie offered Victor.
Paulie – I swore on my aunt that's dying of cancers..
Paulie- I want to honour the integrity of the game if I am goign to the jury house with 5 weeks left.. not goign to happen
Paulie doesn't think Victor and Paul are thinking strategically keeping James.
Paulie – "On my aunt that's dying of cancer"
Paulie saying that Nicole's cast was really good this cast he could care less about he's only goign to hang out with Nuicoel and Corey maybe Paul
Paulie – it is what it is.. they are set..
Paulie is going to tell James the only reason he got America's favorite was becuase Victor was going to backdoor him so the fans wanted him to be safe.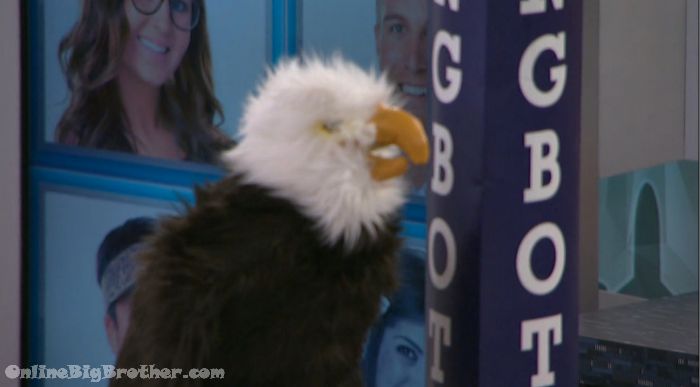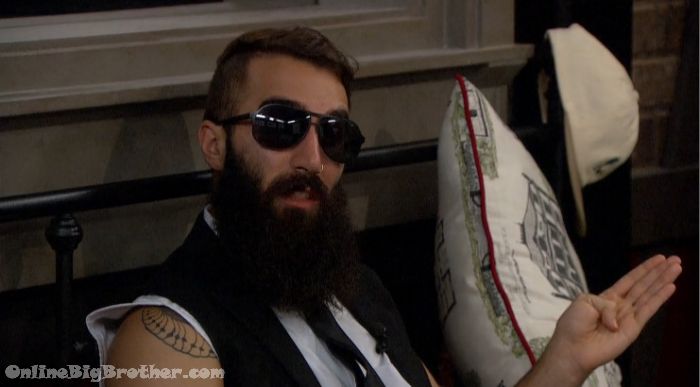 12:02pm London room Paul, Natalie and James
Talking about pulling Corey and Paulie apart and rattleing Corey before the next HOH competitions.
Paul – no matter what is going on Paulie is going home..
Paul – if he sees us tight with Pauli they will start asking questions..
paul – have conversations with him (Paulie) and when Corey comes in stop..
paul – this way he doesn't know he's goign home or now.. we start now until thrusday.. he's shaken up
james- Nicole is shaken up
Paul – Always say I don't know I'm not sure.. Corey makes good points Paulie makes good points.. I don't know what we are doing
natalie is worried that Michelle isn't coming to them and talking. James says she's "Hot and Cold"
Paul – if we don't create that paranoia he'll win HOH and be like f*** yo f** you …
Natalie – he called Bridgette a sh1t head yesterday.. Corey
James – we need to get Corey campaigning..
Paul explains after what that side did to them they can't give them the satisfaction of knowing what happened this week.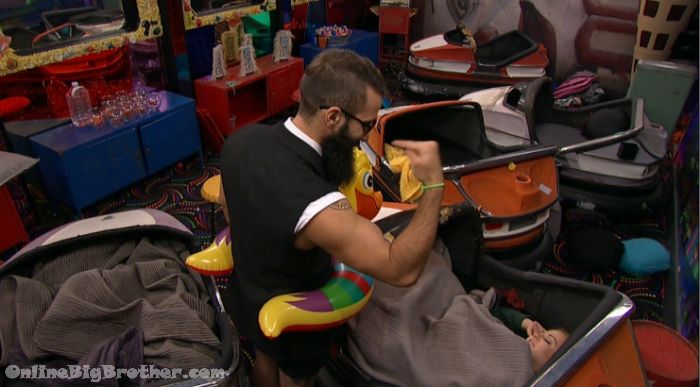 12:11pm PAul and Bridgette MEECh
Paul is saying they are goign to let 3 days of Paranoia to sink into Nicole, Corey and Paulie. They are all going to pretend that COrey might be the target. Say paulie is doing a lot of campaigning and making some good points, "it's Big brother" nobody is safe.
Michelle – brilliant.. we can prove Nicole is a snake .. who came up with it
paul – (points at himself see image) .. they will be sacred shitless
Paul – just know Paulie is going 100%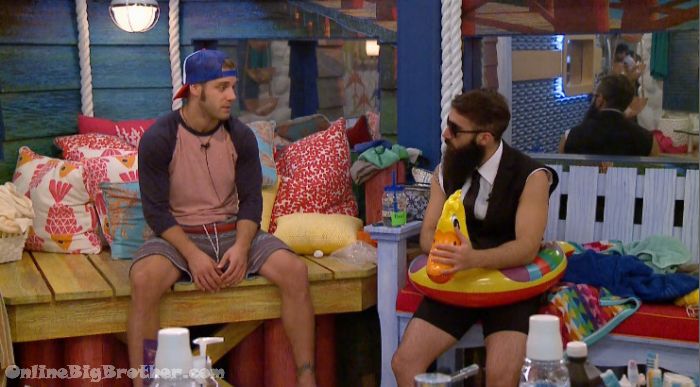 12:20pm Paulie and Paul bathroom
Paulie – I have ideas how I can campaign
Paul – don't toss anyone under the buss
Paulie – they just want deals
Paul – i'm just played devil's advocate.. Like you said to Frank don't roll over and die
Paulie – I won't roll over and die man..
Paul – Corey hasn't talked to me about anything.. Corey has talked to me
Paulie – I'm not going to honour my families life and not do a deal like that especially with one dying of cancer… That's real f***g shit I was playing this game for her.
Paul – Corey hasn't approached me at all.. I don't think he's approached anybody
PAulie – I've lost James' vote has anyone told james (Paulie trying to get james up this week)
PAul – I can't comment on that
Paulie – I don't know what's the best approach with James
Paul – will it hurt to try
Paulie there's no reason to throw people under the bus all I have left is deals
Paulie – My moral compass says they're is a way to stay in this game with Pleading and making deals
Paul says he needs to campaign
Paulie – if I do that one of my closest friends go home..
Paul- right..
Paulie – I love the game and I do want to leave with some respect and dignity ..
Paul – Corey might campaign .. Maybe corey will say something that doesn't make sense.. You can campaign and not throw each other under the bus
Paul – not everyone has made up their minds
Paul says some pros and Cons have been tossed around
Paulie wants to know the pros so he has a shred of hope
Paul – Corey might come to me with someone sweeter.. Theres 3 days
Paulie – between you and I nobody will give you a deal any sweeter
Paul – you don't need to throw someone under the bus to campaign.
Paul – going out on a good route..
Paulie – I've gone rogue.. I thought I was kinda mellow.. I went X amount of days without going through anything until I got screwed over
Paul – I'm just saying what is being said to me..
Paulie – the odds are very very stacked against me, I can't see natalie will ever vote for me
Paul – to be honest to you there's nothing I can do it has to be something you do
Paulie – you don't have to put your neck out there but you can help pros and cons when people ask you
Paulie – back it up man.. Be like that's a sweet deal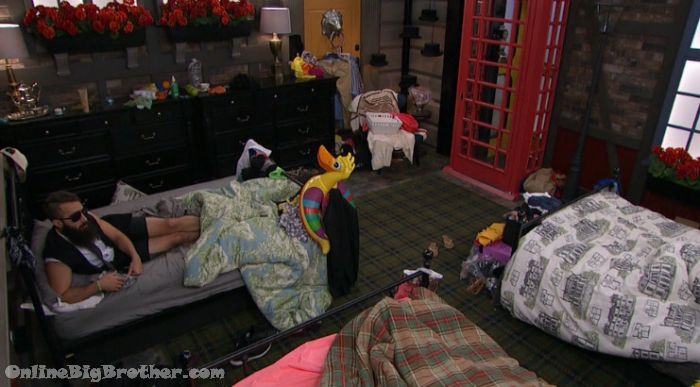 12:57pm London room Paul, Natalie and James
Paul relays his conversation with Paulie. Tells them they have to go to Corey and tell him Paulie is bringing up some sweet deals.
Natalie says she will keep saying how much she feels sorry for Paulie in front of Nicole and Corey.
James – give them a little task of their own medicine.
Paul – lets give them a day.. I'm concerned about my safety in this game
Paule says Victor is going to do nothing this week he's done enough
James – I'm going to start hanging out with Corey.. Playing pool, I might sleep in his bed with him.
Paul – we don't want to befriend them we want them to be scared.. We want them to know we are deciding their fate..
Paul – we treat them the same don't treat one better than the other
Paul – we were all out of their group not just james not just you we were all out of it.. We were all targets.. Even in the bathroom paulie is talking about getting out James.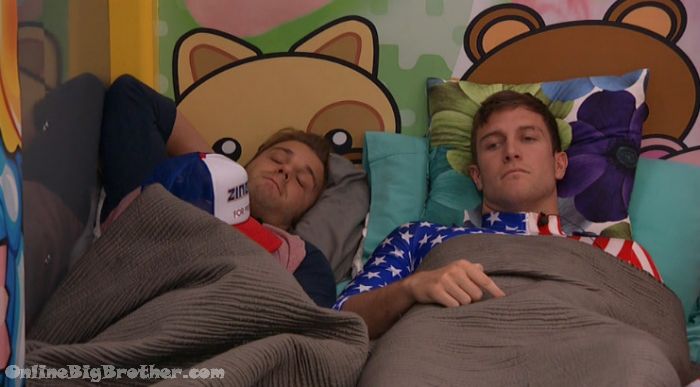 1:18pm
Praying for a buyback and/or a roundtrip
Paulie – they're all sitting there being like we're done ganging up on you.. they'll still do more and more ..
Paulie says if he tries to Campaign and they all start calling him out again for it he's goign to crack. He thinks they would try and do it on Wednesday.
Nicole – I would rather go out with my head held high..
Paulie – I'll lose my sh1t Crack a couple guys in the face.. you want to do that to me and think you're f***g safe because there's cameras here..

Nicole – you can't do that .. if you hit someone in the face i'll be upset with yo u
Paulie – Nicole you can't keep doing this to me
Nicole – you can't punch someone in the face
paulie – I know I can't.. I'm telling you if they do that I will
Paulie says he will if they try to mess with him again.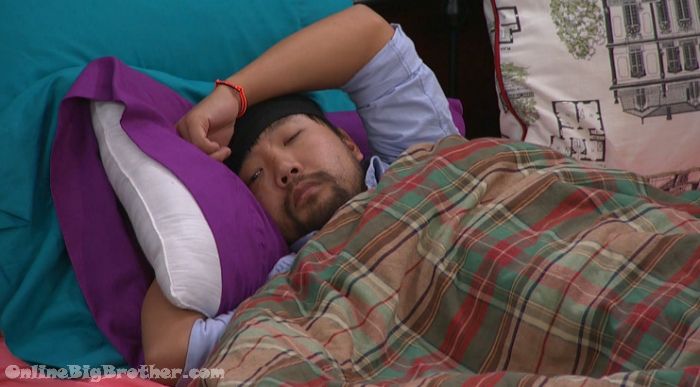 2:51pm Chit chat or sleeping .. topic include Bucket lists to when they get out, Texting etiquette, new music, New phones, New watches etc etc…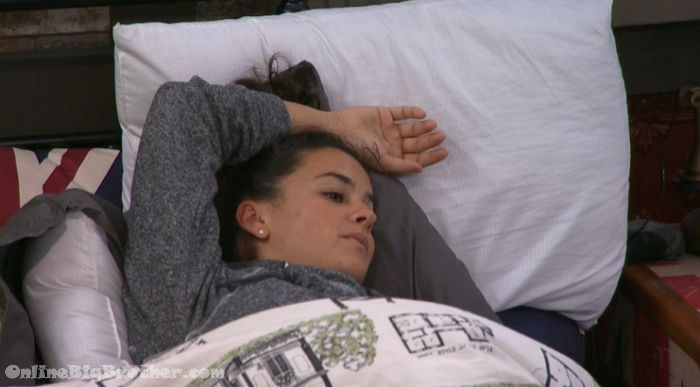 3:00pm London room James and Natalie
Natalie tells James if Nicole really had his back she would have told him straight up that Paulie was throwing his name out there as a backdoor.
James says h'e putting Corey and Nicole up and telling Nicole "I refuse to believe you have never heard my name brought up and you never came and told me about it once.. in a conversation you betrayed my trust.. Corey. you have said things or whatever.. you are up there because of that..
Natalie – he was going against me.. him and Paulie I heard were ganging up on Bridgette.. that's not cool
James- I'm going to call them (Nic/Corey) Clay and Shelli .. they were playing all sides of the house
James says Nicole hasn't been called into the Diary for a long time explains that this means she's not involved in much. When people get called into the Diary a lot that means they are involved in a lot of stuff in the house.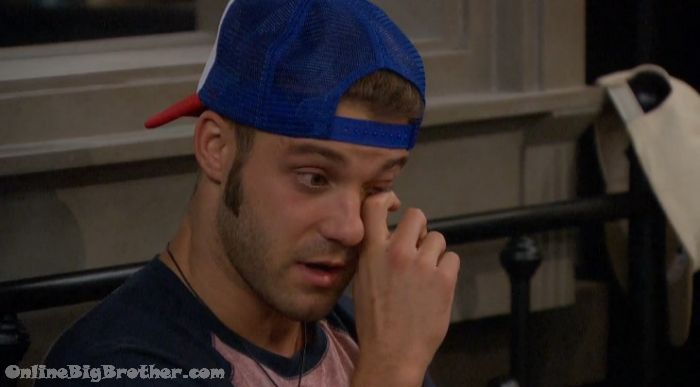 3:26pm Natalie and Paulie London room (James sleeping)
Paulie says he was plying the middle of two groups and got caught the least he can do is help their side get further before he goes calls himself a free game piece.
Paulie – my Social game was so strong people never payed attention to my to my comp wins
Natalie asks him who is ride or die was
Paulie says it was Paul falls lays down beside Paulie.
Paulie says he'll go after whoever the majority of the house wants and he's not going against Natale. Natalie says if he stays and he's not targeting her or her people that's good for his game.
Paulie – if my fate is sealed the last thing I would not is Corey to feel the certain way if his time would be up shortly after.
Paulie – the whole mortality between do I make the decision to campaign for myself or sit back and let bygones be bygones.. My whole thing is if my fate is sealed I would rather leave him being cool than Leave and have him be like damn he tried to stay
Natalie – Corey didn't get you here you did
Paulie – I'm trying to separate Personal with game that's why I was so hurt I was taking it personal and not game wise.
Paulie the only thing I'm looking to repair is game damage.. I might not have done any game damage
Paulie – Everything is blown up I'm not going to try and salvage things because I do feel bad that from a game perspective I betrayed umm certain people
Paulie – umm so i'm not looking to win which would have been the ultimate way of like honouring my aunt to potentially help her out, if she's still alive by the time I get out. (damn he won't stop with this Aunt story)
Paulie – Umm so, I feel like the next closest thing that will make her proud of me will be honouring something in her name so if she did pass before I got out awww.. Like… She would be able to say that she was proud of me one more time.
Paulie starts to tear up..
Paulie asks if it's about what the house or the HOH wants
Natalie says it's not up to what the house wants it's about what individual players want. She'll be voting for what is good for her game.
Paulie – if I go I kinda don't want a chance to come back in
After Paulie leaves.. Natalie says Paulie is finally talking to her like a human being..
Paul – it's for strategy
Natalie – obviously
Paul says they are in lock down it must mean they are preparing for the wall competition. Paul brings up telling Corey and Nicoel if it's the wall Comp he's just going to let go and give it to James.
They laugh.
Natalie – I'm goign to give James a run for his money.
4:05pm Victor says he has an announcement from Production.. feeds cut to Jeff.
4:12pm they are preparing for a Ziggy Marley concert
Nicole says she's not goign to shower becuase it concert is in 40 minutes she won't have time to get ready
Michelle – I hope theres not game talk allowed
Nicole- there isn't
Michelle – I totally thought there was a twist
Natalie – I did no .. thought when is this goign to end. (We all were)
4:22pm Corey and Paulie Kitchen
Paulie – I was hoping is was the Diamond power of veto or a rewind
Corey – I know .. I thought it was goign to be something
paulie – I thought it was goign to be something cool like that
Corey – Yeah I thought it was going to be something.. A comp.. I dunno.. something to do with game.
4:50pm Big Brother blocks the feeds for the party carnival Big Brother is giving the House Guests with singer Ziggy Marley.
5:40pm The live feeds are still blocked.
6:35pm Still nothing..
7:25pm No feeds for you..
"CO-HOH"
WEEK 4 – August 14th to August 19th
This winner automatically becomes Co-HOH, sharing all HOH perks and responsibilities for the duration of the week, including choosing 1 of the 2 nominees.
[polldaddy poll=9496376]