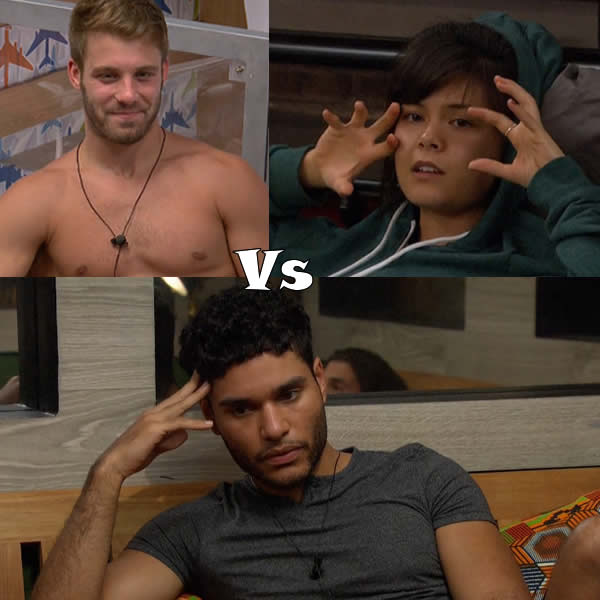 First week was pretty good, Jozea is hilarious some of the things he says.. man WTF. The teams twist: Category 4, Big Sister, Unicorn and Freakazoids aren't playing out on the feeds too much. Some players are still thinking in terms of teams but the majority are more occupied with matters that involve the organic teams. 8 Pack, Fatal 5, revolutions, and the various final 2/3/4 deals floating around.
This early in the game there is going to be a lot of alliances and a lot of final 2'ish' deals.
Fatal Five = Michelle, Nicole, Tiffany, Da'Vonne, and Zakiyah
Revolution = Victor, Jozea, Paul, Bronte, Natalie, Bridgette
8 pack = Zakiyah, Nicole, James, Frank, Da'Vonne, Michelle, Corey, Tiffany
Spy Girls = Natalie "Flirty Spy", Bridgette "Wifey Spy" & Bronte "Spunky Spy"
Vets = Frank, Da'Vonne, JAmes and Nicole
FLASHBACK and watch everything you missed: Live Feed 7 day FREE Trial!

Summary and Links of key events..
Nicole wins the Head of Household competition and nominates Jozea/Paulie for eviction. Paulie is the pawn with Jozea being the target. The new competition Roadkill is played. The winner of this competition gets to secretly nominated a 3rd houseguest for eviction. Frank won this competition and nominated Paul.
The revolution alliance believes Jozea to be staying. It got comical at times how gullible they were. Took them the week for some of them to see the truth. Once they started realizing things were looking bad it was Wednesday night around 11pm too late..
Da'Vonne and Zakiyah had Jozea convinced they are voting to evict Paulie. They spend all of their time in the HOH talking to members of the other side and Zakiyah has a "Flirtmance" thing going on with Paulie. Even with this Jozea still believes Da'Vonne and Zakiyah will vote to keep him he tells the revolution alliance he is all certain on these 2 votes to push him to stay.
Victor seems convinced that Frank will vote to evict Paulie. Paul was convinced that James and Victor would but after a series of James' pranks he started doubting this. Paul is suspicious but believes in Jozea's word about Da'Vonne. Natalie and Bronte know Jozea will probably get evicted. They are starting to think along the lines of rebuilding their game.
Nicole and Tiffany are getting annoyed by Frank/James for running there mouth. Tiffany has been annoyed by Da'Vonne for disrespecting her, Zakiyah, Nicole and Da'Vonne are worried James is getting too close to Natalie. Basically it's not all sunshine with Frank and Da'Vonne being the 2 starting most of it. 
Victor told Nicole that she is his type of girl and he wanted to go out on a date after the show. Nicole told this to James. James then went and told this to Natalie. Natalie confronted Victor and he denied it. Natalie assumes James made that up to hurt her and drive a wedge between the newbies. This caused a lot of drama.. Bronte and Natalie both pissed at James.
Predictions
Jozea is evicted by a vote of 7 to 4
Jozea going home isn't the biggest blindside but it's big enough. These two sides HATE HATE each other and depending who wins the Head of Household there will be some drama on the feeds.
*** On tonight's episode another game changing twist will be announced.
Julie: "It won't be the end of the line for the one that walks out those doors.."

Results from the show
Bronte votes to evict: Paulie
Corey votes to evict: Jozea
Michelle votes to evict: Jozea
Natalie votes to evict: Paulie
Paul votes to evict: Paulie
Tiffany votes to evict: Jozea
Victor votes to evict: Paulie
Zakiyah votes to evict: Jozea
James votes to evict: Jozea
Frank votes to evict: Jozea
Da'vonne votes to evict: Jozea
As HOH Nicole is the tie breaker: Not needed
Evicted House Guest: Jozea by a 7-4-0 vote
Jozea says he feels most betrayed by Natalie. "Last moment swtich-a-roo" Julie "You called yourself the Messiah of the newbies but here you are sitting with me."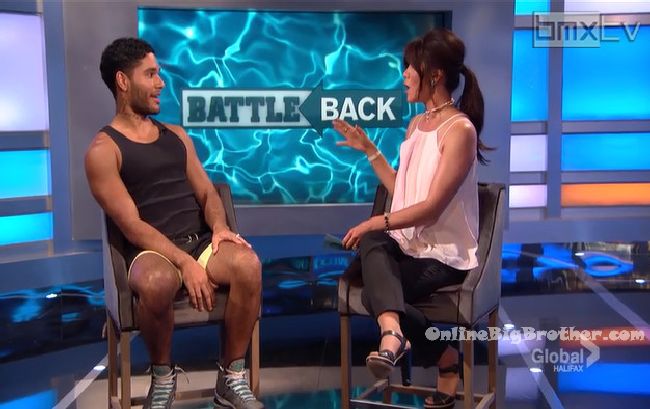 Next BIG Twist: Battle Back Competition
One of the first 5 evictees will return – Glenn and Jozea will battle for a chance to return. The loser will go home and the winner will battle the next house guest evicted.
HOH winner will win safety for their entire team. HOH competition – "Berry Balanced"
The first team to get 40 berries across will send one team member across to be crowned the HOH winner.
The episode ends without revealing the winner of the HOH. When the live feeds turn back on we'll find out who won…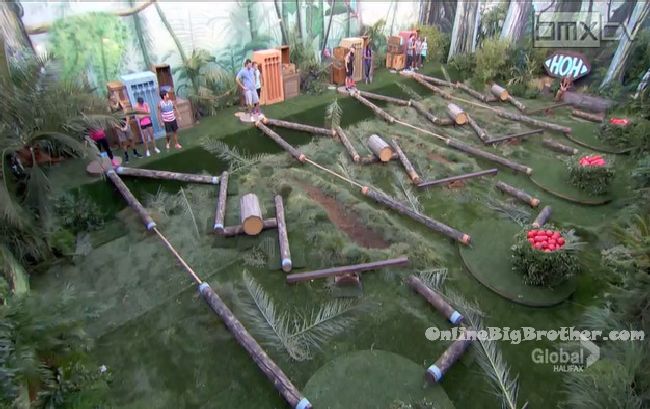 HOH WINNER: Paulie
Frank, Paulie, Bridgette and Michelle team won and are safe for the week.
[polldaddy poll=9459672]