POV Holder:
Paul
POV Competition
June, 24th
POV Used
Yes
POV Ceremony
June, 26th
HOH
Nicole
Next HOH
June, 30
Roadkill Competition Winner:
Frank
Original Nominations:
Paulie, Jozea, and Paul
After POV Nominations:
Paulie, Jozea and Bridgette
Have Nots
?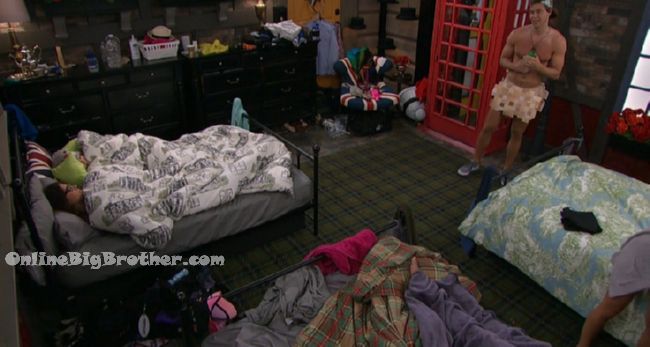 10:52am James, Nicole, Tiffany, Frank, Michelle
James saying he put crackers in Corey's bed.
Frank and Nicole talking about Frank's back having "The perfect Black Heads" to pick
Frank says the newbies were in the kitchen complaining that the pranks were petty.
Nicole – Oh my gosh they need to loosen up
Michelle – Paul is livid
Frank – All i heard them say was F**** you
Nicole – we gotta have some kinda fun..
Frank – Corey laughs it off
Michelle – Being mad about Crackers is petty
Natalie joins them.
Teasing around that Frank is mean.. "Fran1k-enstein"
James says he's going in the kitchen "To stir some sh1t up" (Because the other side of the house is they're)
James – Do more prank do more pranks.. No. .
Natalie – People get so grouchy I think they're fun
Nicole – I would be pissed if someone chopped my ponytail off or broke my glasses
Nicole leaves
Natalie – Sorry about last night guys… OK
Bronte comes in and her and Natalie go to work out..
James says he's going to pull more pranks on Paul and Victor.
Michelle- You know what's funny is Paul acts like this tough rocker guy and he gets pissed off about crackers
James calls them stupid.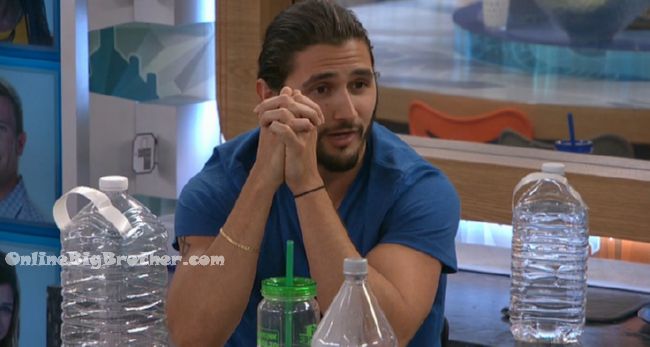 11:02am Kitchen Victor, James and Paul
Paul complaining about the ants biting him
Victor saying it's making it easy for the ants with Jamesthrowing "Sh1t" in their room all the time.
James – You need to light up bro
Victor – you need to stop doing that sh1t bro
James – you need to lighten up bro
Victor – you really need to stop doing that
James – Big BRother 18 lighten up bro
Victor – It is Big Brother 18 congratulations
James – have fun … You're not at home anymore…
Victor – it's not about being wound up man
James – Where's the kid in you.. You have any kid left in you or are you just a robot
Victor – I do have a kid in me
James – like I can't do anything fun it's not in my DNA
Victor – I do a lot of fun shit
James – what do you do for fun
Victor – I don't prank people
James – so what do you do… hop scotch play jump rope
Victor – sometimes I do that
James – thats cool
James – you can put crackers in my bed ..
Victor – But I don't
You should it's fun you'll laugh.. .laughing is good for the soul ..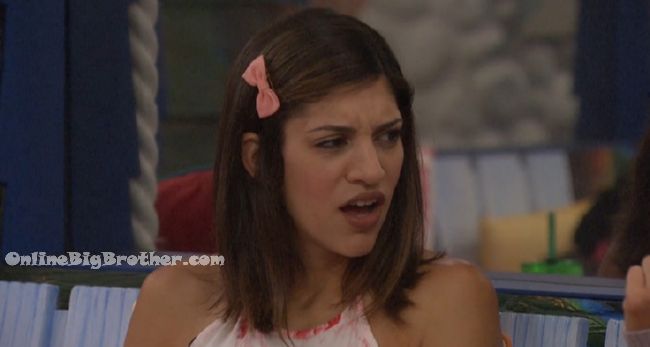 11:05am Bathroom Natalie and Bronte
Bronte saying the vote is coming down to "momma Da and Z"
Natalie agrees that is what she was telling Jozea, she told him to focus on those votes.
Bronte says James and Frank are voting to keep Paulie 100%
Natalie agrees "They were always with that side"
Natalie – It makes me sad I trusted him.
Bronte – no doubt Frank and JAmes are voting out Jozea.. It all comes down to 'Da and Z'
Bronte says if they vote Jozea out and she wins HOH she'll put them both up. (Da and Z)
Natalie – We need Jozea and Victor
Bronte – if Jozea goes home we need to win HOH and Roadkill next week.. That the only way the numbers will balance out.
Bronte explains If we win HOH and they win road kill they have the numbers to send one of us home
Natalie – we're all screwed in this alliance..
Bronte – it's the two sides battling it out..
Bronte saying that Da'Vonne and Zakiyah are going to vote to keep Jozea adds the that other side is cutthroat.
Bronte – James is the dirtiest one in the house I am shocked.. He put crackers in victor's bed he's asking for a fight
Bronte – there's not some master plan to this there can't be.. It's just voting and numbers.
Natalie – I'm ready for this game I'm going to smile and be super sweet but I will play dirty it is on baby..
Natalie – I loved James but seeing how quick he was to hurt my feelings.. this is a game you don't mess with someone's emotions…
Bronte – he honestly thought we were dumb enough to fall for these shenanigans
Bronte and Natalie agree the two of them have a very strong alliance.
Bronte – that was crazy last night.. Victor was about to storm in there and take James by the throat…
Natalie – I know that they know we are strong players.
They agree Paulie went up as a pawn.
Bronte – never ever agree to go up as the pawn
Bronte says the other side makes up slanderous lies to try to get them to vote a certain way it's dirty.
Natalie – we got to stay strong and play hard
Bronte – we got to win HOH's
Bronte – I was mad Bridgette went up but now I'm happy because she's such a flip flop.. I do not think she would have voted to keep jozea
Natalie – she doesn't like him
Bronte and Natalie agree DON'T trust Bridgette
Natalie – I love her to pieces… but
Natalie – I'm glad they think i'm flirty and think they can play with my emotions.. They are going down
Brointe brings up the possibility that the teams will be more important to the game and James (and the rest of them) are not considering this.
Natalie – They think they have power right now when Nicole has HOH but sh1ts about to change.. You try to hurt my feelings i'm going to come after you.. I would have defended James I would have had his back
James – What a sleeze all on a personal level i don't like him anymore..
Natalie says Frank keeps telling her 'You're going home next week"
Bronte – these people are rachet..
Bronte is pissed at the other side..
Corey joins them.
Bronte says to Corey that 'everyone' is saying that 'everything' is tonight because the Olympics are tomorrow.
Corey mentions the suitcases are in the storage room.
Brotne says Frank told her they bring the suitcases out and change the key until the day of the eviction
Corey leaves..
Natalie – I literally want to dance all day.. I want to Dance and Dance .. that would be nice.
Bronte says if Jozea goes home she doesn't think they will make it to jury.
Bronte is pissed at James for turning his back on the unicorn team .."You little fu***d tard.. I seriously could beat James up right now.. What is your plan right now? … it's so unnecessary .. .I want to kick his little Asian @$$ back to Hong Kong or wherever he came from.."
Bronte – I feel bad about what I said about James.. I like James I just don't like liars… especially when something happens to you i'm feisty..
Bronte – made up a lie and spread it around the house.. how did you win american's favorite.. I thought America didn't like liars.
Bridgette joins them.. natalie says someone puked in the toilet.
Bridgette – why
Bronte – I love Zakiyah .. but a couple cocktails and she lost her sh1t.. she can party with this is over..
Natalie – I'm not drinking i'm not stupid..
Natalie – this is a game not be best friends kiss rainbows.. even though that's what I like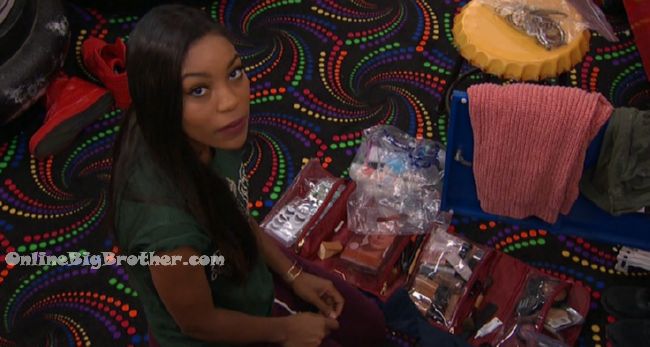 2:14 cam 1-2 Zakiyah
Zakiyah giving shoutouts and says hi to the "Feed"
Zakiyah says she has no social media active..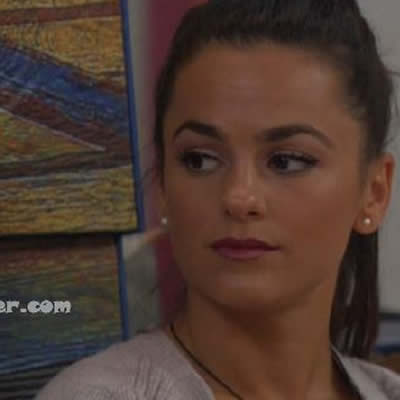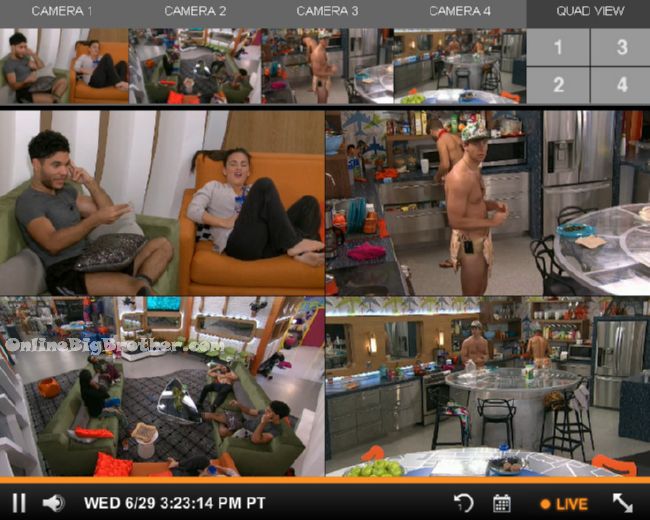 3:14pm feeds chit chat
(Other than these 3 conversations there wasn't a whole lot going on today. The house is on lockdown and there's rampant rumors the HOH and Eviction is tonight. The live show is tomorrow so i'm not sure what is going on. )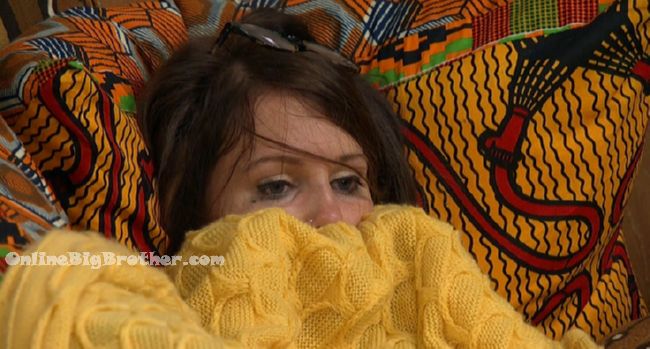 3:36pm Frank and Michelle
Michelle is crying because they are still wearing the pixels and she's gained weight.
Michelle – If I got on the scale I would be 115 i'm the fattest girl in the house
Frank – you're beautiful.. You haven't gained weight .. don't get down on yourself.. You're beautiful that's the reason I remembered your name..
Frank says nobody in the house thinks she's gained weight
Michelle – I don't care what people think I just care what I think about myself.. Every mirror I see..
Michele – I feel the jiggle when I walk
Frank – it's the pixels my pixels jiggle too
Frank says he'll go ask production how much longer they have to wear the costumes.
3:55pm Feeds on fish…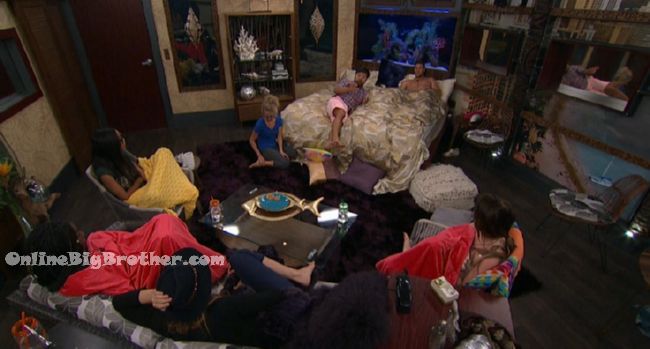 4:30pm HOH 8 pack alliance
Corey relaying the conversation Victor and James had earlier today…
Everyone laughing and Victor
Frank is still in the pixel costume.
4:58pm Pixels removed..
Pixels no more #BB18 @DawgsBigBrother pic.twitter.com/KVerNx3vz5

— OnlineBigBrother.com (@bigbspoilers) June 29, 2016
FLASHBACK and watch everything you missed: Live Feed 7 day FREE Trial!