POV Holder:
Paul
POV Competition
June, 24th
POV Used
Yes
POV Ceremony
June, 26th
HOH
Nicole
Next HOH
June, 30
Roadkill Competition Winner:
Frank
Original Nominations:
Paulie, Jozea, and Paul
After POV Nominations:
Paulie, Jozea and Bridgette
Have Nots
?
Watch the 1st WEEK of the live feeds for FREE:
Big Brother 18 Alliances Help Guide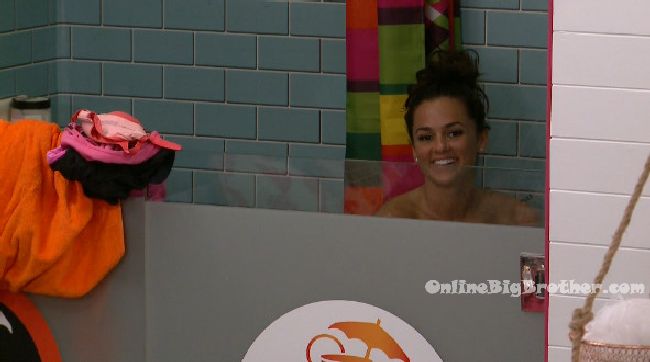 12:10am In the Bathroom – Natalie is taking a shower. She asks James if the camera can see her? James says no. Natalie says it feels like she is completely nude. Its funny that I'm naked and there are guys in here. James asks does it make you feel weird? Natalie says yeah. James tells Jozea he's a guy too. Jozea says I'm a guy too but I have benefits. Natalie says yeah I wouldn't care if Jozea saw me naked. James asks you would care if I saw you naked? Natalie says yeah, he doesn't like me. You're straight, you know?! He's not attracted to me. James says what if I'm not attracted to you. Natalie says well you're a man so yes you are attracted to this. James says what if I was professional .. mature about it. Natalie says I don't know what that means. James says we're both grown adults. Its not like I'm going to be like oh my god BOOBIES! Natalie says I'm very private about my body. I would rather Jozea see my body. James says what if I was your boyfriend. Natalie says well we would have to date for you to find out. James says awwwhhha! Natalie asks Jozea so if you saw me naked you wouldn't be attracted? Jozea says nope.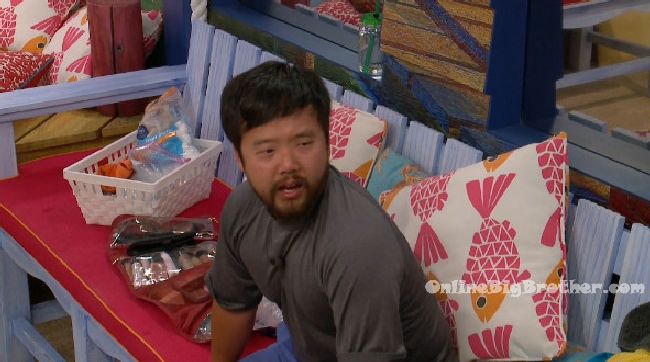 12:30am In the bedroom –
James tells Frank he might quit drinking. Frank asks why? James says its not as fun as it used to be. Corey finds bread in his pillow case and thinks Nicole pranked him. Corey heads up to the HOH room to ask if it was her. Nicole tells him it wasn't her. While he's gone – James stuffs more slices of bread into Corey's pillow cases. Corey returns and says his bed smells like bread now. He lays down and James starts laughing. Corey jumps up and turns on the light. He looks inside his pillow and says there's a whole loaf of bread in there. Frank is laughing and says he doesn't know why its so funny, but it is.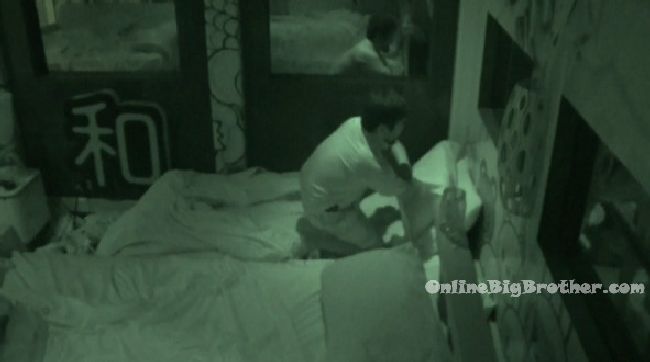 Up in the HOH room – Zakiyah is emotional because she had a feeling something was wrong with her mom. Michelle tells Zak that she will win HOH and get photos and a letter. Zak says I'm ready for it.

12:45am – 1:05am
Natalie, Bronte and Bridgette are in the bathroom talking about how at night they plan to come together and compare notes. Bronte says there is no way Paulie is going to just lay down and accept his fate. Really that's how you're going to go out. I would be fighting to stay .. making deals with people. Bronte says she got nervous when Zak came out of the diary room crying and Paulie swooped in. I don't know if she was crying because he is going or what. I wouldn't be surprised if she votes for him to stay. Bridgette says Jozea said lets just get these people out and we'll all shake hands and it will be a gentleman's game. He said he would get people to volunteer to go up. Natalie says you want to play that game we'll kick you out of here. Bronte says don't ever volunteer to go up. They talk about how James is really good at endurance comps. Bridgette says we need to get the vets out because if we keep taking out the new people .. there will be just as many of them as us.
1:40am – 1:55am Cam 3-4
Natalie is upset for a comment that Victor made about her pants and for the way he talks to her. Jozea tries to fix the situation and told Victor he had to apologize to Natalie. She thinks your delivery is wrong. Telling her about her dirty pants upset her. Paul says that you liked each other and then you saw her flirting with other guys .. didn't like that and backed off. Now she's all salty. Victor says you see America! I didn't do anything wrong. Victor goes to get Natalie and apologizes to her. He tells her he just didn't want her pants to get dirty. Natalie says somethings you say come off as mean. It just doesn't sound nice. When you talk to me you nitpick me. I think its the delivery. When you said EWWW your pants are dirty made me feel bad and self conscious. Vic says don't let those guys take advantage of little things like this and turn you against me. I like you and want you around. I'm sorry. Natalie says okay now I know you didn't mean it in a malicious way.

1:40am Bedroom – Frank says no matter what we tell them, they're (Nat, Bronte, Bridgette) probably going to keep listening to what Vic tells them in the short term. Just because they just bought into it so much. Paulie says what I was thinking about with those girls is even when we start taking down the guys from their crew .. then all of a sudden they'll probably look at the house .. because they tried to buddy buddy up to the girls but the girls f**king hate them. Frank says as long as someone from our side wins HOH .. we don't even have to win HOH for the next couple weeks because their going to start hating each other so much they're going to take each other out. Nicole and all them will be going after Nat, Bridgette and Bronte. Frank says I can't believe Paul won that veto. He's got some intelligence. It doesn't make sense to me but some how its there. Corey says his (Paul's) parents are both lawyers. Frank says they (Nicole, Zak, Da, Tiffany) hate Bronte the most and then Bridgette. Paulie says they only hate Bronte because of the sh*t she's been saying about me. Frank says and Zackiyah hates Bronte because she's been giving her the stink eye the last couple days. It's funny. Frank says dude that's what's funny, those girls are about to be at each other. Paulie says that's why we just have to pick off the other big guy. Frank says and then we sit back. Paulie says pick off the other big gun (Victor) and Paul will easily maneuvered. Frank says once Jozea and Vic are gone … Paul will be a loyal stray dog if we need it.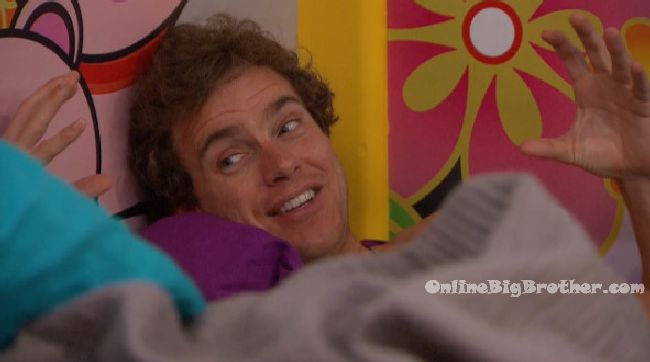 1:55am Backyard – Victor tells Paul to go get Bronte. Victor tells Jozea that he thinks he (Jozea) is freaking out. Jozea says what I want you to understand is that a little smidgen like this …this feminist power thing that Bridgette has going on. I don't need a man. That thing plus Tiffany. Victor says she's not used to me.. she sees me as a Sargent some times. Paul and Bronte return. Jozea tells Bronte .. now you know I didn't f**king like that! His motherf**king input in our conversation. Paul says if I come into a room and I want to find out if everything is okay and someone tells me this is girl time I'm going to f**king scream. Jozea tells Bronte you heard what James said. Bronte says I know, James is trying to break us a part. Bronte says that James is telling people that Victor asked Nicole on a date. Victor asks did he say that right now? Did he say that right now!? Bronte says yes. Victor gets mad. Bronte says listen… James is trying to pull us a part. Jozea tells Bronte.. I don't like this Bridgette feminist power thing. Paul says its getting f**king old. The reason why he sent me in there was to shut that f**king James up. And she tells me this is girl talk .. I'm going to turn around and punch her in the face! Paul says after Jozea gets off and one of us wins HOH .. I'm going to go to James and say you're going home buddy because you're f**king full of sh*t. Victor says I'm going to go in there and squash this right now. Bronte says no because then he will know I came out here and told you. Paul says I don't give a F**K! We'll protect you. Bronte says I don't need you to protect me. I need you to keep your mouth shut! Jozea says we don't do anything .. when we get power we put his a$$ up. Paul says I'm about to go into solo mode and say F**K YOU F**K YOU F**K YOU .. I'm going to win every HOH! Bronte laughs and says that Michelle said that Victor is the reason why she doesn't eat. Bronte says we know that James is the mastermind. Its clear that Natalie has feelings for Victor and that's causing problems right now. If any other boy had made a comment about her pants, she wouldn't have cared but because it came from Victor she cares. Victor says I just want to break this pool stick over James head! Paul says if he says another comment I am going to go off on him. Bronte heads back inside. Jozea tells Paul and Victor they're risking his stay here. Victor says I know that's why I'm not over there bashing that guys head in. Paul tells Jozea my promise to you is I will bite my tongue and sit in the fucking corner until Thursday.
FLASHBACK and watch everything you missed: CBS All Access FREE Trial!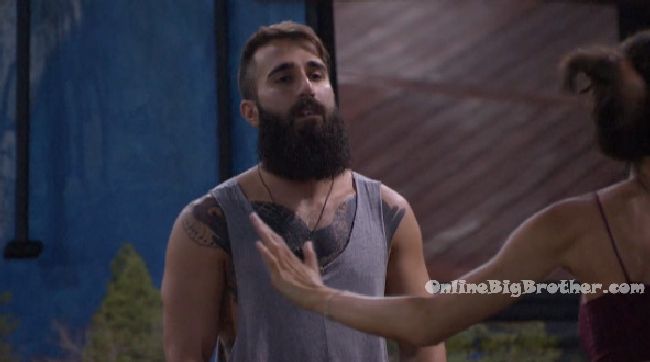 2:20am – 2:35am Cam 1-2 Backyard – Paul tells Victor that James is a f**King piece of sh*t! I'm sick of him bro! I've had it with him.. I've f**king had it with him. I've had it with siting and biting my tongue. I've had it with being lied to. I've had it with him taking me for a f**king idiot. I've had it with his dumba$$ pranks with his cockiness walking around the house like he's the sh*t. I'm going to call him out! I'M GOING TO F**kING TAKE HIM OUT! Frank is going to see this and be like why would I go with the majority .. they don't even know what the f**k they're doing. Vic agrees. Bronte comes back out to talk to Paul and Victor. Paul says that tomorrow Victor should ask Nicole in front of people if he ever asked her out on a date and then when she says not .. he will turn to James and ask why he's making up lies. Bronte says no because I guarantee this is a lie they came up with and she will say he did so that Victor looks like a liar. Let it go, I will talk to Natalie. Victor says if Paulie goes home and we have the power I will tell James to go f**k himself. Jozea and Natalie come out. Jozea says he told Natalie how James lied about Victor asking Nicole out. Natalie says I'm not with you (Vic) we have nothing. Victor says I know.. He is trying to pull us a part. Paul says f**k you! Don't f**k with my team! I'm going to walk out there rip my nuts off and glue them to his f**king forehead if he says one more thing about my god damn team! Hey what's going on .. its girl talk… ahh… are you a girl?! Get the f**k out of here you little Korean man! I'VE HAD IT! I'VE HAD IT! I'VE HAD IT! Natalie says that doesn't even bother me. You (Vic) could make out with Bronte tomorrow and I would laugh. Paul says if he comes up to you .. you should be like shoo away little hot dog man! Paul says they want homeboy (Jozea) to go home. And I will f**king punch people in the mouth if homeboy goes .. and just get arrested and walk out in handcuffs.
See what they can't show you on TV – CBS All Access: 1 WEEK FREE Trial!