POV Holder:
Paul
POV Competition
June, 24th
POV Used
Yes
POV Ceremony
June, 26th
HOH
Nicole
Next HOH
June, 30
Roadkill Competition Winner:
Frank
Original Nominations:
Paulie, Jozea, and Paul
After POV Nominations:
Paulie, Jozea and Bridgette
Have Nots
?
Watch the 1st WEEK of the live feeds for FREE:

Big Brother 18 Alliances Help Guide
Corey's Goat story found here https://www.onlinebigbrother.com/frank-tells-paulie-act-worried-we-want-him-to-feel-comfortable-so-his-reaction-is-that-much-better/2/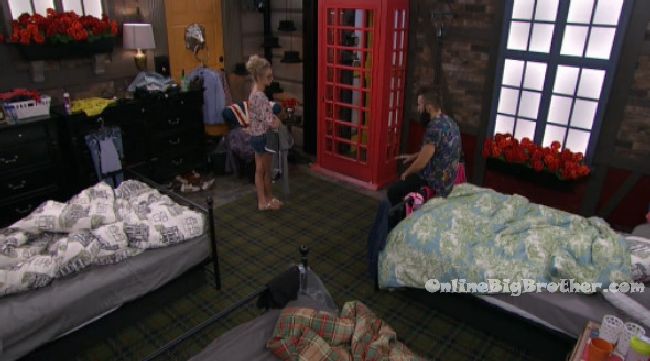 2:40pm – 4:10pm Big Brother blocked the live feeds for the power of veto ceremony to take place.
Paul used the Power of Veto to pull himself off the block.
In secrecy Frank Nominated Bridgette for eviction.
On Thursday we will find out who is evicted from the Big Brother house. Up until Thursday there's going to be lots of campaigning, Jozea going crazy and definitely more Jozea house meetings.
In the bedroom – Paul says if he doesn't go home, I would understand why you would be worried. Just know Vic and I have your back. You don't have to worry if he doesn't go home. We've gotten him to forget about that incident. Thanks for letting me spit my bullsh*t. Nicole says no, thanks it helps me too. Paul goes to talk to Zak. He tells her that they know no one is going to vote out Bridgette. They want one of those two (Paulie or Jozea) to go home. Its like f**k you, you're going home.


In the backyard – Jozea says the obvious choice would have Zakiyah or Day. This is just confusing. Jozea says it (Roadblock winner) has to be Tiffany or Michelle. Jozea says I know this scary because I'm on the block too … but you don't have to worry. I'm telling you as a human being .. you are good. We decide as a unit and we don't want you gone. Bridgette says you don't know what will go on the next few days. Jozea says I'm telling you, you are going to be here. I'm going to be here and you're going to be here. Why would they want Paulie here. Bronte tells Bridgette that they are not on your side. Nicole came down here and name dropped your name. You can't trust them. They think you're a flip flop. Bridgette says don't leave me alone with them. Bridgette asks so next week we are going balls to the wall to win. Jozea says oh yeah. Bronte says Tiffany, Nicole and Zakiyah are leaving this house. I will try my hardest to get them out. Jozea says that James will vote with his team … and I know they will vote Paulie out .. that's a fact! Jozea says their numbers don't even touch ours. Bronte says that side will vote for someone and our side will vote for the other person. There's going to be one person that gets no votes. Paul joins them and tells Bridgette she isn't going anywhere. Bronte and Paul say that when Bridgette's face went up .. they saw Michelle smirk under her hat. Bronte says her a$$ is mine!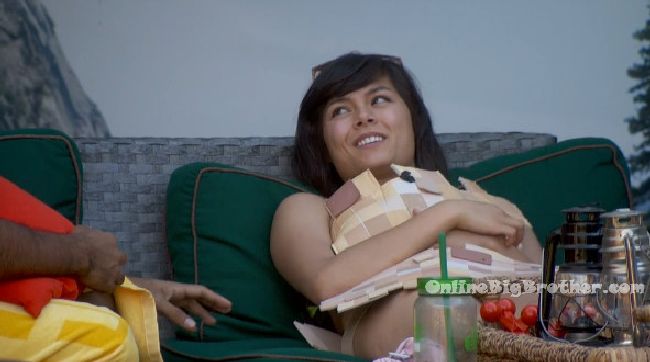 See what they can't show you on TV – CBS All Access: 1 WEEK FREE Trial!
4:30pm – 4:40pm Cam 3-4 Tiffany and Michelle are laying in the hammock talking about Jozea. Tiffany says that Jozea said he is going to host the Grammy's. Michelle says that Jozea said he makes over 100G doing makeup stuff. Like why would you leave that?! Tiffany says he said he is too scared to drive because he doesn't understand the lanes. That just shows you how stupid he is. He doesn't know the lanes. He's super delusional. That just shows how naive Bronte is that she follows him around and believes it. Tiffany says he's going to be so blindsided .. its hilarious. What do you think the feedsters think of him. Michelle says I don't know .. they like the underdogs. Tiffany says he's not an underdog. He think's he's the top dog. He tries to teach us about the game. He thinks he's the glue that brings us all together. WHat do you think Bronte is going to do when Jozea leaves. Michelle says I have no idea .. probably follow us around. Tiffany says I think she will gravitate to Paul. Michelle says Oh yeah I forgot about that. In a squeaky voice she says My name is Bronte like brontosaurus.. Tiffany laughs and says stop stop. Michelle says I am so ready to play in this HOH. I'm going to win and put Vic's a$$ up!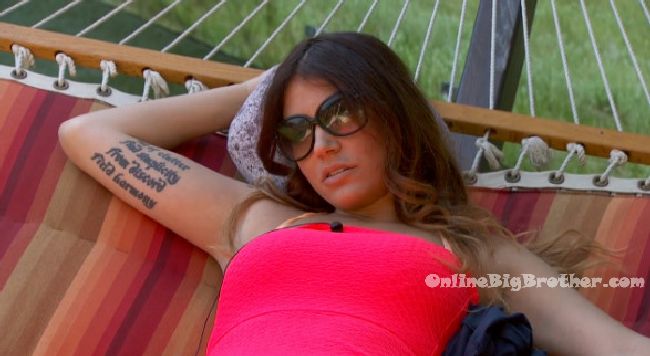 5:10pm Cam 3-4 Backyard – Natalie, Paul, Jozea and Vic are talking. Paul and Victor are pissed off at James for his "stupid a$$ pranks" Vic says we're sitting pretty right now. Now we don't have to worry. You, Me, Bronte, Paul, Zakiyah and Day. That's six solid. Anyone else vote our way that's good .. if they don't F**K YOU! Paul says those cockroaches are going to run. They f**ked with the wrong people.
Cam 1-2 In the bathroom shower – James is planting another prank. He's putting mayo in the sunscreen bottle.

5:40pm Cam 3-4 Backyard – James and Nicole are talking. Nicole says she does not like Bronte. Day says that she said we need to get that B-I-T-C_H out to Day after the nomination ceremony. Nicole says she is not nice! James says don't worry, we'll get her out. Nicole says I'm in trouble. James laughs .. we're going to have to win the roadkill. Nicole says I've been burned too much in this game. I'm not here to be a baby. Its not like I'm doing anything to anyone personally .. its strategic.
In the bedroom – Tiffany comments to Paulie that guys in here are the cockiest ever. Paulie tells Tiffany she needs to calm down. Tiffiany tells Paulie about how Jozea thinks he's the Messiah. Michelle joins them. Paulie says Natalie, Bronte and Vic's vote are going towards me. Tiffany tells Paulie to act scared. Michelle and Tiffany both tell Paulie he isn't going home. Paulie says I don't even know if I could bring myself to get teary eyed. Tiffany says you don't have to do that .. just act depressed. I know the votes are against me. Tiffany says she caught Natalie counting votes after the veto ceremony to see if they still have the votes because they thought they would have Bridgette's vote.
6pm – 6:10pm Cam 3-4
Zakiyah and DaVonne are in the safari room talking. Nicole joins them and talks about how she's been hearing Bronte call her a B***h. What did I do to her? Why because I won HOH and had to put two people up?! DaVonne tells Nicole you're a girl. You're not a mean girl. She feels intimidated by that. And the fact that you're a vet makes you even more of a threat. Nicole says they're taking it very personally. Nicole says And she keeps saying that she's been feed so much in the DR and saying things that she doesn't want to say about people. Big Brother blocks the feeds. DaVonne says she's just saying that because she doesn't want you coming after her once all this is said and done. Zak says my thing is what I think is.. they give you ideas. DaVonne says one thing they're good at is they make sure one of them is with each group at all times.