POV Holder:
?
POV Competition
July 1st?
POV Used
?
POV Ceremony
July 3rd?
HOH
Paulie
Next HOH
July 7th
Roadkill Competition Winner:
?
Original Nominations:
? and ?
After POV Nominations:
? and ?
Have Nots
?
Watch the 1st WEEK of the live feeds for FREE:
Big Brother 18 Alliances Help Guide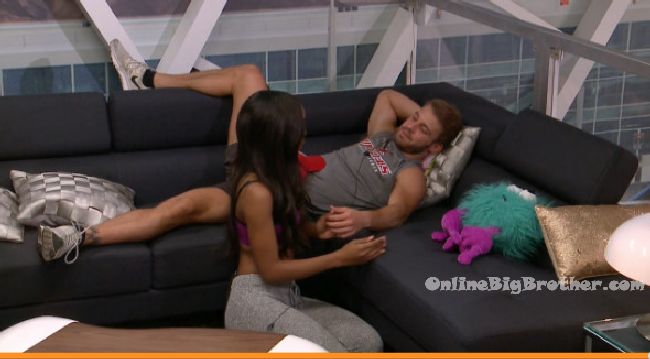 7:50pm The Live Feeds return – Frank's team won and they picked Paulie have the HOH! James says sorry America, had to throw that HOH to get Victor out!

In the bedroom – Victor is pissed because he knows James threw the HOH competition so that his team wouldn't win. Victor says he knows he's going up. Paul says he's bummed because Jozea left. Frank tells Paul to continue to be friendly.
Paulie is talking to Zakiyah outside the HOH room. Paulie says its a good thing that I didn't lean over to Bronte and tell her I was coming after her next. He says Vic knows James threw it. Paulie says alone trying to avoid Vic and Paul because they keep trying to talk to him. Paulie tells Zakiyah to keep everyone calm… there no need for people to freak out. Zakiyah leaves. Nicole joins Paulie and says she's so happy he won! "Cody would be so happy" She says everything went perfect. The votes came out right .. I can't believe 4 people still voted against you. Paulie says I don't care .. I'm sticking to the plan. Definitely getting Vic out. Paulie says I'm doing what the group wants …whatever the group wants. If You want Vic and Paul up I'll do it. The only one that can't go up is Bridgette (Because her team won so she is safe.) Paul says I can compete head to head with Paul so I don't need to put up someone to compete against him. I can do that.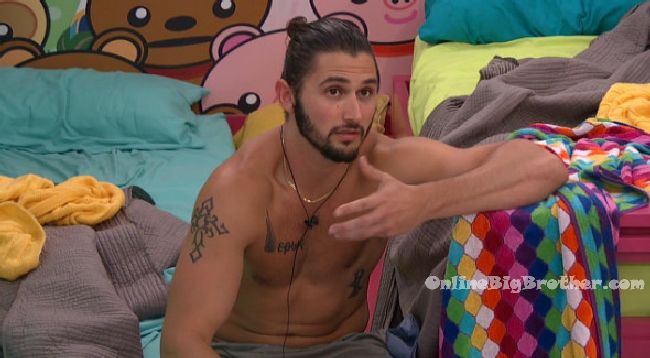 8pm Frank asks Tiffany if he can talk to her. He asks if they're good. She says yes. He says he's sorry for poppin' off on her. Tensions were high last night. Tiffany says she's a very passionate person and it some times comes off the wrong way. Frank says I think we're a lot a like.
8:10pm Bronte tells Natalie that once they send Vic and Paul home .. we're going to be next. Natalie says the game changes every day. We jsut need to lay low and figure it out.. and get in there. Bronte says okay.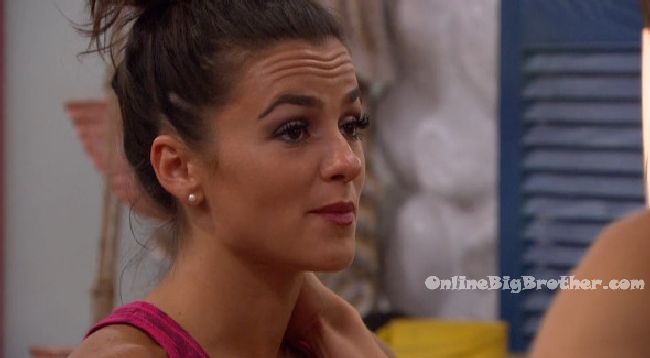 8:15pm Nicole says she thinks everything will go good. Paulie says said he's not going to stray from putting Vic up. DaVonne asks James does he know you threw the comp? James says yeah. Nicole says but if you deny it he will never know. I was watching you from the side and I didn't know. That was the best performance ever!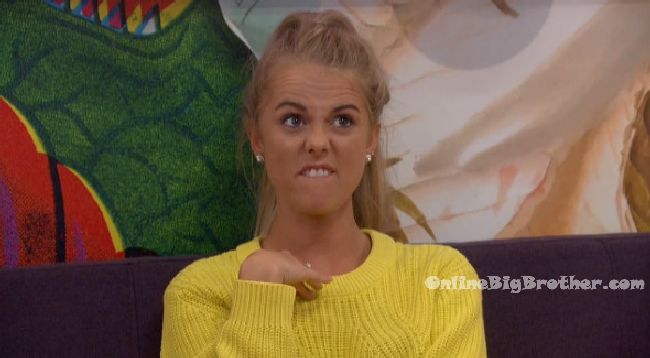 Vic and Paul are talking. Vic says I anticipate seeing my face up there and fighting to take myself off. Paul says me too. Vic says I don't understand why he wouldn't put up Nicole since she put him up. Paul says he wouldn't do that. Paul says let me see what I can do …and work some magic. Vic says we just have to win the veto and put someone else up with the BB Roadkill.
8:20pm – 8:40pm Paulie, Michelle and Tiffany are talking. Paulie says they should be scared.. they treated me like sh*t all week. I'm not going to treat them like sh*t but they're going to go up. They talk about Natalie, Bridgette and Bronte sneaking through as floaters. Paulie says that Natalie might go to Frank and say that she jumped off to prove her loyalty. Paulie says Frank and I are going to do all the acting this week. Bronte and Natalie were acting last week.
In the bathroom – Bronte says she is kind of sh*tting her pants. Vic says I could have won that comp. I should have pushed them off. (His team members so that they would be out and he could finish the comp alone.) Bronte says then you would have been eliminated. They said you can't touch your team mates. Bronte says the thing we can tell them is that we're loyal. Vic says yeah that's what I'm going to say.
9:05am Michelle, Nicole and DaVonne are talking. Michelle says if I win HOH next week I am getting her (Bronte) out.
9:10pm Frank says that Vic lied to me and I tried to call him out on it but he wouldn't admit it. Frank says maybe we ought to put Bronte and Natalie up and then backdoor him (Victor). James says I did my part. James says whatever ya'll do I'm behind it. The worst case scenario is Vic wins and pulls one of them off and now he's safe. James says Vic is probably expecting to go up. Frank says yeah he thinks he and Paul are going up. They agree to be nice to Natalie because she might come around (to their side).
FLASHBACK and watch everything you missed: CBS All Access FREE Trial!

[polldaddy poll=9459672]