POV Holder:
Paul
POV Competition
June, 24th
POV Used
?
POV Ceremony
June, 26th
HOH
Nicole
Next HOH
June, 30
Original Nominations:
Paulie, Jozea, and Paul
After POV Nominations:
? and ?
Have Nots
?
Watch the 1st WEEK of the live feeds for FREE:

Big Brother 18 Alliances Help Guide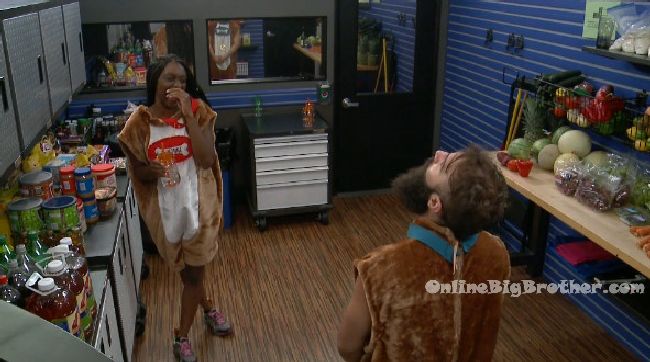 4:10pm The Power of Veto competition started.
Veto Players: DA'Vonne, Corey, Nicole, Jozea, Paulie, Paul
Veto Winner: Paul
When the feeds return – Paul and DaVonne are talking in the storage room. DaVonne congratulates him on winning.
6:40pm In the HOH room – Frank is talking to Tiffany. Frank says I should put myself up. It would cause confusion but … I wouldn't.. I would never put myself up. I'm going to have a talk with Michelle. Tiffany asks are you thinking of putting her up? Frank says no, I don't think she could handle it. Tiffany says maybe says I totally don't want to put you on the block but if you're okay with it.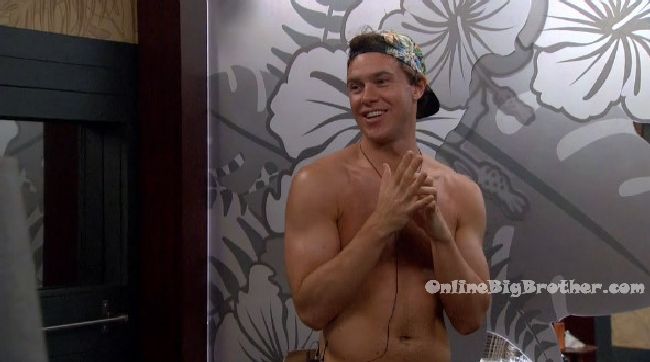 6:50pm – 7pm In the African room – Jozea and Michelle are talking. Michelle says she's not like Christine (BB16). I'm prettier and I wouldn't cheat on my husband. Just kidding I know she didn't cheat. I liked her. Paul joins them and then heads to the bathroom where he, Nicole, DaVonne, Paulie and Corey – talk about the veto competition. Paul says that was a f**king tough competition! Paulie tells Paul he's glad he (Paul) won it. Paul says thanks I'm glad at least one of us one it. It just sucks whoever takes my position. No one can put my name back in again right?! Corey says no you're safe. Paul says it sucks when its anonymous. You just don't know who you pissed off. Whatever it was I don't care I got up, I got off. I don't care.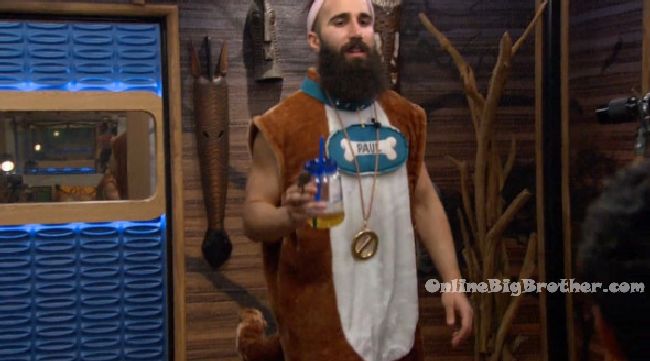 7pm Paulie tells Corey …watch how crazy I drive Jozea this week. I'm not going to be a dick about it … I'm just going to put shit in his head making him run around all crazy. Corey says wait until Thursday to do it.
HOH room – DaVonne tells Zakiyah this is about to be hilarious because he thinks he is 100% safe. DaVonne says tells Jozea is down there talking to Michelle because he thinks she has the thing-thing. I know he is trying to get me put up. I think he feels this is the perfect time to get a vet out. Franks says that ain't f**king happening. This is his time to go home. Tiffany says isn't it funny that that side thinks she has it. Did she say she has it? DaVonne says I don't think she's denying it. Michelle joins them. They ask her if he thinks she has it? Michelle says no. They think James has it. Frank says it changes every time. Tiffany says you know what would be funny to get to be a 9-2 vote.
African Room – Victor, Paul and Jozea are talking. Victor says we just need 6 people and we're good. Jozea says he thinks the next person going up on the block is Zakiyah or Day.

7:25pm In the storage room –
Paul tells Nicole … I'm still stressing out. Nicole says well you're not on the block now. Paul says but I still don't know who hates me. Nicole says I don't think anyone hates you. Paul says maybe if just not use it. …No f**king way! Maybe if I could find a way to save Paulie or Jozea. Nicole tells him one thing I learned about this game is if you have a chance to safe yourself you do it. Paul says I don't think it was a personal thing. We've only know each other for a week, I couldn't have pissed someone off. My be its a girl wanting to get out the mocho hunks. Nicole asks then why isn't Frank up. Paul says if it was a strategy move .. getting the teams out. Then Day and Zakiyah are next.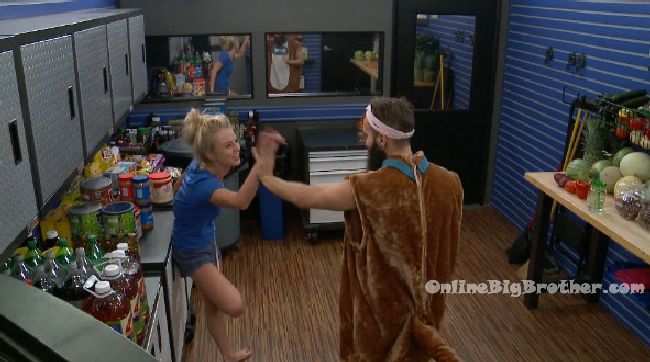 In the bedroom – Nicole, Michelle and Tiffany are talking. Nicole says I'm going to start trying to find out who Vic's targets are. Tiffany asks would he tell you? Nicole says he told me that his number 1 boy Jozea was coming after me. Nicole says we have to promise that the target doesn't shift. Paulie has to stay. If he's (Jozea) going to come after me … he's going to come after returnees. Frank joins them. Nicole tells him she just doesn't want the target to shift. Frank says it won't. No ones going to change their vote.
Frank heads to the storage room. Corey says that Paul yelled "What's up B***H!" After he won the veto. I wanted to drop him right there. I know I can't do anything in this house but outside of here… He was pretty much saying that to Nicole. Frank tells Corey to not let it get to him. Frank says its going to be a 7-4 vote and he's (Jozea) going home. Don't let that sh*t get to you. Corey says I want Paul out next. If he says one more word I'm about to beat the sh*t out of him. It just fires me up that you can't do anything about it. Frank says we still need to get Vic out next.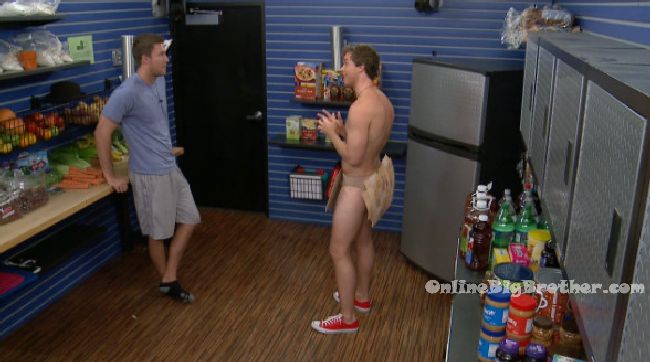 8pm – 8:20pm HOH room – Paulie tells Nicole and DaVonne that if he wins (HOH) he is going to try and get Vic and Natalie out. Nicole says I'm satisfied with how things happened. I'm just glad the veto is over. Corey joins them. Corey says he was about to beat the sh*t out of Paul when he was out there calling people b***hes and looking at you. I was about to shove that veto up his a$$. Nicole tells Paulie to just let it go. Paulie says I'll let it go but if me or my team win … I'm going to sit him right next to his little princess Nat Nat. Corey says I think Paul is a pathological liar.. medically a pathological liar. James says he always says the story is too long for me to be making it up. Corey says none of this matters Jozea's going home Thursday and then we'll get Paul out.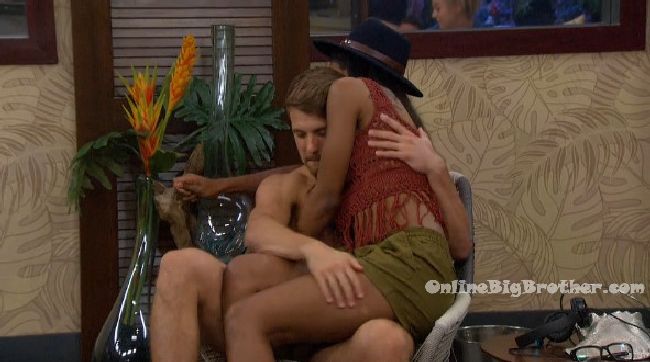 Try the Live Feeds FREE for 1 WEEK: 7 Day FREE Trial