POV Holder:
Paul
POV Competition
June, 24th
POV Used
Yes
POV Ceremony
June, 26th
HOH
Nicole
Next HOH
June, 30
Roadkill Competition Winner:
Frank
Original Nominations:
Paulie, Jozea, and Paul
After POV Nominations:
Paulie, Jozea and Bridgette
Have Nots
?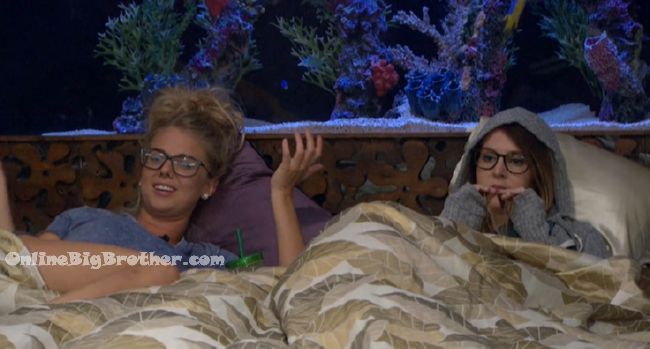 7:01pm HOH 8 Pack
Talking about the rumor going around that Victor asked Nicole out on a date.
James – I told it to them
Nicole – you have the biggest mouth in the house.. How did you find out
James won't tell her says it was a perfect strategy not the other side is pissed at each other.
They all agree it's perfect.
Nicole is mad because she wasn't one of Victor's targets and now when he find out she's told people she will be.
The group tells her "Vic" a goner she doesn't have to worry about him.
Nicole – it was him and I at the Pool table .. it wasn't really you want to go out on a date… well yeah it kinda was..
Nicole adds he asked if she wanted to do something after the show.
Nicole doesn't want James to employ this strategy.
Frank – the heats not on you it's on James.. They think he made it all up
Paulie says the fight with the newbies was staged last night.
Nicole doesn't think the newbies are fighting.
A bunch of the group tell her they are "They hate each other"
Zakiyah says the other side are all friends still they are playing dumb and they are all falling for it. (Ding Ding Ding)
Paulie says it would be hilarious if they can convince 2 of the other side to vote for Jozea so he has 1 vote.
Frank they are starting to fall apart at the seams.
James says Victor has been cool with him today.
Paulie says Victor is thinking of throwing the HOH so james doesn't win it and they can put him up
James says during the HOH he'll try to sabotage the other side's players.
James confesses he was trying to stir shit up with the other side and he's thinking about morwe was.
Corey – I want to get into Natalie's head..
Paulie says he needs ask her out on the date after the show.
Tiffany says Natalie is the nicest person in the house.
Nicole – don't play with someone's heart in this game.. If someone does it to me I'll be hurt and embarrassed
Corey now saying he won't try to play with Natalie's heart.
Paulie – that whole group is on the verge of breaking..
Tiffany says they should leave Natalie alone and just f*** with the other ones.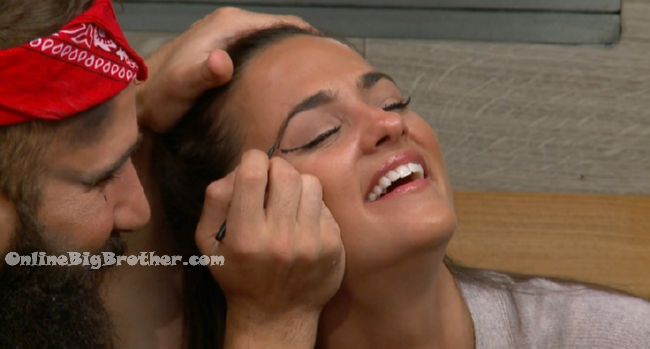 7:10pm While the 8 Pack is upstairs spending the winnings the rest are painting their faces like pirates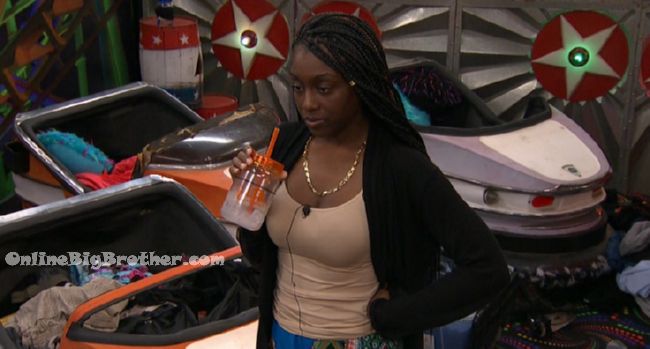 7:21pm Zakiyah and Da'Vonne
Zakiyah says Nicole is being Hella naive, "She genuinely thinks this (Vic) guy likes her… "
Zakiyah says Victor is playing off Nicole's feelings she's seen it before.. "He's playing her he's playing this part"
Zakiyah is sure Victora and Natalie have something going on they are playing dumb and everyone in the HOH room is buying it.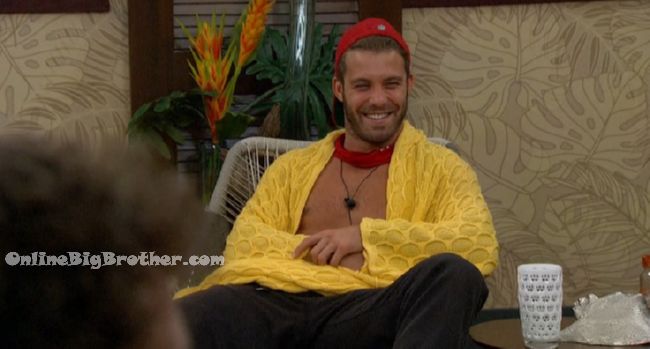 7:26pm Back to the HOH 8 pack minus Zakiyah, Da'Vonne is telling them that Natalie hanging with James is strategy and Vic flirting with Nicole is strategy.
Nicole says Victor told her: You're my type, I love your personality after this let's go out..
Nicole – "Like looking into my eyes… that's some good strategy"
Nicole says she's totally not into him..
Frank offers to take her out for a steak dinner when they get out.
Someone from the group – "We're going to win all three next week"
Paulie back to suggesting they twist the votes so the other side doesn't know who voted for who.
Frank mentions how heated Victor got today imagine how heated he'll get when he's on the block and on slop.
James – they have 5 security guard at each exit
Corey – yeah probably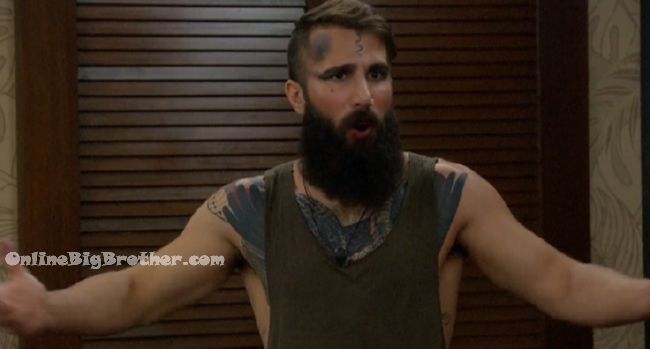 7:37pm Natalie and Paul show off their face paint (They're pirates)
"Ohh my F****G god… Oh my God Paul" – Paulie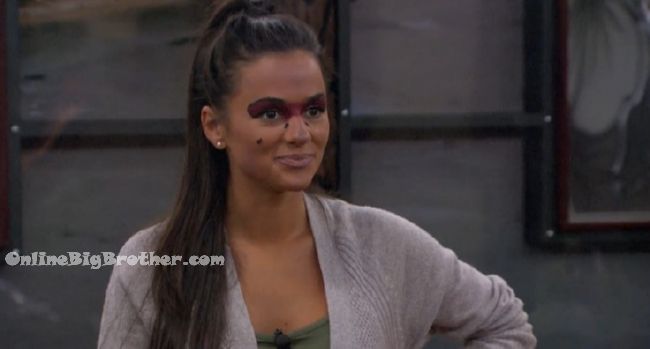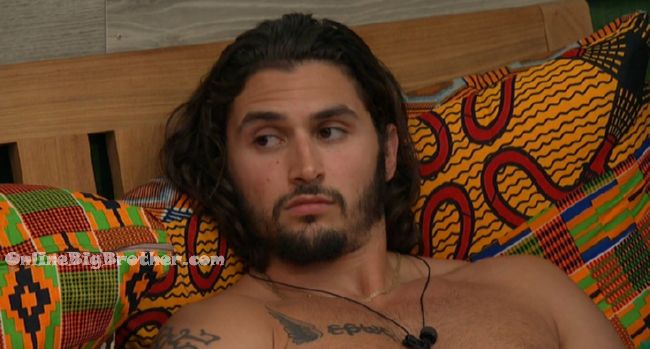 7:41pm Jozea, PAul and Victor
Paul is worried about Da'Vonne and Zakiyah, they spend all their time in the HOH.
Paul – when did Da tell us anything
JoZea says Da talks to him.
Paul – I am concerned
Jozea says Da'Vonne won't vote him out because on her season everyone was Caucasian and she was voted out by caucasians
Jozea – worst case scenario there's nothing we can do
Vic – I believe wholeheartedly in Frank he (Jozea) believes wholeheartedly in Da'Vonne. (ZOMG)
Vic explains to him they can't worry about the vote right now there's nothing they can do
IF Jozea goes home they are f***D there's nothing they can do about that now they either did enough work to keep him safe or they didn't
Vic – Relax.. and get the makeup off you face..
Paul says when they walked into the HOH to show the makeup it was quiet.. 8 people quiet.
Jozea is certain Da'Vonne is with him says he'll 'Touch on her" tomorrow.
Vic says if Da'Vonne vote out Jozea they played him for a fool.
Jozea – they know I ride for them.. they are the ones f***g themselves over..
Paul leaves.. Jozea says when he gets out he's going straight to acting and modelling. He'll only do makeup if it's paying well.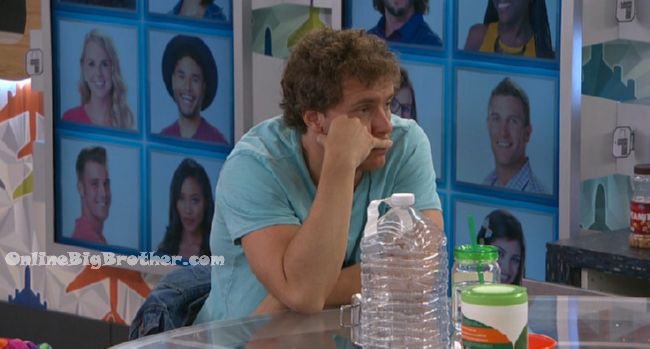 7:57pm Frank and NAtalie
Frank tells her that Victor said that girls are expendable "he said he has all the girls in the house eating out of his hand.. I respect women I love my mamma and Nanny.. It's just food for thought"
Natalie I'm glad your telling me.
Frank tells her he's voting with the majority and the majority is starting to shift. Adds that nobody is targeting her.
Natalie says she doesn't care if Vic asked Nicole out, 'Good for him" she's upset because he lied to her.
Frank – My name has been tossed around by that side of the house.
Natalie – Your name hasn't been tossed around.
Nicole comes downstairs, Frank leaves.. Nicole tells her about Vicotr flirting with her and it being strategy.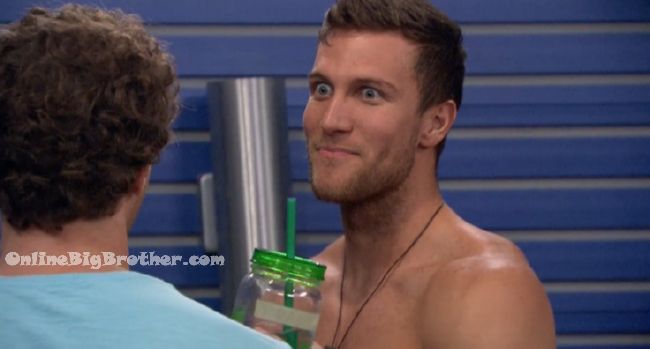 8:12pm Storage room Frank, JAmes and Corey
They are jokingly pissed at Frank for telling Natalie about Victor lieing because it was Corey's idea.
Frank – I wanted to handle it with kid gloves..
Corey – I love it I love it..
Lots of high 5's lots of bro-ing out.. .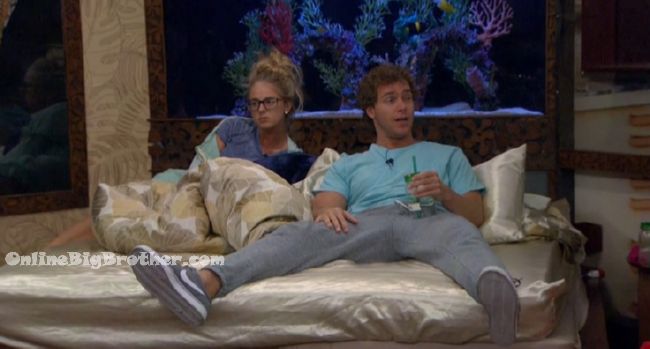 8:20pm Frank and Nicole filling a bunch of the 8 pack in about what they said to Natalie.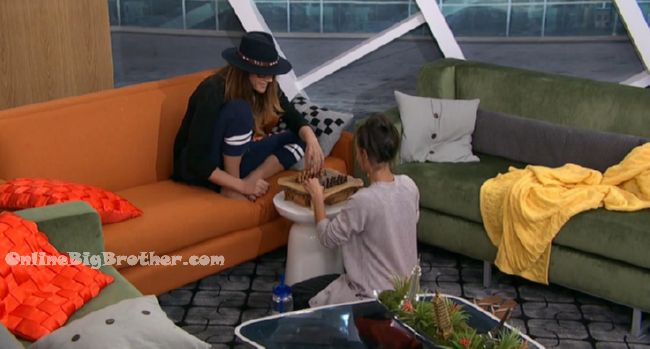 8:22pm Tiffany and Natalie
Natalie says she wants to vote with the Majority but she doesn't know where the majority of the house is, "I just want to know where I should be voting.. "
Tiffany – As far as I know everyone is voting the same way… WHY do you have that smirk on your face Natalie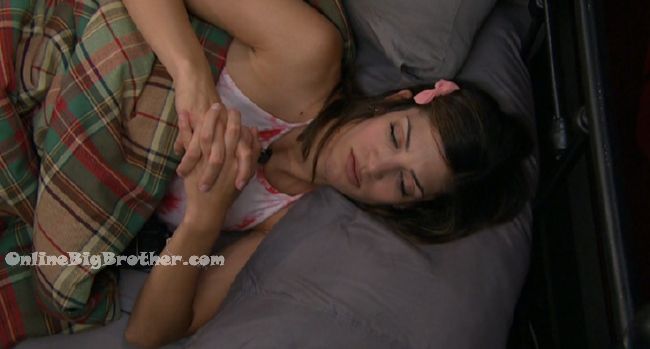 8:25pm Jozea wakes her up to ask her if she's ready to take on a leadership role with the girls. .
Jozea – I'm a guy the girls need a little girl… we're all still in an alliance.. but we reconvene and discuss what needs to happen.
8:33pm Natalie and Tiffany still playing cheess.. Natalie says she won't be surprised if Jozea leaves, "Haven't you noticed Paulie is really chill"
Bronte joins them…
Natalie says she ate three of four cookies but everything else she ate today was 'Super healthy"
Bronte is happy she was woken up she didn't want to sleep and stay up throughout the night.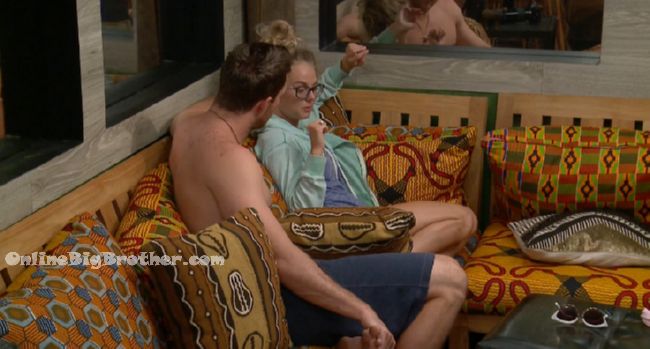 8:40pm Nicole crying to Corey
This whole Victor thing got blown out of proportion and Nicole is pissed that it'll be on the show.
Nicole thinks Victor will put her up now.
Corey doesn't see Vic putting her up.
Nicole says Vic told her she' insecure about girls and now he's going think I was teasing him.
Nicole says James has a big mouth
Corey see that now, Adds that Frank has a big mouth as well.
Nicole – I'm a returnee if I'm on teh block i'm going home..
FLASHBACK and watch everything you missed: Live Feed 7 day FREE Trial!
James practices his coup d'etat Dance #BB18 @DawgsBigBrother pic.twitter.com/R8A5LT2OKU

— OnlineBigBrother.com (@bigbspoilers) June 30, 2016