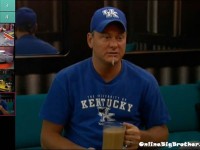 9:50am Shane and Joe go into the storage room. Joe says that he talked to Ian last night, and that Ian told him that he is safe but only if there isn't a replacement. Joe says make sure Dan would vote for me. I think he will put Frank and Jenn or Frank and Dan. He said that you are completely safe and Danielle is safe. If Frank goes up and it sticks, we have to get rid of him. Shane says yeah we will discuss that when it happens. Shane says that he was talking to Danielle and Dan before he went to sleep about what power of veto competitions. Joe says just make sure I have Danielle's vote.
The trumpets sound and Joe starts doing the hula hoop.
FREE 3 Day Big Brother Live Feed TRIAL: Join Now!