POV Holder:
Next POV:
Sept 1 (Saturday)
POV Used
POV Ceremony
Sept 3 (Monday)
HOH Winner:
Ian
Next HOH:
Sept 6 (Thursday)
Original Nominations:
Current Nominations:
Frank and Jenn
Have Nots
Last Evicted Houseguest
*Everyone but Shane plays in the POV.. rumor has it that the POV is going to start early this morning.
2am Dan and Ian continue to talk in the HOH room. Dan brings up how Ian said he graduated when he was 16 and asks if it's true. Ian says that it's not true and says that he feels horrible for the things he said and did the other night when he was drunk. Ian says that it's funny if they believe him, but that he's not that smart. He says that he thinks Joe believes him, and it's funny to him because it's just Joe being wrong, again. Ian says that he doesn't think his behavior in the house has been good. Dan asks what Ian wants to do when he gets out of the house. Ian says he wants to do the charity events, like the reality bash, Vegas, Reality Rally. Ian says that he will go to Matt Hoffman's event even though it's not a charity.
Watch it ALL on FlashBack: Big Brother 14 Live Feeds – FREE 3 Day Trial!
Ian talks about is confrontation with Frank and how he flipped him off. Ian talks about himself and says that he isn't a good person. Dan says that Ian thinks he wants to be evil but he is not. Dan says that if Big Brother 16 was good versus evil Ian would want to be on good, but thinks he would be on evil. Ian says that he makes inappropriate comments, like how he referenced 9/11, and saying you done to Ashley. Ian talks about what happened in his big argument with Frank, saying that he called him a F*** head and flipped him the bird. Ian says that he also says he muttered inbred piece of s***. Dan laughs. Dan reassures Ian that he shouldn't be too worried about what he's said about his historical reference to 9/11. Dan says people can see that he is genuine and not malicious, quirky but not thinking he is the a**h**** like Ronny. Ian says that he is sorry for any inappropriate comments he has made. Dan tells Ian that the only thing that would hurt him (Ian) is if he is roasting people in the diary room or going on about how much smarter he is than the other.


2:35am Dan tells Ian that if he isn't in the final two, he has a great shot at getting America's Favourite House Guest. Dan says that Janelle probably does too. Ian says that Britney would too. Dan asks Ian how long he thinks Willie would have lasted. Ian says that thinks that Willie would have been gone because Frank would have nominated him along with JoJo. Ian says that JoJo is the ultimate victim of circumstance this year because it was supposed to be Willie then Shane then her. Dan asks Ian if he had a final two deal with Britney. Ian admits to Dan that he did. Ian tells Dan that last week he was really angry that he had to use his veto first when his veto was constantly referred to as being the second veto. Ian says that he was in the diary room going nuts and needed to be reassured but he still had a bad feeling. Ian says that he assumed that Shane would have been put up when Jenn used the veto and says that he was shocked it was Britney. Ian says that he thinks Frank figured out that Ian was working with the quack pack because of Dan saying "I'll rat you out" during the Pandora's Box. Dan says that he felt really bad about saying that to Ian because he has never lost his cool in Big Brother before. Dan says that he wants to win the next HOH badly. Ian says that Dan has to because if Jenn wins it, it's bad. Dan asks Ian what Britney thought of him (Dan) doing what he did. Ian says that she was pissed but that she understood. Dan asks Ian if Britney told him not to trust Dan. Ian says that Britney said beware of the mist. Ian says that she told him he would be golden if he went to the end with Shane or Frank. Dan and Ian start talking about past seasons of Big Brother.
Watch what happens, AS it happens: Big Brother 14 Live Feeds!
FREE for 3 Days, then ONLY $14.99 per month!
2:50am – 3am Dan asks Ian what Britney meant by Dan's mist? Ian says that it's the magical mist, that it means that Dan can convince anyone of anything. Dan tells Ian that he doesn't want to pressure him about being a Renegade. Ian says it looks likely that he would want to be part of the Renegades. Ian warns Dan that if Joe wins the veto and uses it then Dan be the replacement nominee. Dan asks Ian if Joe wins the veto and takes Frank down, would Ian vote to keep Dan in a tie? Ian says that if it's a tie then a quack pack member is staying there. Ian tells Dan that the only way that he is in trouble is if Frank somehow convinces Danielle or Shane to flip. Ian tells Dan that if it were Dan and Frank on the block and he had to break the tie to send Frank home then it would be a huge resume builder for him with jury votes. Dan and Ian finish up their conversation and Dan heads downstairs to go to bed.

Just as suspected, Joe had bad intentions, he got himself drunk off wine and then took advantage of himself…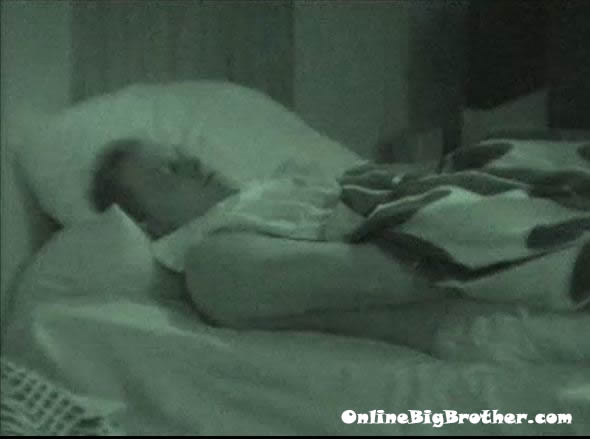 5:35am All the house guests are sleeping..
8:55am – 9:20am Jenn, Joe and Frank are awake and ready for the power of veto to start. All the other house guests are still sleeping. Jenn is called to the diary room. Joe stares at the memory wall.. and then goes back to bed.
9:45am Ian gets dressed and heads down stairs to change his mic battery, then goes back the HOH room and gets back into bed. Everyone but Jenn is trying to go back to sleep.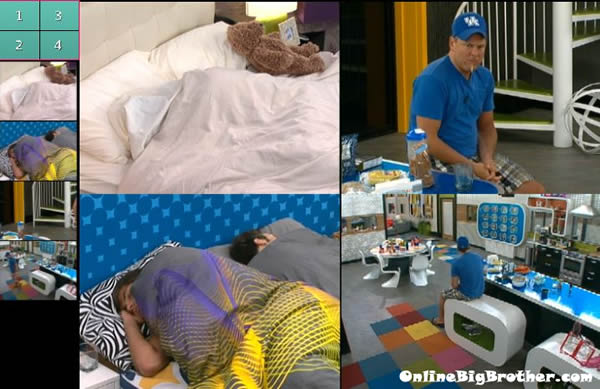 Share it YO!!
Tweet