POV Holder:
DAN
Next POV:
Sept 1 (Saturday)
POV Used
POV Ceremony
Sept 3 (Monday)
HOH Winner:
Ian
Next HOH:
Sept 6 (Thursday)
Original Nominations:
Jenn and Frank
Current Nominations:
Last Evicted Houseguest
Britney
12:15am Shane grabs Danielle's bikini top to try and see the label. Danielle tries to get it back so Shane throws it to Dan. Dan tries to look at the size, but Danielle also grabs it back. Dan throws it back to Shane and he reads out the 34D label. Danielle chases Shane and he eventually gives her top back. Ian calls Danielle a stage five clinger for chasing Shane all over the yard. Ian and Dan start playing pool. Dan notices that the word p***s is scratched into the table and asks who did it. Ian confesses that it was him when he was smashed. Dan tells Ian that he has an obsession with Matt Hoffman & Shelley Moore and says that he isn't sure why. Ian asks Matt Hoffman? You don't get why? Dan says that well Matt didn't win. Ian says that Maggie won, so winning isn't everything. Ian starts talking about how he would want to meet Renny from Dan's season. Dan tells him that he isn't missing anything and says that she Is way too into herself. Dan talks about how he meet every BB winner but Drew. Ian tells Dan that Drew doesn't associate himself with Big Brother.


12:25am – 12:45am Joe tells Frank that Janelle knew that Frank was a threat from week one. He talks about how she would point to how you worked out. Joe jokingly tells Frank that his social game sucks. Shane says that his does too because Britney was his social game. Frank says that Janelle gave me mad props and called me a pervert. Frank says Janelle, I don't miss you. They start to talk about the bed situation and who will sleep where. Shane says that he might sleep in the stereo room. Danielle talks about how she thinks the have-nots are done for the season. Joe comments on how Frank was never a have-not. Dan comments on how Joe went to town on himself in the have-not room. Joe jokes and says that it was Shane. Danielle tells Joe that he tried again in the have-not room a second time but that she moved around so he would stop. Joe says that's not true. Shane and Frank ask Joe what he used when he finished up. Danielle says that he had tissues.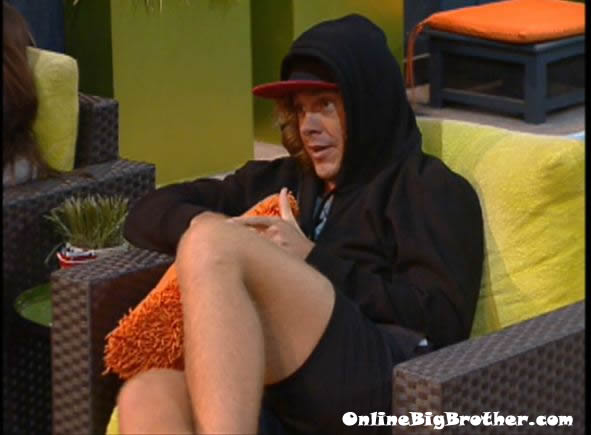 Shane asks Dan if he is sleeping with him tonight. Dan says that he is sleeping in the hard bed. They start bugging Danielle to sleep in the same bed as Shane. Danielle asks why would she when he doesn't want to. Dan says that Danielle just wants Shane to say that he wants to sleep with her. Danielle says that Shane would want separate comforters. Dan says that Shane may want the appearance of separate comforters. Shane says that she doesn't get it because she's too young an immature. Danielle tells Shane that she will put him on blast. Dan looks at Danielle and says that she is giving Shane bedroom eyes. Danielle denies it. Shane says that he wasn't even looking. Ian tells Danielle and Shane to go to bed.. the same bed.
Watch what happens, AS it happens: Big Brother 14 Live Feeds!
FREE for 3 Days, then ONLY $14.99 per month!
Dan heads to bed. Danielle says that she doesn't want to sleep with someone that doesn't want to sleep with her. Shane says that he never said that. Shane asks Frank if he can use his body pillow to put between them. Danielle says she is out and leaves to go inside. Joe tells Shane to get the restraining order now! Inside Danielle tells Dan that Shane is a d***. She says that she is 23 and has more life experience than Shane does. Dan tells Danielle that Shane can play coy but that he knows he wants her. Danielle says that they haven't kissed since day 27. Danielle says that she has never, ever had this problem. Dan asks Danielle if she's talked to Jenn. Danielle says that she did but that Jenn didn't mention a final three so she thinks Jenn is waiting to see if Dan uses the veto. Danielle says that she talked to Ian and he told her that Dan won't use the veto or and if he does Ian will rip his face off. Dan says that as long as Danielle won't go up then he doesn't care. Dan tells Danielle that he's surprised that she slept in the HOH bed with Shane. Danielle says that it was useless because they slept on different sides of the bed. Danielle says that Shane is so scared and says that it's such a turn off. Danielle says that Shane puts her downs in front of others. Danielle says that she's over it with Shane. Dan tells her to tell him that. Danielle tells Dan that Jenn keeps bringing up how Dan blindsided her and asking her what if he does it again. Danielle says that Jenn asked what if Dan uses the POV, will that convince you that you can trust him. Danielle says I said yes.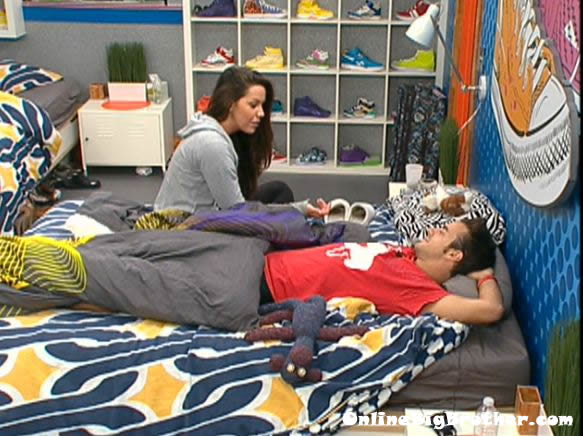 1:10am Shane joins them. Shane tells Danielle that he wasn't trying to be a d*** he is just trying to not get put up on the block together. Dan jokes that they should at least get something out of it. Shane leaves so that Dan and her can continue talking. Danielle tells Dan that Shane is suck a d****he bag. Dan thinks it's smart of him to try and make sure they don't get nominated together. Danielle tells Dan that she has convinced the other that she hates him (Dan). Danielle tells Dan that Shane wants a final three deal with her and Dan. Dan leaves.
Superpass Live Feeds FREE 3 Day Trial then:
Watch the last month of Big Brother 14 for ONLY 50 Cents a DAY!
1:20am Shane tells Dan that Joe doesn't think that Dan will use the POV on Jenn, so it will be a complete blindside. Dan tells Shane that Joe hasn't talked to him at all because Joe hates him. Shane says he has some more insight to tell Dan later. Dan asks Shane if he could see himself dating Danielle. Shane says that outside of the house, yeah because she's a sweetheart but the distance makes it hard and he isn't in a position to date anyone, especially not financially. Dan says that if Shane wins the game then he's in the position. Shane says yeah but truthfully, I'd give a lot of my money to my family because my parents had borrowed money just to buy groceries so even getting 10,000 or a job offer from being on Big Brother would mean a lot. They talk about how everything happens for a reason. Shane comments on how Dan's funeral showed him that Britney had a final two deal with Ian which he wouldn't have known otherwise. Shane says that he respects that Dan didn't throw Danielle or Shane under the bus. Dan saying that truthfully, he wasn't sure what to think of Britney as a coach but watching her play made him respect her so much more. Shane says that he feels that Britney used his HOH wins to make deals. Shane and Dan wait for Danielle to come in the kicks room so that Shane can surprise her by being in her bed.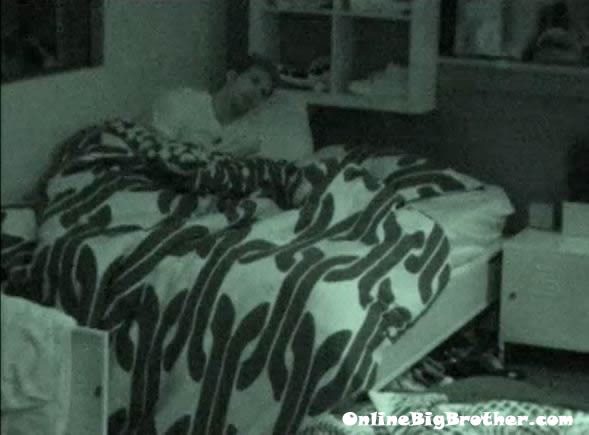 1:30am – 2:30am
Frank and Jenn go to the stereo room to go to bed. Frank talks about how gross it is to watch Joe peel skin off his feet. Jenn talks about how Joe never washes his hands in the bathroom. Frank says he is almost jealous that Jenn doesn't have to eat their food. They both laugh. They talk about how pissed Danielle was at Shane. Frank talks about stoking that fire to separate Shane and Danielle. Meanwhile, Danielle goes to get into bed and can't see that Shane is in her bed. He pokes her and she screams. She says that she thinks she just peed herself. Shane asks if she wants him leave. Danielle says no. Everyone is going to sleep. Ian is in the HOH room listening to his cd.
6:10am All the house guests are still sleeping..
LIKE us on Facebook to:
9:50am Frank and Jenn are awake, while all the other house guests are still sleeping.

Share it YO!!
Tweet