POV Holder:
DAN
Next POV:
Sept 1 (Saturday)
POV Used
POV Ceremony
Sept 3 (Monday)
HOH Winner:
Ian
Next HOH:
Sept 6 (Thursday)
Original Nominations:
Jenn and Frank
Current Nominations:
Last Evicted Houseguest
Britney
Superpass Big Brother 14 Live Feeds: 3 Day FREE Trial!
8:05pm – 8:30pm Frank, Ian, Dan, Joe and Shane are eating in the kitchen. Joe tells them that black olives are second rate olives that are dyed in a brine to hide the bruises. Dan and Frank don't believe it. Dan says I buy a lot of what you are selling but I am not buying that. Dan looks at the can and says it says these are ripe olives, not battered olives. Frank laughs. Frank starts to believe it. Dan says don't start drinking his koolaid. Dan says these are too delicious to be second rate olives, their skin is too intact to be battered and bruised. I will not buy your black olive story. Joe says that he doesn't understand why that is so hard to believe. Dan tells Danielle about the olive story Joe is selling. Danielle says she isn't buying it either.
Watch what happens, AS it happens: Big Brother 14 Live Feeds!
FREE for 3 Days, then ONLY $14.99 per month!
8:30pm – 8:40pmJoe tells Frank that Janelle was trying to get fans to make hate threads about Frank. Frank start getting riled up. Dan jokes around and says that Britney was complaining about Ian creeping on the girls in the shower. Ian says that's not true she never took a shower down here then, she was HOH. Dan making fun of Ian calling him the shower peeker. Dan says sorry I know that's a sensitive subject. Ian says yeah it is. Dan sasy he is just trying to distract Frank and calm him down. Frank tells the camera that Janelle has vanilla weak sauce game that she got sent home before jury. Frank says that he tired out four seasons in a row and the only reason she got picked was because she had blonde hair. They finish up eating. Frank tells Dan and Danielle in the arcade room that Joe keeps saying he thinks he is going up. Dan says good, let him sweat it out.

8:55pm Dan heads into the stereo room and talks to Jenn. Dan tells Jenn that he was really scared about putting his faith in Jenn's hands about using the power of veto on him. He tells her that he wants to return the favor to her but that he just wants to make sure that if Jenn wins HOH that he is safe. She looks around for something to swear on and can't find anything. She says I won't you can trust me. She says that with all her heart, he is safe. Jenn brings up Frank leaving. Dan tells Jenn that he just wants to be on the same page with Jenn. Dan says that after he uses the veto on her, then they can talk about a final three deal with her and Danielle. Jenn says that she has been having dreams about it and says that she is on board. Jenn says that she is working on Danielle being able to trusting Dan again. Dan says that it's hard to get a good night's sleep in here but please trust me that you will be saved tomorrow. Jenn says that if she wins HOH then her HOH key is his as well.
9pm
Joe and Dan are talking in the arcade room. Joe talks about how he feels he has already been on the side of Shane. Joe says that Danielle and Shane are close and says that he feels like he is the last man on the totem pole. Joe tells Dan that obviously I do not want you to use the veto and that if I win something I will guarantee you safety. Joe says that he wants to work with Dan as things get closer. Dan says at this point in the game he feels he is a big target since the funeral. Dan says that he appreciates Joe offering a one week mileage for him to not use it and that it is definitely something to consider. Joe repeats that he thinks its better that Dan not uses the veto. Dan says that he has been trying to work back into the good graces of people. Joe says that he admires what Dan did and said it was one of the best game moves he has seen. Dan asks why do you say that? Joe says you were dead in this game and you completely turned that around. Joe says no one even knows what the rift between you and Danielle had, that's why I have been racking my brain the last four days. Dan says that she knows, she maybe didn't know then, but she knows now. Dan says okay good talk. Joe leaves.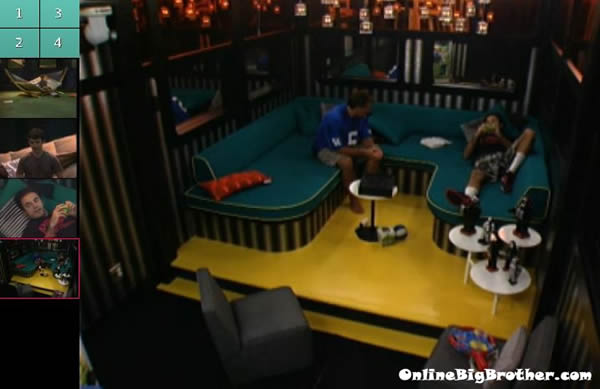 9:10pm – 9:25pm Ian and Shane are talking on the hammock. Jenn and Joe are sitting with their feet in the hot tub. Frank comes out and tells them that they got 4 beer and a bottle of wine. Frank grabs the hula hoop and starts walking around the yard. They ask him if he is going to bust out some moves. He says no just trying to get some gas out before I grab those beers.
9:30pm – 10pm Shane and Danielle are in the bathroom talking about random stuff. Dan is in the arcade room and starts riding bible verses to Danielle and Shane in the bathroom. Joe and Jenn continue to sit around the hot tub. Frank is still doing walking laps in the backyard, while Ian swings in the hammock. Jenn asks Ian how long Chicken George was on slop for? Ian says 5 weeks. Dan and Danielle are in the arcade room talking about how Shane wanted her to work with Dan again and for them to have a final three deal. Dan says that Shane and Jenn don't talk, so that it's unlikely they will figure out the two final three deals. Dan tells Danielle that it's best that they are covered on both angles. Dan says that he will take his chances not having a final three deal with Joe. Dan and Danielle leave the room.
10:35pm Cam 3-4 Ian's been wandering around the house making funny sounds with his mouth.. Once and awhile he'll say something under his breath like "Don't trust him and This is the one, these are good.." etc etc. Outside the rest of the house guests are talking about dates and relationship. Frank confirms that it takes him a long time before he commits to tell a girl he loves her.
Ian: "Flaoters.. Fu**** floaters.. the reason I want them out ..argh.. "
Ian: "These are good gummy bears"
11:05pm Kitchen Cam 3-4 Shane and Powerhouse
Joe has finished his wine.. He can get a pretty good buzz going but he cannot maintain it. Shane says it's the same with him.. He wishes they game them more alcohol.
Joe brings up his conversation with dan earlier. JOe: "I asked him about veto" Joe adds that Dan wants to talk to him really late tonight about it. Joe isn't sure what it's about. Joe says Dan tried to sell him that Shane and dani are "so tight" and that joe is screwed leaving them in the game. Shane: "Great"
Joe: "I was like I hear ya.. "
Shane: 'Great get as much information as you can"
Shane brings up that Ian told him it is not being used so Shane isn't sure what is going to happen.
JOe: "I cannot believe how heavily against Dani he was" Shane doesn't think they can trust Dan points out that Danielle has told him that Dan Cannot be trusted .
Shane: "We know they are not working together… she told me to my face.. unless she's lying.. or she's playing me for a fool" Joe doesn't think Danielle is lying.
(These guys are so clueless)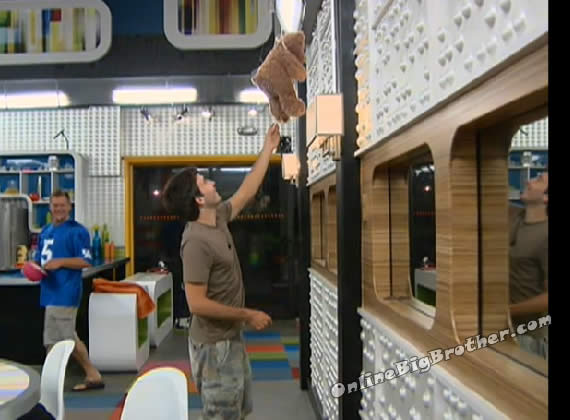 11:55pm Ian finds out what Dan did to his teddy bear. Ian goes in to rescue it


Share it YO!
Tweet