POV Holder:
DAN
Next POV:
Sept 1 (Saturday)
POV Used
POV Ceremony
Sept 3 (Monday)
HOH Winner:
Ian
Next HOH:
Sept 6 (Thursday)
Original Nominations:
Jenn and Frank
Current Nominations:
Last Evicted Houseguest
Britney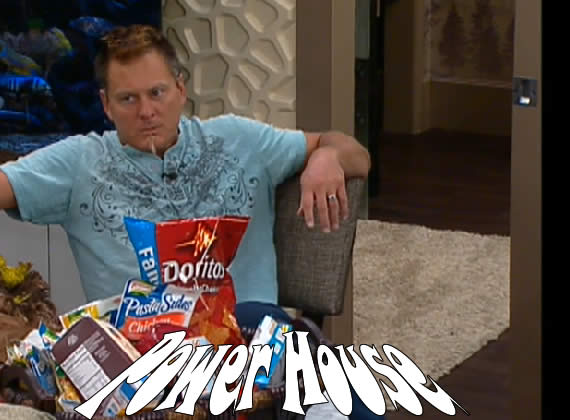 6:04pm Cam 3 HOH Joe and Ian
Ian tells him that he told Dan not to use the Power of Veto. Ian doesn't think Dan will risk it, Ian, Shane and Danielle will all be pissed at dan. Ian adds that if the Veto is played he will have to put up Joe as the replacement nomination but he wants Joe to know they have the votes.
Joe says he's worried that Dan and jenn are close because she used the Veto on him last week he might want to return the favor this week. Joe tells Ian that Jenn "Hates" Ian.
They agree it will be 3 to 1 if Joe goes up against Frank with Jenn being frank sole Vote. ian: "This is our shot.. the one shot to get rid of Frank"
Joe: "Obviously I think it's a great idea.. I have run through scenarios and it's looking like it will come down to Shane, Dan, Danielle, me and You"
Joe: "very nice"
Ian: 'Very Nice.. I want to know if I would go up if you won HOH"
Joe: "I'm giving it to you now 100% you are safe" (Joe will never win a HOH)
Joe: "right now I believe the best move in this game is with you.. 100% with you"
Joe adds that Shane and Danielle cannot be broken and Dan and Jenn are downstairs in the arcade talking game. Joe doesn't think he will win this game but he wants to get to the end and his best chance is with Ian.
Joe starts explaining thing's he's been eagle eyeing around the house, Jenn and Dan have something going on and Danielle and Jenn have something going on. Joe beleive Jenn and danielle will not vote each other out or nominated them.
Ian agrees that Danielle and Jenn have a girl thing.
Joe isn't too upset about going up he kinda understands what's going on.
Joe: "I can beat Frank"
Ian: "Frank needs to pull 3 votes out of 4.. it's not going to happen if it's a tie I will keep you"
Joe isn't worried this is their one chance to get rid of Frank, he knows most of the house feels the same way.
Ian: "Who would you put up if you win HOH"
Joe: "Dan and Jenn.. I don't want Dan in the end because look at what he pulled of…f"
Ian: "He's dangerous.. I don't think anyone would vote him to win"
Joe: "No one has ever pulled off what Dan did"
Ian doesn't think dan will win the final 2 Joe disagrees he thinks that Dan will get vote just because he played such an amazing game.
Joe tells him Dan and Jenn are in the arcade chatting about game.. Joe thinks they have a final 2 deal because Dan thinks he will beat her in the end
Ian stresses he told Dan not to use the VETO and if he uses it he'll be pissed but if it's used Joe goes up and is safe (ian drilled this type of talk into Joe for a bit)
Ian: 'Danielle and Shane are a rock.. IT's a lock.. the house will be 3 pairs soon"
Joe says after Frank goes the house is Danielle/Shane VS Dan/Jenn Vs Joe/Ian.
Joe: "The fact that Shane chose Danielle over Britney says a lot.. I tried so hard to flip him"
Joe: "with Frank gone I can win the physical and you can win the mental"
Joe: "I'm playing for second.. it's a great prize would pay off my second mortgage"
They head downstairs..
6:00pm Cam 1-2 Dan and Jenn arcade room
Dan tells her ian doesn't want him to use the Veto but Dan thinks he's going to save Jenn.
Dan says their worst case scenario is if Ian puts up Danielle, he asks her what should they do. Jenn says she'll vote our Frank. Dan adds that Shane will probably vote to keep Danielle. Jenn: "Totally.. Shane will Danielle"
Jenn thinks it will be Joe because Ian has said before in the past that he wants to take out floaters.
Jenn: "If Frank leaves this week I have your back regardless.. and of course Danielle and I are close" Dan: "OK"
Jenn says she just talked to Danielle and she said that Frank was throwing Danielle's name around to get up. Jenn: "Why would you want Danielle up when it should be Joe.. is that even the truth.. Danielle told me he's playing a dirty game "
Dan asks her if it's Joe and Frank up on the block who do they vote out? Jenn says they take out Joe. Dan: "OK"
Dan: "Do you think if Frank's back is against the wall he's going to fight for us.. because if what you are saying is true and he's throwing Danielle's name under the bus" "
Jenn: "It just doesn't make any sense him saying that"
Dan doesn't care if Shane goes up he doesn't want to see Danielle up though. Jenn says if she wins HOH she'll put up Ian, "When he did his nominations he wasn't thinking about his long term game" Dab: "I have not problem putting that a$$ up if I win" Jenn says that Danielle is going to put up Ian to.
After misting Jenn for about 10 minutes dan asks her if she's OK with voting out Frank or Joe. Jenn: "I can go either way.. I could toss Frank my vote because it doesn't matter"
Jenn says if Joe wins HOH he'll put up Joe and Ian.
6:40pm Cam 1-2 Danielle and Dan
Danielle tells him she is sooo proud of Dan, after he won that Veto she had the biggest grin on her face.
Danielle wants to know that Ian is saying. what did Ian say?
(Can't hear what Dan says.. I think he said he didn't want Dan to use the Veto"
Danielle: "did he mention putting me up"
(Can't hear what Dan says.. but from Danielle's response it was no)
Dan: " Did you tell Jenn i said those things that Frank said about you"
Danielle: "I said Shane told me"
Dan wants her to go to Shane and get him to offer him a final 3 deal this way Dan has a final 3 with Jenn and Shane and Danielle has a final 3 with Jenn and Shane.
Danielle says that Shane already thinks they are in a final 3. (Shane also thinks he's in a final 2 with powerhouse, final 3 with frank, final 2 with frank and final 4 with Ian)
Superpass Live Feeds FREE 3 Day Trial then:
Watch the last month of Big Brother 14 for ONLY 50 Cents a DAY!
6:45pm Cam 1-2 dan and Frank
They start chatting about their final 2 deal Frank says if the 2 of them can get to the final 2 chairs it will be epic. Dan says his only 2 chances at winning are against Frank or Joe.
Dan tells him that Ian doesn't want him to use the veto. Dan: "f** dude he's not going to tell me what to do" Dan: "I didn't say that.. I just said I'll do whatever I Have to do"
Dan plays it up that Ian doesn't think they have the votes and that Ian Dan and Frank are still working together. Dan stresses multiple times that he really wished Frank could play in the next HOH and it's really hurting them as a team because Frank cannot play in the HOH, "I would feel a billion percent better if you could play in the HOH" .
Frank: "If we can get to next week it'll be a cakewalk"
Dan says that he's leaning towards using the VETO on Jenn and he thinks Joe will go up. They work through some scenarios to try and get Ian to put Joe up. Frank's second choice for replacement nominee is Shane he's going to work both angles.
(WOW the game Dan has weaved through the house is crazy.. Does Dan really want to take Danielle and Jenn to the final 3? )
7:26pm Cam 3-4 Joe, Frank and Shane
Frank asks Joe if they are going to use the VETO on him. Joe says no.
Joe: "I think you are right they are trying to get Dani put up" Shane: "Thats what I'm thinking"
7:38pm Jenn and Dan sleeping
7:39pm Cam 3-4 Frank and Shane
Frank says that Ian really wants to get him out of the house this week. Frank: "He thinks everyone wants me out but the truth is everyone wants him out " Shane is worried they are trying to get Danielle up and if she goes up he'll have a hard time not voting for her to stay but he will do what's best for his game.
They start to chat about working out, Pizza and restaurants (the chat is like 30minutes long)
8:30pm Backtyard is open Shane runs upstairs to tell Ian. Everyone starts waking up toe do laundry and clean up the mess that is in the backyard
Share it YO!!
Tweet