POV Holder:
DAN
Next POV:
Sept 1 (Saturday)
POV Used
POV Ceremony
Sept 3 (Monday)
HOH Winner:
Ian
Next HOH:
Sept 6 (Thursday)
Original Nominations:
Jenn and Frank
Current Nominations:
Last Evicted Houseguest
Britney
4:44pm Cam 1-2 HOh Dan and Ian is in the Shower
Dan Wins VETO!!
Dan is talking to himself saying how crazy his week has been.. back from the dead, Public enemy number one, not nominated won the Veto and Made a Final 2 deal. Dan yells at Ian.. tells him this deal is legit even when it gets down to Quack Vs Quack. Dan adds that Ian must never tell anyone about their Deal. Ian says he won't Dan puts the Veto up to the Cammera says "finally my ticket to getting Frank out"
4:50pm Dan tells ian that they need to have a long talk about how to move forward. He's not going to make any final decisions right yet he wants Ian's input along the way.
5:02pm Cam 3 jenn and Frank
Frank says that he's going to ask Dan to use it on him. Jenn has no idea what Ian and Dan have something brewing up in the HOH. Frank is worried if Dan uses it Then Ian will put up Danielle or Shane. Jenn thinks that Ian is going to put up Joe and if they can't get Joe up then Shane is the next choice. Frank wants Shane gone this week so they can pull Danielle into their group. Jenn thinks she can get Danielle to Vote Shane out.
They work through the scenarios.. Jenn says it will be good TV if dan uses the Veto on her than they can Get Joe or Shane put up. Frank needs to Talk to Dan soon to get in his head.
5:10pm HOH Ian and Dan Cam 1-2
Dan asks him if he's against dan using the POV. Ian isn't fully against it would rather it not be used but they have time to think about it.
5:12pm Cam 3 Dan and Frank
Dan: "Obviously we can't use it on you.. I was thinking of using it on Jenn.. I'll go to him and be like DUDE you need to tell me who you are putting up"
Frank: "If he's going to put up Shane.. that's not the worst thing"
Dan: "I'll find out.. before I make any moves"
Frank mentions that maybe he'll put Danielle up. Dan doesn't think he will.
5:18pm Dan and Danielle Danielle asks him what he's going to do. Dan tells her he's talked a bit to Ian and Frank. He needs to talk through all the angles. Frank was running scenarios by him and asked Dan where his vote would be if Danielle was put up against Frank. Dan says he already told Frank he will not use it on him.. he'll talk to Ian tonight.
5:29pm Cam 3 HOH Dan and Ian
Dan: "We gotta figure this out.. If i don't use it noms stay the same.. Who goes home?"
Ian: "Frank"
Ian doesn't want to piss Joe off he wants to minimize the chances of people being mad at them.
Option 1
Dan says he could go to Joe and tell him if he uses the Veto Joe goes up so in a way he's saving Joe by not using the Veto.
Ian: "we need to stress to JOe he's going up because of no other option. . I promised her Shane and Danielle during the HOH comp… I can't put Dan up because he has the veto"
Dan: 'joe clearly hates me.."
Option 2
Take Jenn down.. and joe goes up..
Dan: "I owe her one.. We have the vote to evict Frank"
Ian: "If we do that.. Joe is pissed at Dan even more and pissed at Ian.. "
Option 3
Ian: "last option pull Frank down joe goes up and Jenn goes home.. Hides we are working together"
Dan: "thats the least likely scenario.. so it's Joe or Frank and Frank goes home"
Dan points out that Frank has been up on the block so many times and is still in the house. Ian says the competition was pretty much a crapshoot, Joe beat Ian in it.
Dan: "Jenn comes down and Joe goes up we have Me, Danielle and Shanes vote.. doesn't matter what Jenn does"
Dan: "We gotta get the mileage out of this.. we gotta get her to guarantee she doesn't put me up"
Dan: "In order for Frank to stay he has to turn 2 people.. I don't think that will happen"
Dan: "What if it's a tie"
Ian: "I told him I would consider keeping him if it's a tie and Jenn and Frank were up but I never said anything about Frank and JOe… No I would not keep Frank"
Ian: "Shane and Danielle realize that this is our chance to get rid of him.. it's time to let Frank go"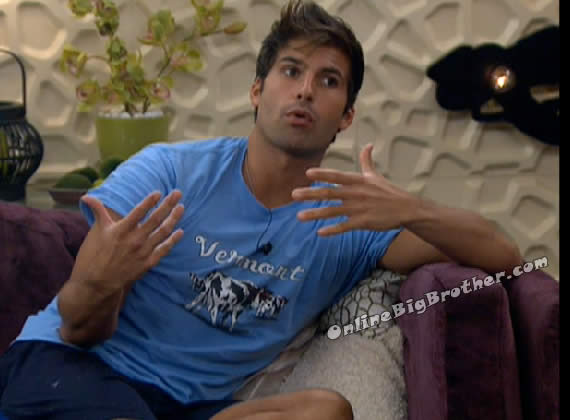 Shane joins them..
Dan asks him Joe or Frank go up who do they take out.. Shane wants to take Frank out he doesn't think it's a good idea to leave him in the game because they can take out Joe in competitions.
Ian: "This is our one shot at getting Frank out.. We haven't had a chance to get Fran out since janelle was in the game.. he keeps winning competitions"
Dan agrees says that they will never get him "T" up like this again.
Shane: "I'll tell Frank straight up i'm not voting for him.. or do we blindside him"
Ian: "He knows if POV gets used on Jenn he's gone.. we really are not allowed to tell people our votes.. Just Tell Frank you are leaning a certain way" (OMG Shane is a master of not letting people know what his vote is going to be.. "50/50" he'll say that a million times between now and Thursday)
they briefly talk about putting Shane up as a pawn, they have Dan and Danielle vote and Ian will save him.. Shane is OK with this but he would rather joe goes up.
Ian reminds them that they have never seen Frank campaign without Boogie, "Boogie did a lot of the campaigning for Frank" They question if he'll put up much of a fight. (I bet Frank goes on a rampage and danielle/dan are figrued out)
Shane leaves
Dan: "So you are a million percent putting Joe up"
Ian: "Yup.. I promised Shane and Danielle.. I don't want to look like i go back on my word"
ian proposes he can say something like he intended to put Dan up as the replacement nomination and because he has no other choice he has to put up Joe.
Ian says they are putting all their trust in Shane and Danielle.. Dan thinks they can trust them it makes perfect sense to get Frank out right now.
Updated
5:59pm Cam 3 – Ian tells him that it's a normal week they're is no fast forward. Dan says in case it isn't he's going to use the VETO on Jenn. Ian: "OK"
Share it YO!!
Tweet