POV Holder:
Next POV:
Sept 1 (Saturday)
POV Used
POV Ceremony
Sept 3 (Monday)
HOH Winner:
Ian
Next HOH:
Sept 6 (Thursday)
Original Nominations:
Current Nominations:
Frank and Jenn
Have Nots
Last Evicted Houseguest
*Everyone but Shane plays in the POV.. rumor has it that the POV is either Late tonight or early tomorrow.
8:22pm Cam 3-4 Bathroom Danielle and Frank
Danielle mentions that Ian is convinced that it's OTEV early in the morning.
Frank thinks that 4 people are going home in the next 2 weeks. Danielle thinks it will be staggered because 2 back to back fast forwards is too much.
Frank: "I just hope it will be that competition that you crawl through that sticky stuff.. I know you don't want it but I sure do"
Danielle: "I just don't want it in my hair"
Frank starts talking about all the "W" he's had in this game. (Frank calls wins "W") Frank now reminds Danielle that he'd play in every POV comp. Dan walks by and Frank asks him if it's rare to have a person play in all the POV comps. Dan says it is. Frank :'That's so crazy.. I've played in all the POV comps so far.. So crazy.. all the W i'm getting"
Frank: "It makes me nervous that Dan's key was last.. just if Jenn and him win the POV dan could go up"
Danielle: "I know.. I'll worry about it after the POV"
Frank says that Ian told Joe that he's the replacement nominee so if he can win the "W" (win) Joe goes up. Frank: "Whatever happens to me you better get F***** Ian out next week"
Danielle: "Alright"
Frank: "Don't let that guy site around"
Frank reminds her if Joe goes up they can keep Jenn and Frank in the game. Danielle agrees tells him she doesn't want to see any of them go this week.
Danielle wonders what the next HOH will be. Frank says it's a crapshoot quiz (Crapshoot quiz = production picks the winner)
Ian joins them.. and they start talking about the Pandora's box.
Ian: 'We're definitely doing something tonight.. I don't know if the whole week is sped up.."
Danielle: "We're doing something tonight.. otherwise they would not have picked the players so early"
Ian: "And the nominations were 2 hours early"
daneille: "they told us to hurry up this morning because it was a fast day"
Danielle still thinks the week is fast forward and it will be shown on Sunday. Ian tells her they have the HOH wrap up, Pandora's box and Nominations already for Sunday's show. Franks thinks they could evict someone on Sunday but show it for Wednesday show.
Frank jokes that Ian's first HOH was short because of the double eviction and his second HOH might be short because of a fast forward.
Frank brings up again that he's been in ever POV .. (because He's only reminded them about 4 times in the last hour)
8:29pm Cam 1 Ian and Dan
Dan asks him if someone is going home on Sunday
Ian doesn't think so there is too much stuff for Sunday.. they still are going to be nominations and pandora's box.. too much for Sunday. Dan: "I'm going to go lay down"
8:50pm cam 1-2 Bathroom Jenn and Danielle
Danielle tells her if it's between Jenn and Frank then Frank is going home..
danielle: "It's a done deal.. " Danielle explains to her that Dan and Danielle will vote to keep her. It Doesn't matter if Joe and Shane vote out Frank it's then 2 vs 2 and Ian will evict Frank over Jenn.
Danielle: 'You are covered regardless of what happens"
Jenn: "Good"
8:53pm Cam 1-2 Powerhouse PowerNap
On cam 3-4 frank, shane and Danielle are chatting.. and guess what somehow it's brought up by Frank again that he's played in ever POV so far.
9:30pm everyone sleeping.. Danielle is eating and looking at herself in the mirror
10:06pm Cam 3-4
The storage room is open Danielle and Frank are inside trying to see what has been added. Danielle: "WE HAVE NOTHING TO SNACK ON"
Apparently they got some food added but it's all healthy. Danielle tells him that she was told that they are not playing the POV tonight. Frank: "For real for real" Danielle: "Thats why I've been told"
10:54pm kitchen Everyone but Jenn is milling around. Frank gives them sh!t for sleeping while showtime was on. Dan tell him everyone thought they were having a competition tonight. (Frank was sleeping most of the early evening to)
11:09pm everyone but Jenn playing with Ian's toys at the kitchen table. .
11:30pm Cam 1-4 kitchen Joe and Frank are drinking. Frank has a beer and Joe being the Cultural Elitist that he is has some wine
joes getting ready to take advantage of himself..
11:52pm Kitchen Stair case Ian walks down the stairs on step at a time. Dan asks him why he does that. Ian says he doesn't like skipping steps on that particular staircase because it's scary as sh!t.
11:57pm Joe: "Who's eaten a butter sandwich"
12:02AM The conversation is about selling things on ebay. Frank jokes that they can scoop their poop out for the toilets and sell it on eBay. The say happy birthday to Dan he just turned 29.
12:11AM Cam 1-2 Danielle and Dan
Dan wants Danielle, Dan and Jenn are their dream final 3. Danielle says she has Brinteys, Ashley and Jenn's vote in the final 2, Dan: "You have my vote"
Dan tells her if he's got to final 2 with her he's not going to play dirty in his speech. He's going to lay out why he should win. Dan says if he makes it to final 2 with her his speech is going to be about how he came to Big BRother 14 to get himself and the player he coached to the end. He adds that he was able to identify the person out of a group and coach them to the finals with him. (Dan's going to write another ebook "how a regular guy won Big Brother")
12:25Am Danielle and Shane
Danielle doesn't think the competition tomorrow is going to be OTEV because they have a host. She thinks it will be puzzle or questions.
12:38am Cam 3-4 Sotrage Room Frank and Dan
Frank tells him best case scenario Jenn or Frank come down and Joe goes up they will vote him out. Frank says that Ian told Joe that he would be the replacement nominee.
Frank is saying that Shane and Danielle are not willing to put in the work to help Frank and Jenn out. "no offense These mother F**** we're working with won't do their part"
Frank: "I feel it in my gut if I go down Joe goes up". Frank says that Ian has been talking about putting Joe up a lot. he's done it for weeks. On the flip side Frank heard Ian say he has big fish to fry this week. Dan suggest that maybe it's best to keep Nomination the same and they have the numbers to keep Frank safe. If they use the POV they run the risk of Dan and Frank going up. (That would be the best case for Drama in the house.. could you imagine Dan and Frank on the block fighting for votes.. isnane) Dan is going to talk to Ian tonight if he can. Frank doubts Ian will tell him the truth.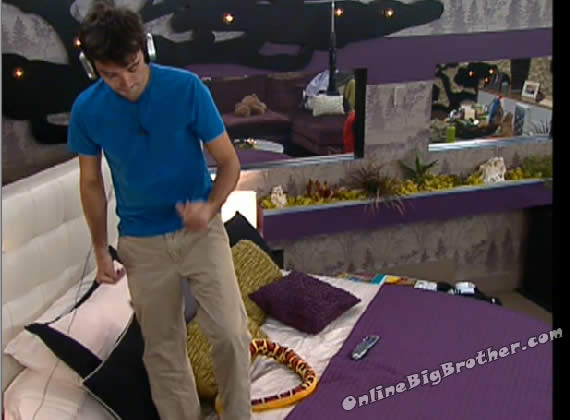 12:57AM Rocking out with Ian in the HOH Room
1:11AM Cam 1-2 HOH Dan and Ian Ian says if Joe used the POV and took Either Frank or Jenn down then Dan goes up. Ian doesn't think that Joe will use the POV he told him earlier today he wasn't going to do it. Ian says that if it's OTEV Frank has a very good chance of winning it. He says if that happens they can send Jenn home. Dan wonders who Joe would put up if he won HOH because "Everyone wins at least one right… Jerry won it once"
Dan: "I don't think anyone can beat Danielle in the end"
Ian was told by brintey that he could beat her. Dan: "Britney has no clue about what the votes are going to be" Ian: "Yeah I guess you are tight there still alot of game to play" Dan wonders what player if Joe most like.
Ian: "he's just like Adam from last season.. "
Dan: "You think if he wins veto he would listen to you?"
Ian: "Ya I think so"
Ian mentions that he also got a thousand dollars he doesn't want people to know because they would all say he has the Diamond Power of Veto
Dan asks Ian if he has Attention deficit hyperactivity disorder. Ian says he's always likes to move he has ADHD. Ian adds that he doesn't take any medication for it.. He just likes to move around alot like on the Hammock and the kitchen chair. Dan fires a zillion questions at him about his intelligence and ADHD. Dan asks him if anyone else in his family is hyper intelligent. Ian says no everyone is average.
Ian says that the indoor lockdown are hell because he cannot move around, he feels like there is something inside him that is rattling. Ian shares some stories about his need to move. Ian says his constant need to move is called "Stimming".
Ian says that Stimming and his memory/mental capacity are sometimes evidence of autism but he doesn't have that he just has ADHD and likes to move around alot. He realized he was different when he was six. His parents realized it when he was 2 because by preschool he could read.
Dan says he taught at St Marys for 4 years without being certified. Dan tells him his major is social studies and his minor is Biology.
1:49AM Dan starts talking about his book and hoe Ian and Ashley had signed up for it.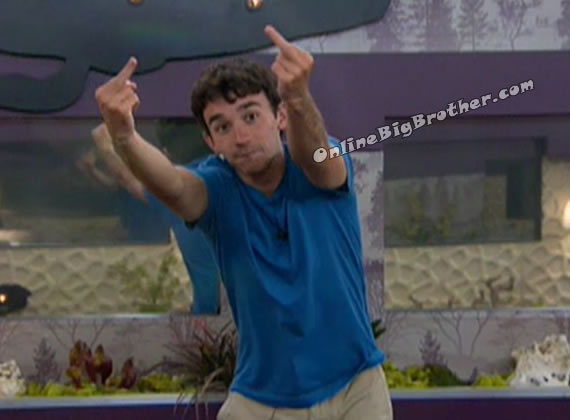 Share it YO!!
Tweet