POV Holder:
DAN
Next POV:
Sept 1 (Saturday)
POV Used
POV Ceremony
Sept 3 (Monday)
HOH Winner:
Ian
Next HOH:
Sept 6 (Thursday)
Original Nominations:
Jenn and Frank
Current Nominations:
Last Evicted Houseguest
Britney
11:02AM Cam 1-2 Dan and Ian 
Ian: "So what do you think Dan… after this week we get rid of 2 more…and then . us… you and me?" 
Dan says "ya" tells Ian to stop making hand signal people can see them.. Danielle joins them and chit chat about weezer begins (dan's a big weezer fan.. isn't surprising) 
11:48pm Cam 1-2 Joe, Danielle, Shane and Dan
General Chit chat.. a lot of big talk coming from Danielle saying her friend was in the departed and acted with Jack Nicholson. Danielle starts talking about colleges and why she went to Alabama state.
Dan tells a story about a coach (or maybe GM) for the Dolphins that treats his staff like garbage. Dan had a buddy that was an intern for the Dolphins and the GM/Coach sent out a memo telling the employees not to say hi to him in the hallways because it broke his concentration.
Dan says that it seems like all these great people in sports or business treat people poorly. Dan cites Steve Jobs as one person.
Dan says his day in and day out job is coaching football so when he gets home the last thing he wants to do is watch or talk Football.
Danielle thinks that Thursday is going to be a double eviction.
Danielle starts talking about 'Ind**ns' in Alabama. she brings up how names of places around where she's from have 'In**an" origins (Cherokee Id!ans).
12:20PM Danielle and Dan continue talking about nonsense while Shane is sleeping beside them. Joe is inside the house, Frank has been working out for the past hour and Ian is rocking the hammock. ? is probably sleeping.
12:24PM Danielle is saying she almost bought the new Nissan Maxima before coming on to Big Brother 14. Dan starts pushing her to get a FORD. Danielle says that her father will never allow her to get a FORD. Dan: "Does your dad tell you who to date?" Dan really pushes the point that he drives a older model Ford it runs fine and he has no payments. He bought it straight out and his only payment is gas and insurance.
Danielle says she really likes Nissan. Dan: "Drop the Nissan.. whats this about Nissan"
Danielle: "I like how they look.. they make good cars"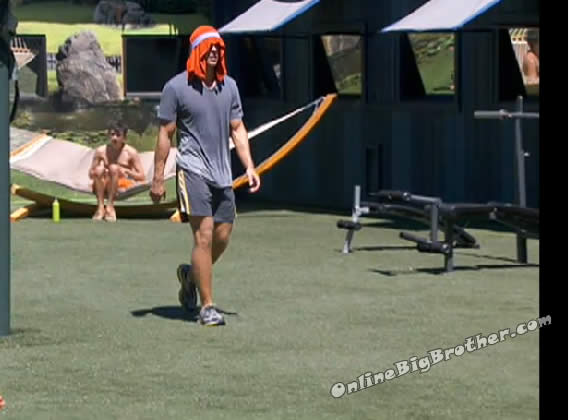 12:36pm Cam 3-4 the guys a beast Frank's been working out for the past hour.. Ian is trying to wear the bearings out on the new Hammock
12:42pm Danielle eating next she plans on going into the pool for a bit
12:47pm Joe and Jenn suntanning (Had to switch feeds.. too sexy)
12:53pm Cam 1-2 Frank and Dan
Frank asks him if he has talked to Danielle about him using the power of veto on Jenn.
Dan says he hasn't had the chance yet.. he's planning on doing it later today. Dan tells Frank not to worry they have all day to figure it out. Frank mentions how sore and cut up his legs are from the competition. Dan says it seems like after Boogie left nobody works out anymore.
1:00pm Cam 3-4 If shane turns you down the inflatable alligator is the next best thing in the BB14 house
1:09pM Cam 1-2 HOH Dan and Ian (Dan mists Ian )
Dan asks him how the talk went with Danielle.. and what is the general vibe.
Ian says he's making it clear that he doesn't want the Veto to be used.. Dan is concerned that Ian is going to over sell it tomorrow morning. He wants Ian to be surprised but doesn't want him to seem fact. I
1:56PM Suntanning yo
2:20pm Shane and Danielle are cleaning up the bathroom.
2:45pm Bedroom Joe the powerhouse sleeping
Kitchen Dan and Shane
Shane is asking him if the plan is to get Frank out. dan says yes. Shane tells him that Joe has been pushing for Danielle, Shane, and Ian final 4. Shane tells Dan that Joe is targeting him. Dan isn't worried unless joe puts him up against Shane and Danielle. Shane isn't sure who Joe would put up against dan but he thinks it would be Jenn. Dan wants Fianl 3 between himself, shane and Danielle. Dan asks Shane to go talk to Danielle to see if they can pull this off.
indoor lockdown is over
(Shane is so misted by Dan it's not even funny)
3:45pm Cam 1-2 Backyard Full quackpack
Danielle really pushes the quackpack being against Frank and Jenn. They all agree Joe should be made to feel like he is with them and they should make Frank think he has the votes to keep things calm. They also talk about final 2 how none of them could beat Frank. Danielle makes it clear that Dan will be easy to beat in the final 2.
4:24pm cam 3-4 Dan and Frank
Dan says he understands some of the floaters there the people that cannot physically compete in this game. The ones that Dan has a problem with are the players that had an opportunity to do something and they never did it. Frank mentions that Jenn floated in the beginning but her using the POV was a big move. Dan agrees says jenn really went for it.
Frank: "I'm tellin ya Man she's a stud"
4:39pm Dan is explaining wordpress to Frank and how it easy for him to start up his own website. Dan mentions Pat Flynn and how his series of podcast inspired Dan to make money online doing something he's passionate about.
(Nobody but Joe is immune to Dan's mist.. )

(Nobody but dawg is immune to Dan's mist..)


Share it YO!!
Tweet