POV Holder:
Next POV:
Sept 1 (Saturday)
POV Used
POV Ceremony
Sept 3 (Monday)
HOH Winner:
Ian
Next HOH:
Sept 6 (Thursday)
Original Nominations:
Current Nominations:
Frank and Jenn
Have Nots
Last Evicted Houseguest
Superpass Big Brother 14 Live Feeds: 3 Day FREE Trial!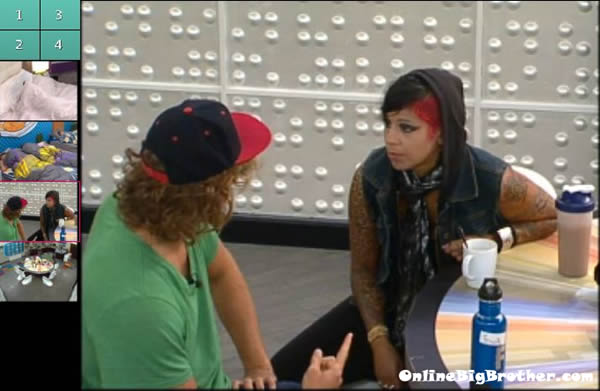 9:55am – 10:05am Jenn and Frank are talking in the kitchen. Jenn is concerned about Dan talking to Ian last night. Frank tells Jenn that Dan talked to Ian last night to keep himself off the block as replacement nominee to make sure Joe would go up so that Dan, Jenn and Frank would be safe. Frank explains that Dan and him talked about him keeping close to Ian. Frank says that he thinks Ian putting Dan's key last is just his way of messing with people. Frank says that he is going to go out there and try and win today. Frank says that even if Joe goes up as the replacement, we still want to have Dan on our side for the next week or two. Jenn says that she is going to go out there and kick a**. She asks Frank what type of competition it might be. Frank says he isn't sure, it might be Otev. Frank says that Ian thinks the others are just as mad that Britney left, but they're not, they don't care. Frank says we are going to get this done, one of us will come off. Frank tells Jenn that if she is up against Joe, she has the three votes. He says and then you will win HOH next week. Frank says that we need to send Shane home to get him away from Danielle. Frank and Jenn talk about going back to bed to rest before the competition.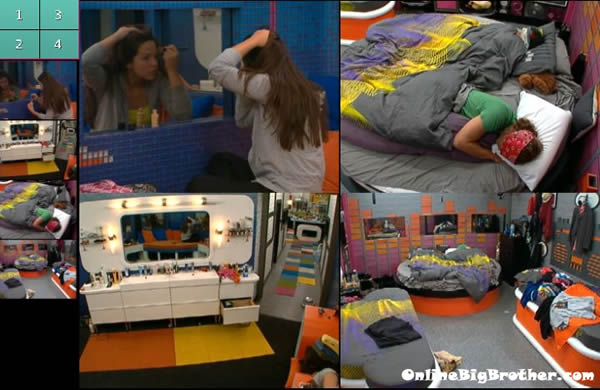 10:20am All the house guests are back asleep, except for Danielle who is in the bathroom putting on her make-up.
11am Frank is up, Ian is in the diary room and Danielle is all dolled up and has no where to go..
11:05am – 11:15am Danielle and Frank talk about what the competition might be. Frank wonders if it will be OTEV. Danielle says she doesn't think so because OTEV doesn't have a host. Frank says that Shane might just sit on the side lines though. Danielle says that she doesn't think so, she says 10 bucks it's the spelling comp. Frank doesn't think so because they already had a comp like that and it wouldn't be that great for the fans to see. Danielle is annoyed that the "wizard" got her up to do a diary room session and still haven't called her in. Danielle says if its not a fast forward, she guarantees that this Thursday will be a double evic. Frank says yeah that will suck, not so much for me, but for the people I am working with. Dan comes into the bathroom. Frank comments on how skinny he is looking. Dan says that he is down to 140 pounds. Frank says you're a man trapped in a boy's body. They talk about how Dan lost 25 pounds. Frank says what happened you've only been on slop for one week! Frank mentions that the diary room sessions this morning are about pre-nomination and post-nominations.
11:30am – 11:50amShane, Frank, and Danielle talk about the HOH competition and how bad Joe did. Frank says that he said in the diary room that he didn't even think Frank made it one and half times around. Frank says that he was trying to whisper to Shane to push the comet all the way back so that it would pop out and hit him. He says that it worked out better when you just barely touched it so that it was all the way out and would hit him. Shane comments on how Ian said he had another two hours in him. Danielle says that they upped the competitions this year, they are way harder, way harder! Danielle asks why Boogie always went after the money. Frank says that he knew he wasn't going to win even if he made it to the end. Frank says that he and Mike knew they wouldn't make it to the end together. Danielle gets called to the dairy room. Shane says that we need to get rid of 4 people in the next 3 weeks. Frank corrects him and says that we need 4 out in the next two week. They wonder if there will be another double eviction this week.
Watch it ALL on FlashBack: Big Brother 14 Live Feeds – FREE 3 Day Trial!
11:55am – 12pm Frank and Dan are in the storage room talking. Dan says that he was up talking to Ian last night trying to fish if I was going to go up as a replacement nominee, but he wouldn`t say. I don`t know if that's good or bad. Frank says that what we need is for you to win it and take me or Jenn off so that it would almost guarantee that Joe goes up. Frank says but if you took me off it would look to obvious so you would need to take Jenn off and you could say that you owed her for taking you off. Dan agrees. They talk about Frank throwing that competition to Dan in a way that wouldn`t be too obvious. Dan says that its prefect that Shane isn`t playing in this power of veto. Dan and Frank say that they will talk again before the comp. Dan leaves the storage room.
12pm – 12:35pm
Frank, Shane and Danielle are in the kitchen talking about bar fights. Danielle talks about a guys she dated that was always getting into fights over her when he never started them. Dan says that for some reason he feels like Frank dates older women. Frank starts to say no offense… Dan stops him and says I am just going to stop you there because you might cut off a huge chunk of women. Frank rephrases and says that he is open to dating anyone. They all laugh. Dan talks about how people are at home watching them on their computers right now. They all think its weird. Dan heads into the arcade room to sit in silence. Danielle and Frank talk about going back to bed.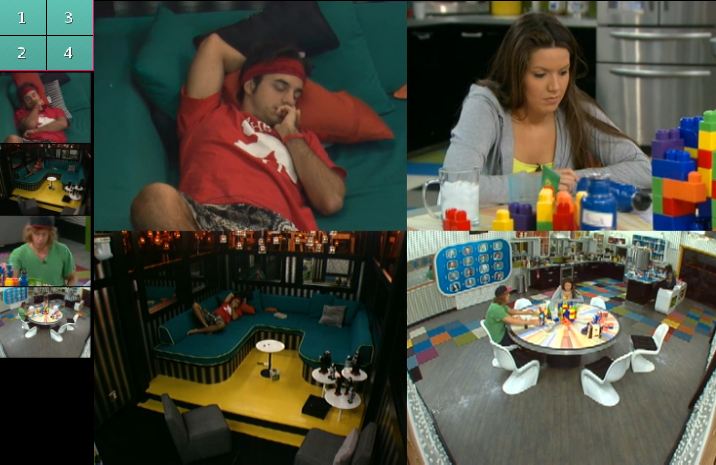 12:40pm – 12:50pm Danielle joins Dan in the arcade room. Dan talks about how getting married aged him. He says that Chelsea was really easy to please and can`t imagine having a bridezilla. Danielle says that she wouldn`t be like that and says that all that matters is that she is with the right guy. Dan asks her if she would move to Vermont to be with Shane. Danielle says if it was the right guy I would move. She says Shane and I have had tons of conversations about it. Frank and Jenn join them in the arcade room.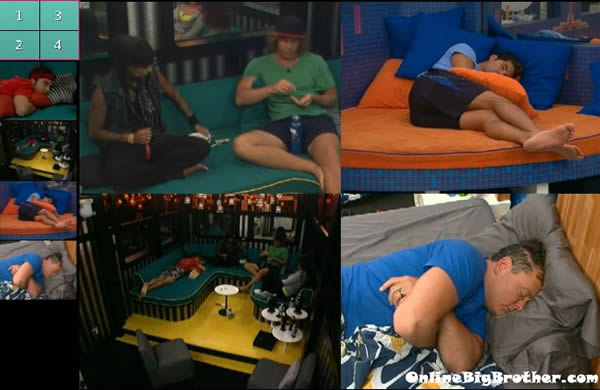 Share it YO!!
Tweet