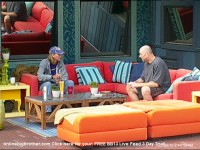 If you like this site and want to help us keep it running please consider donating, Your donations go directly to paying the server and bandwidth fees. Donate Link
7:30am – 9:20am Shelly is awake and out in the backyard already cleaning and doing laundry. 8:45am Big Brother wakes up the houseguests. Adam and Shelly are out in the backyard talking. Adam tells Shelly all about how Jeff was talking to him last night trying to keeping Brendon instead of Shelly Adam says that obviously you've got to go through the scenarios. Adam says that he kept telling Jeff …Dude, we're not going to get many other chances to do this. Shelly says that Jeff already told me they're voting for me. Adam says yeah, but he was like ..I just hope we're doing the right thing. Adam says he said we're doing the right thing. Adam says that he said he know why he's nervous, cause he's next on their chopping block. Shelly says that keeping Brendon is not going to keep him in the game, Rachel and Brendon will throw anyone under the bus. Adam says right, right. Shelly says that they have already chucked him ten times. Adam says and he knows that, he's just afraid that… Shelly says that they're afraid I'm going to vote Rachel out because they know I don't want her here. Adam says right. Shelly says that they need her. Adam says right. Shelly says that she understand that but I will not like Rachel. I will… I'm a team player. I'll look out for the team 100%, but if anybody thinks that this next time I'm going to babysit Rachel…. Adam says no. Shelly says and give her pep talks and outwardly protect her? Shelly says that it isn't going to happen. Adam says that what he's afraid of and it makes perfect sense is if.. Shelly says it does me no good if he goes. Adam asks who? Shelly says Jeff. Adam says oh, yeah, that's why it's all coming down to one of us has to win HOH this week. Shelly says absolutely, no matter what now there's no excuse, you have to win or you're going home… if I don't win a competition I'm going to be out the door soon.
WATCH the houseguests LIVE on SuperPass!
Click here for your: FREE 3 Day TRIAL!