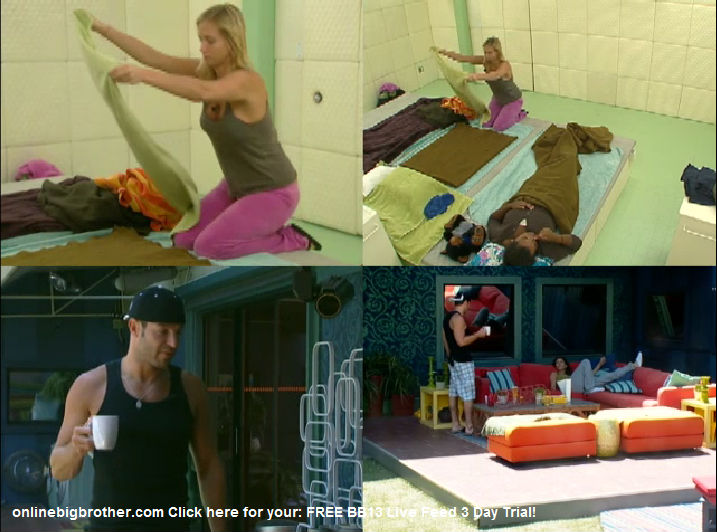 12:30pm Kalia and Porsche are getting settled in the have not room. Kalia comments on how the kitchen table isn't smaller, she thinks at this point of the game it should be. Porsche doesn't know what CBS has planned for Big Brother.. she leaves. Kalia starts to cry under the stress of the house and Shelly walks in. Kalia continues to cry and tells Shelly about her whole conversation with Jeff and how he yelled at her and bullied her. Kalia says that it would be the worst if she lost Dani this week. Kalia says that she knows that Jeff wants Porsche evicted but she can't deny the fact that all of us are on the other side. Kalia says that she is not a snitch and wouldn't throw people under the bus …but that she told Jeff about how he can't trust Rachel. Kalia starts going off about how disgusting Rachel is and how she was very much a part of trying to back door Jeff. Kalia says that she thinks that Jordan giving Shelly the phone call definitely shows they think you are with them. Kalia says that she stands by what she has said and done. Kalia starts crying some more and says that she isn't sure this is all worth it. They start talking about the POV competition. Shelly asks Kalia if she thinks there will be any more Twists this season. Kalia think there will be.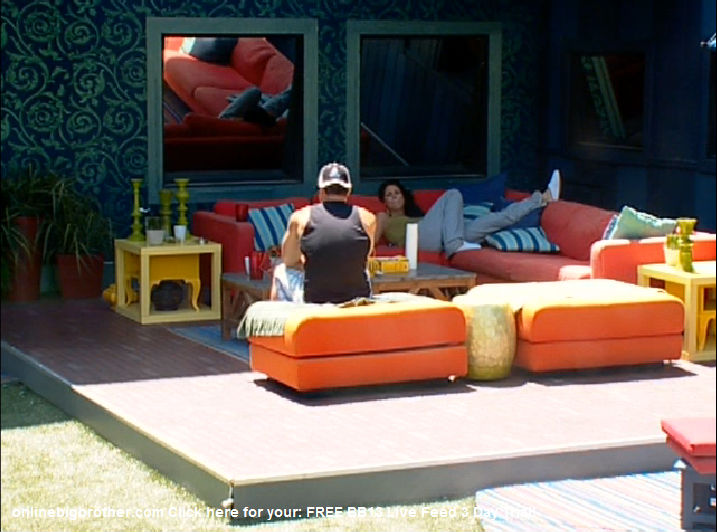 12:40pm Meanwhile out in the backyard …Dani tells Jeff and he is going to make his birthday the worst. Jeff says oh whatever ..you're going to get to eat. Jeff tells Dani as far as their deal goes they are still good. Jeff says you are have not but a have if you know what I mean. Jeff asks Dani if she wins the Veto …what would you do? Dani says whatever you want me to do… Jeff says I want you to not use it. Dani says okay, I wont use it. Jeff says that he wants Kalia and Porsche to have to fight for it .. because she …made him fight for it. They talk about how they think the POV competition will be a mental one. Dani says so what if one of them wins the Veto …you wouldn't put me up would you? Jeff says no … and regardless we would control who goes home. Porsche joins Jeff and Dani out in the backyard. Porsche mentions that she doesn't think Kalia is going to eat slop at all. Dani asks at all.. Porsche says yeah.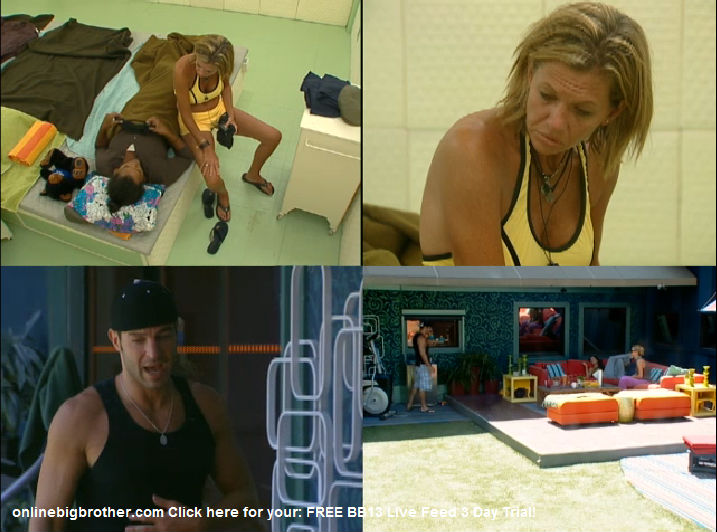 12:45pm – 1pm Dani and Adam are in the candy bedroom. Adam says that he really doesn't want to have to share a room with Rachel. Dani says shut up you love it! Porsche is busy trying to decorate the havenot room. Meanwhile, Shelly is out by the pool talking to Jordan. Jordan starts telling Jordan about her conversation with Kalia. Shelly says that its just funny that for three weeks they were on top and now they're not … Jordan says that Jeff told her flat out that if she puts him up …he would put her up. Shelly says that she told Kalia to have her pity party for a few days and to get over it … next time maybe not act so arrogant. Shelly says that everyone goes through it. Shelly asks who their target is this week. Jordan says that he isn't sure just yet. Shelly asks if he is going to back door Dani. Jordan says yeah maybe. Adam joins them by the pool. Shelly tells Jordan that my key better come out .. then she says he can use her as a pawn if he wants, I don't care. Shelly says that if she gets to play she would be playing to keep the nominations the same or whatever… or maybe I will get to host ..I haven't gotten to do that yet. Shelly leaves. Jeff comes over. Jordan tells Jeff what Shelly just told her… about how Kalia is in there crying ..and about how if her and Dani go up and Dani goes home that would be the worst situation ever. Jordan says that she said that Kalia was talking about being on top and now they're not. Adam says welcome to big brother. Adam says that he appreciates not being made a have not.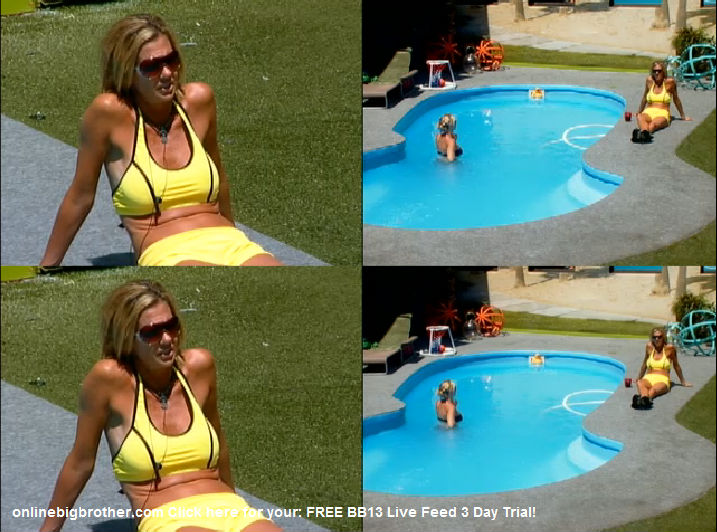 1pm – 1:20pm Rachel comes out to lay out in the sun. Jeff tells her to put on sun screen …that Brendon would be mad at him if he didn't tell her. Kalia, Adam, Posche and Dani are sitting on the backyard couch talking. Kalia says that Jordan hasnt had her humilitard on for like four hours now… she should be wearing it. Kalia says that everyone else who wore a costume had to wear theirs all the time. Jeff, Shelly, Jordan and Rachel are out in the yard sun tanning.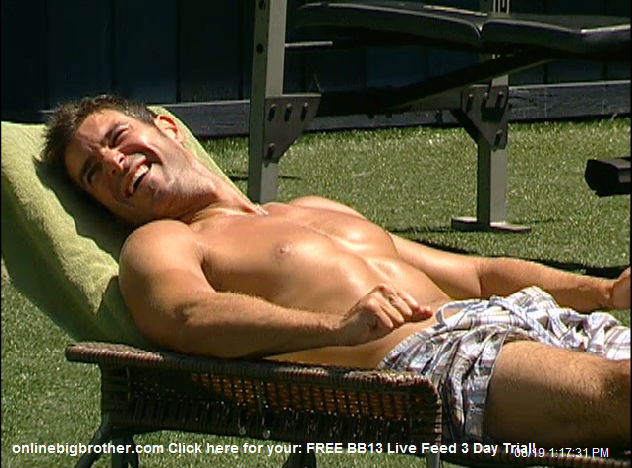 1:20pm – 1:40pm Kalia, Porsche and Dani are on the couches talking. Porsche says to them not to worry ..I dumped out all the muscle milk with the benefiber. They talk about having the eggs and Jalapenos to eat. Porsche says that she already ate three boiled eggs…then says blaaa… Kalia says they're filling but you will just get tired of them. They talk about making a big container of slop to have in the fridge. Porsche asks Dani if she is you nervous? Dani says No.. she is just quiet. Kalia starts talking about how Rachel was complaining about people talking about her butt cheeks flapping ..and she still wears the tiny bathing suits. Porsche says she's gonna says thats me this season. Kalia asks did she. Porsche says no ..I said she's going to say it. Kalia, Porsche and Dani lay down to take a nap. The others are laying out in the sun chatting about random things…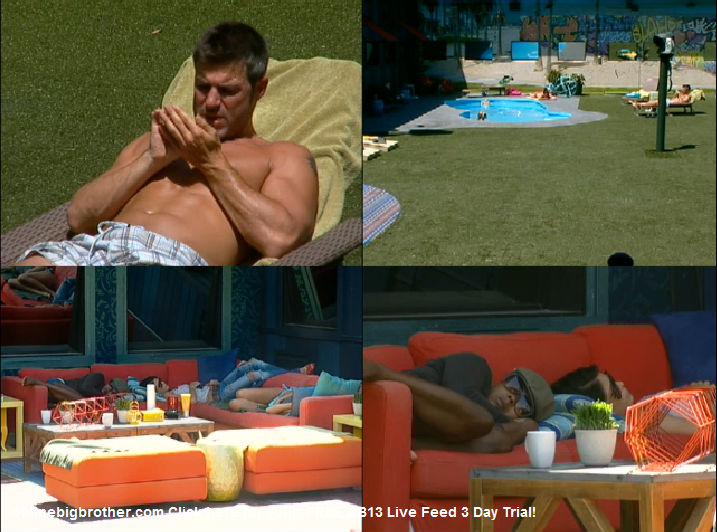 1:45pm – 2pm Big Brother calls an end to the lock down and the houseguests come in to see that they now have a smaller table. Jeff says there is so much more room for activities! They laugh. They all marvel at the small table. Porsche is in the kitchen trying to think up different things they can make with the Jalapenos and eggs. Adam and Kalia are making food in the kitchen. While, Porsche is reads the havenot rules.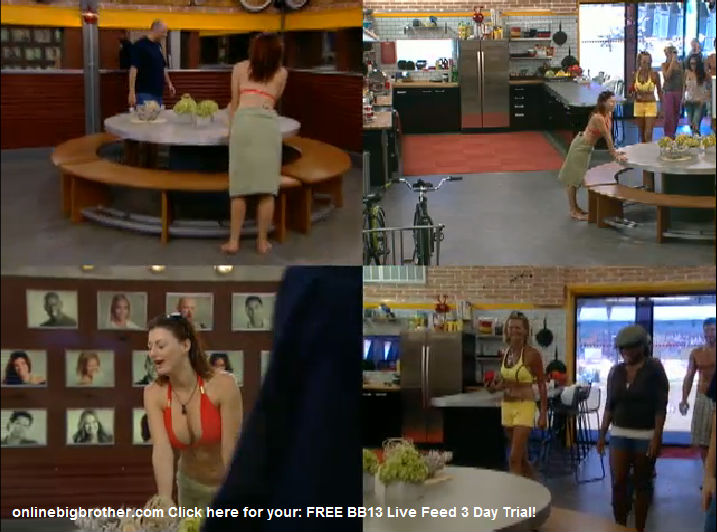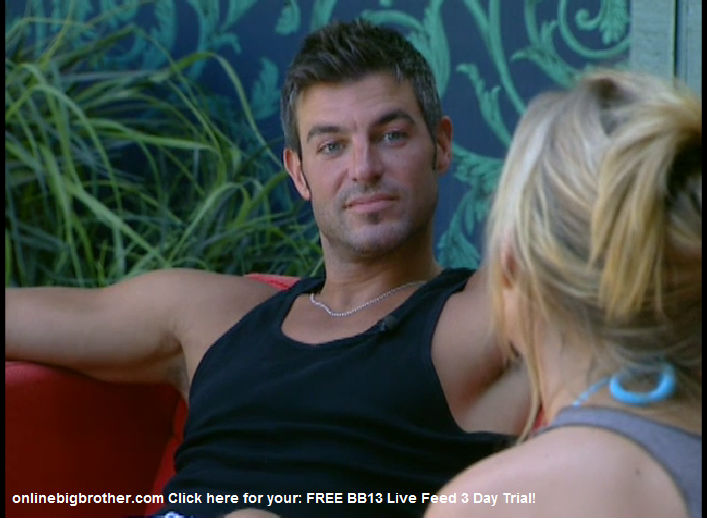 2:15pm Porsche is talking to Jeff. She tells him that she wont put him up if he doesn't put her up. Porsche says that she was close behind winning that HOH last night …and she feels like its getting close to being her time. Jeff says so is this our first minute of game talk. Jeff says that he likes what she has to offer.. but that … Porsche says I don't know how to do this or butt kiss but … if I am the target I hope that I get to play in the veto …and not be the one that hosts her own funeral … and gets put up as the replacement. Jeff jokes ..so you want to go up. Porsche says no. Jeff says we'll see… its gonna be a game time decision. Porsche talks about the different things she is planning to make with slop. Jeff says well you had to know you were gonna be a havenot.. and now you can practice your recipes. Jeff says well you never talked game to me .. and if you ever want to talk I am here its day 49 now .. and if you wanna talk day 50 on …I'm here. Porsche says okay well thats all I have to say.. Jeff says thanks Porsche. Porsche goes inside and tells Kalia her conversation with Jeff was awkward. Porsche says that Jeff totally pointed out that it was her first time talking game with him.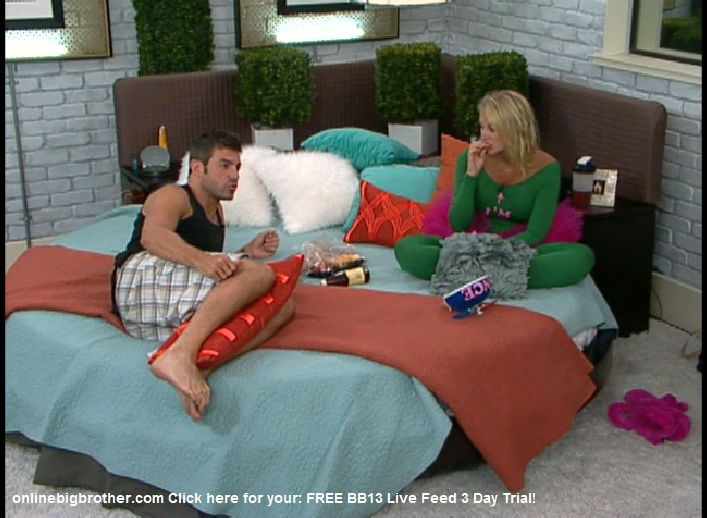 2:25pm – 2:45pm Jordan joins Jeff on the couch. Jeff says that he is bored and that he had to give everyone the opportunity to talk. Jordan asks you talked to everyone? Jeff says well Kalia and Porsche. Jordan asks if he talked to Dani… Jeff says well yeah.. Jordan says with Dani you just need to make sure you make her feel as comfortable as possible. Jeff and Jordan go up to the HOH. Jeff says that he talked to Dani. Jeff says that Dani told him that she would just throw the veto if he wanted. Jordan says no. Jeff says that it would be stupid if she threw it… and I don't think she will. Jordan says that he just has to make sure Dani feels comfortable. Jordan says that you just need to make sure in your speech you tell Kalia that you're putting her up because she put you up. Jeff says that he told Dani to not tell anyone that we have a deal. Jeff says that she said she wouldn't so he thinks she feels safe. Jeff says if Dani does win …then one of them (Porsche or Kalia) goes. Jeff talks about how Kalia told him that Rachel has been throwing them under the bus the last few weeks. Jeff says he said yeah I know. Jordan says what if we did get out Dani this week… OMG! Jeff says well I said you cross me one time ..you're done! Jeff says …say someone else wins the veto …we just have to convince them to use it. Jordan says its good because this week you are showing Dani trust and so then next week she will be going after Rachel. Jeff says hopefully if one of those idiots win next week ..and if they put me up with Rachel …then we still have the votes for me to stay. Jeff talks about how he brought up Shelly's name when Kalia mentioned someone on their side was throwing them under the bus …and that he doesn't want Kalia to spin it the wrong way to Shelly. Jordan says that Kalia aggravates her. Jordan says that they are all going to be surprised because I bet they all think Dani and Kalia are going up. Jeff says that Porsche doesn't think she is going up. Jordan says that's stupid. Jeff goes into the HOH bathroom and asks if Jordan wants to watch him shave.. Jordan say okay. Jordan tells Jeff that he looks hot when he's scruffy. Jeff says well this isn't a movie ..I can't be scruffy all the time.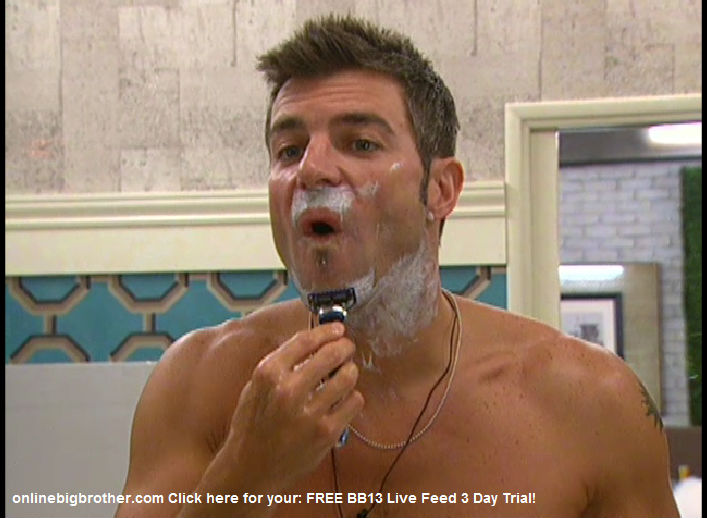 Share it YO!!
Tweet