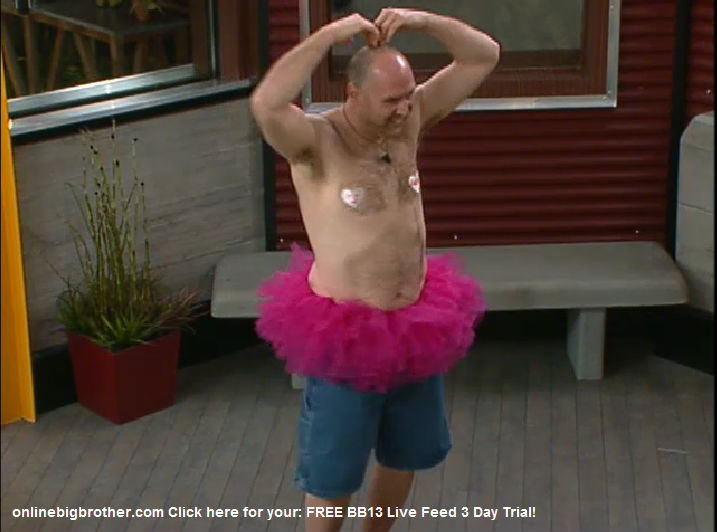 Watch the Big Brother 13 live feeds on your Android and iOS devices. Sign-up for the 3 Day Free Trial
8:35am – 10:10am Shelly wakes up and starts her morning routine of smoking, drinking coffee and then cleaning the bbhouse. At 9:30am Big Brother wakes up the houseguests. Rachel is out in the backyard talking to Shelly. They discuss how their legs are sore from last night's HOH competition. Dani goes into the bathroom where Adam is.. she says that the washroom smells like cigarettes. Adam says he just had a smoke and then went in there. Dani asks you pooped cigarettes. Adam says yeah. Dani says of all things I though you would have pooped bacon. Adam then grabs Jordans Tutu and goes into the candy bedroom to do a dance. Dani tells Kalia to go back to sleep until she has a better attitude. Kalia tell Dani to go back asleep. Adam then heads out into the backyard for another smoke. Meanwhile, up in the HOH room Jeff and Jordan wake up and start to get ready for the day. Jeff talks about wanting a big breakfast. Jeff asks Jordan if she has anything for the laundry. Jordan says all she has is her unitard. Jeff says good point. Jeff asks what time did she say …10:30am? Jordan says yeah. Jeff heads down to the kitchen to make breakfast. Rachel is in the kitchen cutting up a melon. Jeff, Adam, Jordan and Rachel complain about being sore from the competition. Jordan and Dani are in the downstairs bathroom getting ready. Porsche joins them. In the kitchen Jeff keeps singing "A whole new world…"
Sign-up NOW and watch the houseguests live!
Click here for your: SUPERPASS – 3 DAY Trial!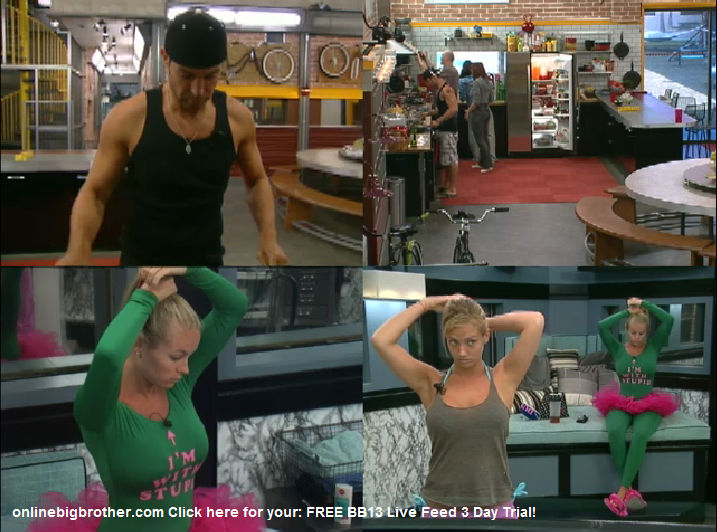 10:20am Rachel and Dani head out into the backyard to eat their breakfast. Rachel says that Brendon would have killed that competiton yesterday. …then she says that Jeff killed it. Shelly joins them outside. They talk about protein shakes and other random things. The conversation then turns to talking about the competition.
10:25am – 10:50am Big Brother calls for an out door lock down. All the houseguests are out in the backyard. Adam and Rachel are playing a card game. Shelly and Dani are talking about Shelly's job. Jordan and Jeff are hanging out by the pool. Jordan mentions that they got their basket ball hoop back. Porsche is laying out in the hammock. The houseguests are all laying out .. with some random conversations.. Shelly says that Adam will get the wack a do pervert award. Adam says hey?! Shelly says you have heart shaped bandaids on your nipples.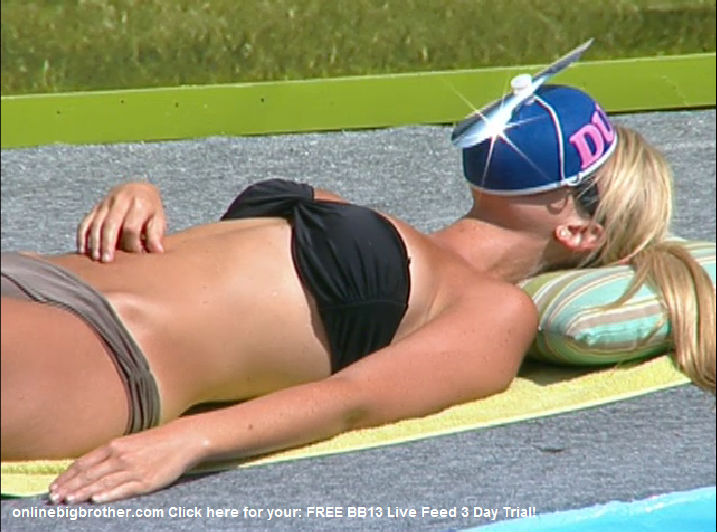 11:20am Jordan and Porsche are talking about jewellery, sunglasses and LA. Porsche is telling Jordan all about how she plans on moving to LA. Porsche talks about living in Florida. Jordan says that it would be nice to live there. Porsche says yeah except for the hurricanes. All the other houseguests are napping… Kalia gets up and joins them by the pool.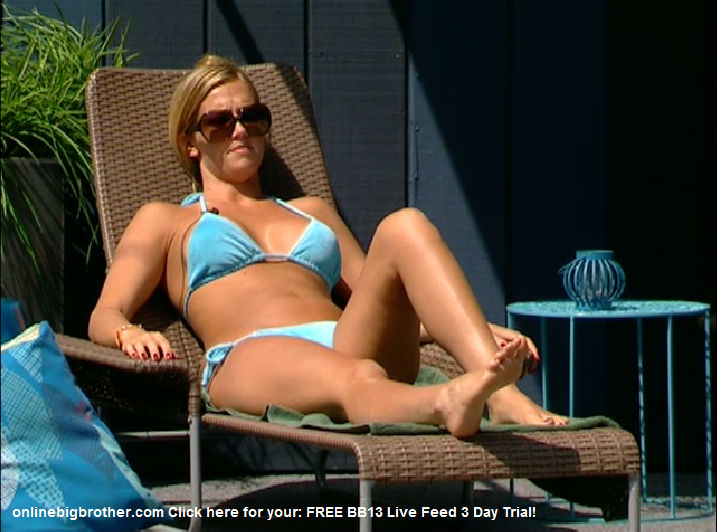 11:45am The houseguests are still on a backyard lock down. Not much talking.. everyone is relaxing or sleeping..
WATCH the houseguests LIVE on SuperPass!
Click here for your: FREE 3 Day TRIAL!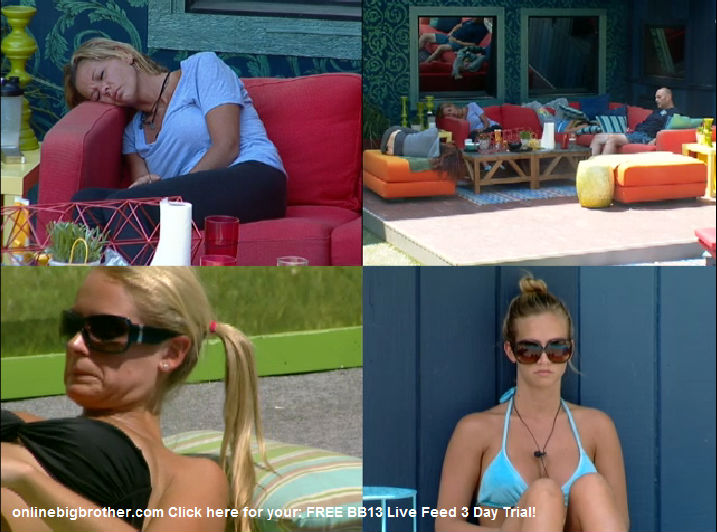 If you like this site and want to help us keep it running please consider donating, Your donations go directly to paying the server and bandwidth fees. Donate Link
Big Brother 13 Spoilers POLL CAST your VOTE!

Big Brother 13 Live Feed Image Gallery
Follow: @BigBspoilers and @Dawgsbigbrother on Twitter for recent crazed out spoilers. Theres also our Facebook page.
Share it YO!!
Tweet