Watch the Big Brother 13 live feeds on your Android and iOS devices. Sign-up for the 3 Day Free Trial
Jeff got to choose the HAVENOTS this week and he picked Kalia, Dani and Porsche!
11:50am Big Brother calls an end to the outdoor lock down. All of the houseguests head inside to discover that America voted the havenots this week to eat hard boiled eggs and Jalapenos. Porsche looks at the camera and says ….I should have had a bigger breakfast! Shelly says those Jalapenos are hot!! Rachel tries one and says they're hot! Meanwhile Dani and Porsche are in the candy bedroom. Dani wonders if she will get real food for her birthday. Porsche says Adam did. Porsche says should I have not said …does this mean I am not nominated now? They talk abotu how they don't want to sleep in the havenot room. Dani says that this is bullshit …that Big Brother didn't even give us a have/havenot competition ..and to just pick 3 people at random. Kalia joins them. Dani says thanks guys for not winning HOH this week! Porsche says she wants to go read about Jonah.. Kalia and Dani laugh …you idiot its Judas… Dani says go eat a baby. Go eat a hardboiled egg. Porsche says that she almost made it without being a havenot this season. Kalia leaves. Dani tells Porsche that Kalia is going to be miserable this week…
WATCH the houseguests LIVE on SuperPass!
Click here for your: FREE 3 Day TRIAL!
12:10pm Rachel, Shelly and Jordan are in the backyard talking. Rachel talks about how fast Porsche took her bed back last night …and now she has to go sleep in the havenot room.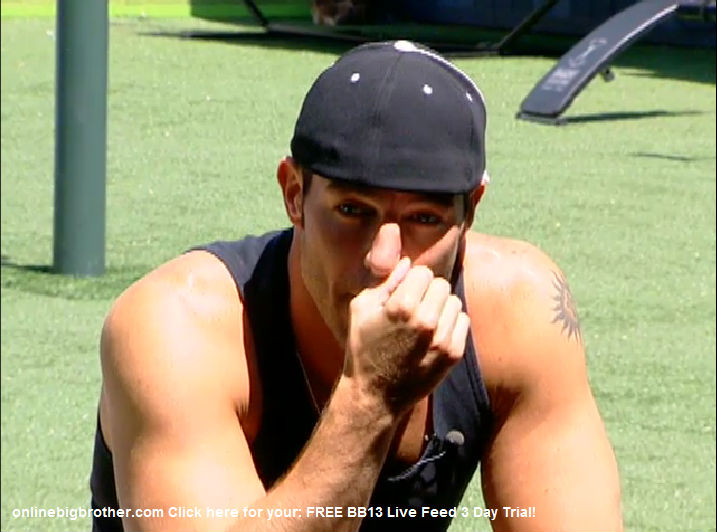 12:10pm – 12:20pm In the backyard, Kalia is talking to Jeff about how she knows that she is probably going up on the block. Kalia says that she would like to know … even though she knows that he can't really tell her that she is definitely up. Jeff says yeah well you are definitely in the pot… you put me up so you are definitely in the pot … I still don't know what I am going to do … I think a slap on the wrist is definitely in order. Kalia throws Rachel under the bus and says that she should be a target of his …even though she knows she is on his side. Kalia says just be careful of people in your camp …that may not necessarily have your back. Kalia says that he is really surprised by her behaviour. Jeff says yeah thats a fair comment .. and we are all aware of her behaviour. Kalia says that in the event that I am here or if I am not your target … whatever it is that you want.. Jeff says that he appreciates it and that he appreciates her not putting up Jordan and that I wasn't the target. Jeff says that there are no hard feelings …thank you for shooting me straight.. and for being honest. Jeff says sorry about making you a havenot … Kalia says no yeah its okay .. I haven't been one since the first week… I just wish there was something other than Jalapenos … cuz I can literally not eat them… Kalia heads inside.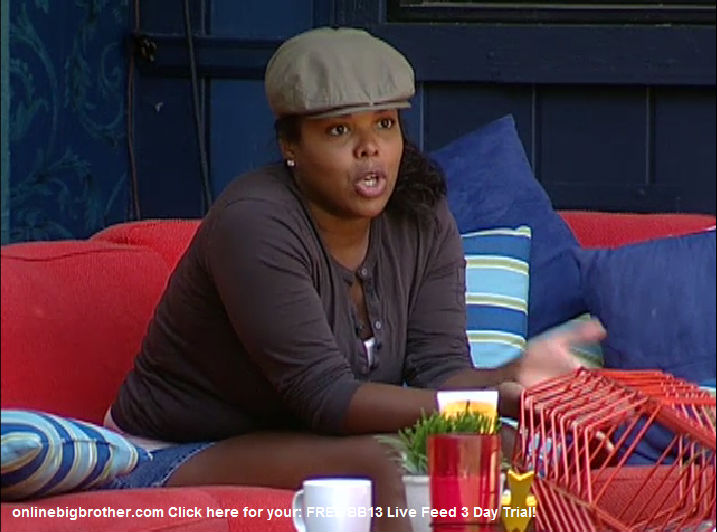 If you like this site and want to help us keep it running please consider donating, Your donations go directly to paying the server and bandwidth fees. Donate Link
Big Brother 13 Spoilers POLL CAST your VOTE!

Big Brother 13 Live Feed Image Gallery
Follow: @BigBspoilers and @Dawgsbigbrother on Twitter for recent crazed out spoilers. Theres also our Facebook page.
Share it YO!!
Tweet