Watch the Big Brother 13 live feeds on your Android and iOS devices. Sign-up for the 3 Day Free Trial
12:10am Jeff and Adam head down from the HOH room. Adam goes to the metal room and Shelly asks him if he already went up there to kiss butt. Adam says yeah. Dani says shocker. Rachel comes in to the metal room and says that she wants to go to bed. Shelly tells her there are new sheets in the dresser if she doesn't want to use the ones Porsche had on the bed. Rachel grabs new sheets and then questions them about where her little beanie dog is …if anyone has seen it. Everyone says no. Rachel glares at them. Jeff comes into the bedroom to grab his clothes. Porsche asks him if Jeff and Jordan want to be alone or if they want to play 20 questions. Jeff asks oh down here? Porsche says …or up there? Jeff says aren't you guys tired? Porsche says a little but I napped right after. Jeff heads up to the HOH room. Jeff tells Jordan that at least up here you don't have to put that thing on to go to the bathroom. Jordan says I hope not. Jordan goes to head downstairs and tells Jeff she has one more day and then she will be done with this stupid thing (humilitard). Meanwhile down in the metal room. Shelly and Dani start talking about being called into the diary room and big brother cuts the live feeds. Rachel tells them if they find her do they can just throw him in the havenot room. Rachel is huffing and puffing around. Rachel climbs into bed and all the other houseguests leave the room. Adam, Dani, Porsche, Kalia head into the candy bedroom. Porsche spots a camera man and waves and says hi! Dani cames over and asks can you see him? Porsche says yeah. Dani says you're a hoe bag leaves the room. Big Brother says you are not allowed to talk about production. Porsche says but he watches me sleep…
Sign-up NOW and watch the houseguests live!
Click here for your: SUPERPASS – 3 DAY Trial!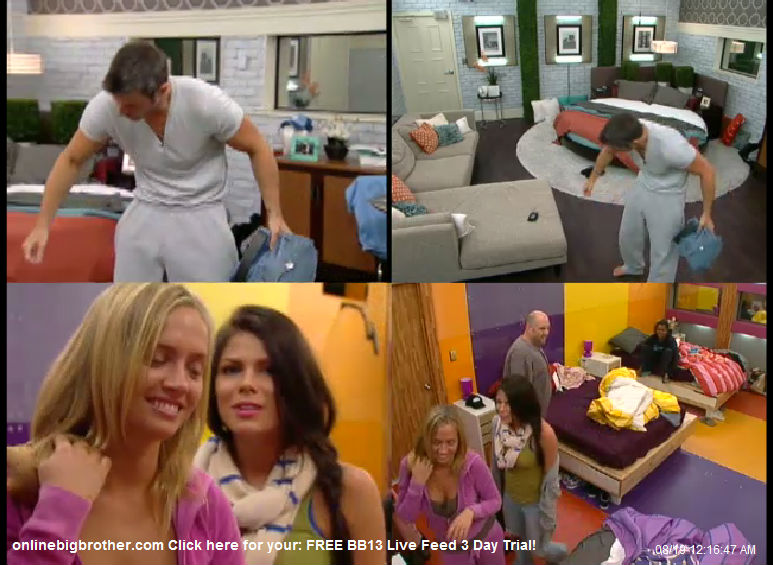 12:20am Jeff comes back down to the candy room wearing his black slippers. Dani calls them blackies. Kalia freaks out laughing and says oh my god you can't say that word. Dani asks why? Kalia says blackies is such a bad word. Kalia says I am telling you …just do yourself a favour. Big Brother cuts the feeds. Jeff says that he doesnt want to use the HOH laundry service… he doesn't like them touching his drawers. Dani says well just wash those yourself. Jeff says na.. I don't want to think I am too cool .. and get a big head up there. Jeff heads back up stairs. Kalia keeps telling Adam and Dani that saying blackies is not a good thing to say. Adam and Dani don't understand why. Adam says well wear your whities. Dani says that her friend had a cat names blackie. Kalia says I am just warning you.. Dani says there was even a movie where someone was called blackie. Adam says that he appreciates her concern ..he was just talking about the slippers and didn't mean anything by it. Dani tells Kalia to keep her comment to herself. Kalia says I'm sorry. Dani says I am kidding. They talk about how Adam is the only guy left downstairs …and that there are only two guys left in the house. Adam says Keith would have loved this ..to be in the house with 6 girls.

WATCH all DRAMA unfold LIVE on SuperPass! FREE 3 Day TRIAL
12:30am Up in the HOH room Jeff sits on his couch and stares at his HOH pictures. Jeff head back down stairs and asks if Shelly wants to come up and chill. Shelly says no because you and Jordan probably want to just relax. Jeff says we have all week to relax. Shelly says that she doesn't want to be back in the candy room… they're playing 20 questions and I don't want to. Shelly says that they were telling her to go up and talk to him because she is closer to them. Jeff says just tell them I have a mind of my own and can't be persuaded.. just say I could try for 3 weeks and I wouldn't be able to persuade him. Shelly laughs. Shelly says that Rachel is really depressed …she knew what was going to happen.. Jeff says that she is handling it well. Jeff says maybe he will have Big Brother do his clothes ..but I feel bad. Jeff says ahhhh BLANK it, I'm not that guy! Jeff and Shelly continue to talk about random stuff. Jeff then heads up to the HOH room. Jordan joins him soon after.

Jeff is going through his HOH basket and eating cereal. Jordan says that she loves that they can talk whenever now and not have to wait till 3am. Jordan says people are already coming up harassing us. Jordan says Shelly was being cornered by Dani and was trying to get information the night she was drunk. Jordan says that Dani says that Shelly told her I was trying prove her loyalty. Jordan says Dani told her the same thing. Jeff says that if we want to toy around. Jeff and Jordan talk about working with Dani and telling anyone else that if they use the veto she will get backdoored. Jordan says she wants to bring Dani up and make her promise not to use the POV on Kalia. Jordan says that she thinks Dani won't come after you. Jordan asks who do we have more pull with? They both think they have a better chance to get out Kalia then Porsche. Jordan says if Dani goes then they can get out Kalia or if Dani stays it might be better to split them up. Jordan says it might be better to backdoor Dani. Jordan says put up two floaters. Jeff says if I put up them I keep my word to Dani and if anyone other than Dani wins the veto….she's gone. Jeff says that if she's going play anyway.. if she wins the veto you can't use the veto to change my nominations. Jordan says that will show you some trust. Jeff wonders why Shelly mentioned Dani in her speech. Jordan says she was trying to throw a stone at Rachel. Jeff says the way she came at Rachel earlier in the hOH there was a better way she could have done it. Jeff says that Brendon must have talked to Rachel and discuss the HOH competition. Jeff and Jordan decide that they will put up Kalia and Porsche for eviction and if one of them gets the veto and comes off …they will backdoor Dani. Jordan says that Dani is playing for herself. Jordan says outside of the house she may like Dani but in the house they don't know what is real and fake. Jeff says he can't trust her and says all that BLANK about Cassi was BLANK. Jeff and Jordan start talking about how Shelly is playing both sides of the house. Jordan says that Shelly was trying to cover her butt… but she is with us. Jordan says that Dani would have thrown her under the bus.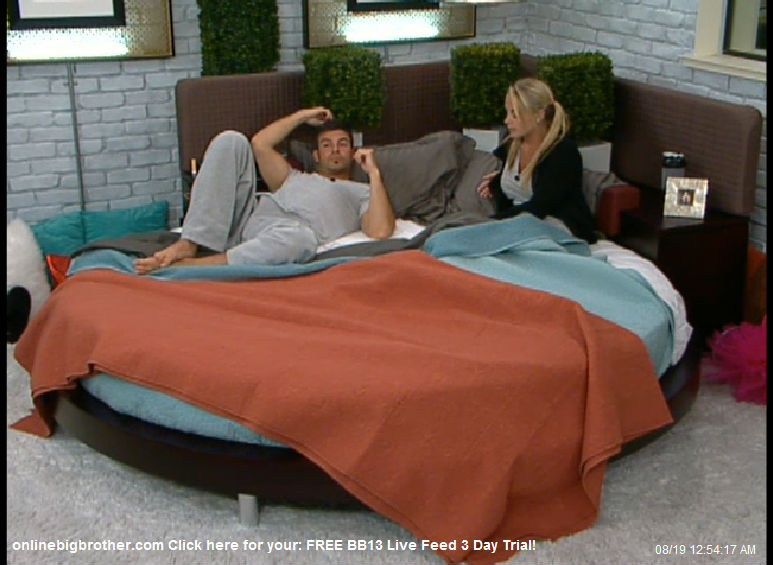 TRY the Live Feeds for FREE!
Click here for your: SUPERPASS – 3 DAY Trial!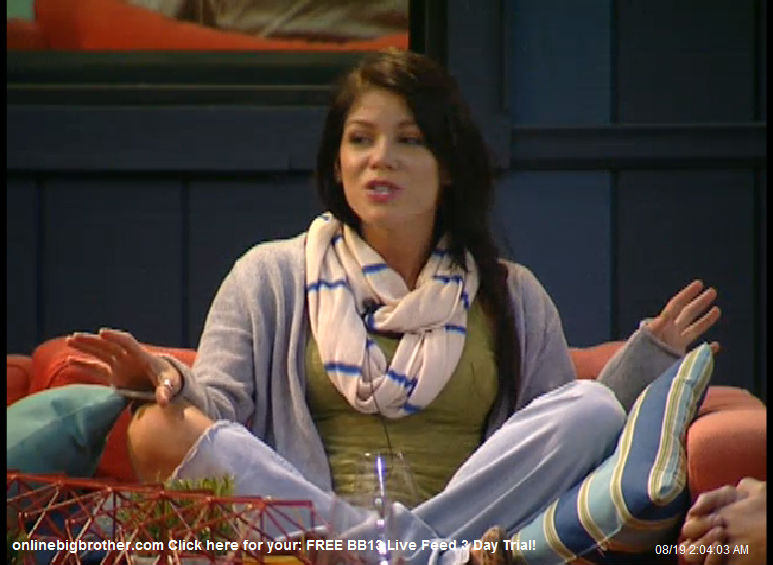 1:10am – 3:40am Adam, Dani, Porsche, Kalia and Shelly are out in the backyard sitting on the couches talking. Shelly talk about how she wants to host a POV. Dani tells them that she will use the POV ticket this week because she loses it if she doesn't …she cant save it. They talk about how Dani's birthday is coming up. Adam say that he was disappointed that Tory Spelling wasn't a part of his birthday. They talk about random stuff. Jeff comes down and has a smoke in the backyard. Shelly finds alcohol in the storage room. Dani wakes up Rachel to tell her there is alcohol and asks if she wants any.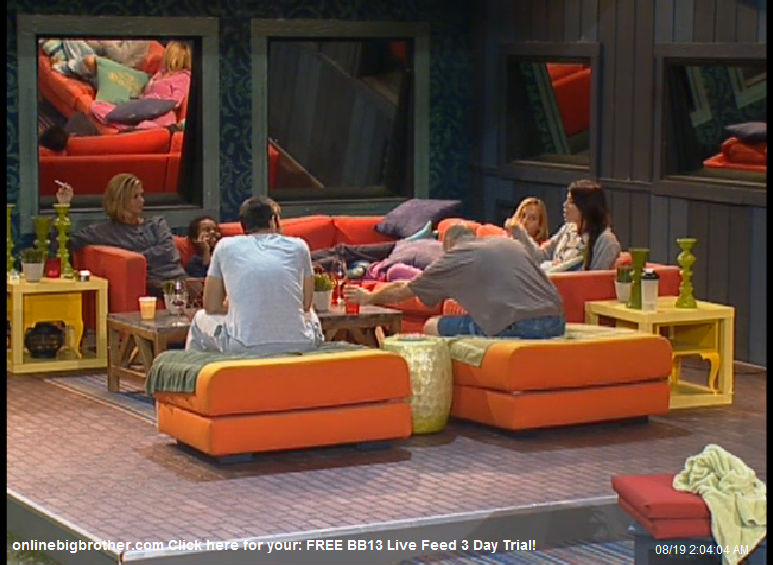 Back out in the yard, the houseguests talk about Jeff's HOH and other no game talk. They talk about Brendon's speech. Shelly explains to Porsche who Judas is. Shelly says that during the show she says that she didn't know who everyone was voting for because no one was looking at her. Dani says that she was just thinking about the questions that Julie asked her. Shelly says that Rachel was in a bad mood. They talk about random stuff. Shelly mentions that she was in the movie Talledega Nights… she says that she was holding a sign that said "French Me". Jeff says that he has been in a couple movies as well. The conversation turns to talking about the HOH competition. Kalia starts complaining about Rachel's bad attitude. Kalia says that Rachel does all those nonverbal actions when she is pissed off. Shelly thanks everyone for the votes and heads to bed. The rest of them decide to go to bed as well. Kalia, Dani and Porsche talk about Brendon's eviction speech. They then discuss Lawon and how they feel bad that he never made it to the jury house. Kalia says that she feels guilty about how all that happened. The three girls talk about random stuff and then eventually go to sleep…
6:40am All the houseguests are still asleep..
If you like this site and want to help us keep it running please consider donating, Your donations go directly to paying the server and bandwidth fees. Donate Link
WATCH the houseguests LIVE on SuperPass!
Click here for your: FREE 3 Day TRIAL!
Big Brother 13 Spoilers POLL CAST your VOTE!

Big Brother 13 Live Feed Image Gallery
Follow: @BigBspoilers and @Dawgsbigbrother on Twitter for recent crazed out spoilers. Theres also our Facebook page.
Share it YO!!
Tweet