Watch the Big Brother 13 live feeds on your Android and iOS devices. Sign-up for the 3 Day Free Trial
11am Brendon comes into the lounge room and asks Rachel to get everything they want to have up in the HOH room together. Rachel says that all she wants is a blanket. Brendon says okay ..because I want to be one of the first people up there to grab the couch. Brendon suggests bringing up the cards. Rachel says that she was thinking of taking a nap …but she could play cards too. Rachel says I hope it is a hanging competition. Brendon says that she can't let Shelly win. Rachel laughs and says Shelly can't win anything. Brendon talks about how the double eviction gos so fast. They start playing cards. Brendon says that he is going to give a great speech today… Rachel asks are you going to be nice. Brendon says that he might say something about the floaters in the end of his speech. Brendon wonders if he is in the jury or not. Rachel is happy. Brendon says you're just happy because you're winning at the card game. Brendon says I love you but sometimes I want to ring you neck… Rachel asks what? Brendon says nothing.. it's probably better that way… Rachel tries to cheat when they add up their scores. Brendon ends up winning ..and says that he is unbeatable.
WATCH all DRAMA unfold LIVE on SuperPass! FREE 3 Day TRIAL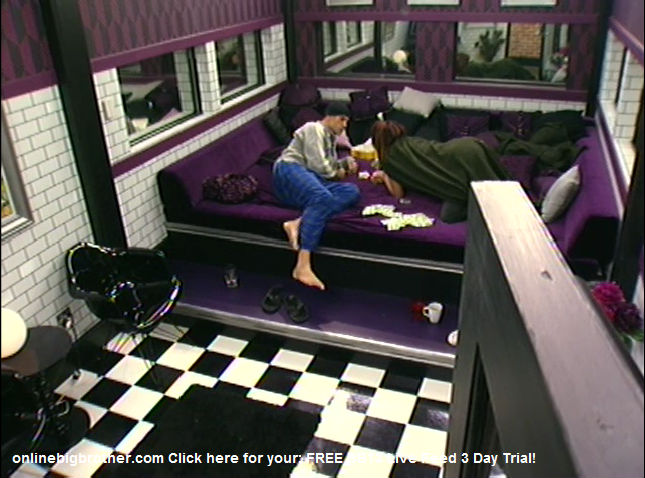 Rachel asks if he wants to talk to Kalia. Brendon says I will flip out …I will flip out!! ..NO! Rahcel says sorry. Brendon says no.. because you make me so angry! Rahcel says you make me so angry too ..you just murdered me twice in the card game. Brendon says you promised me you wouldn't.. Rachel says that she didn't do anything. Brendon gets mad at Rachel. She leans into kiss him and he tells her no, stop it…get over there. Brendon says everything was good and fine and you ruined it! Brendon tells her to have respect for him ..if he tells her to not do something …then don't do it!! Rachel says okay I am sorry ..just drop it ..lets not fight. We only have a few more hours together in this house. Brendon says that he is happy he is getting evicted …he wants out of this stupid house..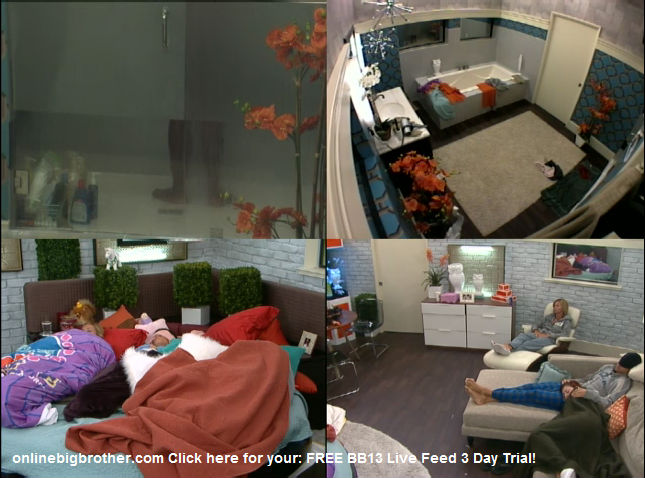 11:30am – 11:55am Big Brother puts the houseguests on an HOH lock down. All the houseguests head up to the HOH room and find a spot to lay down.
Sign-up NOW and watch houseguests after tonight's LIVE eviction!
Click here for your: SUPERPASS – 3 DAY Trial!
12:20pm – 12:30pm Big Brother cuts the live feeds to the TRIVIA screen…
If you like this site and want to help us keep it running please consider donating, Your donations go directly to paying the server and bandwidth fees. Donate Link
Big Brother 13 Spoilers POLL CAST your VOTE!

Big Brother 13 Live Feed Image Gallery
Follow: @BigBspoilers and @Dawgsbigbrother on Twitter for recent crazed out spoilers. Theres also our Facebook page.
Share it YO!!
Tweet