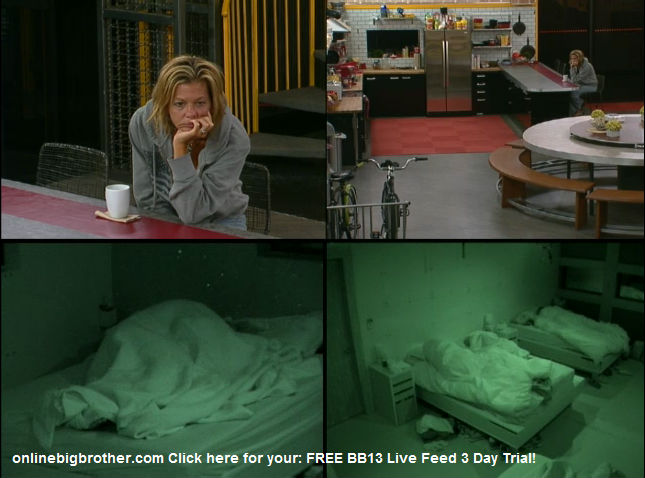 Watch the Big Brother 13 live feeds on your Android and iOS devices. Sign-up for the 3 Day Free Trial
9:10am – 10:10am Shelly wakes up and heads into the kitchen, she makes coffee and then sits at the kitchen counter by herself staring off at the memory wall… Brendon gets up, goes to the bathroom and then heads back to bed. All the houseguests other than Shelly are still fast asleep. The houseguests are on an indoor lock down as Big Brother prepares the backyard for tonights LIVE show and HOH competition.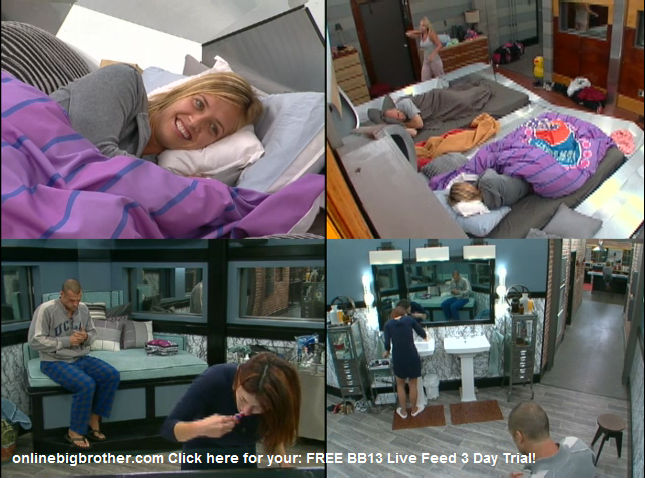 10:20am – 10:30am Big Brother wakes up the houseguests.. When the live feeds come back, Brendon and Rachel are in the bathroom getting ready for the day. Porsche and Adam are laying in bed trying to sleep. Shelly comes in and says to Porsche …maybe if I go in the bathroom to shower they will leave. Porsche says no because then they'll come in here. Shelly says that maybe they'll go in the purple room ..their bed away from bed. Shelly goes into the bathroom and starts to take a shower. Rachel asks if she is having a shower now? Shelly says yeah is that okay? Rachel says no. Shelly says well too bad. Rachel heads into the kitchen and jokes with Brendon that she will make things really dirty in the house and take away people food. Rachel and Brendon talk about how they think Jeff threw the POV competition… just to win more money and not have to use the veto. Rachel says that they think I am weak without you …but I'm not! They start talking about what they think tonight's LIVE HOH competition will be … Brendon says it's going to be physical. Rachel says that she thinks it will be a hanging competition. Rachel says that her and Dani are the only ones that can do anything with hanging upside down… and she cant compete in this one. Brendon says I know. Rachel says that she doesn't know how much of her goodbye message they will show him ..but it wasn't meant to be sassy. Brendon tells her to SHHhhh!!! Brendon then tells her that he want to run through how the fast forward works with her ..because it goes really fast. Rachel says okay ..we'll go in the purple room. They finish making breakfast and head into the lounge room.
FLASHBACK – Don't miss all the drama!
Superpass – 3 Day FREE Trial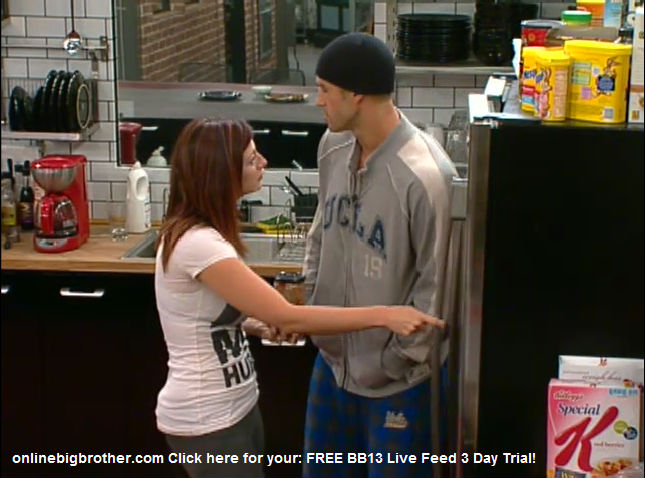 10:45am – 11am Rachel says that it's a lot more fun to not have friends in the house because then you can throw jabs at people. Rachel says that if she gets to choose the havenots this week …she will choose Dani, Porsche and Kalia. Brendon starts going through the how the fast forward works. Brendon says that if you don't win the HOH ..its very important to win the POV. Rachel says oh yeah. Brendon says that the only way to get someone out is that you have to take out a vote… like if you want Shelly out ..you put up Adam next to her. They talk about how they were all scared to vote Rachel out because they thought for sure she would be coming back in to the house. Rachel says that they are too scared to be in an alliance with strong competitors. Rachel says its stupid because Dani and Jeff are making themselves bigger competitors. Rahcel says Jeff is such a joke ..he won't even give you a vote. They start talking about the double eviction for their past season.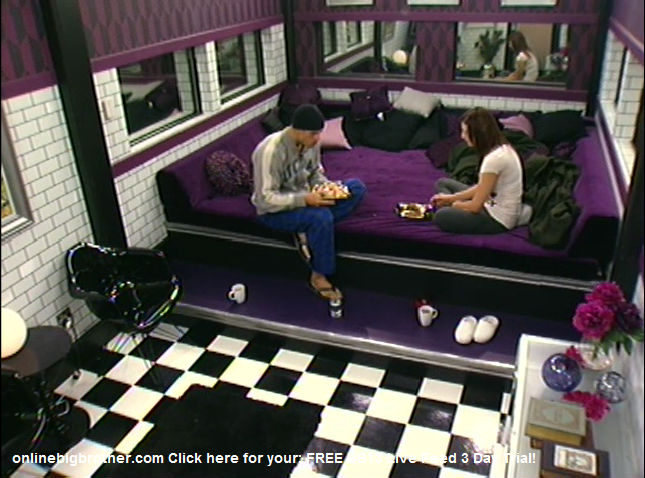 Sign-up NOW and watch the houseguests live!
Click here for your: SUPERPASS – 3 DAY Trial!
If you like this site and want to help us keep it running please consider donating, Your donations go directly to paying the server and bandwidth fees. Donate Link
Big Brother 13 Spoilers POLL CAST your VOTE!

Big Brother 13 Live Feed Image Gallery
Follow: @BigBspoilers and @Dawgsbigbrother on Twitter for recent crazed out spoilers. Theres also our Facebook page.
Share it YO!!
Tweet