Get the BB13 live feeds on your Android and iOS devices. Sign-up for the 3 Day Free Trial
5:46pm Purple room BR (Mega whispering, unfortunately you can't hear it all) Brendon says if Jeff wins HOH he's not going to put Rachel up.. he's going to backdoor Dani because he's too scared to put her straight up. Brendon is nowe sure that Kalia and Porsche will go up. Rachel says if she wins maybe she will put up Kalia and Shelly and Backdoor Dani. Brendon isn't sure about that thinks she'll make too many enemies.. After a bit of thought BRendon decides that no matter what Rachel does she will make enemies.
Brendon explains to her that JJSA and DKP will want Rachel on their side.. she needs to play it cool until she wins HOH.
Rachel says Adam is the wild card he really knows his days/bb13 dates better than anyone. Brendon isn't sure he'll be able to "RBing it" he might get nervous during the comp. Brendon believes that your confidence in the comps is more important than your ability. He's seen too many times very capable players fall to pieces under pressure. Brendon doesn't think Shelly, Adam or Jordan will win comps. He's thinking the wins will be Dani, Porsche and Jeff. this is why she has to stay in a good standing with those 3.
Rachel: "If I win HOh i'm going to be a big target.. 3 HOH's"
brendon: "you will always be the big target"
Rachel says she plans on putting Jeff and Dani up because one of those 2 will win POV and they will shake up the house because nobody will know who the replacement nomination are.
Brendon tells her to play the game she wants to play but do not ne snotty to people..
If you like this site and want to help us keep it running please consider donating, Your donations go directly to paying the server and bandwidth fees. Donate Link
6:00pm Kalia running through scenarios using the jelly beans
Dani joins her. Kalia asks if Jordan and Shelly are up will Rachel vote Jrodan out. Kalia says that Rachel is smart about the game and she sees Jordan getting second place in so Dani is pretty sure that rachel will evict Shelly. Dani adds that Rachel knows that JJ the strong voting block and will want to split that up.
Kalia if Adam wins HOH he'll put up Kalia/Rachel …
Dani: "I can't believe it's going to be endurance.. they are trying to prevent me from winning another HOH.. it's soo not fair" (I guess Dani thinks this weeks HOH is endurance)
Kalia asks who will Jeff put up. Dani: "Porsche and you" .. Kalia says the worst is the POV isn't used and Kalia goes home. Dani says that the worst thing will be Porsche uses POV and Dani goes up.
Dani: "I'm tired of this game revolving around 2 relationships.. "
Kalia agrees.. she's nervous that a lot of their long term plans hinge on rachel jumping ship and joining them. Dani says there's nothing we can do we just need to hope she does because there is no other option. Dani points out that big Alliances fall apart this late in the game because people start to see the money.
6:30pm Porsche, BRendon and Rachel
They ask Porsche where her head is at. Porsche says that she kinda has her mind up. She voted for Brendon then after he left POrsche was a outcast with JJR. Brendon says that has nothing to do with this week, Rachel just did that because she was upset Brendon left. rachel butts in says that she was upset for being on the block. POrsche doesn't buy it.. Rachel asks her if she thinks it's smart to get rid of a strong competitor that isn't Targeting you.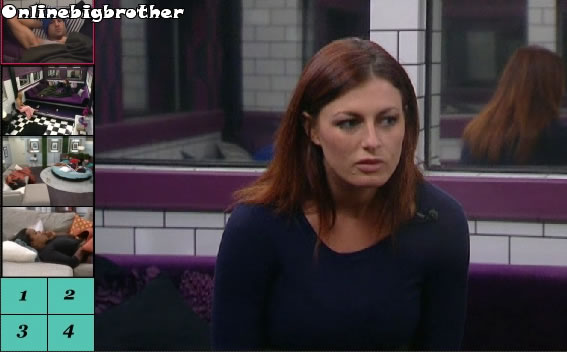 Porsche know but would like to point out that she doesn't feel like she can beat Brendon in the end so the chance in now to get him out, "when I was trying to be there for you… After brendon left you left me you would only talk to JJ.. even though I stuck my neck out and voted to keep Brendon"
Brendon: "You gotta make it to the end first.. don't think there's other players that won't target you".
Rachel: "why do you think that getting rid of brendon is bad"
Porsche: "because he's the strongest player in the house, both mentally and physically.. and I can't win with him in the game"
Brendon: "there is tons of people in this house that will put you up and backdoor you I can protect you "
Prosche knows she's not a target but out of whose left in the house she thinks she can beat them in Comps"
brendon remarks that she hasn't won any comps yet.
Porsche says she felt Burnt by rachel and JJ last week so why trust them now and why should she keep someone that will beat her in the final 2 around.. Porsche also brings up that Brendon hasn't even tried to talk to her until today..
Brendon interrupts says thanks for talking to them. as Porsche leaves Brendon blurts out " HEY Good luck I'll see you in jury" POrsch closes the door.
Rachel : "Porsche is on my list to… this is actually bad"
7:05pm HOH Shelly and DK Shelly says that BR pulled Porsche into the purple room to get her vote and she turned them down. Shelly adds that once BR found that out They todl POrsche she's their number one target. Dani: "Oh my god they really said that" Shelly: "Well thats what she told me"
They start chit chatting about houses and Shelly explains the house she lives in. Shelly leaves to get some food after she's gone.
Dani: "She's loaded"
Kalia: "Who? Shlely"
Dani: "Yeah"
Kalia: "I know all the things she was explaining I know about and they are not cheap" (I assume these are aspects of her house that she told DK… I've heard Shelly explain her place before when talkign to JJ it sounds pretty hardcore)
7:15pm Porsche joins them Porsche explains her conversation with BR that they offered her a final 3. She told them that last week after I voted for Brendon "It was a shit show". Porsche recaps the conversation says that Brendon and Rachel are being a bit pissed. Porsche was trying to leave and Brendon wanted her to but everytime she got tot he door Rachel would pull her back and pleaded her case.
Dani: "Why is rachel doing all the campianging"
Porsche adds that right when she left brendon said that He'll see her in Jury .. "I was like WOW I made a good decision"
Dani: "they are so nice until they don't get what they want"
Kalia Agrees. Porsche says they need to eat a lot of protein to prepare for tomorrows endurance. Kalia says she stuffed right now.. leaves..
Porsche: "You know if rachel wins HOH she's putting us both up"
Dani :"Yeah probably"
Porsche: 'It got real in there with BR.. they hate me"
Dani starts to give her tips about how to survive endurance comps telling her it's mind over matter. Dani asks Porsche who adam will put up Porsche thinks it'll be Rachel and Kalia not Dani. prosche thinks theres a chance Adam will put up Jrodan as a pawn, "Don't worry about Adam he doesn't want to win HOh this week". Dani: "We'll if it's endurance I doubt he will"
Big Brother 13 Spoilers POLL CAST your VOTE!
Share it YO!!
Tweet