Get the BB13 live feeds on your Android and iOS devices. Sign-up for the 3 Day Free Trial
7:35pm Rachel working out in her bedroom with JJ sleeping.. Brendon is laying in the bed smiling. (rachel is preparing for the comp tomorrow she's going to win it)
7:50pm rachel moves to the bikes to do some Pilates
8:12pm Kitchen Dani, Prosche, Kalia, Shelly are joking around saying that Adam's top 3 things when he gets out are Smoking pot, Seeing Fara and checking out his facebook Fanpage.
If you like this site and want to help us keep it running please consider donating, Your donations go directly to paying the server and bandwidth fees. Donate Link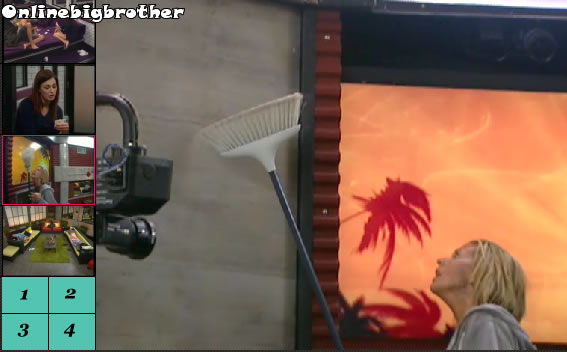 8:54pm Shelly, DKP hanging out in the living room. Shelly is trying to clean up some cobwebs
8:59pm Adam wakes up. Dani makes a big deal about it because 30minutes ago she guessed he would wake up at 9.
(Just a side note.. Shelly is getting very friendly with DKP she's altered her social game a lot She's still creepy loyal to JJ but she's able to plug into other groups socially with ease even after they outed her for numerous LIES. )
9:30pm Dani is reading the Rule book gets called into the DR
Shelly walking around cleanign random things. Kalia and Porsche talk about Racndom things like what they are going to do tonight, "Shave my legs, Listen to music, Take a bath"
Brendon, Adam, Rachel are in the kitchen playing cards.. cht chat.
10:00pm Living room everyone but BR. BR are int he purple room playing cards.
Dani asks Adam what 3 things would he do when he gets home. Dam says watch TV, I can't say on TV 2 or 3. dani laughs says that is what she said he would say… 1)TV 2) Ganjah Hit 3) Be with Fara.
10:30pm Blah Nothing is going on.
11:35pm Feeds are CRAZY holy cow ;)
Big Brother 13 Spoilers POLL CAST your VOTE!
Share it YO!!
Tweet