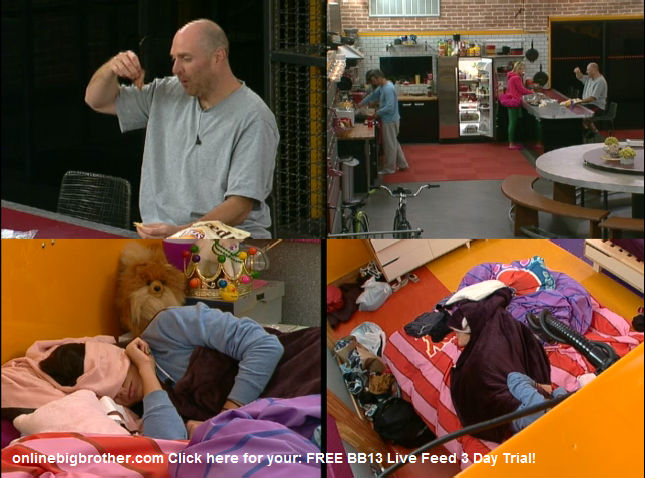 Watch the Big Brother 13 live feeds on your Android and iOS devices. Sign-up for the 3 Day Free Trial
1:10pm When the live feeds come back from the TRIVIA screen.. Jeff, Jordan, Kalia and Adam are in the kitchen making lunch. Adam tells Jeff that he is a horny little devil this morning. Jordan tries to hug Jeff and he grabs her arms and says get out of here! Jordan laughs. Porsche joins them in the kitchen. Dani is in the candy bedroom trying to sleep. Brendon and Rachel are in the lounge room talking and playing cards. They finish up their card game. Rachel asks for a massage. Brendon says for you? ..that's not fun… maybe later I'll give you one.. how about you give me one? Rachel says okay. Rachel says that all the girls in the house are BLANK. Rachel says I bet Shelly was a fan of Britney from their season… she was a BLANK that talked BLANK behind people's backs too. Rachel and Brendon discuss how they think they will find out about the jury tonight. Brendon complains about the golden key holders getting to get by for a month without doing anything.. …everyone benefited from us being here but us … Jeff and Jordan used us. Brendon tells Rachel that they should go lay down because by 6pm she will be tired. Rachel complains that she isn't tired and doesn't want to. Brendon convinces her to …and they go lay down in the candy bedroom. Shelly is now in the havenot room vacuuming the bed and window sills.
Sign-up NOW and watch the houseguests live!
Click here for your: SUPERPASS – 3 DAY Trial!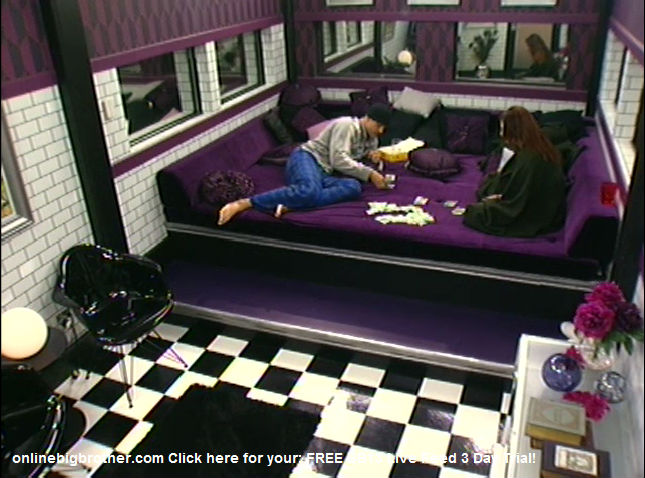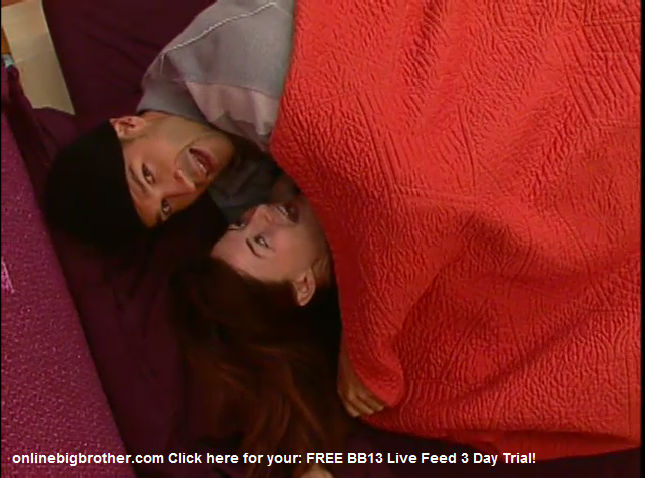 1:40pm – 1:55pm Porsche and Kalia go into the havenot room and ask Shelly if she remembers which HOH Jeff won during his season. Shelly says that it might have been a physical one. Kalia says yeah it was. Shelly says it might have been the one where you got knocked in the head. Shelly says that she is cleaning the havenot room because she thinks the first to fall off will be havenots this week. They each says that they are going to win it. They all leave the havenot room. Meanwhile, Adam and Jeff are in the lounge room. Jeff says that he feels like he is going to win. They talk about how if they are both up there during the HOH competition that they will discuss throwing it to the other… Adam laughs about how Rachel must feel having Brendon come back just to be evicted again. Adam leaves. Adam comes back and they talk about how getting out Brendon is the best move …because this may be their last chance.. I know it moves us up higher on the hit list but … Jeff says yeah I know ..we have to still have strong players though… Kalia comes by the lounge room … Jeff asks her if they (Rachel and Brendon) are in the candy room. Kalia says yeah. Jeff says ..then I'll stay here. Kalia says in the sex room. Jeff says this isn't the sex room… They continue to discuss what tonights HOH competition will be like. Jeff talks about the HOH competition that he won against Russell on his season. Kalia joins them … they talk about how the have/havenots will be picked.
WATCH all DRAMA unfold LIVE Tonight after the LIVE Show! FREE 3 Day TRIAL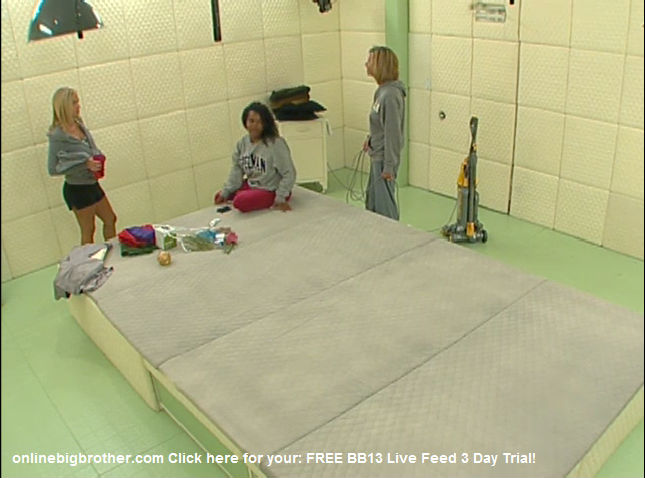 2:10pm – 2:45pm Jordan and Shelly are in the bathroom talking about how Rachel can't win HOH this week. Shelly asks Jordan which HOH Jeff won in their season. Jordan says that cans one. Shelly says that she will wish she could just tell Rachel what she really thinks about her… if she was 35 she probably wouldn't have the same restraint. Jordan says that Jeff practically bit his tongue off trying to hold back. Brendon comes into use the bathroom and the conversation ends. Big Brother soon after cuts the live feeds to the TRIVIA screen… Shelly and Jordan talk about what its like to get out of the BB house and have people recognize them. Meanwhile in the lounge room, Jeff, Adam and Kalia talk about movies and other random stuff.. Kalia leaves and Jeff and Adam continue to sing and do the Cruddy song and dance… Adam says that the first thing he would do if he won would be to buy Farrah a gucci hand bag. Jeff says BLANK that go to china and buy her one for $5. Adam says that then he would buy a camaro. Jeff laughs and says like Adam Sandler going back to high school.. Jeff says spending the money before you won ..is a bad sign..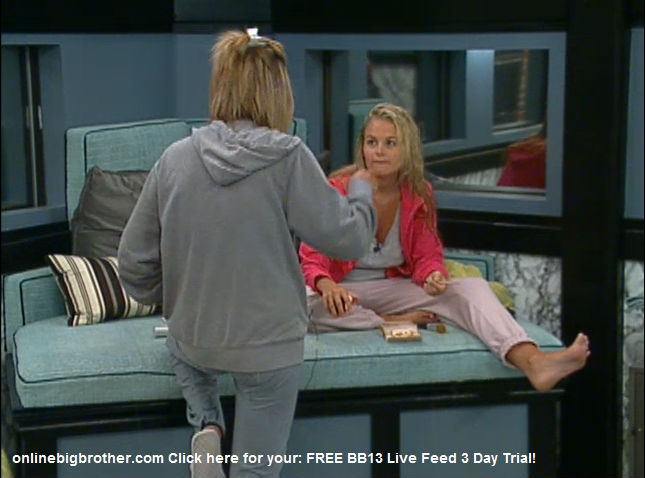 If you like this site and want to help us keep it running please consider donating, Your donations go directly to paying the server and bandwidth fees. Donate Link
Big Brother 13 Spoilers POLL CAST your VOTE!

Big Brother 13 Live Feed Image Gallery
Follow: @BigBspoilers and @Dawgsbigbrother on Twitter for recent crazed out spoilers. Theres also our Facebook page.
Share it YO!!
Tweet