6:10pm Living room - Maddy tells Joel and Nick that she wants to call everyone to the living room but doesn't want to interrupt anyone. Nick tells her to just go around and ask. Maddy lets people know that she wants to talk to them in the living room. Tim asks if she doesn't want him there. Maddy tells him its fine, he can stay. Tim asks do you want Nikki, because she's in the bath. Maddy says I don't think it matters. I'll just tell her after. Maddy says I'm obviously going to do a house wide campaign to show you guys that I'm not going to run to each and everyone of you saying different things and try and tell you stuff that I'm not telling this person or that person.
-Post has been updated--Post has been updated--Post has been updated--Post has been updated-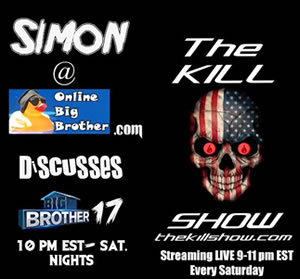 Simon from Onlinebigbrother on THE KILL show Saturdays @ 10pm
http://thekillshow.com
9-11pm
Big Brother Links
Bitchy Big Brother Blog
Big Brother attwx
Hamster Watch
Quirkydudes Archives
Big Brother Archive
Big Brother Gossip
OnlineBigBrother Forum
I Love Reality TV
Big Brother Junkies
IHateBigBrother!
Big Brother 2009
Big Brother Network
Big Brother Insider
The Big Brother Forum
yakkityyaks