-Post has been updated--Post has been updated--Post has been updated-
9:55am Big Brother wakes up the house guests. All the house guests are awakes and getting ready for the Power of Veto ceremony that will happen this morning. Jason heads outside and tells Johnny that James is a crazy man. I knocked on the bathroom door and no one said anything .. then I opened the door and James was sitting there? I'm like why didn't you say anything and he said Meh! Johnny says my speech isn't that convincing but I'll say it anyway. Jason says his isn't either. All the dramatics last night I hope didn't change anything. Johnny asks what happened. Jason says Audrey had a panic attack and ran to Vanessa's bed.
-Post has been updated-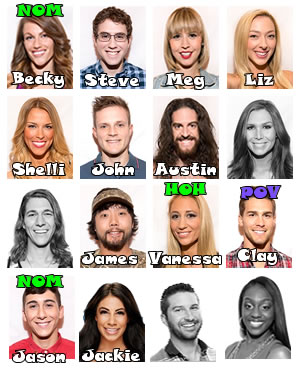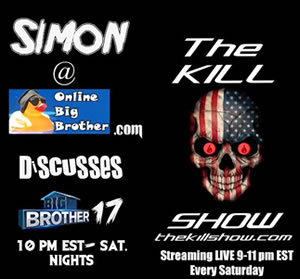 Simon from Onlinebigbrother on THE KILL show Saturdays @ 10pm
http://thekillshow.com
9-11pm
Big Brother Links
Bitchy Big Brother Blog
Big Brother attwx
Hamster Watch
Quirkydudes Archives
Big Brother Archive
Big Brother Gossip
OnlineBigBrother Forum
I Love Reality TV
Big Brother Junkies
IHateBigBrother!
Big Brother 2009
Big Brother Network
Big Brother Insider
The Big Brother Forum
yakkityyaks