6:41pm Random chit chat
Brittnee joking that she's had one cuddle mance in the house and that was with Bobby. Tells Bobby she's sorry but after the game is over there's nothing between them. Godfrey plays up that he likes Brittnee.
Brittnee calls Godfrey a beautiful Chocolate man says she'll find him a good girl because she's not the one.
-Post has been updated--Post has been updated-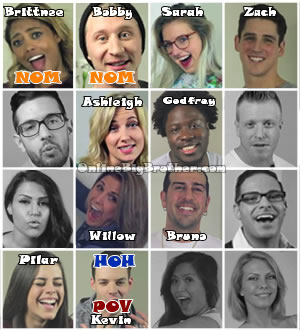 Big Brother Links
Bitchy Big Brother Blog
Big Brother attwx
Hamster Watch
Quirkydudes Archives
Big Brother Archive
Big Brother Gossip
OnlineBigBrother Forum
I Love Reality TV
Big Brother Junkies
The Reality Junkies
Big Brother Fans Blog
IHateBigBrother!
Big Brother 2009
Big Brother Network
Big Brother Insider
The Big Brother Forum
Because You're Addicted
yakkityyaks