12pm Alone in the backyard Steve talks to himself/the live feeders. "As I said at the veto meeting .. the veto was a short term solution to a long term problem. Very happy I won it, very thankful I won it. No right to complain. Happy I'm not in Jace's position. I absolutely have more to do prior to the next HOH. As you already know I've been making a lot of 1 week deals ... I mean Vanessa .. Oh and by the way I'm throwing the next HOH because lines are going to be drawn in the sand. And I don't want to make sure .. If I were to win HOH people would see me as the ring.. Because there's kind of the inside and the outside.
-Post has been updated-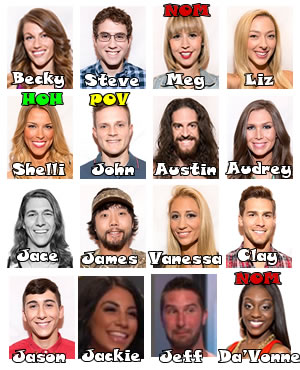 Big Brother Links
Bitchy Big Brother Blog
Big Brother attwx
Hamster Watch
Quirkydudes Archives
Big Brother Archive
Big Brother Gossip
OnlineBigBrother Forum
I Love Reality TV
Big Brother Junkies
IHateBigBrother!
Big Brother 2009
Big Brother Network
Big Brother Insider
The Big Brother Forum
yakkityyaks