Quick Big Brother Spoilers
INVISIBLE Head of Household: Jag
Nominees: Blue & Felicia
POV Players: TWO Veto Comps (All 8 play in the first, winner doesn't play in the second veto comp.)
POV Winner:
Veto Ceremony:
Havenots: ?
Lock your ranks in before midnight
The Situation: Jag won the invisible HOH. (He also gets to play next week for next weeks HOH.) He wants Blue out this week.
8:36am – 8:58am
Big Brother blocks the live feeds.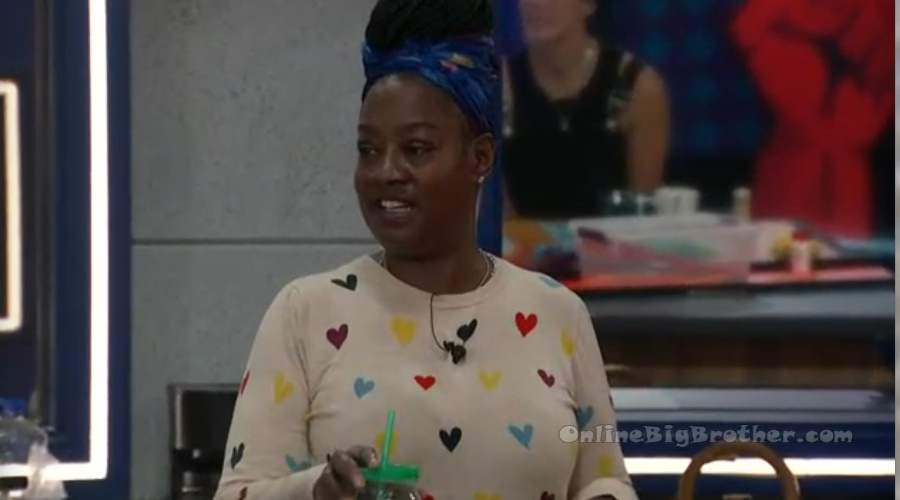 9am Kitchen – Bowie, Cirie and Felicia
Felicia – They didn't say whoever wins gets to replace the nominees, which means that the invisible HOH will still do it.. unless they bring down another something. Cirie – yeah. Well I mean, that's going to be kind of stupid though. I mean they could but.. it would have been that this is about the veto it probably would have made sense to be included in that when it says but wait there's more when they said its two vetos. And the veto winners will be able to name the replacement nominees it would have made sense to go right there. Felicia – but the first one said there will be POWERS. Which means there still could be some more POWERS. Cirie – yeah but if its related to the veto it would just make sense to put it here but that doesn't rule it out. Felicia – I don't even care. I just want to win on of the veto and take my a$$ off the block. Cirie – I know, exactly! That's what it seems like can NOW… what would be crazy is not knowing who it is and what if they win both?! Felicia – well they can't win both. Bowie – they can only win one. Felicia – they can only win one, the first one will be 8 people playing and whoever wins they won't play in the second one because it says TWO separate people will win veto so they can't win both. It said two individuals will win the power of veto. Cirie – OOHHHH! Felicia – so two people will have vetos. Cirie – I wonder if that will prompt them to identify themselves depending on who wins the veto. Felicia – that really will be a tell all. Cirie – maybe depending on who wins the vetos are allies or not. Felicia – and if they decide to keep the noms the same. Cirie – it depends on your agenda. Bowie – this is crazy. Felicia – there a lot of different variables. Matt joins them. Felicia – This is very exciting! Two Vetos! I love this sh*t! That means whoever is the invisible HOH does the replacement. If I ever needed a veto, I need a veto today! Felicia leaves. Matt – I got to f**King win one. Put my a$$ up if I don't!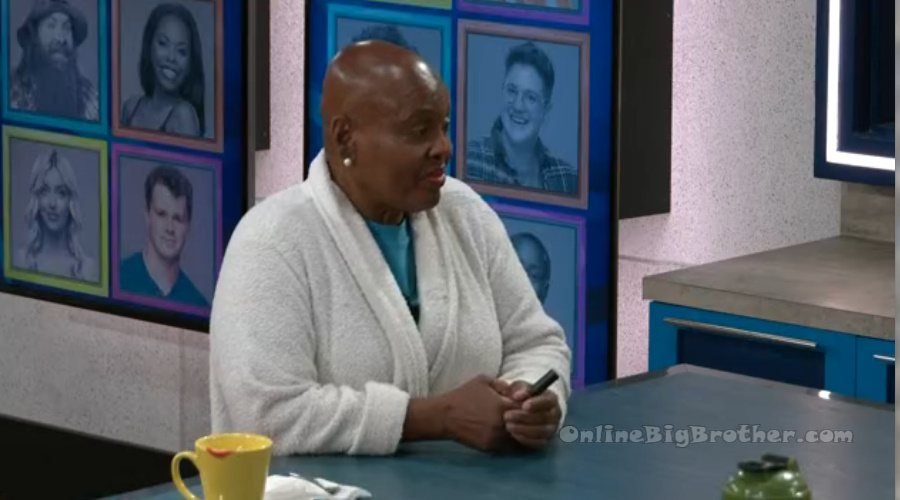 Kitchen – Jag and Matt.
Jag – We got to win. We have to win. Blue and Felicia can't win! IF both of them win, we're f**Ked! Blue joins them. Jag – this is a WILD week! Blue – Its a hard HOH week. I guess you're invisible so it doesn't matter. Jag – of all weeks this is the week to be HOH because then its free smoke right now. If anything this is the one week that I would want to be HOH because its free smoke for everyone. At this point anyone can go up .. 8 people and 2 vetos. Vetos can essentially f**k a bunch of sh*t up. Two of them back to back .. you know what I mean!? Blue – two comps? Jag – yeah. Two comps.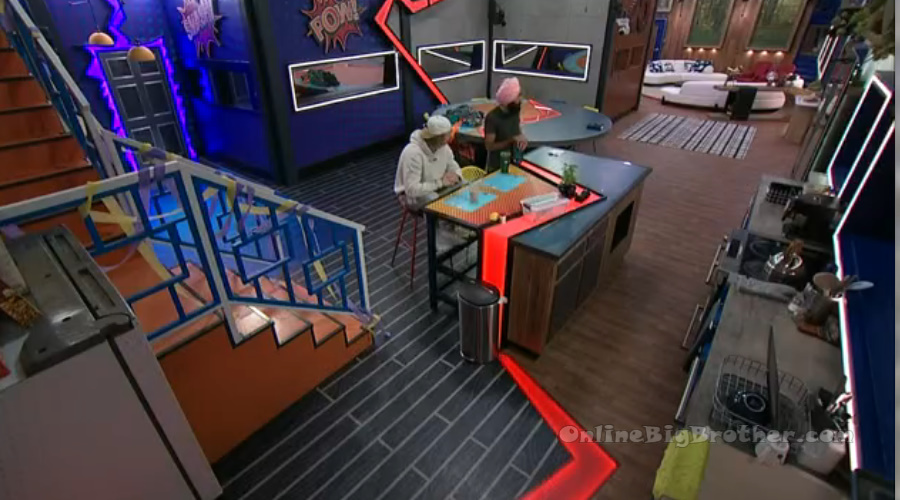 10:07am Bedroom – America, Jag and Bowie
America and Bowie tuck Jag in. America – where's the ball gag? Jag – oh god please. I have family. F**k all that!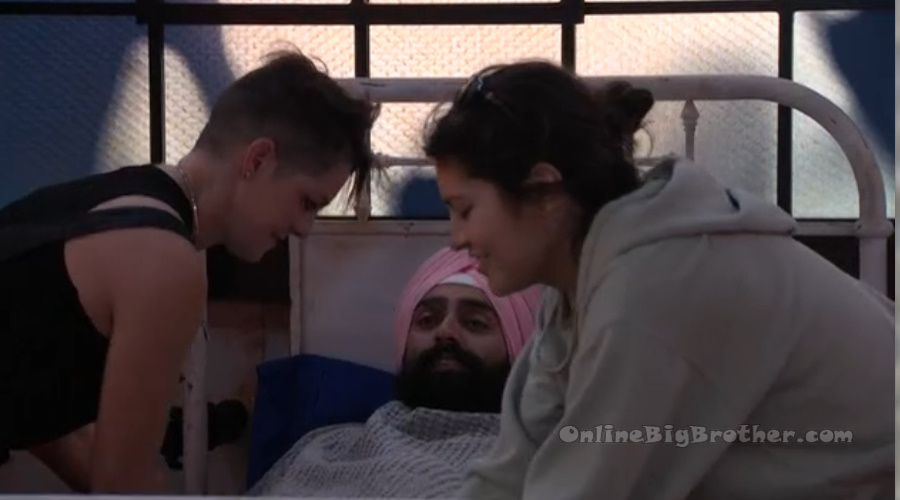 10:40am – 10:55am Havenot Room – Blue and Matt
Blue – obviously the five is bullsh*t. They are clearly coming after you two (Matt/Jag) and they want me gone so that I'm not an extra number. Obviously I am not rocking with them. I am with you and Jag from day 1! There is no other person for me. I think I would be a great number and a great competitor. And I am going to take them b***hes out when I get the chance! Even if noms stay the same… if you win the veto and you don't take me off that's fine if that's for your game. I will be a little salty but if that's for your game, that's for your game. As long as Felicia is still on the block, I still have hope. I just need three votes. I am really counting on you, Jag and Cirie. It really depends on who wins veto. Matt – yeah. It gets scary if I win, take you down and Jag goes up. We still have 3 technically. Blue – the best case is if I win and take myself down and one of you two win. Matt – yeah. Blue – I f**k with you two heavy. For this week sake to I really obviously want to be here to be another number and competitor for ya'll.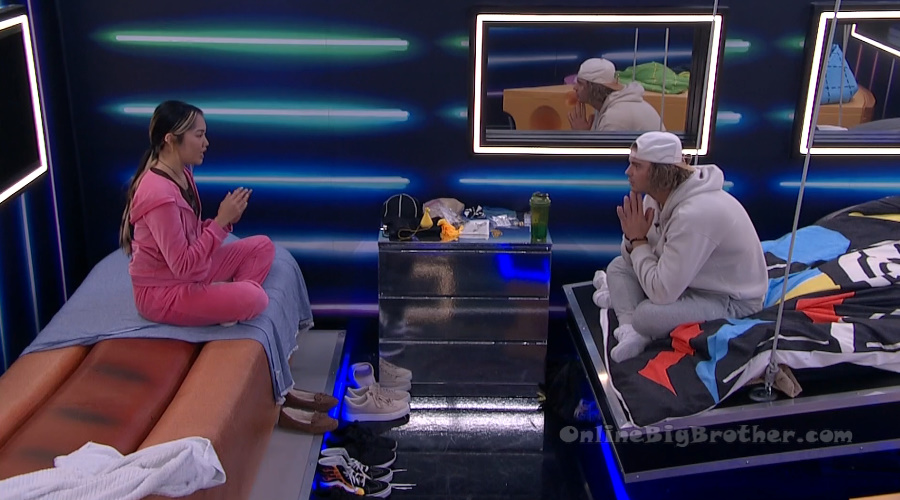 11:14am Havenot room – Felicia and Matt
Felicia – I would much rather see you two in the final two chairs rather than Cory.. because at least you two have played the damn game. Matt – MMmmmmmmMmmmm.. yeah. Felicia – the fact that they can get through this whole thing and never won an HOH or a competition. Matt – or in secret. They win a comp in secret. Felicia – Never tried to win comps. I hate to see people get to the end like that. Or work through everybody else and never have to show their hand. Matt – yeah.
11:20pm Comic Bedroom – Felicia and Cirie
Felicia – I talked to Matt. I am inclined to believe now Cory and America may have that sh*t (invisible HOH). Cirie – why you say that!? Felicia – because here is what he said. I am kind of seeing a nervousness in him.. if both those vetos get won and both people come off the block me and Jag are going up. He said both of us are going up .. PERIOD! He said that will be a disaster. He said if both vetos bring you guys down, me and Jag will be the two faces on the board. That's their plan. And I said would you be willing to bring the vetos down? And he said they don't have anybody else to put up. If they didn't put up me and Jag it would be Cirie and Bowie Jane. He said but that's not who they're after. I think they're afraid to use it because the other one is going up. Felicia – we going to a final four and then somehow we really need it and he aint winning this mental sh*t .. that's when we win it and dictate who is sitting there.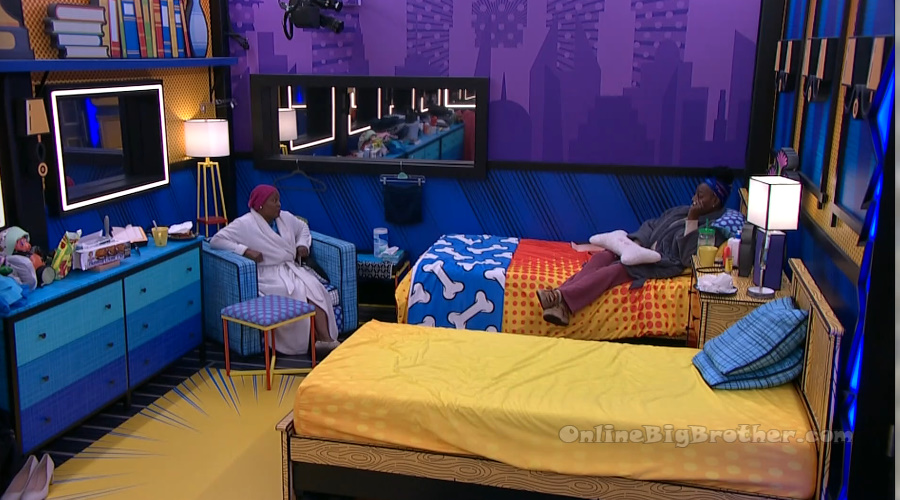 11:47am The live feeds switch to the pound cams… looks like the first veto comp is happening now..
2:35pm Still blocked.
3:24pm Not back yet!
4:01pm Nothing ..
5:57pm No feeds for you..
What to leave a TIP? Any amount is greatly appreciated!
Tips go directly to pay the site costs associated with running this site.
Thank you in advance!