Quick Big Brother Spoilers
INVISIBLE Head of Household: Jag
Nominees: Blue & Felicia
POV Players:
POV Winner:
Veto Ceremony:
Havenots: ?
Lock your ranks in before midnight
The Situation: Jag won the invisible HOH. (He also gets to play next week for next weeks HOH.) He wants Blue out this week.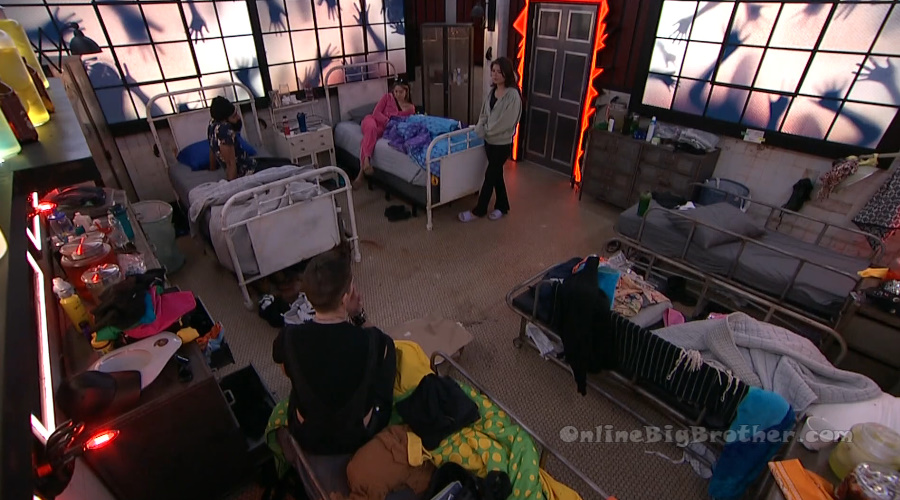 As HOH, Jag nominated Felicia and Blue for eviction!
4:05pm The live feeds return. Bedroom – Jag, America and Blue
Felicia was saying this is a waste of a power. I was like uh oh! I was in the comic room with them before the announcement. She was like they can't chose me. I'm not a big move. Its got to be a big move. It would be a waste if I got nominated. I was like Felicia .. is that her campaign pitch?! She was like I'm not a big move. Jag – she is directly going against everyone in the house. America leaves. Jag – why is it you and Mama Fe?!! You can beat Mama Fe in the veto. Blue – yeah. Jag – Now we just play in the veto. Blue – why me and her? Who do you think is HOH then? Jag – I don't know Cory? I don't know .. one of them.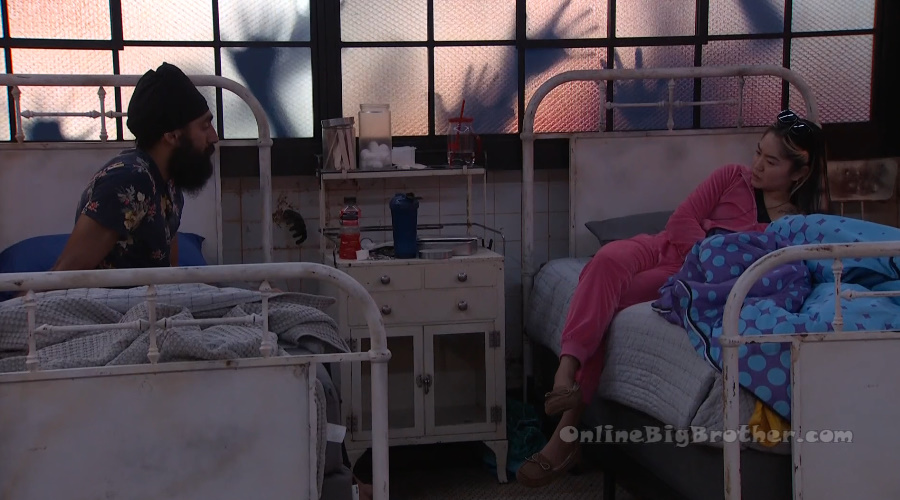 Kitchen – Felicia, Matt and Cirie
Felicia – this move was not it! I am going to get my plate and go in the room and shut the hell up for the rest of the night so that I don't say anything else that's stupid because I am pissed off right now. This was a wasted superpower! You cannot keep playing this game scared. This is the move that you would have made whether you had the superpower or not. This was probably the next move without the superpower. You don't get a power this big and then do this! Matt – yeah.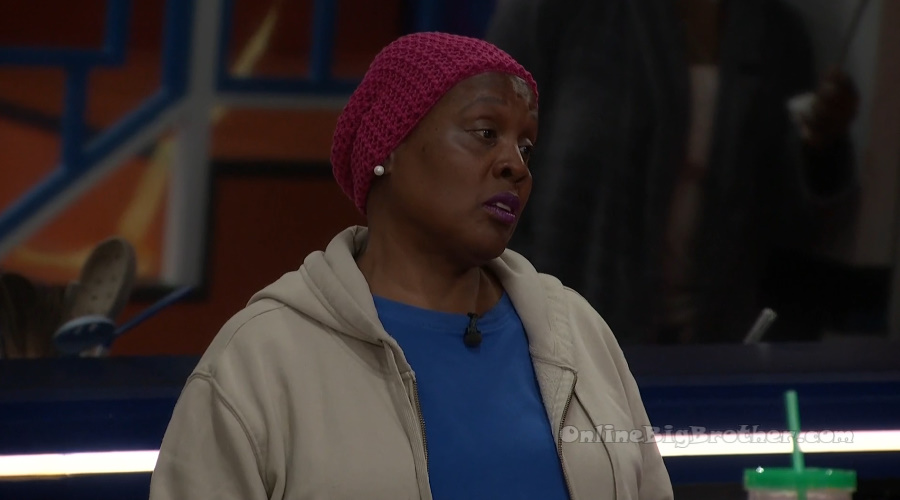 4:13pm Comic Bedroom – Matt and Blue.
Matt – how are you doing? Blue – I'm good. What the f**k. Matt – I don't know who it is. I swear to you I don't have have a f**King clue. I wish I had it. I wish I f**King had it. Blue – but why would it be me and Felicia? Matt – That's what I don't get. I thought it was going to be .. like you/ Me, you/Jag. Cory and America. Its obviously not Felicia. I think there is a different plan. That's a weird nomination. Its obviously not. Blue – Cameron said that you and Jag were going to take me out, this isn't it right? Matt – we want to work with you. I don't trust Cam though. We campaigned to Cam to get those two.
4:25pm Games Room – Cory and Bowie.
Cory to Bowie – This should get us through the double. Bowie – yeah.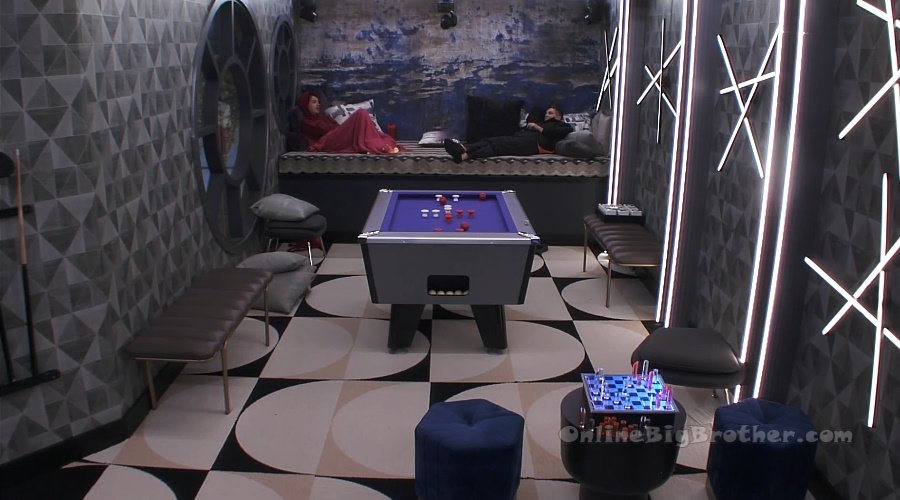 4:28pm Comic Bedroom – Felicia and Blue
Felicia – my gut tells me its Jag. Its either Cory, America or Jag. Felicia – the nominees make sense for Cory and America. They want to keep Bowie Jane because she's a vote for them. CIrie – there still could be a backdoor plan. Felicia – they have no idea what the veto plan is. Why would you risk these nominations on a backdoor that you don't even know you can get. Cirie – but that is even more why you do it because you don't know what is going to happen to your nominations. If this ain't your real target for that reason what you just said. Felicia leaves. Blue to Cirie – I think Bowie Jane is a little snake. I think Bowie Jane is working with America and trying to work with me, Matt and Jag for intel. If I have to trust my gut on this one its to trust Matt and Jag. Cirie – Matt and Jag. Blue – yeah trust them over Cory and America. Cirie – if there is some kind of power, I got you. Blue – I would be smart for us to keep Matt and Jag. Cirie – I do too. I'm guessing Matt or Jag will win the veto anyway. If Bowie wins it.. I don't know. Blue – if she wins it she will keep it the same.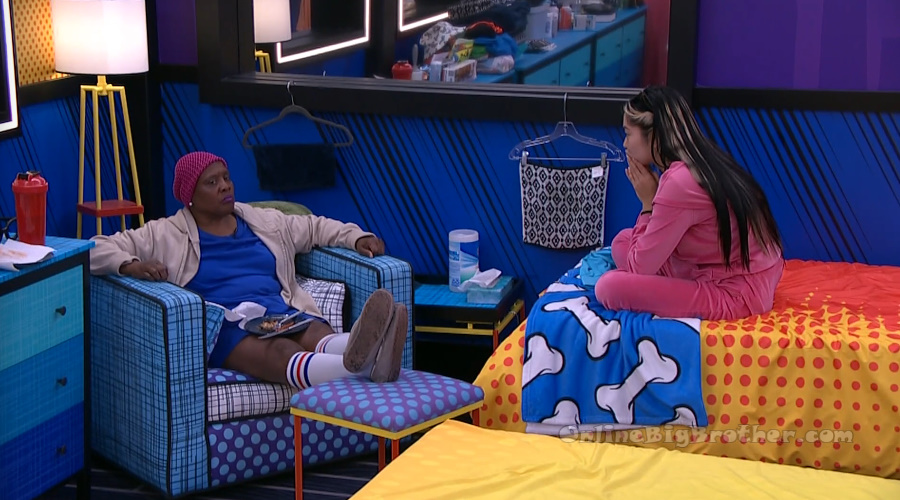 4:30pm Backyard – Jag, Cory and Matt are playing pool.
Cory – what a waste of a power. Jag – MMmmmhmmmm. Lets chat after this.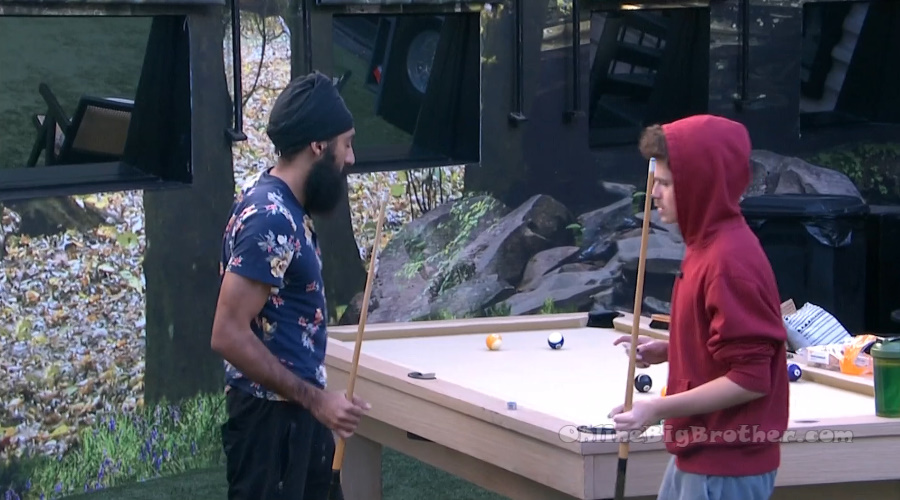 4:45pm Hammock – Cory and Jag. Felicia walks up to them.
Felicia – You know I like being really direct… so what's the real target me or Blue? Cory – I'm not the head of household. Felicia – I didn't aske who is the head of household. Cory – I've got nothing Felicia. I don't have a target right now. I am just really thankful its not me. Felicia to Jag – are you thankful too? Jag – yeah. Felicia – i guess I should be thankful I am on the block .. for the fifth time. Cory – is that past Cameron. Felicia – yeah. I guess that's something. This was a wasted superpower. Cory – what do you mean, like not a big enough move basically. Felicia – yeah, this gave someone a reason to just go for .. you didn't need a superpower to do this. Cory – this is a weird superpower though once noms go up its a process of elimination. Felicia – and they're still hiding. Are they waiting for the veto, to go after another target and backdoor someone. Cory – that's scary.
5:24pm Comic Bedroom – Felicia
Felicia – I am getting ready to do some sh*t this week. Yes, I am. They ain't willing to play but I am. And if I win veto I am making a big a$$ move this week. I'm gonna jack their sh*t up! Just watch me. I just got to be quite and not piss them off to much where they decide to vote me out. If I win that veto, I am jacking their game up. Hear me when I say that. Faith of a mustard seed. Watch and see how this plays out. I ain't going home. I am going all the way to day 100! Walking out on finale as the winner as Big Brother, Yes I am. I already saw the vision.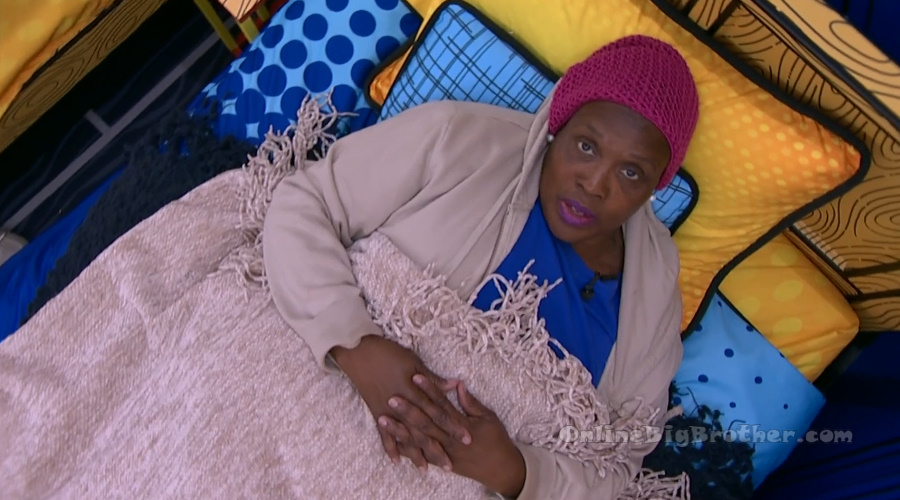 6:20pm Backyard – Cirie, Jag, America, Blue and Cory watching/playing pool.
6:40pm Backyard – Cory and America.
Cory – I am ready for today to just be over. I am actually excited, I really want to play in the veto tomorrow. America – yeah I like competing. I think it will be fun. Cory – I would love to win a veto. That is on my checklist. America – I want to win anything. Cory – you're trending upwards. America – well with all the competition gone. Cory – you've been top five in the past two competitions. America – f**k you. Cory – its so stupid to think anyone but Jag won that competition. America – I know! I was like Felicia .. I'm an idiot! I am such a loser! I was like you guys would never know.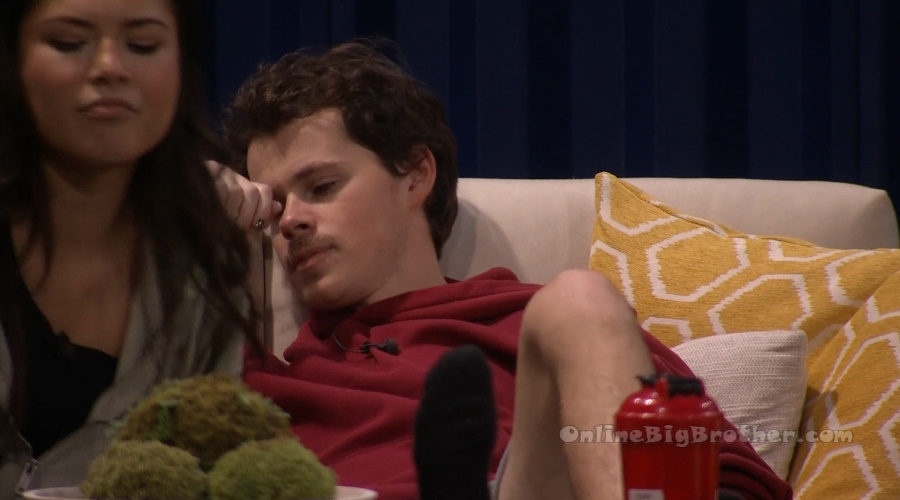 7:05pm Matt, Cirie and Blue cooking dinner.
Blue – I can't believe I am cooking for some b***hes that put me up. Cirie – Mmmmhmmm..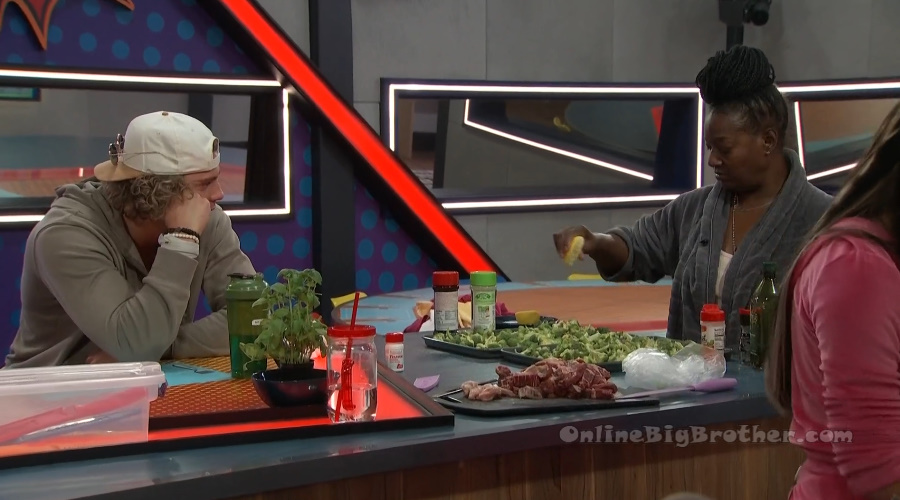 7:40pm Dinner time… Blue – we should be ready. Do I have your votes now. Matt – no… j/k! Jag – depends, what are we having for breakfast? I like to negotiate!
(Felicia has become part of the outdoor furniture.)

7:45pm – 8:30pm Backyard – Cirie and Felicia.
Cirie – I just know, if its any consolation.. you're not that target. I am just hoping there is a plan for a bigger target… than Blue. I mean as long as it ain't you but its stupid. Felicia – Straight stupid. I know its Jag. He is trying to pretend like its not. He can't sit in the room with me. Every time I get in the room he gets up and walks out within a minute. And these guys are just still comfortable being themselves. And I think they have Blue convinced that its not.. Cirie – they do. Felicia – and they have her believing that so that she will go after them (Cory/America) so that they (Jag/Matt) don't have to. That's exactly what they want. Its Jag all day long… and Matt and Bowie Jane know it. Cirie – MMmhhmmm. I love how Bowie can't take the glasses off now. I am hoping this veto is something for us. Cirie – I don't know why Blue is so blind. Felicia – blind faith. Matt/Blue join them. They sit in silence.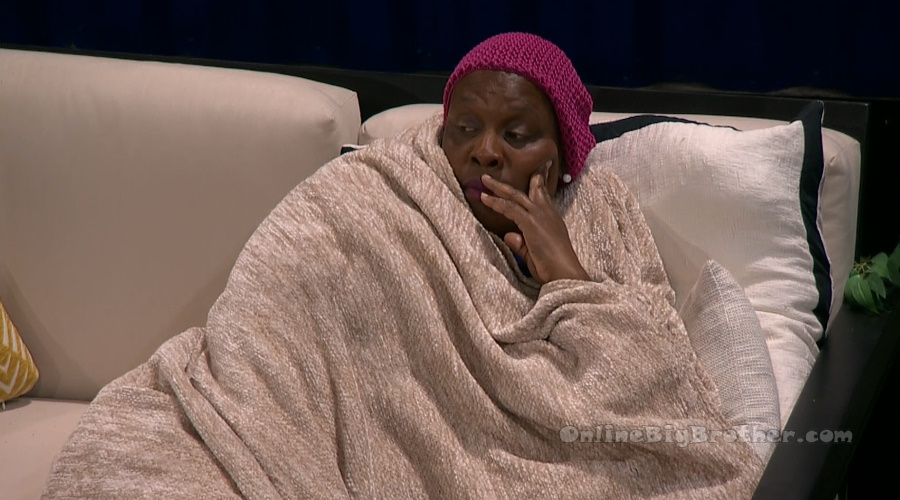 9:40pm Bedroom – Matt, Jag and Bowie chatting about random things.
10:20pm Comic Bedroom – Cirie and Felicia.
Cirie – She's been chasing him since day 1. She's been wanting to be with him since day 1. As much as we like Matt. Matt is a snake. If Matt threw anything else I would be like oh my god I can't believe Matt did that. Blue is putting all her eggs in that basket. Felicia – their behavior hasn't changed. Jags behaviour changed and so did Matt's and so did Bowie's. Cirie – So now Jags story is going to be it wasn't me! You know it ain't me! I took you down with the veto! If I'd have wanted you to go I would have just left you. No, No… BB switches the feeds.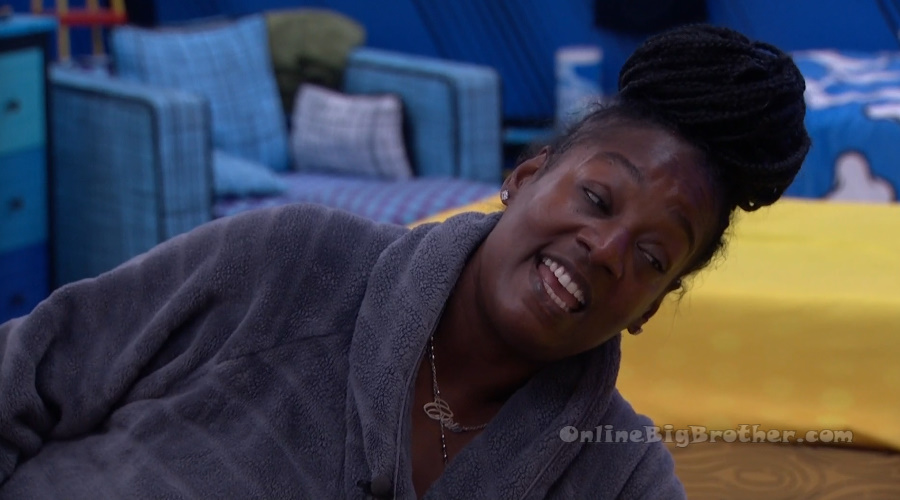 10:50pm The house guests are starting to go to bed..

12am All the house guests are sleeping..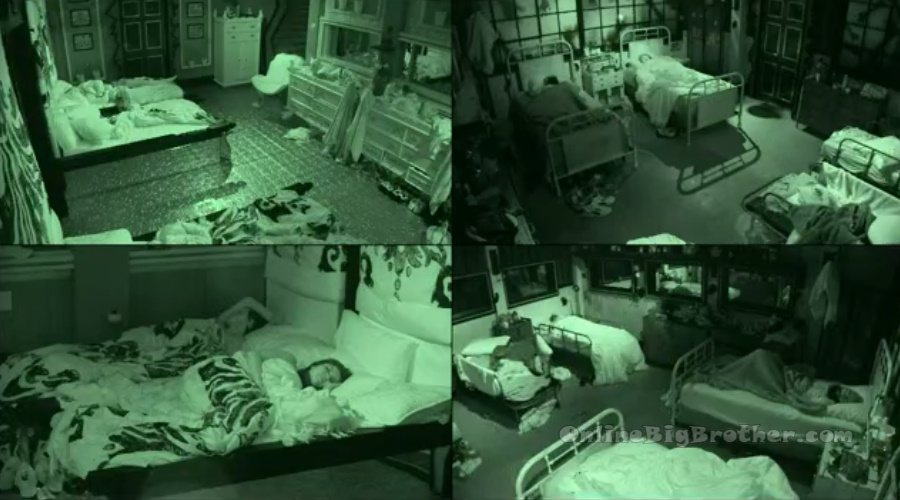 What to leave a TIP? Any amount is greatly appreciated!
Tips go directly to pay the site costs associated with running this site.
Thank you in advance!