Quick Big Brother Spoilers
Head of Household: Bowie
Nominees: Cirie and Felicia
POV Players: Bowie, Felicia, Cirie, America, Matt and Jag. Host it Cory
POV Winner: Jag
Veto Ceremony: Jag used the power of Veto on Felicia. Cameron was the replacement.
Havenots: ?
Lock your ranks in before midnight
The Situation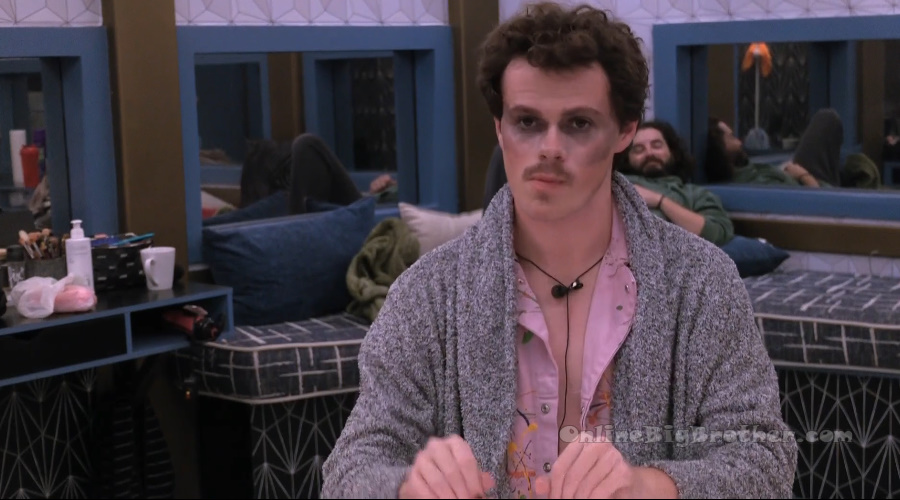 7pm Bathroom – Cory, Cameron and America
Cory – this kind of looks cool. This is the batwoman .. why did you say bat woman than batman by the way? I just thought about that right now. America – is that what Cameron said? BB switches the feeds.
Meanwhile in the Comic Bedroom – Cirie, Felicia, Matt, Jag and Blue are chatting about whether or not there will be a double this week or next week. America and Cameron join them.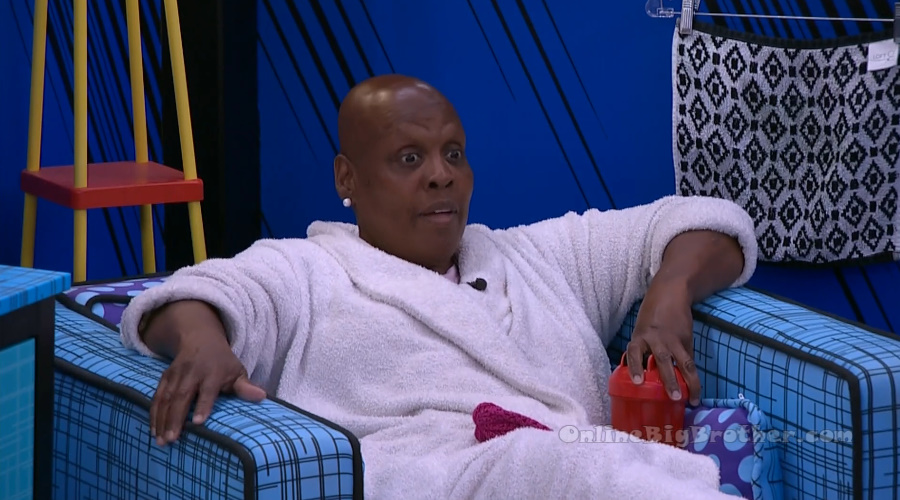 7:30pm Bathroom – Bowie, Cory and America.
America – they both (Cirie & Felicia) make it seem like they haven't talked to Blue about noms or that she's been vague with them. I don't know if they're lying or if its true. She's a little bit more hesitant after .. I mean she's not stupid. Cory – after she's been left out of everything. America – yeah she's not dumb. I mean she came to me ..and was like I really hope its you or me (HOH). They head up to the HOH room. Jag joins them.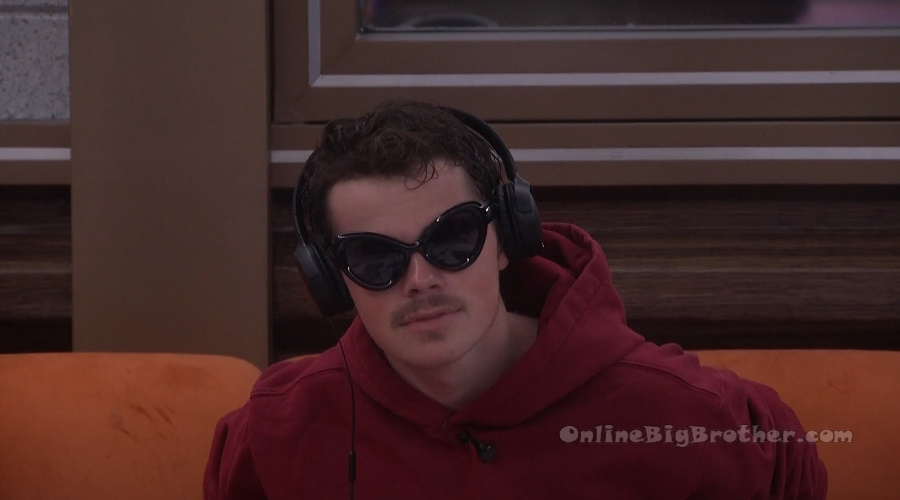 7:54pm Bedroom – Cirie and Blue.
Cirie – Cory said this morning that things are getting sketchy. That if there is no safety, everyone is booking it for the HOH. Yeah he didn't really say much of anything which is weird because they're always hanging around him and America. It all depends on who wins HOH. Blue – Cameron told Matt, you got to be careful they're going to create an all girls alliance. Cirie – but why is he saying that, no one said that to him. But do they believe that? Blue – I was like dude, Cameron is literally the one that came up to me yesterday and tried to get me, Cory, America, Felicia and Cirie to work together.. like he is creating this all girl alliance situation.. like its not us. When I was talking to Cameron yesterday he brough up the .. people know about the you, Jared Cirie Final 3 or whatever. But then I brought it up to Matt today, like I am not mad I am just wondering if Cameron is making it up. Or if you might have said something. He was like no I didn't say anything and I was like okay. Cirie – he had to have said it. The night that Jared got voted out he told me .. don't quote me but I think he said something like I heard about you and Blue Final 3 and that was… because he was explaining why everything happened when we first talked. I know you didn't say it. I know I didn't say it. Blue – because my thing is .. Matt said the only thing I said was I told Cameron that I told Jared that I would protect you and Cirie. I was like what made you say that? Why did that even come into conversation? He was like sh*t! Cirie – it was said to me as one of the reason as to why they had to do what they did to Jared. I am almost positive. Blue – the only thing I am worried about with me throwing it is if Jag or Matt win, I don't think he will put either of us up.. I don't think so but if Cory win… I think there is a chance that we both go up. Cirie – why do you want to throw it. Blue – like I said yesterday, I want Jag or Matt to do it. But at this point.. Cirie – that's a little sketchy! When Cory was talking to me he was like you've (Blue) been left out of the last 3 votes. You got left out of the Izzy vote. You got left out of the Jared vote. And up until the day before you got left out of the Cameron vote. When he said that I was like Mmmm.. there is nothing for me to do about it but it is something for you to think about. Blue – why did he even mention that? Cirie – I don't know. He was like things are looking sketchy right now but I am feeling a little better. He was like who was left out of the last three votes.. its just something to think about Blue. Blue – yeah. Cirie – when you said throwing it. Blue – I know, I think I just have to go for it. Cirie – will they let you win it though. If they don't let you get the HOH .. you keep your guard up. I just want you to be SUPER careful. Don't push but maybe be like hey Matt let me get it and see if they're like no no I want it. Blue – I'll ask them.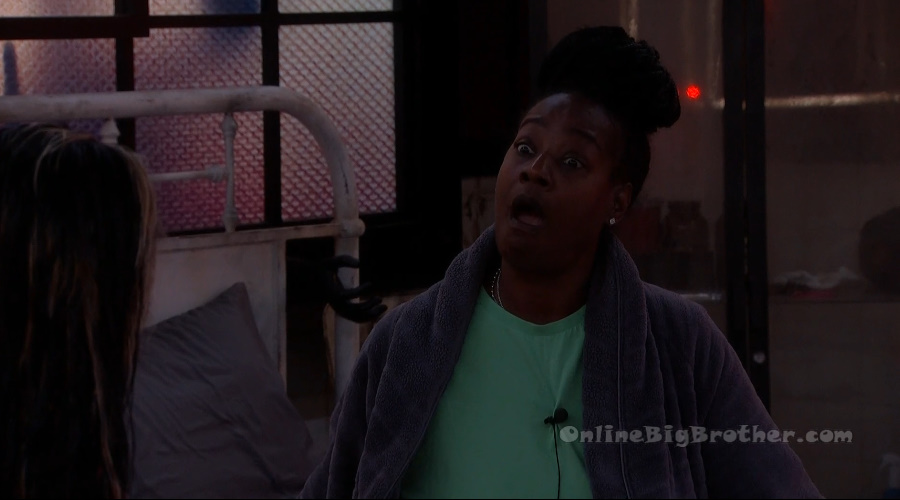 8:40pm – 9pm Comic Bedroom – Jag, Cirie, Felicia, Matt and Blue are talking about what they think the Thursday night HOH competition might be and what strategies would be for the different competitions. Wondering if it will be the slip n' slide comp with the HOH, Safety, Cash options and who would go for what.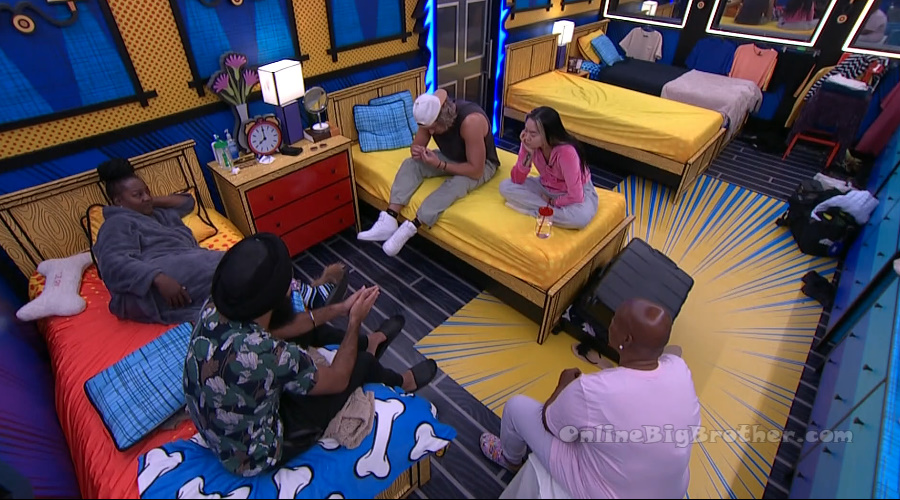 9:38pm HOH room – Jag and Matt
Jag – no one better come up. Matt – yeah. Jag – how was you talk with Felicia and Cirie? Matt – It was good. They are anti Cory. So Cory had been telling then Blue. And then I approached Felicia and said I heard you guys were saying Blue. And she was like Man that Cory.. so its good because she won't trust Cory. Which is good because Cory is telling me sh*t. I think Felicia is good with Blue because she is telling me that she wants Cory. Cory last night after everything we like everyone is saying Blue. Jag – didn't Felicia ask you is Jag closer to Blue or you. Matt – she did. Jag – doesn't that me that she would be down to get Blue?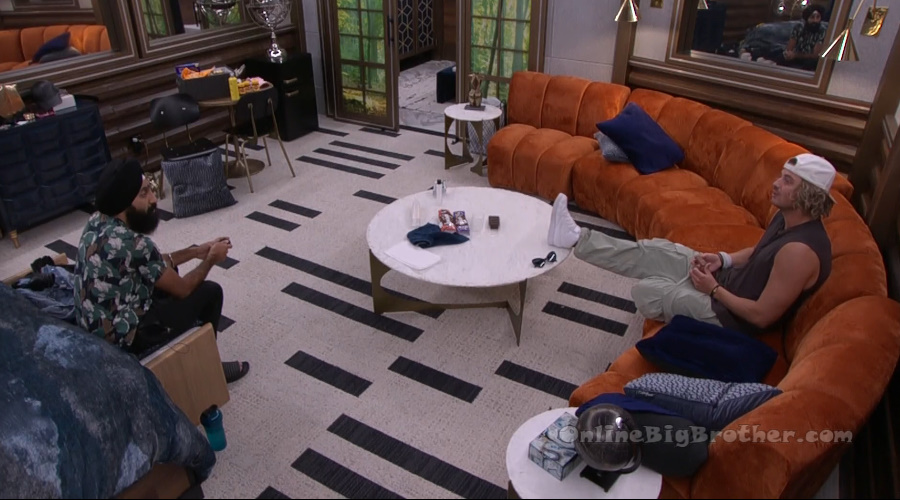 9:40pm – 9:55pm Bathroom – America and Blue.
Blue – I think the best would be Cirie and Felicia. I think that would make the best sense. America – I don't want to make promises. Blue – I don't want to say names so early. America – that's who I was thinking too. I hate to do it because they were just on together.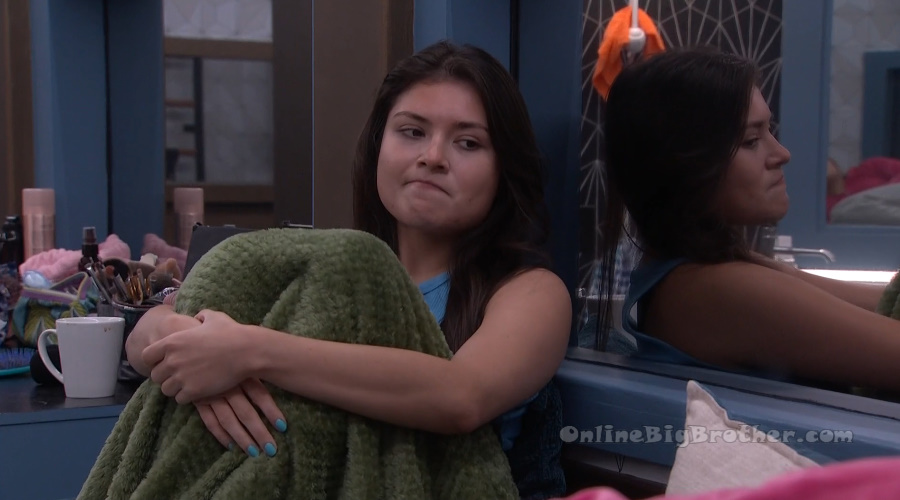 9:55pm HOH room – Jag, Matt and Bowie.
Matt – lets say this happens we going into a Double where I can't play and Cory wins what will he do? Jag – Okay if you can't play next week and its me an Bowie Jane playing and Cory and America playing and Cirie and Felicia playing. Cirie is with us. So we put 3 versus 2, versus 1. This is what happens if Cory wins.. why would he put me and you up? He is a safe player, he is a smart player but he is safe and he wants to make it further to the end. The moment he puts me and you up who is going to be mad? Me and you and Bowie Jane is going to be mad at him because Bowie Jane is going to be what about the 5?! Why the f**k are we taking a shot a the 5!? She is literally going to be like you know what I am done! Like all of us act up. Like if you take this shot there is no 5!! Matt – the only thing is the later he gets into this comp he is going to be better. Jag – But right now we need Blue out. The next person we need out is Cory. Its Blue, then Cory. If we win after the double, we take a shot at Cory. We put up Cory and America. We don't even backdoor, we put them up. Fight for you f**king life and try and win the veto. Matt outside of this we are the only people who have won vetos now.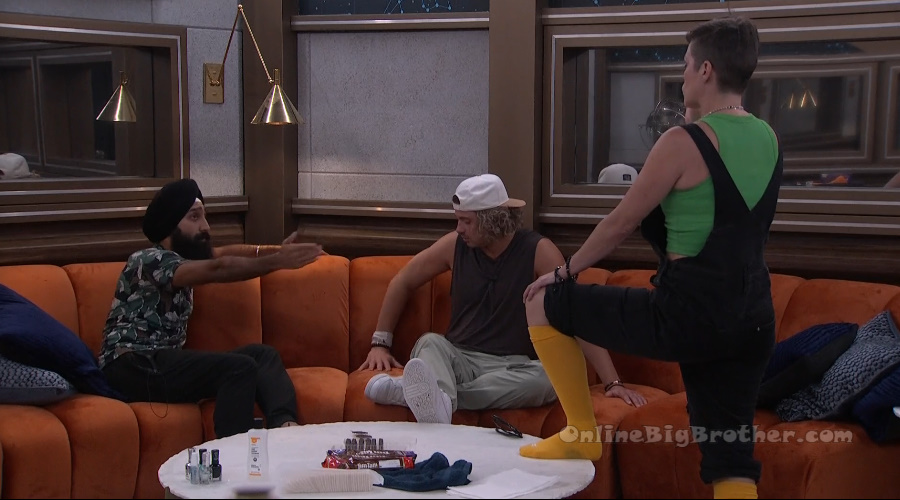 11:20pm Bathroom – America, Cory, Matt and Jag talk about strategies for the slip n slide competition.
12:10am Comic Bedroom – Cirie and Felicia are back to studying the longest words they can think of in anticipation of having a spelling comp.
1:05am – 1:25am Bathroom – Jag, Matt, Bowie and Blue.
Jag – I just want tomorrow to be over. Bowie – me too, well yes lets make sure this buddy out the door happens. Matt – what? Bowie – make sure he (Cam) goes out the door. Matt – well yeah. No whomp whomp bullsh*t. We already had a whomp whomp zingbot, that's enough this week. Bowie – I had that dream last night that he turned it around. In my dream last night he managed to still not be evicted. Blue – stop! Matt – lets not speak that into existence. Jag – yeah lets not talk about that. At this point if you're evicted there is no coming back. We have four weeks left. The zombie battle resurrection was there big battle back. Bowie heads to bed. Blue to Matt & Jag – Just so ya'll two know whatever Cam said to me I don't believe at all. Jag – I don't even know what all he said. Blue – bullsh*t. Like literally bullsh*t! Just know that whatever he said to me I don't believe… whatever he said to Ya'll I don't believe. Like ya'll know through and through I am rocking with ya'll. Like ya'll know that I am loyal to ya'll. I have been loyal from the very beginning. So just know this is it for me. Whatever he said about ya'll two, I don't f**king care about. Jag – yeah, yup! The conversation turns back to strategies for the upcoming HOH if its the slip n slide comp. Blue – it is the rope one though.. I'm a little bit nervous! Jag – I think we just need to hold on and pray!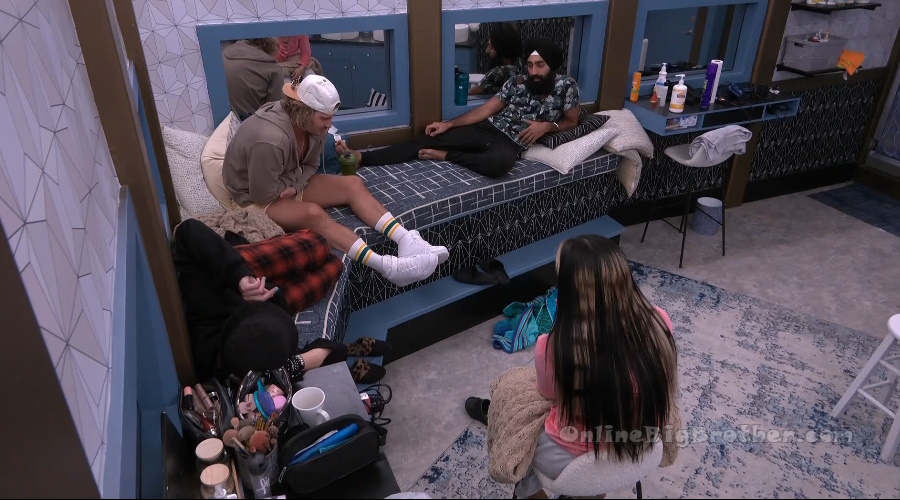 If you've enjoyed our updates this season and want to leave a tip you can do so through PayPal.
You don't even need a Paypal account to contribute. Any amount is greatly appreciated!