Quick Big Brother Spoilers
INVISIBLE Head of Household: Jag
Nominees:
POV Players:
POV Winner:
Veto Ceremony:
Havenots: ?
Lock your ranks in before midnight
The Situation: Jag won the invisible HOH. (He also gets to play next week for next weeks HOH.) He wants Blue out this week.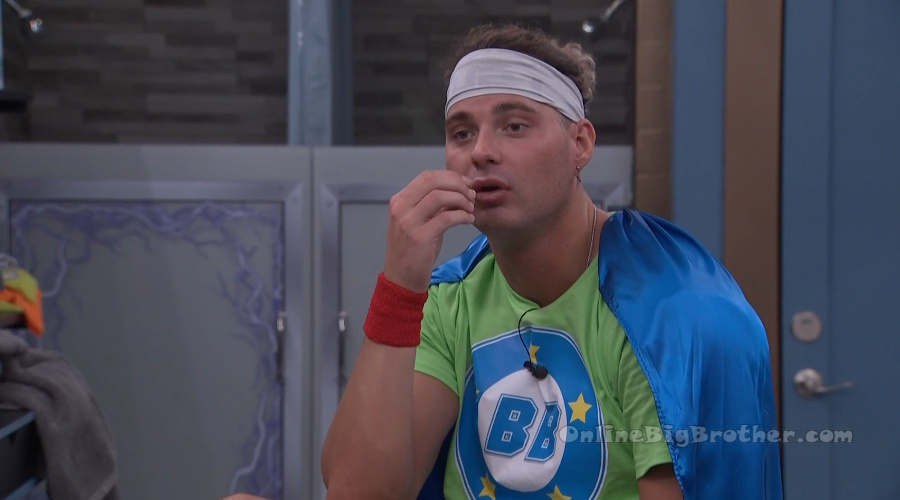 2:28am The live feeds finally come back from being blocked for the live eviction episode where Cameron was evicted by a vote of 6 – 0. The HOH competition was the Comic Comp that is normally a veto.
JAG WON the Invisible Head of Household!
Bathroom – Matt and Blue.
Blue – I am telling you right now it really wasn't me. Matt – I believe you. I believe you. Blue – damn we're f**ked! Matt – I would tell you if it was me too. Blue – yeah, awwww.. we're f**ked! Matt – it was just really awkward when all five of us were out there and we're like oh.. (pointing) and I am like I know one of ya'll motherf**kers is lying. If Cirie won we're good. She would tell us I think. Blue – I think Cirie and Felicia would have told us. Matt – if Felicia won, I do think she would put me and Jag up though. Or Cory and America. I always thought that sh*t was veto. Blue – I think it normally is. Matt – its going to be a weird week!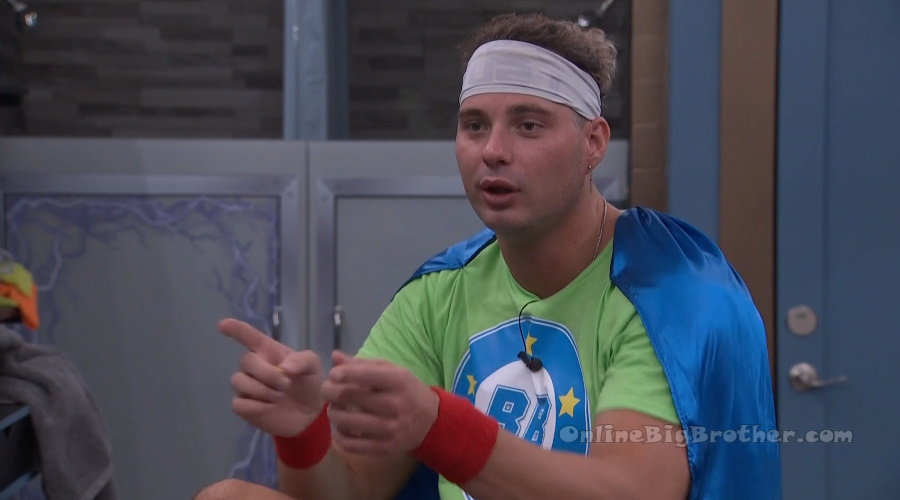 2:50am Comic Bedroom – Bowie, Cicie, Felicia, Jag, Blue and America.
America talks about how she though her 10 and a half minutes was good until she found out the winner did it in 8 minutes. Cirie learns that its 2:45am in the morning and kicks everyone out. We can talk about this in the morning. Everyone leaves except for Cirie and Felicia. Cirie whispers that she thinks it was Jag who won the HOH comp. Felicia – the nominees will tell you who it is. He might put up Cory and Blue.
2:57am Bathroom. America and Jag.
Jag – This whole f**king thing is set up for you and Cory or Me and Matt. Its literally going to be one of those probably. America – yeah its literally going to be one of those. No one is going to target Bowie this week. Jag – its not going to be me and Cory either. America – no. Jag – because the moment its me and Cory .. its obvious! America – what do you mean? Oh Blue. You really think it was her? Jag – I don't know. I am not going to say anything but.. I don't know.. Maybe.. but.. you said she was crying? When? America – in the bathroom. Jag – I don't know. I don't know. Its crazy. Cory joins them. Jag – here is what I am thinking. Either me and Matt are cooked! Or you and America are cooked! Cory – I don't think Cirie or Felicia won this. I believe Felicia when she said she got 18. America – why is she so chipper.. everyone else is somber. Cory – I think Blue seemed pretty happy at the time reveal. Jag – that's what I saying. Cory – the thing is if I get nominated I am going to think it was Blue no matter what .. you know what I'm saying. The way that I see it is if non of us are told who it is .. its going to be two of us. The reality is our odd are still pretty f**king good. Jag – what are the odd .. lets say its Blue.. what are the odds she tries a backdoor. Cory – if its a backdoor then we're golden. Jag – if ya'll go up or we go up. Cory – we're kind a cooked. If you and Matt were nominated.. is Blue just going off the rails or did we turn you on you. Matt joins them. Matt – I was 13:37. (Matt has always claimed he has a photographic memory. I think he doesn't know what a photographic memory is.) Cory – what scares me is that Blue is not telling ya'll. Jag – I know. Bowie joins them. Bowie comments on how Blue is upset. She says that Cam got in her head. Bowie thinks it won't be too hard to figure out who won HOH. Matt – its tricky because someone could nominate people making you think its someone else. Bowie leaves.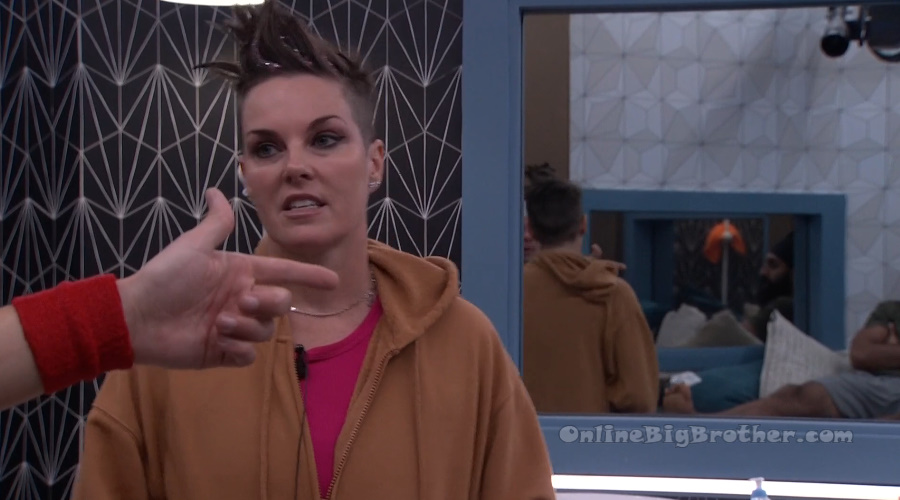 3:27am – 3:50am Bathroom – Matt and Jag.
JAG – LETS GO! LETS GO! BRO I WAS FLYING!! 8:30 BRO! I was FLYING! You would have been right there too. Okay here is what we want to think about. Matt – its going to be too obvious if we go upstairs. Jag – who should I put up. I want Blue gone! Matt – that's what I am saying. Jag – so do I put up Felicia and Cirie and try and backdoor Blue? Or do I put up Blue and Felicia? And hope she doesn't win? If I put up Blue and Felicia and Blue wins the veto and its a diamond power of veto and she tries to put me or you up .. or she can't put me up. So then if she tries to put you up and you go up next to Felicia .. then you need 3 votes to evict. SO Blue votes to evict you.. do we think Cory and America .. do we trust them enough? Matt – I don't know. Jag – I can play in the HOH next week plus if I tell them I am putting up Blue and someone else I think they're going to be loyal to us. If I tell them I got it. But do I want to tell them?! Matt – I don't know. They'll know its us. Or that its Felicia. Jag – They'll know its us. If I put up Blue, I am going to tell Cory and America. Or I put up Felicia and Cirie … or should we tell Bowie? Matt – I think we should tell Bowie. Jag – I think we put up Felicia and Cirie. Maybe Blue doesn't play but if she does play she will probably use the veto and name a replacement. Matt – that is so scary. Jag – that is scary. Blue joins them and they end their conversation.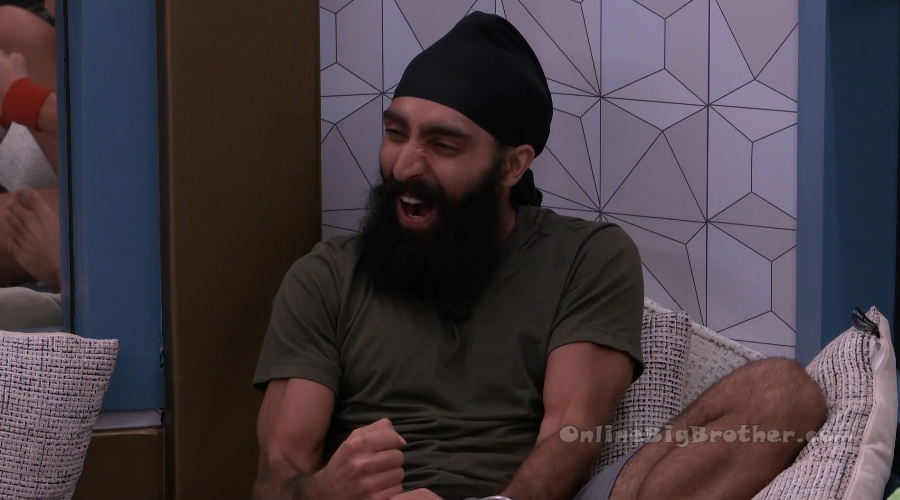 3:55am Bedroom – Cory and America
Cory – I think Blue is ratting you out. America – they were going to put us up anyway. If they didn't tell us its because they were going to put us up. What tomorrow they're just going to be like oh hahah hehehe.. actually we do have it! Cory – or they hide behind the fact that its Blue. America – I can talk to Blue. I don't think she is ratting us out. I don't think so. Cory – she has just proved herself time and time again to just say too much. America – I know. Cory – its just Jag and Blue in there.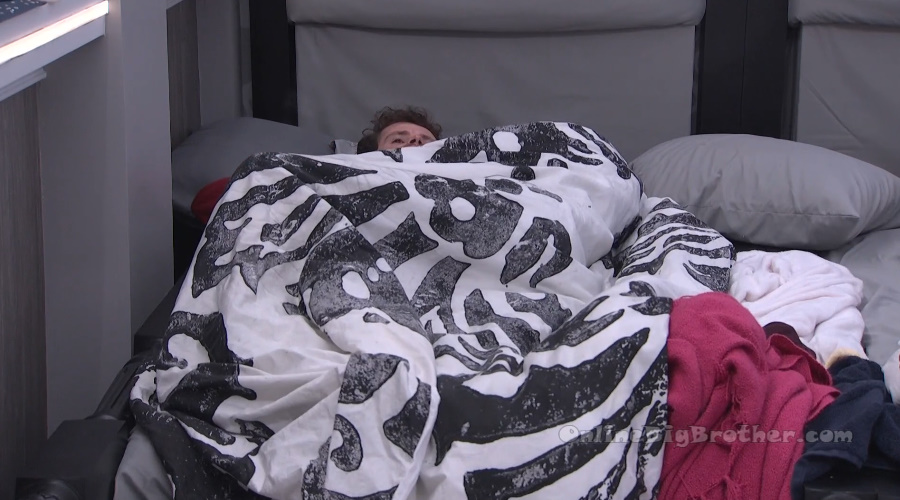 4am Bedroom – Bowie and Blue
Bowie – who is not nervous? Blue – it seems like everyone is nervous. We'll just have to see tomorrow. Bowie – well we'll know the people that are up there (nominees), its not them…and its not me. Jag joins them. Bowie – If its that Diamond veto ..and you can pull someone down and put someone else up ..then you would know who it would be if you can't put up the HOH. Jag – that won't be the power because they said its invisibility. So what would be the power? No one is going to be suspicious of Bowie Jane. Bowie – that's what I was thinking.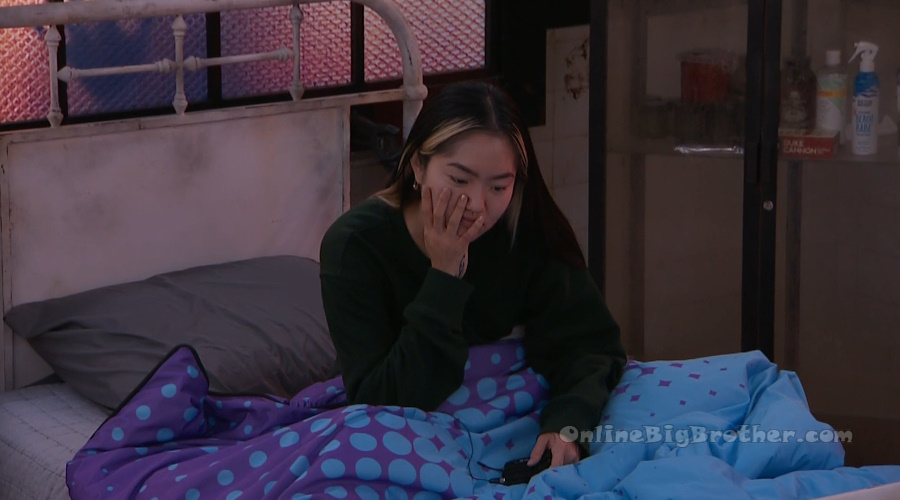 4:08am All the house guests are sleeping..
What to leave a TIP? Any amount is greatly appreciated!
Tips go directly to pay the site costs associated with running this site.
Thank you in advance!