Quick Big Brother Spoilers
Head of Household: Bowie
Nominees: Cirie and Felicia
POV Players: Bowie, Felicia, Cirie, America, Matt and Jag. Host it Cory
POV Winner: Jag
Veto Ceremony: Jag used the power of Veto on Felicia. Cameron was the replacement.
Havenots: ?
Lock your ranks in before midnight
The Situation Cam's going but he's trying to stay.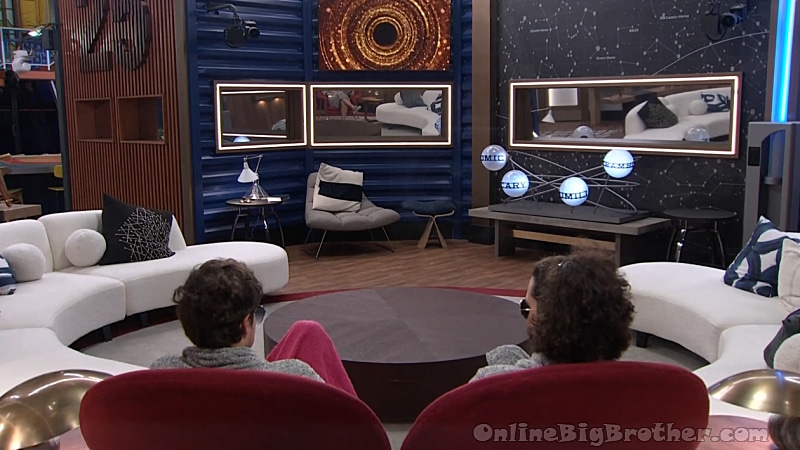 10:26 am Cameron and Cory
Cameron – I assume it's still no
Cory – I can't predict the future and be a dick and not hear you out. It's Big Brother.
Cameron – I don't have a big Campaign speech you know the reasons to keep me.
Cory – Keeping you hear to target people but when you look at the votes it's really hard.
Cameron says he thought he was working with people and they turned on him. "it's a game man"
Cameron says Blue might not be hard to flip. Felicia would though.
Cory – keeping you pisses off two people who have a good shot at getting into power.
Cameron – I'm a shield, I'll get aimed at again.
Cory – you're a scary shield man.. You win a veto and it's over.
Cameron – if I'm no here as the shield it's just you
Cory – I think I have a week of shelf life that's about it.
Cam – If I get a chance to be here we can play some Big Brother I mean really play it. When you get down to the stuff you really love. Like season 10
Cameron says jared was a "HOH Whore" Same as with Matt and Jag. They haven't left the HOH since Bowie won.
Cameron points out that Matt and Jag are not going to want to win HOH's they want other people to take the shot so they keep their hands clean.
Cameron says Matt and Jag kept Cirie and Felicia in the house this week so that next week they have two easy nominations and can backdoor whoever they want.
Cameron goes about how Matt and Jag have this whole game "Rolled up"
Cory – all it takes is one HOH and one of them is gone.
Cam – I know that is what I keep telling Cirie. I told America. If all of you can get past the Blue Vs Cory sh1t and work together. It's 5 vs 2. The probability of winning HOH went up way higher.
Cam – On Thursday if Cirie goes home, the two of them will sh1t Their F***ing pants because they know everything has hit the fan .
Cory – who do you think their noms will be?
Cam – I'm going home if I don't win a POV I'm going home.
Cory – I'm going home (If I don't win comps)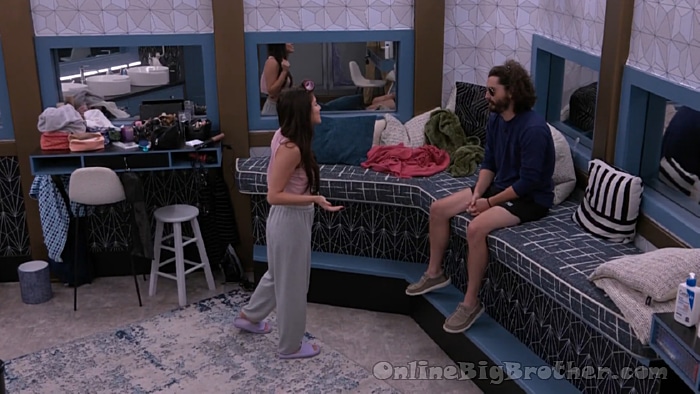 12:43 pm Cameron and America
America – I just think it's funny how.. I get what you are saying I think people were just going along with what.. You know what I mean
Cameron – Of course
Cameron – you do takes things personal and hold on to them The fact I said your name in a game for 750 thousand dollars
America – I get that you have to do that CAM but you come up and say I want to work with you. You lie to my face about it
Cam – It's part of the game
America – I know it's part of the game. I
Cam – what do you mean Lied to your face about it. What did I lie about.
America – You were like NO it wasn't me.
Cam – the whole house was behind me. Regardless if I started the conversation or not. Everyone was behind it and Still are.
America – you could have said that this week going into HOH
Cam – Of course I could have I was With them it was a three person alliance I was doing the plan according to plan. Tell me the plan i'll do it.
America – you're a planner Cam I'm smarter than that
Cam gets up "You are incorrigible"
America – Ohh whatever

2:00 pm Cirie and Felicia
They are going over who is together, Cory/America, Matt/Jag
Cirie – I really thinks Bowie Jane is with Cory and America.
Felicia sayas Bowie is also close with Matt and Jag. Bowie will stick with the side that doesn't falter. If Cory gets taken out she'll ride with Matt/Jag. If Matt/Jagg take a hit she'll stick with Cory/America.
Felicia thinks with Cory gone they can form the all female dream team. Five females Vs Magg and Jag.
Cirie doesn't think Bowie will flip to them.
Felicia – 3 of them 4 of us. We still have the numbers.
Cirie – unless one of them wins.
Felicia says everyone has to keep their f***Ing mouth shut. She thinks they can pull it off if they do.
Cirie – nobody can keep anything a secret
Felicia – Including you
Cirie – Cory is saying more than I expected him to be saying.
Felicia – now he's giving you names.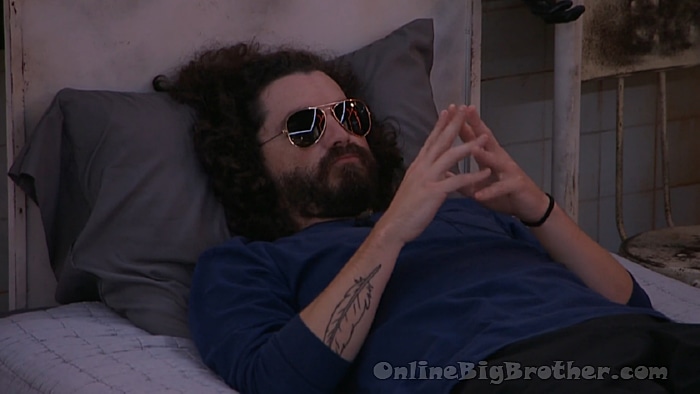 3:20 pm Cameron alone
"You gotta ride the wave. Plans have changed. there may be a crack worth investigating but you gotta be patient"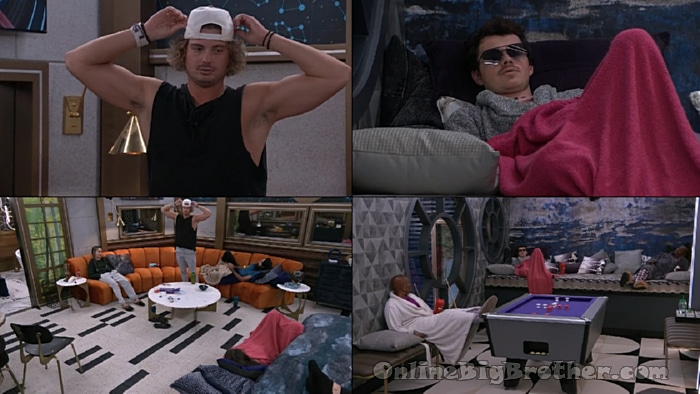 4:00 pm
Not a lot happening. Mostly Chit chat or bringing up past house events this season .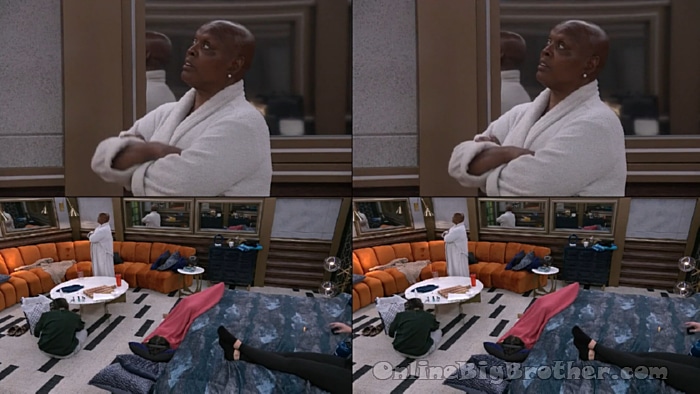 5:20 pm Felicia, Blue, Bowie, America
Felicia – I'm going to go Get Cirie and we're making lamb steaks. what do you want with it?
Felicia – I'll do some type of grilled potatoes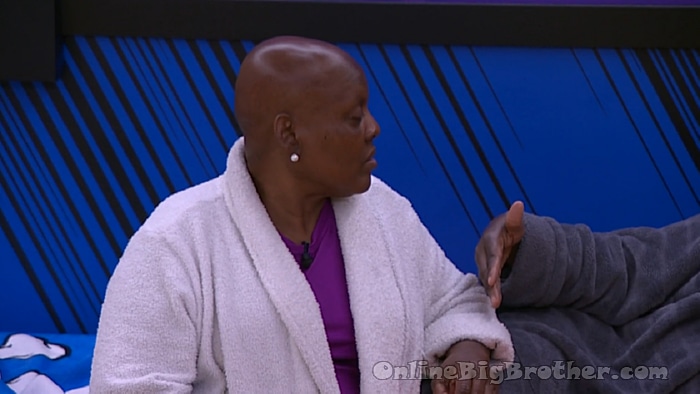 5:25 pm Felicia and Cirie
Felicia going on about a 5 girl alliance and the only thing that is stopping it from forming is America and Cory. They get rid of Cory and America will side with them.
Felicia – the 5 of us get rid of Matt and Jag. Girl it's on like popcorn
Felicia – we'll get rid of Bowie Jane right off the bat
Cirie thinks Jag and Matt want Blue to win HOH "They don't want to show their hand"
Cirie – the problem will be when America's Dumb a$$ wants to go after Blue because of Cory
Felicia says as long as Cory is here you can say anything to her
They talk about letting Matt win the HOH this week.
Felicia is going to try and Convince Blue to let Matt win it. (They are assuming it's slip n slide)
Cirie is worried Blue will run her damn mouth.
Felicia says Blue tells Matt and Jag what she hears from other people
Cirie – I know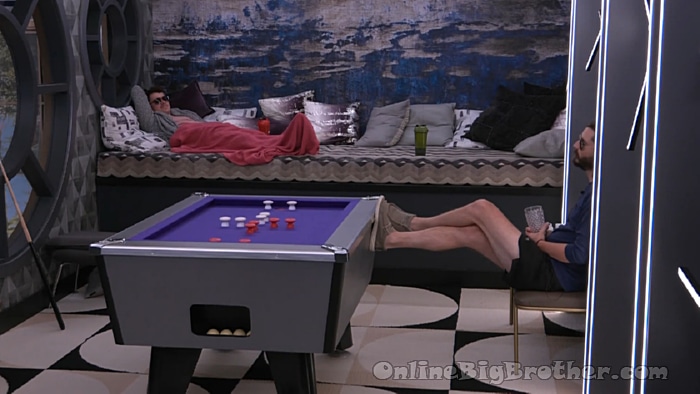 5:55 pm Cameron and Cory
They've been talking about everything from Cam's 8 year old Birkenstocks to When the next Double is.
Cam asks him to make sure someone sucky doesn't get evicted last.
Cory calls him out that regardless of who leaves Cam will say "I told you so"
Cory – I feel like you've told everyone they're next
6:05 pm
Jag and Blue
Using the velvet couch to strategize (hard to follow who they are talking about)
Jag says Felicia is asking Matt about me and Blue so she wants Blue out. "you only ask that if you are cooking something up"
Jag – Felicia is saying to me she wants Cory and America out .. I'm saying whatever going along. There has to be a point where I am saying.. AWW there's other options
Jag – the last thing I want is for Blue to win
Jag is thinking it's best to leave it alone until after HOH.
Jag – Cirie wants to work with you
Jag says if America/Cory win they put up Felicia and Blue "we take Blue out" or Blue wins and "we take Cory out"
Jag – that just leaves one of them and all three of us can play in the HOH and we pick one off.
Feeds cut. When we're back.
Jag – next week they won't have protection..
Matt comes in and Spooks Bowie.
They talk about Felicia wanting to take out Blue.
Bowie says they wait until after the HOH fo Jag to go to Felicia and say he's not close to Blue.
Bowie – We can't risk Blue finding out.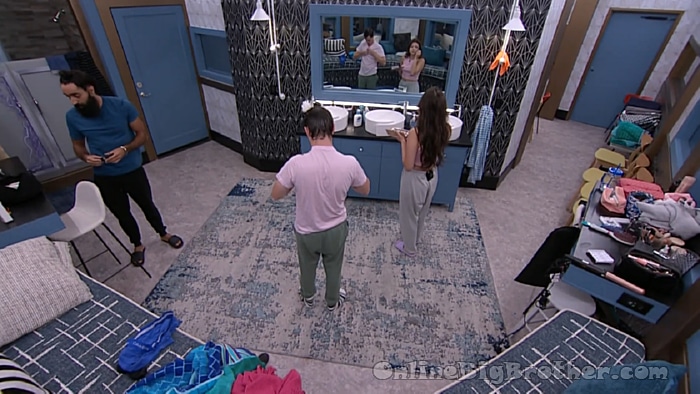 6:33 pm Cory, America and Jag
Cory – Blue's talking to me about Felicia. Felicia's talking to me about Blue
JAG – I'm trying to figure out if Felicia is actually Anti Blue. Making sure she knows I'm full on board.
Cory – I already told her I don't think you all are close (Jag and Blue)
Jag wonders if Felicia wins HOH they can have that conversation.
Cory – I talk to Felicia more these days than I did before I'm going to keep talking to her..
Feeds flip then cut.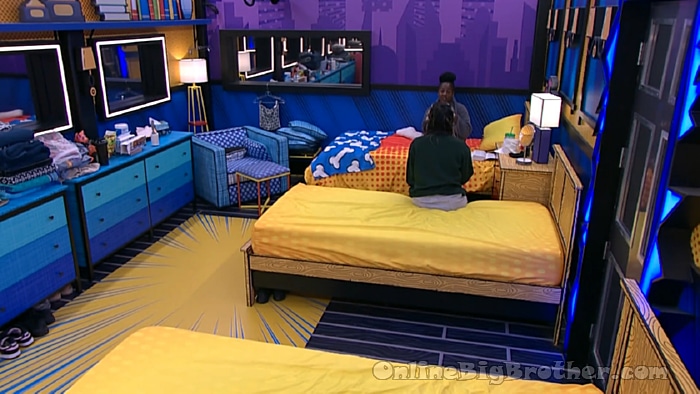 6:46 pm Blue and Cirie
Blue says if they can get matt to win the HOH next week to take out Cory then she will win it the week after and put up Jag and Matt.
Cirie – that is exactly what I see as a path.
They start talking about a all girls dream team alliance.
Blue – I think bowie might be on board. This all girls alliance could be a thing
Blue says she's throwing the HOH this week.
Cirie – Cory and America will try to win
Blue – I don't think so
Please consider a donation to the site to keep the madness going.