Quick Big Brother Spoilers
Head of Household: Bowie
Nominees: Cirie and Felicia
POV Players: Bowie, Felicia, Cirie, America, Matt and Jag. Host it Cory
POV Winner: Jag
Veto Ceremony: Jag used the power of Veto on Felicia. Cameron was the replacement.
Havenots: ?
Lock your ranks in before midnight
The Situation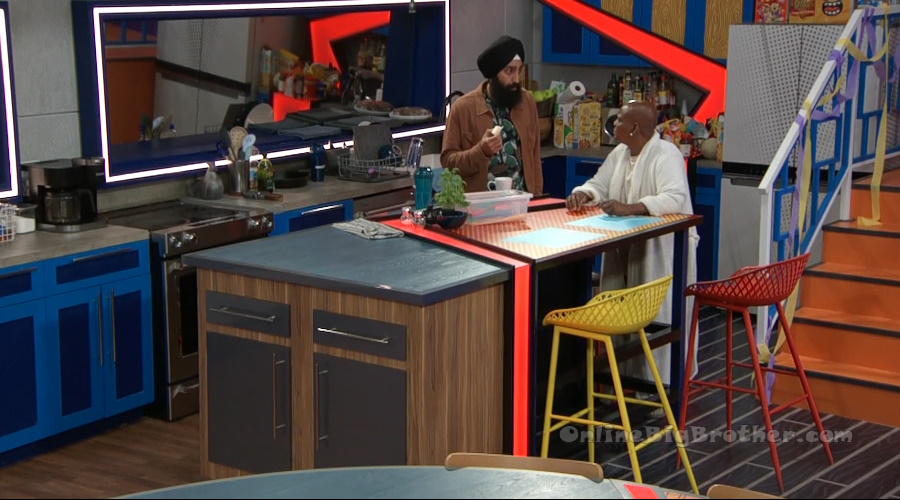 10am Kitchen – Felicia and Jag.
Jag – everyone is getting paranoid because here is why. He (Cameron) wants to be remembered. He has literally told me that he hopes he has made a big impact in the game that people literally talk about it.. when they talk about BB25 that he is remembered. So he is going to say and do all those things so that people are going to be like oh my god do you remember when Cam left the house and caused all this paranoia? I heard he wants to do a big speech .. of course he does! You know what I mean, because he wants to be remembered. Felicia – he really thinks when he gets out he is going to have this huge following. Jag – he wants to come back again for ALL STARS and Coaches Season big brother… yeah so.. But I think he underestimates the relationships that people have like we know we're good. Felicia – yeah. I think he really thinks he is going to get Fan Favourite! Felicia laughs. Jag – Probably. Felicia – what would really hurt my feelings is if he does. Felicia laughs again.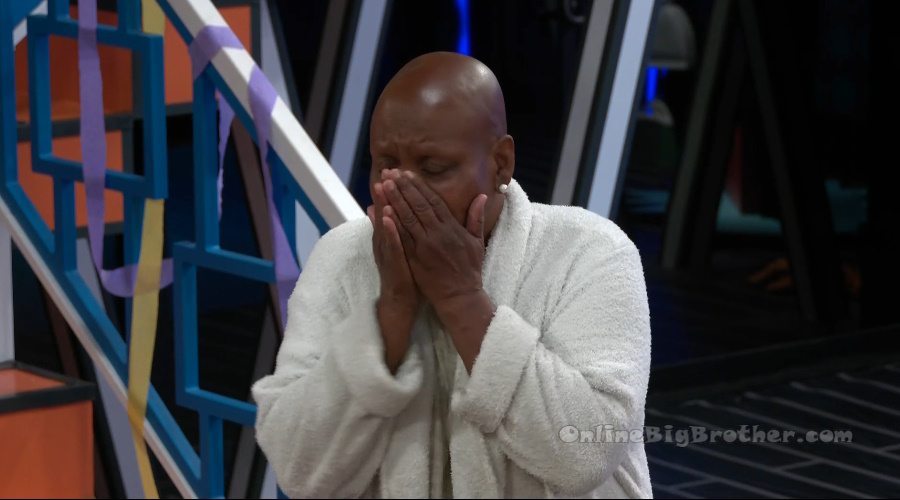 10:05am Comic Bedroom – Cirie and Matt
Cirie – I don't want no funny business today!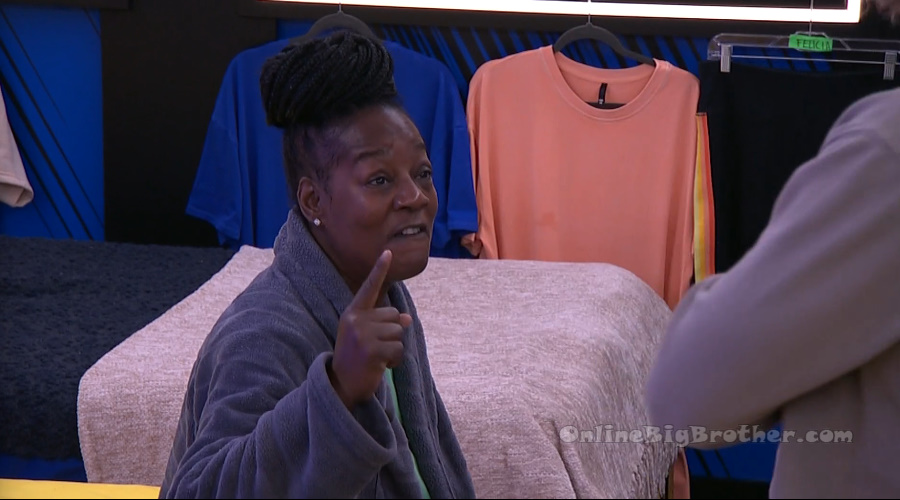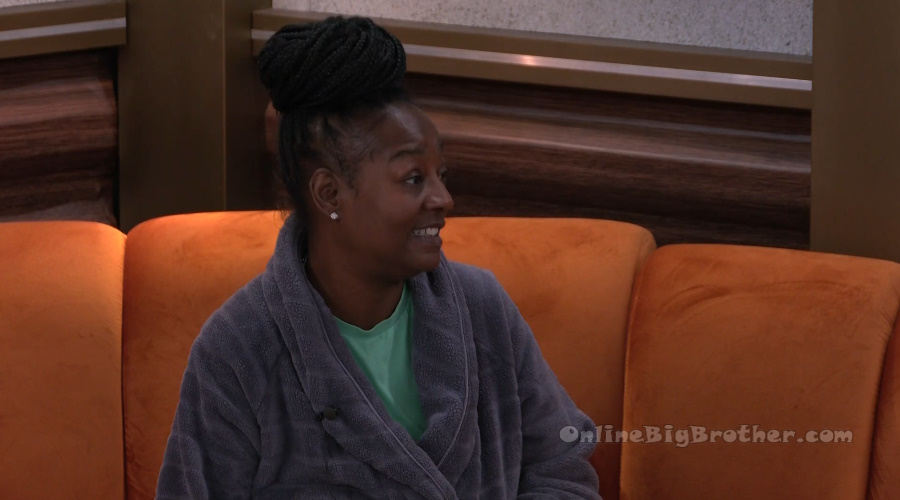 10:28am HOH room – Bowie and Cirie
Bowie & Cirie agree on a final 4 with Matt and Jag
Bowie – I am happy to work with Felicia but I am still not sure. Cirie – yeah me either. And that's what Jag and Matt kind of told me yesterday. Bowie – yeah Okay, she is probably fine but she just get so suspicious so easily. Cirie – I know, I know! Bowie – and then she goes off and does crazy a$$ sh*t. Cirie – and that is what I wanted to talk to you about like where we are really going because I know this war is about to go down and I just want to be on the right side of the war. Bowie – yeah. Cirie – where the good people are and the people that support each other that are going to stay. If that's where you're going to stay, then that is where I am going to go. Bowie – and these things have started to develop in the last couple days. I feel good about the chats with him. I feel like the others are shifty. And they're having the same conversations with everyone. They're like I see us as a three but of course we're a pair. Cirie – what kind of a pitch is that?! Why would you want to be a third wheel to anybody's pair. How can you even pitch that!? Bowie – I am seeing that on my own. Cirie – right right. Bowie – but obviously that means that someone would put me up. Cirie – exactly. Bowie – as a pawn right. Cirie – exactly. Bowie – so I do really trust them and I think they're smart and they're good competitors. I think it would be crazy not to work with them. Cirie – okay that's what I was wondering which side are we really on because that is the side I want to go to. Bowie – and you are reliable with your vote. I am reliable with my vote. They're reliable with their vote. They're not scared. Cirie – I'm not scared. You can't change me. You can't sway me. No matter what they think if they want me to do it, I ain't going to do it. And I've been trusting Matt for a long time and I can confirm with Jag most of the game. For me Cory and America are just now kind of talking to me because I think they know that they're in a bit of hot water situation. Bowie – yeah. Cirie – but Jag and Matt seems like the safest route for us. Bowie – and we discussed this after Izzy left. We both felt good about them. I don't care I am going to go down with that ship. Cirie – me too. Bowie – still talking with the rest of the house but the reality is its got to be the four .. the four gets through to the end. Cirie – I agree. That's a good looking final four and I can see that path. Bowie – we just have to be careful that Jag and Matt aren't knocked off. Cirie – they trying. Bowie – its just going to be who wins HOH. Cirie – I think its going to be Matt. Bowie – I hope so and then he can't play the next week. Cirie – but Jag can play and we can play. I feel good about this. Bowie – so how do we deal with Felicia? Cirie – we just be friendly. Bowie – keep her close because she has real high potential to win it. Cirie – I know. So we don't want to alienate her. We just act like everything is regular and we let her say where she wants to go. Lets get us to the final 4 and then fight it out. There are 4 more people that have got to go. I feel good about this! Bowie – I feel good about this too. I am sorry I had to put you up. Cirie – NO IT'S OKAY B***h!! NA.. if there was a week to go up this was the only week. Any other week I would have been like oh sh*t she wanted me out! But Cameron as my person.. na girl. Its like a free week. Bowie – legit, stick to it! We're going down with the four.
10:45pm Showmancing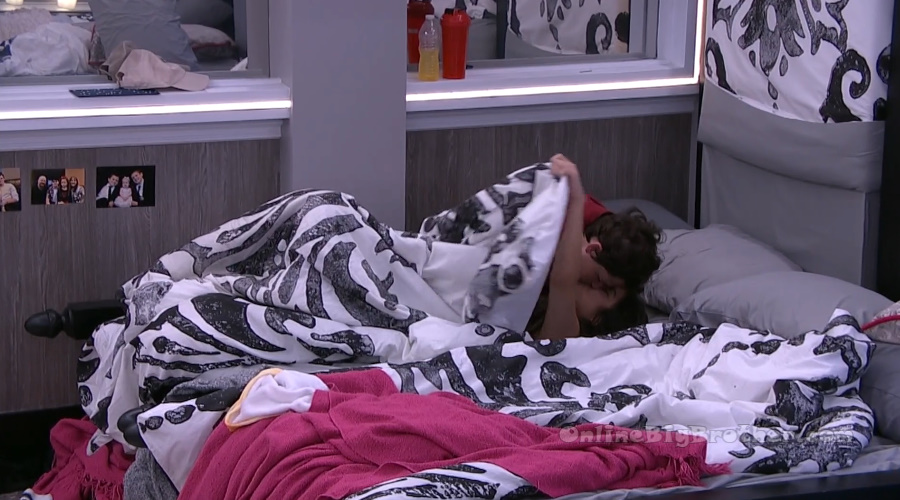 11am Cam being Cam ready to get the show going..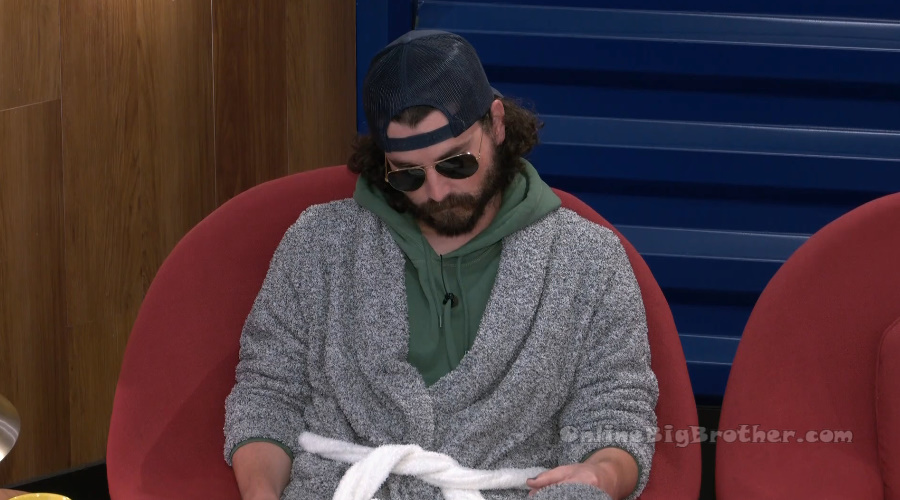 11:40am Bathroom – America, Cory and Blue chatting about random things.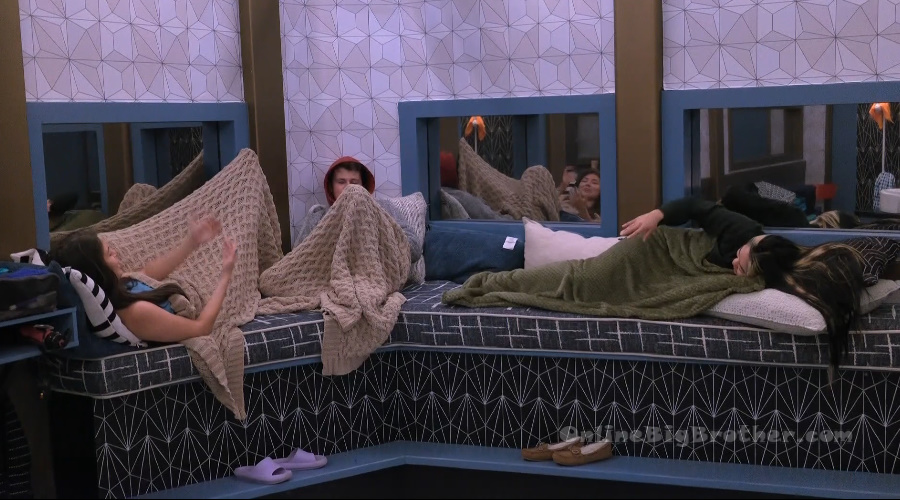 11:52am The live feeds switch to the pound cams..
1:12pm The feeds return.. (I thought they were done till after the show.. I was wrong!)
1:18pm HOH room – Bowie, Jag and Matt.
Bowie – I had a great chat with Cirie. Everyone is going to be war. Who's side do you wnat to be on? She was like who are you with. I was like I've got Matt and Jag. She was like I'm down. I said it was recent. We've been chatting. Matt – okay good. Jag – I'm going to talk to Cirie too. Bowie – she was like thank god! I feel good about this. It was the first time she's spoken openly to me in weeks. Jag – Blue was talking to Cory and America for an hour. Get Blue out. Bowie to Matt – you're winning. I can feel it. Matt – I want to so bad. I don't care if I get blood on my hands because we'll take out who we want to. Bowie – and you're used to working under pressure because you're an athlete.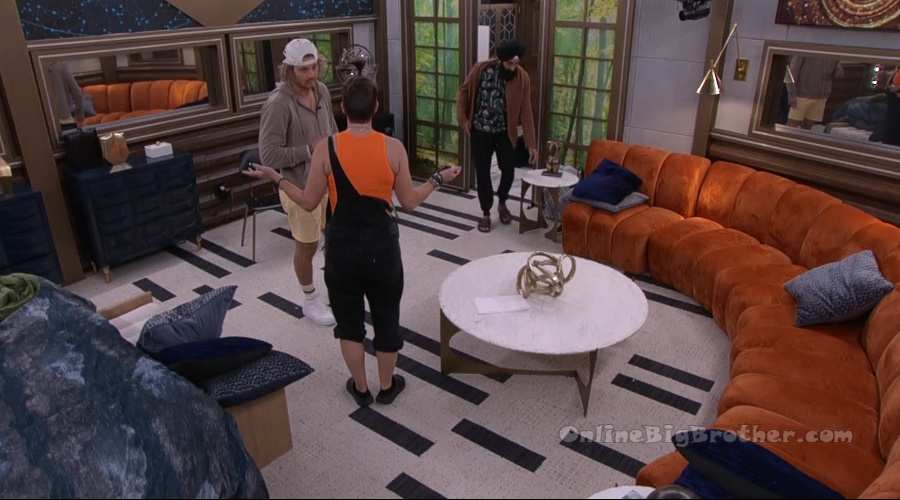 1:32pm Comic Bedroom – Blue and Cirie
Cirie – how do you feel? Blue – good. Her proximity to Matt and Jag makes me feel a little nervous of course. Cirie – she is always wanting to be with them like right after Izzy left. She asked me way back when so I know she's wanted to play with them. Blue – I think it would be cool to create an all girls alliance. Cirie – America will only do that once Cory is gone. That's what Felicia is saying too that she wants that. Blue – I hope I win HOH. Cirie – me too. I hope you win it, I hope I win it. How do you feel if Matt wins it? Blue – I feel okay. But we'll see. Cirie – okay. I trust what you think. I also kind of trust Matt. The only thing that makes me nervous is Cory or America because they stopped talking to us .. they where here all the time and now don't even see them.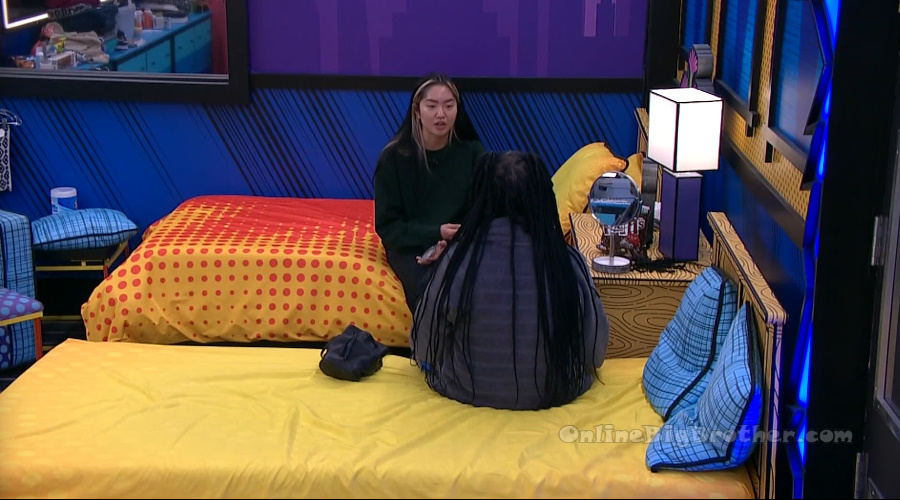 2:17pm The house guests are just getting ready for tonight's live show.. getting ready/cleaning.
2:50pm Kitchen – Blue and Cory They're talking about social media.
2:57pm Comic Bedroom – Bowie and Cirie
Bowie – its the first time I've felt comfortable with open conversation. Cirie – me too. Up until now I've been quite. Bowie – but we need to keep it top secret. Cirie – I ain't saying anything.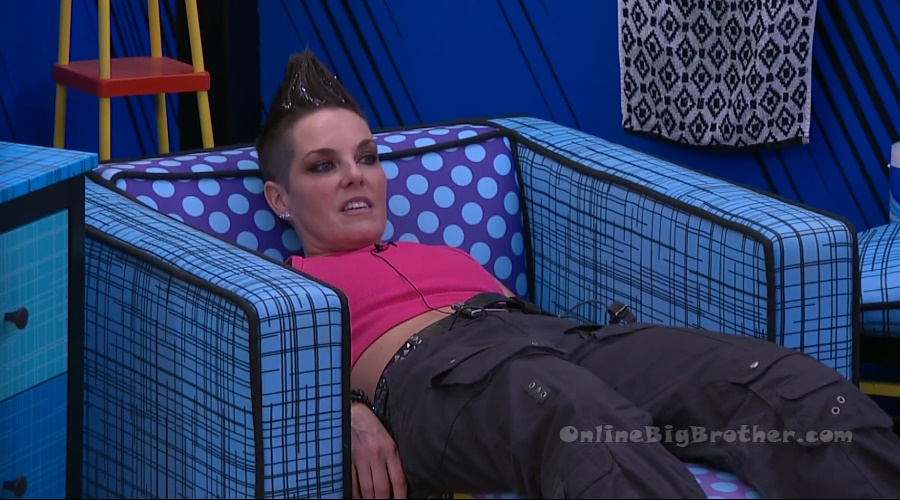 3:12pm Bathroom: Matt – say goodbye to the stash! America – you're shaving it off? Matt – yeah!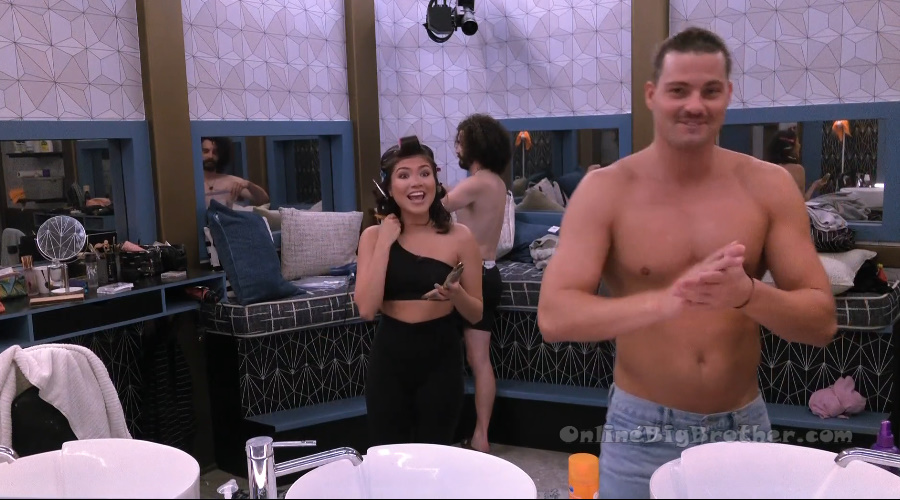 3:30pm Comic Bedroom – Cirie and Felicia
Cirie – That's when you better pull out your knives, guns, arrows ..everything. Felicia – take their a$$es out! Cirie – War. Just duck! Keep your head low! This is what I don't understand .. they knew it would come to this.. so what was the plan?
3:32pm Bathroom – Matt and Jag.
Matt – go for safety? Jag – both go for HOH. Okay, you go for HOH and I am going to start off putting one in safety and if no one else goes for it I am going to go for HOH. Matt – because that the thing if you do what I do we'll never be put up. Jag – Blue and Cory are upstairs. Matt – they're talking so much lately! Jag – I know. Matt – They've been talking all day today. I don't trust them. But f**k it we'll have to get this win and sever it.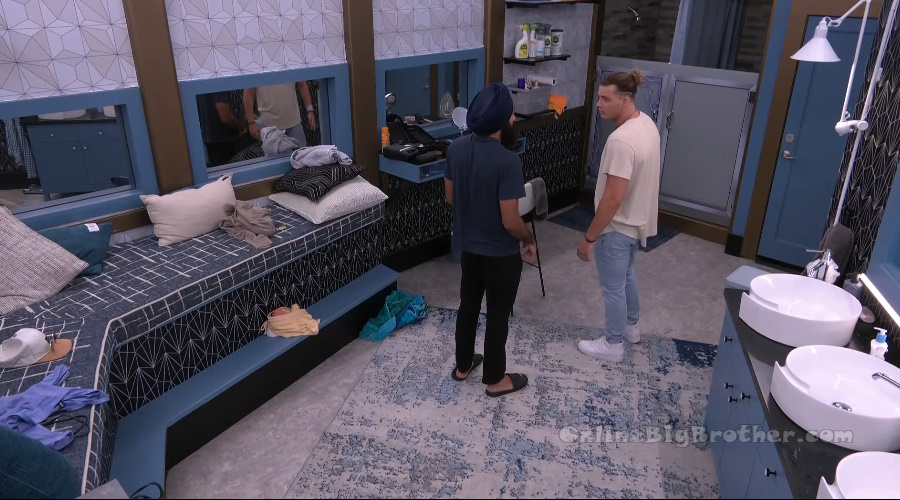 3:44pm The live feeds switch the to pound .. The feeds will be down until after the live show airs on the west coast.
If you've enjoyed our updates this season and want to leave a tip you can do so through PayPal.
You don't even need a Paypal account to contribute. Any amount is greatly appreciated!