Quick Big Brother Spoilers
Head of Household: Bowie
Nominees: Cirie and Felicia
POV Players: Bowie, Felicia, Cirie, America, Matt and Jag. Host it Cory
POV Winner: Jag
Veto Ceremony: Jag used the power of Veto on Felicia. Cameron was the replacement.
Havenots: ?
Lock your ranks in before midnight
7:30pm Kitchen – Cory, Cirie, Felicia and America are chatting about random things like what the upcoming HOH competition might be to Cory talking about Survivor. Meanwhile out in the backyard – Matt, Cameron, Jag and Blue invented a new game with the pool balls.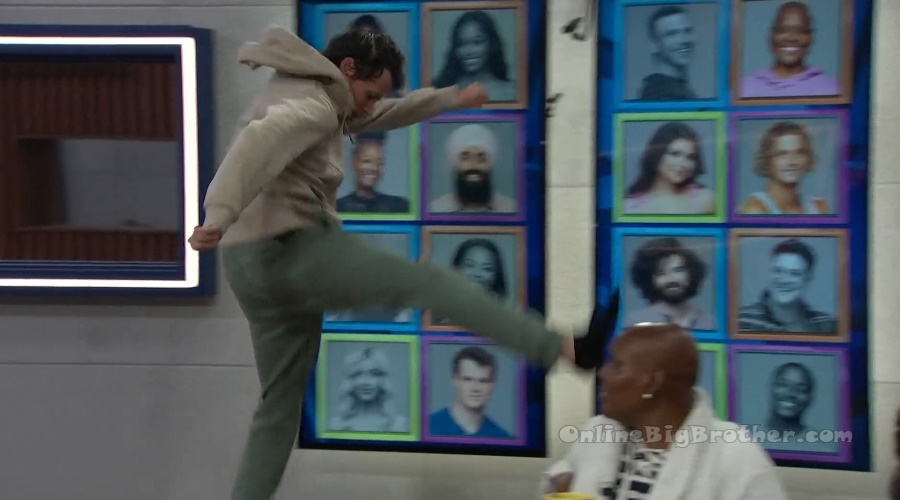 Cory points out on the memory wall how after Cameron leaves both side of the memory wall will be symmetrical. Cory starts matching up the house guests of who would fight who. America – Cory is a kicker! Did he tell you about his bar fight stories? He's gotten into two bar fights. And he's a kicker! Cirie – Did you win the bar fight Skeezy? Cory – Yeah I didn't lose them. Cirie – what is your definitely of lose them? Cory – Like everyone got kicked out and I was not that injured. That's a WIN!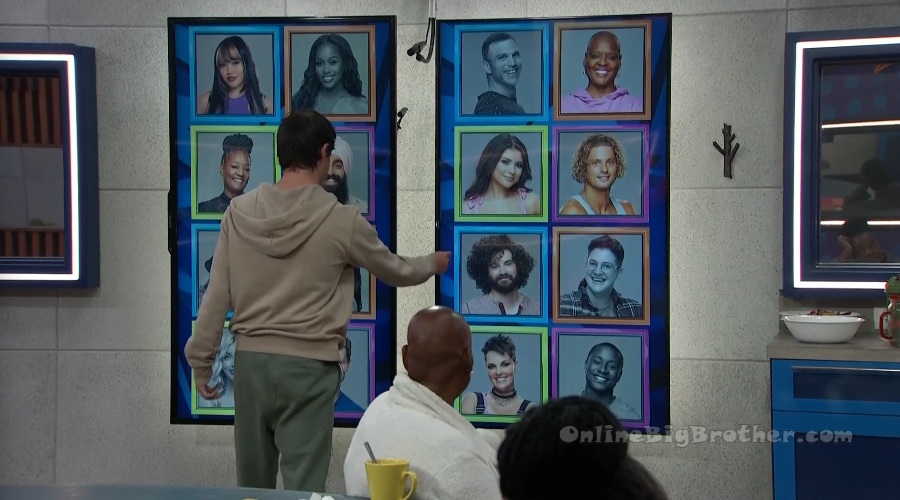 8:06pm – 8:20pm HOH room –
Cory and America
Cory – Okay final room? America – That's so smooth. They kiss. Cory – do you feel better about Matt and Jag? America – I do. A little bit. They're just annoying. Cory – when I talk to Matt and Jag I feel good. When I talk to anyone else I feel bad about them. Like the last person I talk to determines how I feel. America – I feel good .. I mean.. they're definitely just covering their a$$es. Cory – well here is what is good. America – What is good is that they see that Blue is doing the same thing. They really f**k with Bowie. Cory – they're very open with targeting Blue to Bowie. Which if they target us, they'll have backlash from Bowie. America – yup. Cory – so that is really good. America – so what are they telling Blue .. that they're targeting us? Cory – me. America – yeah you.. but they've got to be talking to Blue about that. But lets be real, is Blue going to target Cirie and Felicia? America – no. Cory – Bowie is the hope. America – Bowie is super scared about going up because she hasn't before but she is going to have to be okay with it you know?! Cory – she is just going to have to trust that we have her back because we do in this case. America – next week only two people aren't playing veto. Cory – backdoors don't make sense really. If I win, I am putting up Felicia and Blue. America – the backdoor doesn't make sense so why wouldn't Blue put you up, you know?! Cory – you could argue it makes sense. America – its not like you're some veto king.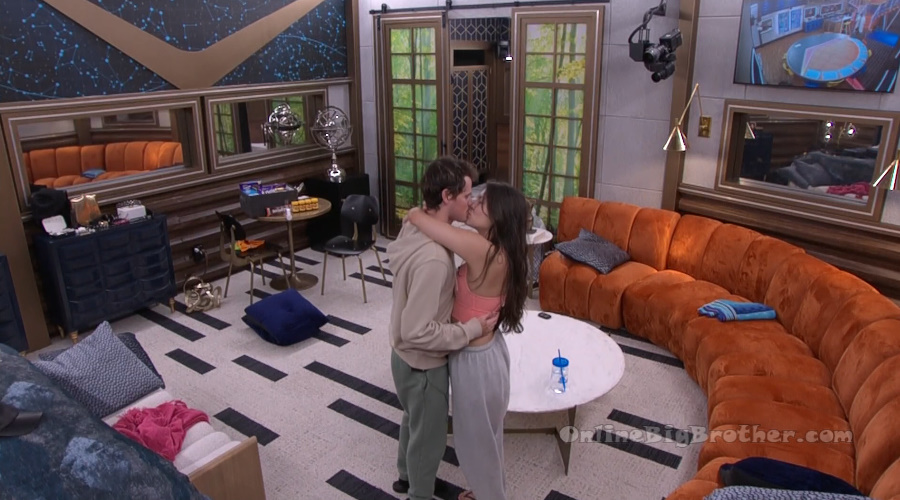 8:27pm Backyard Crew are playing a target / toss game they made up.

HOH room – Cory talking to the cameras.
Cory – By the way I feel good about my position but not great. It could definitely be worse. It could definitely be better. I don't like being the fall guy for my alliance but I would rather be in the alliance than out of it. My conversation with Bowie, Matt and Jag made me feel better today. Obviously I shouldn't have brought up the Bowie as a pawn idea. Not that it was an idea, it was more what if this happens but that's okay. I think Blue wins HOH I am cooked! At least I am in trouble. If Cirie wins HOH, I am fine. If Felicia wins HOH, its a f**king coin flip. Everyone else I should be chilling.. America, Matt and Jag obviously. I think I have a shot here. I have win equity. I also have a good chance of not a good chance of leaving next week but a reasonable chance. So right now I am just going to keep rolling. I don't feel too bad about anything. The America stuff is great. Its very fun, I am very excited. Yeah, I am having a good time. Its been a good week. We're about to have a lock down for a couple of days which is going to be f**king sad but whatever. We're nearing the end of the game which is good. I am having a blast. Best experience of my life but I am also gassed out and I can't make it that many more days. There are 8 people left so it is weird calling this the final push because we're basically at the half way point but it does feel like the final push and I am just going to try and make it. It would be cool if they did a BBCAN style triple eviction.. I would definitely go home in it.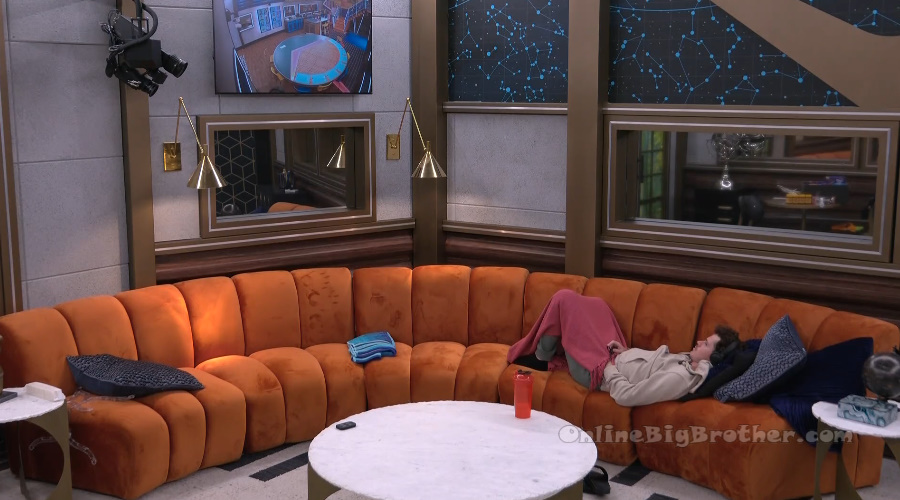 8:53pm – 9:05pm Comic Bedroom – Cirie and Blue.
Cirie – Listen girl, I know Cameron is on his way out but I don't think he is making it up. I don't think he is making it up. You need to listen to him. You really should listen to him .. to what he is saying because the sh*t he is saying is making sense and it is looking scary. Blue – what did he say? Cirie – That Matt and Jag are going to ride it all the way to the end. They going to kick everybody to the curb. They going to use me and Felicia until they don't need to. They pitting you against Cory. And Cory against you. They did the same thing with everybody else so that their hands are clean. I know it probably seems like it is Cory because he was HOH but you got to be able to look at everything because if you're not here, I am not here. He (Cory) did say Blue but that was when they was about to backdoor him. He (Cam) said but they are going to make it seem like he (Cory) was pushing Blue and technically it was.. it was anybody but him. I don't know Blue. Blue – my personal idea five would be me, you, Matt, Jag and a Bowie or something. But strategically I know that I need to keep my personal side from this and my ideal five would be like me, you, Felicia, America, Bowie. Cirie – you need to start thinking not personally.. because personally I can't f**king stand Cory. I want Cory gone because of that but the way they twisted it .. yeah Cory was HOH but he couldn't do it without their help. And if you look at what is happening.. once they get rid of Cameron.. they can pretty much run the table. You get rid of Cory and then that's Cory gone.. Who is there? Bowie Jane?! Me, Felicia and America is nothing. And you're at what place with them? Blue – this game is tricky! Cirie – Please don't say anything to them.
9:34pm – 9:50pm HOH room – Cory and Bowie.
Cory – how do you feel about your HOH reign? Bowie – yeah its good. It could have been worse. Cory – all things considered it worked out perfectly. Bowie – it worked out perfectly. Cory – little bit of drama. Bowie – yeah. Cory – did America said that all day Cam was building up to this? In the morning he was like I am going to blow up at the veto ceremony. Bowie – did he say that? Cory – yeah he said I am going to blow up. America was like okay?! He was like you like drama? Bowie – I didn't buy it at all. Cory – he also didn't do very much. He said Bowie.. Bowie – Bowie, Bowie, Bowie.. Cory – it was pretty fun. Bowie – what was it? Cory – it was Bowie, Bowie, Bowie you're a true character has shown. Is showing.. something like that. Bowie – and I said yes, and I have very proud of it. Cory – Bang! Zinger! I think he expected fireworks after that. Bowie – he is trying to get air time. All he talks about is the tv. Its embarrassing. Cory – unfortunately I think he is succeeding. Bowie – he is succeeding yes. What a d**k to say he was going to blow up. Cory – because he wants to have the moment. He wants to be the centre of it all. Bowie – I took that right away from him. Cory – yeah, it was pretty cool. And honestly it worked out in a cool way where you got to make a big move on tv and a very easy move in the house. America joins them. Bowie – successful week! Cory – the great thing about this week is that it makes next week a lot easier because we don't have to deal with a Cameron HOH. Bowie – and I think I probably would have been okay next week with him but he is just ridiculous.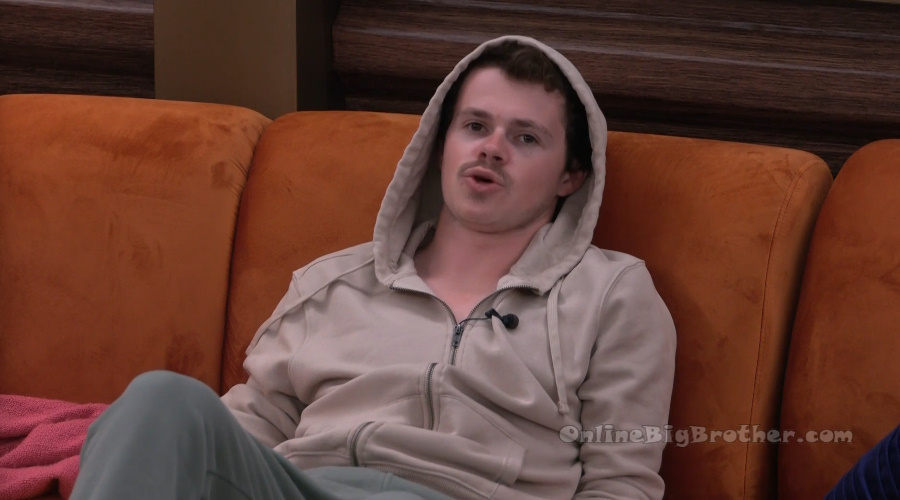 10pm HOH room – Bowie, Cory, Felicia and America.

10:09pm – 10:30pm Comic Bedroom – Cameron and Blue.
Cam – I am not going to campaign to you. I am going to do something completely opposite to that. Blue – okay. Cam – And talk to you about your game. Blue – okay I actually appreciate that. Cam – I don't know what you want to do but I love Jared. And Jared asked me to do one thing. Blue – oh god, what is it?! Cam – And it was to protect Cirie and I knew that, that meant you because if I protect her, I protect you. Blue – what do you mean? Blue – I just know the three of ya'll are really close. Cam – This doesn't leave us. This is only information for you to help you. I don't know what kind of game you want to work forward but if you want to work a game and get as far as you can.. you will leave those motherf**kers behind. Blue – her? (Cirie) Cam – nope. Blue – Felicia? Cam – nope. Matt and Jag. And I am the one saying this because I know exactly what they're doing. Which is why I am so pissed because I was completely bought in the last two weeks. And they have taken my sweet, sweet Bowie. Its bad. Blue – what do you mean? Cam – And I am telling you this now because I am trying to help the people that I do care about in this game. And I just want to warn people that I should have worked with harder. When I came back into the house and decided to work with them.. I thought I was making a good decision. I thought they had my best interest at heart. And now I look back and realize it was a setup from the beginning and that hurts. Blue – what do you mean because I thought it was me, you, Matt and Jag. Cam – that is exactly what I am telling you. It was never that. Blue – wasn't that kind of on you? Cam – it was the three of us and Bowie. Then there was the three of us and you. And then there was the three of us and Cory and America. I don't want to see you get bum rushed by two guys. (LOL) Cory and America know and they're still playing along. They're still letting you hate them. Even though they know that its a setup for you and they're being set up .. that's basically why they stopped talking about you. I promise you right now.. if I stayed in this house, I would eat their god damn lunch and make the other one watch me do it. And I know I am the Cam-Roach. and all that sh*t. SO if this is who you want it to end, you know I will walk out of here saying I love you and I will see you in the jury house. But if there is a possibility, you let me know. Blue – uh huh.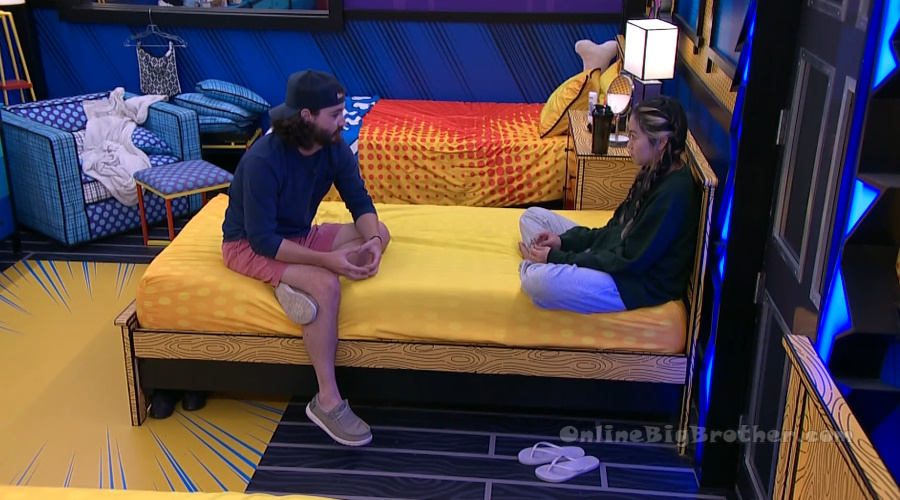 10:35pm – 11:07pm Comic Bedroom – Cirie and Felicia.
Cirie – This is why the sh*t goes awry. You can't be aligned with everybody and that's what's sketchy. Felicia – She keeps saying you got to show your hand but she ain't showing her f**king hand. Cirie – because she got a hand with everybody. So she can easily switch .. and that's whats scary. Its going to implode again. Felicia – that's what I said whoever is HOH is going to be the tell all. Who ever is HOH is going to have to show their hands. Cirie – what if some crazy sh*t happen on Thursday and Cameron don't leave. Cirie burst out laughing. Felicia – there is no way that happen. I need an HOH. I am trying to figure out who do we put up? I don't know who to put up. Cirie – IF WE WIN? F**KING BOWIE JANE'S A$$ IS GOING UP THERE! Felicia – next to who? Cirie – So Jag, we need a favour? Cirie bursts out laughing again. Felicia – put up Bowie and Jag as pawns .. if Jag comes down then put up Cory.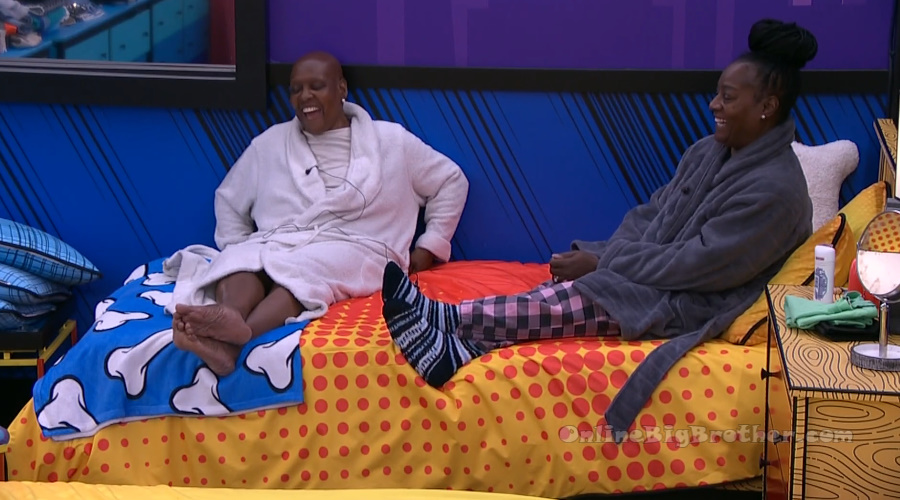 11:25pm Comic Bedroom – Cirie and Felicia.
Cirie – Bowie Jane is a viper too. She was up there crying to Cameron when when Jared was up there.. "OH they being mean to me!" "They saying hypocrisy" Running up there to Cameron so he can get our a$$es. He did take care of you. That week when you and Izzy were on the block she went running up there telling him. And now you don't know him?! Now you don't know him!? That one is dangerous! If she will do him like that, you and me ain't nothing. If she do Cameron like that ..Especially now that she got him. Now that she got him.. she's like F**K HIM!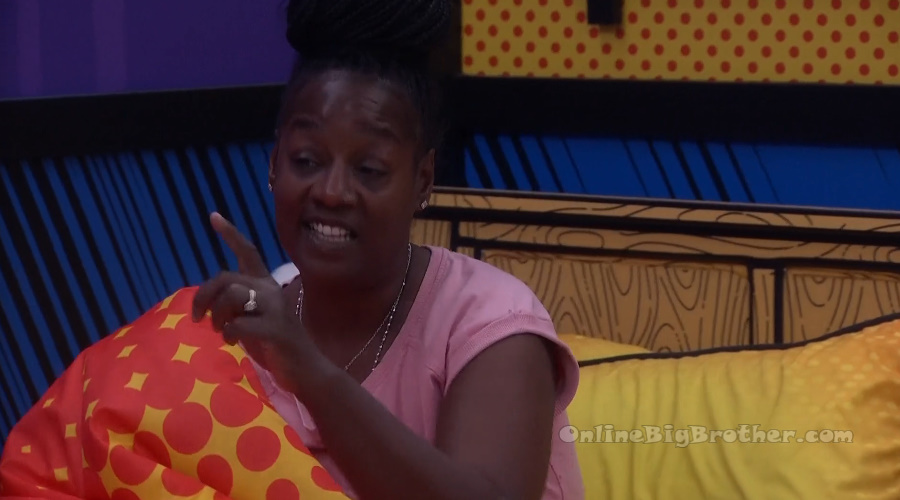 11:40pm – 12am Kitchen – Cory, Blue, Jag, Matt, Bowie and America.
They laugh about what each of their secrets would be if they had a secret.
Bowie – a big brother Australia legend
Blue – a singer in a rock band
Cory – 28 year old lawyer / actually a child
America – has a boyfriend / she's a librarian
Jag – 30 year old theatre college professor or a comedian.
12:31am Exercise Room – Cory and America
America weighs herself – Oh my god! Cory – 124lbs? America – I've gained 11 pounds! Cory – Since when? America – since havenot week. Cory – That doesn't make sense. America – It does, I can feel it. Cory – well hopefully I've gained 11 pounds. Cory weighs himself. Cory – 130… 8lbs .. closing the gap! America – I don't care. Cory – also you look great. Don't stress. America – have you ever dated someone heavier than you? Cory – yeah most of them. Which is much more of a testament to me than them.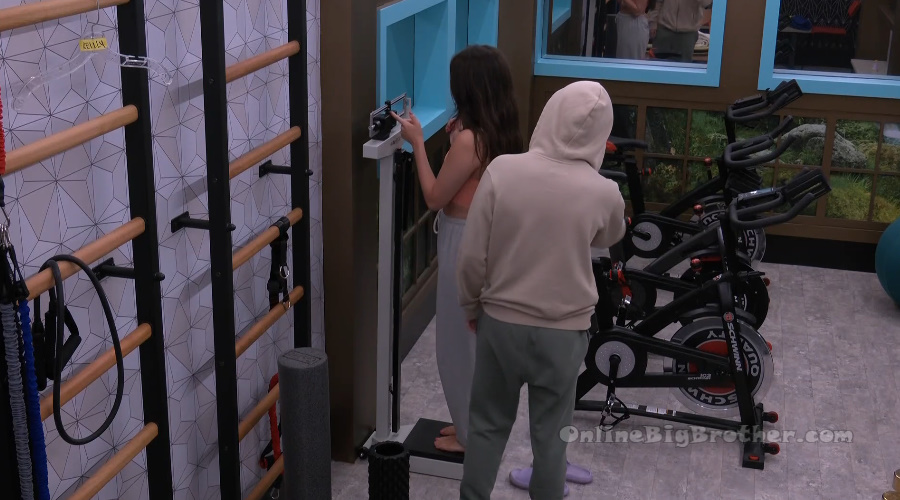 12:36am Bathroom – Jag, Matt and Blue
Blue – Cam is going crazy. Matt – what did he say? Blue – He basically thinks that the votes are going to be me, Cory, America and Felicia. Matt – why? Blue – I don't know but that's what he thinks. He is saying to America, Cory, me and probably Felicia too is that basically ya'll are this mastermind doing all this.. Matt – BRO Mastermind?! Blue – BRO what the f**k you think I'm smart!? I'm stupid. Jag – his pitch is what? Matt – its a compliment, thank you. I'll take it. Matt – up in the HOH he would just preach. Everyone was like I bet he will be calm.. but I bet he is going to try and put everyone against each other again. Not surprised! And he knows I don't buy it because when he talks to me I just go like (starts nodding). I never say sh*t. Blue – that's what I do now too. Matt – he is like you kill me man, one of these days I am going to make you say something and I am going to make you come up with your own ideas. And I was like (starts nodding again). I am just like BRO.. you don't think I think things?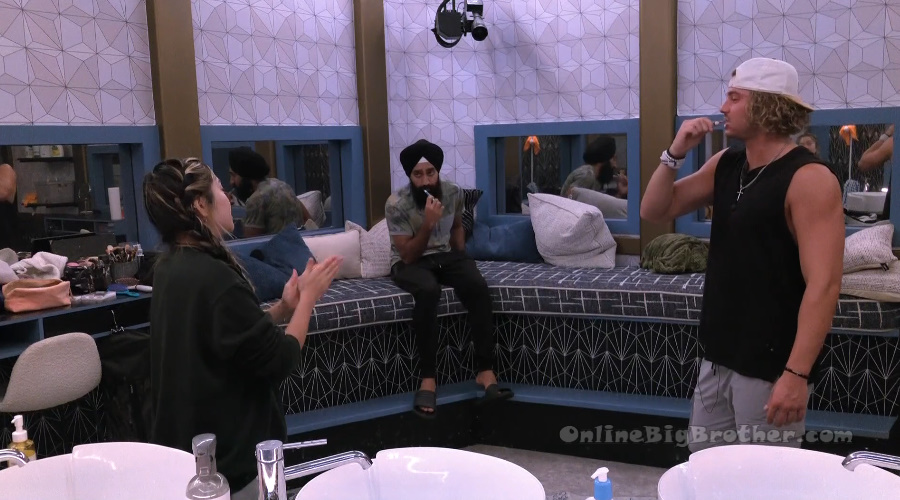 12:44am – 12:55am Backyard – Blue, Matt and Jag.
Blue – basically he was saying ya'll two are both masterminds .. oh f**k I am trying to remember everything. I will just tell you bits and pieces that I remember. But basically he was just saying like ..obviously he wants me, Cory, America and Felicia's vote. So he is basically pitching this is what America said on the hammock.. did she tell you that? Jag – she's mentioned some parts of the hammock. Matt – she wanted to tell me but Cam was right there. Blue – he was like your best bet is to team up with Felicia, Cirie, Cory and make a five person alliance to take out Jag, Matt and Bowie. Like these three have been masterminding this and making you feel like you hate Cory because they don't want Cory's blood on their hands. Matt – I don't get his pitches because does he not realize we all talk to each other. Blue – He was like if I were to stay you can bet on this I am going to eat one of them for lunch and I am going to make the other watch. I was like what?! Matt – what a weirdo! What a weird analogy. Jag – What the f**k! What a weird thing to say!? Cameron joins them and the conversation ends.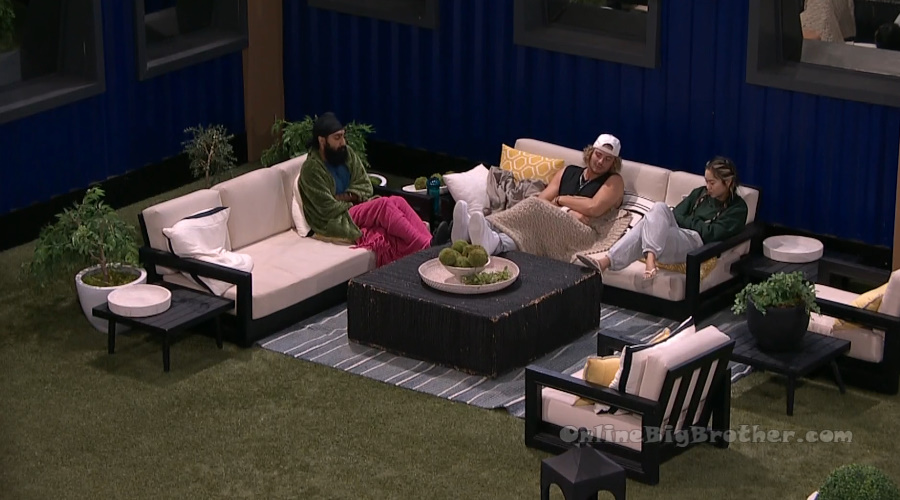 If you've enjoyed our updates this season and want to leave a tip you can do so through PayPal.
You don't even need a Paypal account to contribute. Any amount is greatly appreciated!