Quick Big Brother Spoilers
Head of Household: Bowie
Nominees: Cirie and Felicia
POV Players: Bowie, Felicia, Cirie, America, Matt and Jag. Host it Cory
POV Winner: Jag
Veto Ceremony: Jag used the power of Veto on Felicia. Cameron was the replacement.
Havenots: ?
Lock your ranks in before midnight
The Situation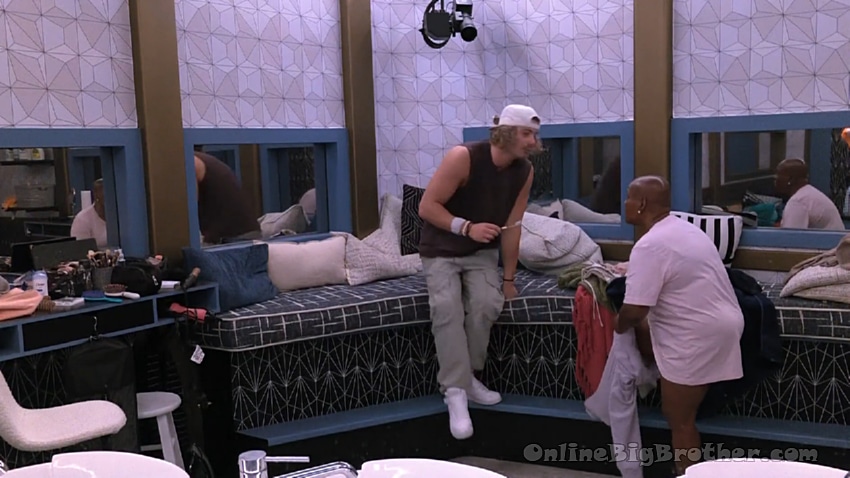 10:20 am Felicia and Matt
Felicia – I'm not trying to pit you against Jag I know you guys are a pair.
Fe – I think Cory is comfortable with not winning HOH. He thinks he's safe
Felicia is talking game to Matt but isn't wearing her microphone. Big Brother calls her out tells her to please put on her microphone
Fe – I'm getting clothes on C'mon
Feeds flip to Cameron. When we're back. Felicia is saying that Cory works through other people's wins to accomplish their goals.
Fe – that will be his speech at the end I never had to do anything. I convinced everyone else to do it. At the end I'll say even though I can appreciate that the fact you never did anything resonates with me and I can't give you that money. (LOL Here she goes)
Fe – Hopefully he doesn't make it that far.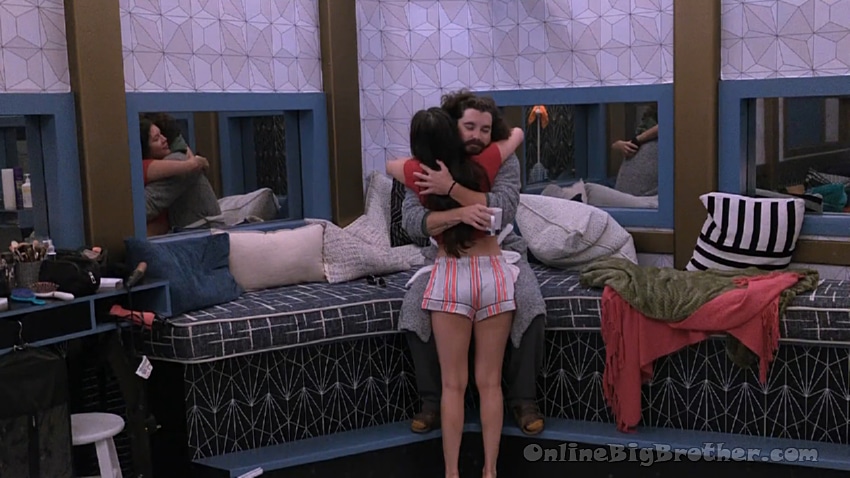 10:29 am Cameron and America
Cameron – I am sorry about yesterday. I got frustrated and I left and we should be able to talk things out as friends. I didn't mean to upset you and I'm sorry for that
America – it's alright, Thank you
Cam – I don't want you to be made. Everything that has happened up to this point has been a really rough road for all of us. I know you and I have talked about how tuf it is to separate game and Feelings. I hope from now on it'll be good personal stuff. The game is really really hard.
Cam – I am honored to play this game with someone that is such a big fan of this game. I hope I did you proud playing the way I played as a fan. That's all I got.
America – I think you're cool.. we're cool
Cam – I think you're cool and I can't wait to be friends out here. I have one request. Please don't give me a shitty goodbye message.
America – Too late I practiced it all night.
America give him a hug. "were good, we're fine I went back and forth with you all f***ing season. It was HOT and COLD"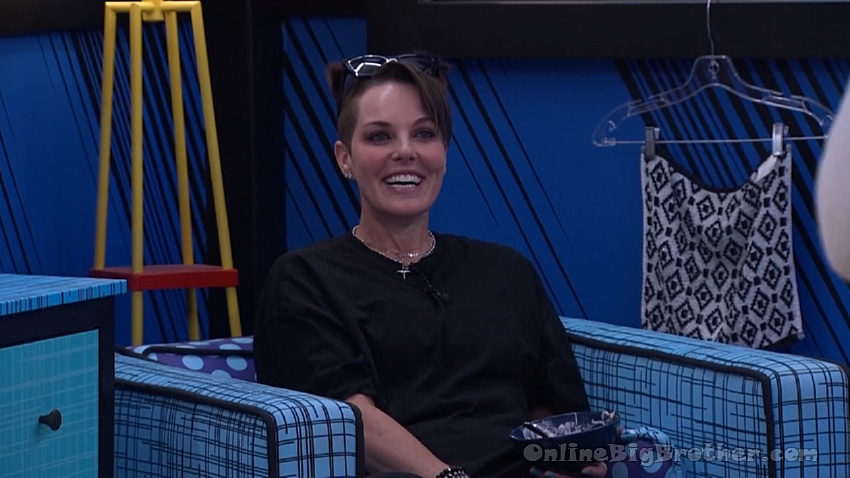 10:39 am Blowie is going around complaining about Cameron. Felicia jumps in says that Cameron thinks the fans will love him adds that she doesn't think Cam has no perception of himself"
Bowie laughs.
They continue shiting on Cameron about this or that. Bowie brings up Cameron wanting to be an actor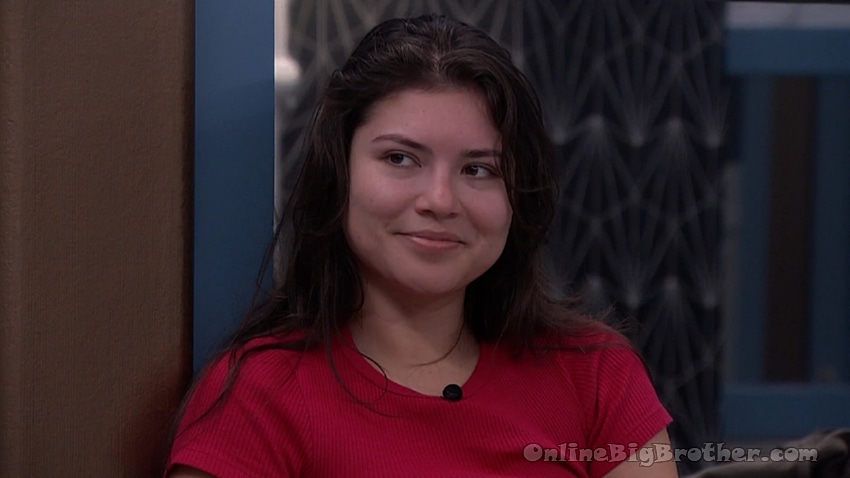 10:46 am America and Cameron
Cameron – Please don't send me Felicia first
America smiles "Too bad"
Cameron talks about going back to writing. Says he use to manage a newspaper. Brings up the song his writing with his daughter called "ROcket Ship"
Feeds flip to comic room chit chat. When we're back. Cameron is talking about winning 7 competitions, Admits he threw a few. America says she's thrown every single competition so far this season.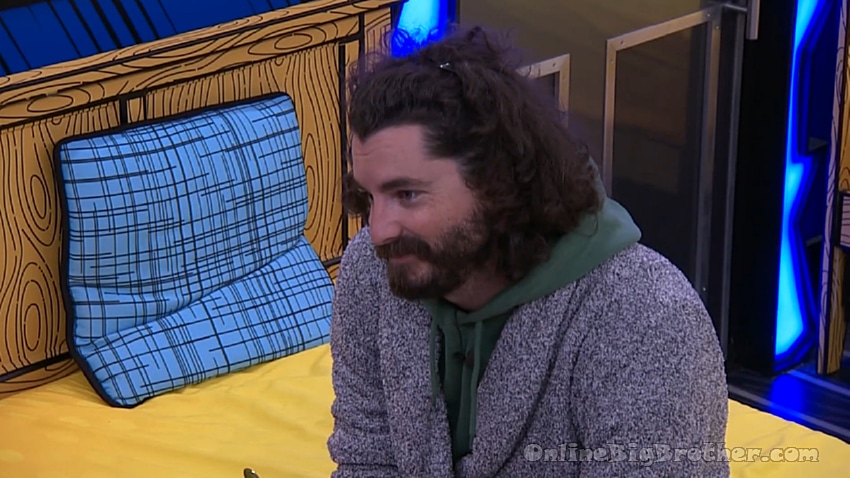 11:44 am Cameron and Matt
Cameron – Not once did I try to make an angle at you all I was so invested. You know how bad I wanted to get Cory out last week. I chose against it for us. Never once would I have made a move against Bowie ir the two of you EVER.
CAmeron – I want you all to know that. Now you know who is dangerous and how we missed an opportunity. But All three of you all and Blue you all are good. YOu can get his a$$.
Cameron – I love you guys it was so cool to be here.
Cameron – me staying is not going to happen. I would have to get Blue's vote and Bowie's.. Bowie ain't happening.
Cory joins them. Chitz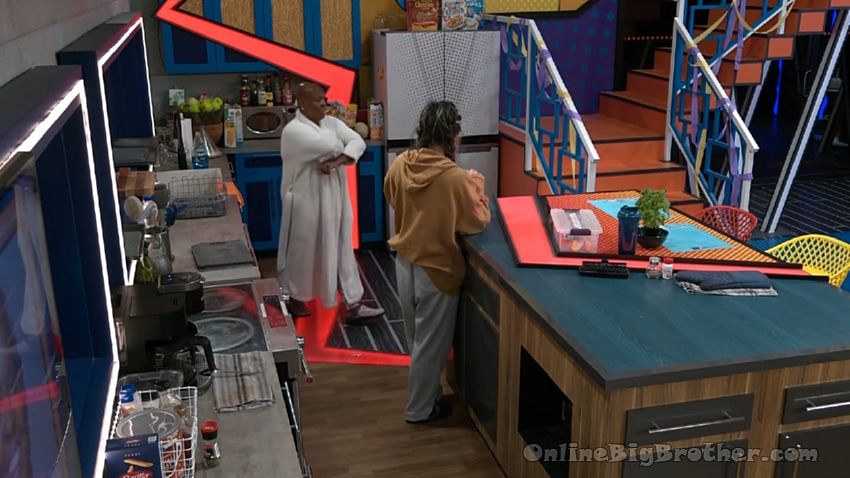 11:54 am Felicia and Blue
Felicia – I might not be Slip n Slide. It could be something else.
Blue – I don't think it will be slip and slide.
Felicia – For some reason I'm thinking it'll be something different this one was WET I don't see them doing two wet ones back to back (LOL)
Blue – that's true.. Yeah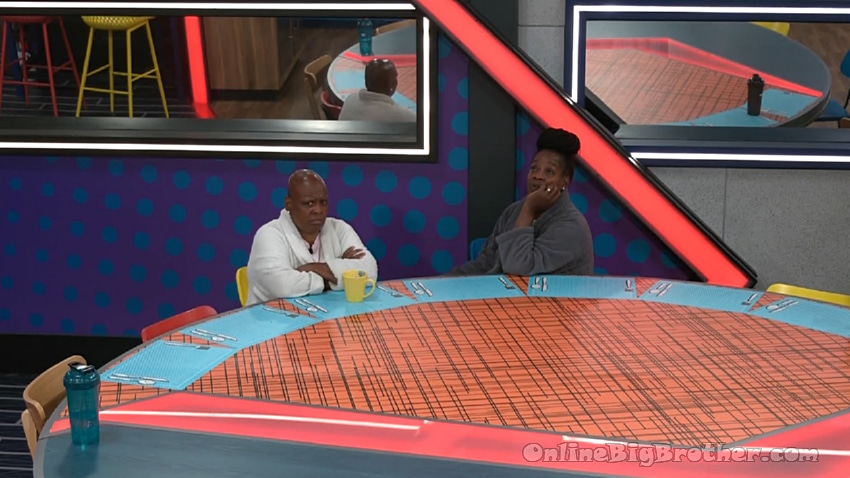 12:27 pm Felicia and Cirie
Talking about Matt and JAg thinking they will win the season.
They go back and forth about who will win Matt or Jag.
Cirie thinks Jag did more. he was the glue.
Felicia seems to be more pro Matt "He was in a couple alliances Jag weren't in. People liked him. People liked Jag but they didn't necessarily trust Jag. People Liked Matt and Trusted matt"
Fe – what made Jag decide to get rid of MEME. They did have a connection
Cirie – I forgot… let me think…
Cirie says it was because Felicia told Jag he had his vote in the Jury but Meme never said that. Plus there was a worry MEME would have a better chance to win HOH than Felicia.
Cirie says matt and Jag begged Cameron to not take out Cory. Cory was their ally MEME wasn't.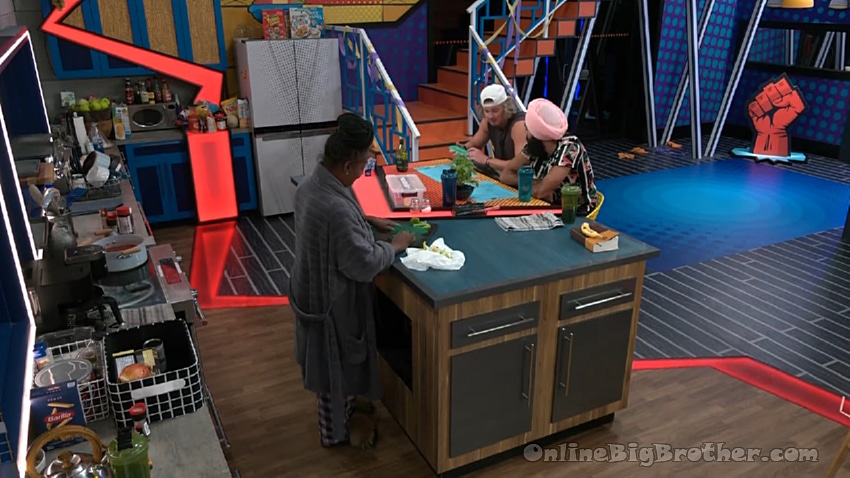 2:00 pm chits chats.
Matt wants two pet ducks. Cirie says that would be a girls magnet.
3:29 pm Bowie and America are dressing Cory up.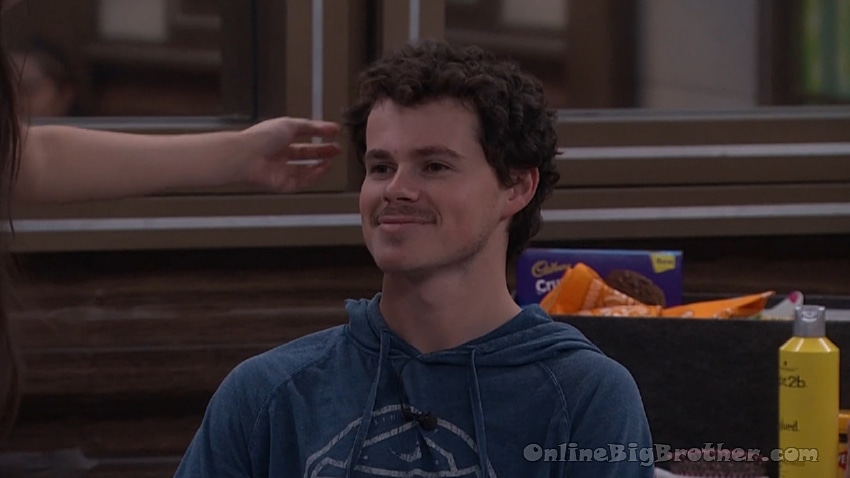 4:13 pm Good lord
4:25 pm Jag, Bowie and Cory
They talk about Cirie wanting Blue out. Jag says going from his conversations with Cirie last night he thinks that's her plan. Cory agrees.
Jag says Matt is down for HOH he'll go for Safety so she (Blue) doesn't get it. (Assuming it's slip n slide with a tier of prizes. Money, Safety, HOH.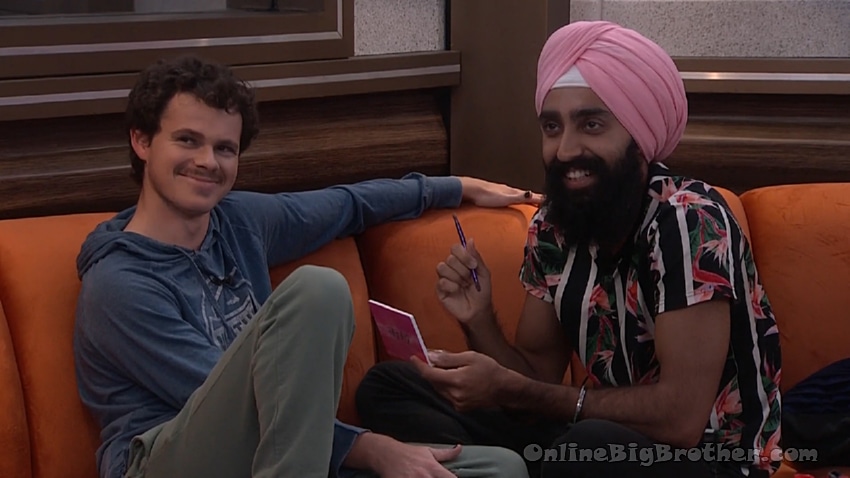 Cameron joins them everyone laughing at Cory

4:50 pm Fierce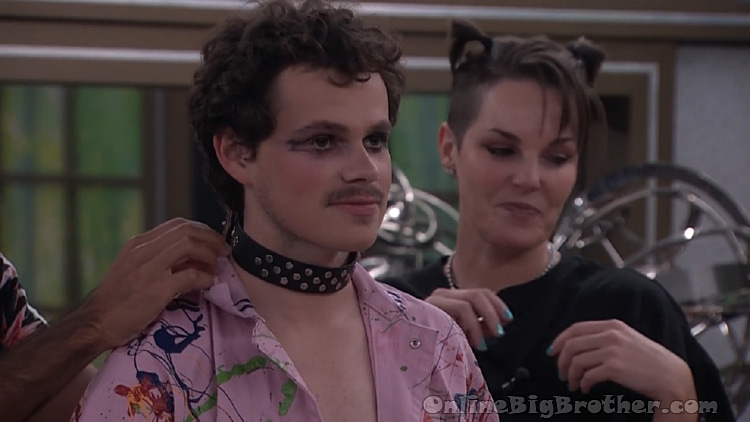 5:00 pm
Cory – I look like a dog
America – I like no collar.. There's not a lot of neck to begin with.
They take the collar off.
America – You look like a rockstar.. A little Rock star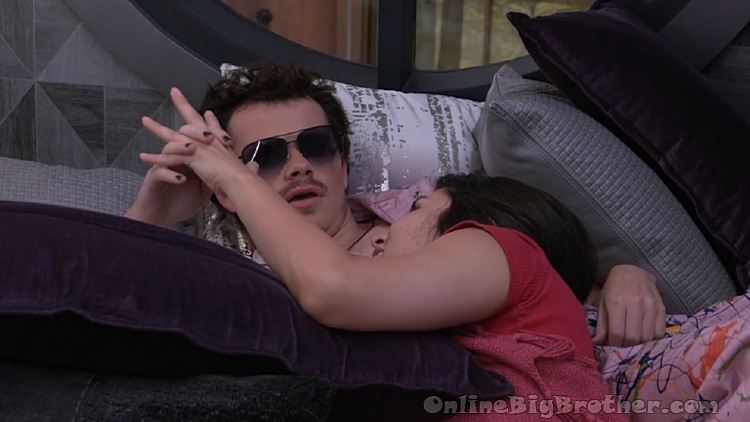 5:59 pm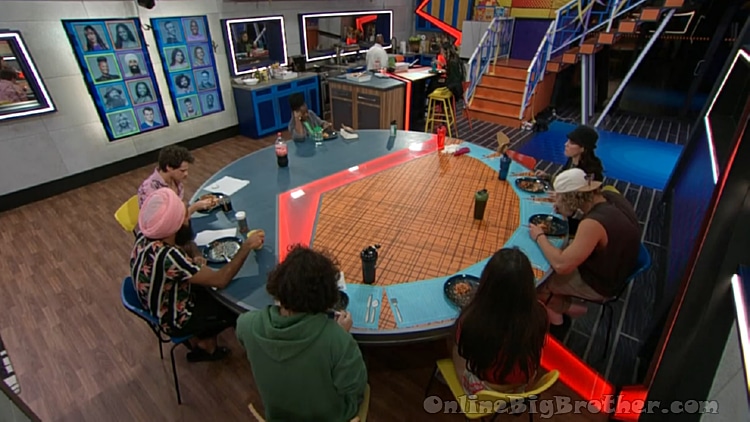 6:15 pm Eating Dinner. Matt has three plates.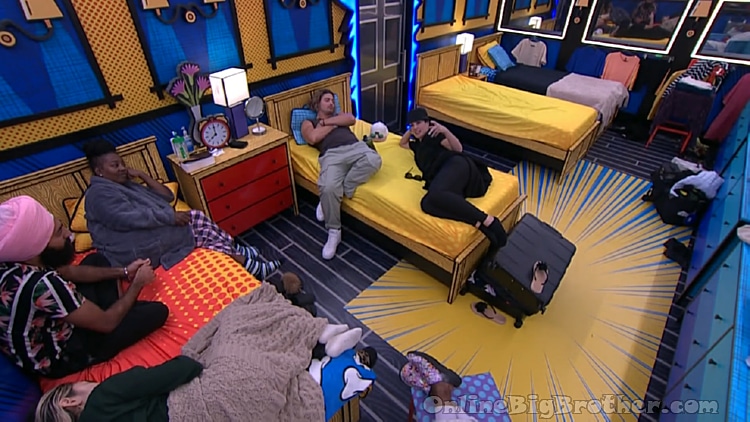 6:45 pm Chit chats about past BB seasons.
Please consider a donation to the site to keep the madness going.