Quick Big Brother Spoilers
Head of Household: Bowie
Nominees: Cirie and Felicia
POV Players: Bowie, Felicia, Cirie, America, Matt and Jag. Host it Cory
POV Winner: Jag
Veto Ceremony: Jag used the power of Veto on Felicia. Cameron was the replacement.
Havenots: ?
Lock your ranks in before midnight
The Situation Cam's going but he's trying to stay.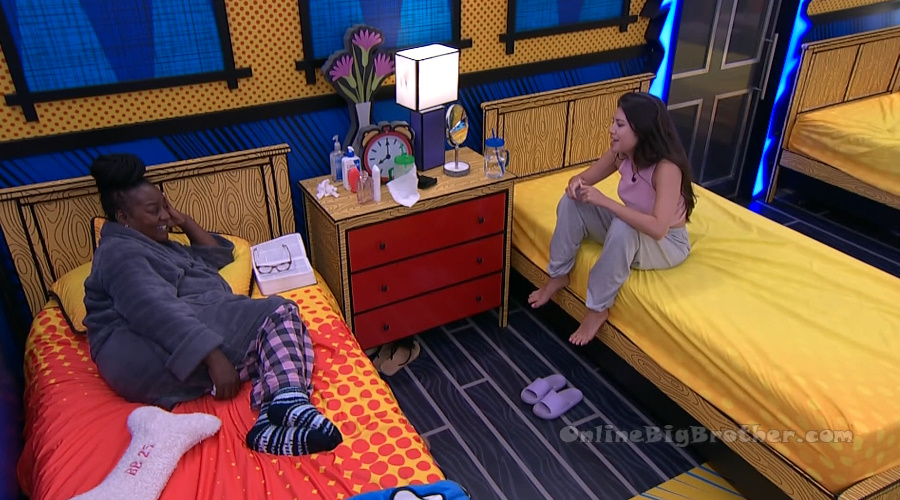 7:10pm Comic Bedroom – Cirie and America
America – I just want it to be bedtime already. Its one of those days. Tuesdays and Wednesdays are hard. Cirie – right after the backyard. Its the day after the backyard closes. That's the hardest. We're in this psychotic repetitive cycle. Just like literally that. America – well we've made it work for 70 days. Cirie – as long as we get wine, I don't give a sh*t. America – when we get wine I am like YES! I love it here! Clink! Cirie – even though you love it you're not tired. America – I'm exhausted. Cirie – okay good. America – okay good. And its like we're hanging out with same people every single day. We can rotate through the rooms as much as we want .. its the same people. Cirie – this is a lot. America – everything that I was talking to him about.. he was saying every single form of alliance that you can think of .. like he is said it. Like every group of people, he said it. Cirie – I don't know .. what is that tactic? Confusion? America – its weird. Cirie – it is weird and you see that its not working so just chill out. America – just stop. Cirie – and is it going to stop or is it going to ramp up tomorrow? I've heard enough, seen enough. What do you think you're going to make me do? You can't make me do anything. I am going to be cordial to you but I can't sit and listen to it anymore. America – has he talked to you? Well you're a nominee so he doesn't really have to. Cirie – Exactly he doesn't really feel the need. He tries to put fear in me though. He tries to put paranoia in me. We I ask when's the real conversations .. he laughs.. like that. That's why I know he's toying with me and I hate that. IF you toying with me.. let me get away from you before I curse you out. I think that's what he wants. I am not going to do it. Cory joins them. Cirie – I try to feel sorry for him but then he does crazy sh*t that makes me like, never mind. He is doctor Jekyll and Mr. Hyde. He is like I love all of ya'll, I don't know why ya'll think I'm a bad guy? Then a minute later.. okay I'm going to f**k you. Cory – he told me that he hasn't campaigned to anyone but me. America – That's a lie! Felicia and Matt join them. They guess who would get married first from the cast. Felicia thinks Jared will. Cirie – Na.. I think Jag. America – I don't want to get married. Cory – A month a go you said you wouldn't date. That's all I'm saying. Matt – you said you didn't want a boyfriend and now you have a boyfriend. Cirie – damn you fold easy! America – he's so smooth! He's so fly! Matt – its time to get married. Cory – if I asked her on the live finale I am convinced out of the pressure of the moment she would say yes and then it would never happen. America – it wouldn't, I am not going to say yes.
8:20pm Bedroom – Cory and America
Cory – When I talked to Felicia I was like look there is one person that has been targeting me and has also been targeting you. That makes sense to me and obviously going down the line there are people you're close to and I trust them. I think I've proved myself to be able to make big moves and I know you have too but its so scary to even mention it. She said you can actually trust me and I was like okay. I am not worried about Felicia talking to Matt and Jag because who cares. Blue is pushing Felicia. If Blue wins HOH, Felicia is going to run to Blue and I was basically like Felicia we need to stick together no matter what. If Blue wins we target Bowie. If Matt or Jag win we target Blue. Like we can figure this thing out as long as you, Cirie and America are actually united. She was like of course. America – don't start making another four. Its going to blow up. Cory – I didn't make this thing, this was Cirie talking to me and its not a thing. America – okay. Cory – Cirie keeps talking about you only need 3 votes. There are four of us and with one of us on the block we could be safe no matter what. I actually believe that because they want to get rid of Matt, Jag and Bowie as much as us. The problem is how do we end up on the block with one of them and not each other. I have no idea. America – I talked to Blue for an hour/hour and a half. She said that she is good with you. She said this Cam stuff got in the way but .. I don't believe her. I do feel like she would put us both up. Cory – we'll see. America – I am gaining weight like crazy and its making me depressed. Cory – do you want to bike right now? America – its late.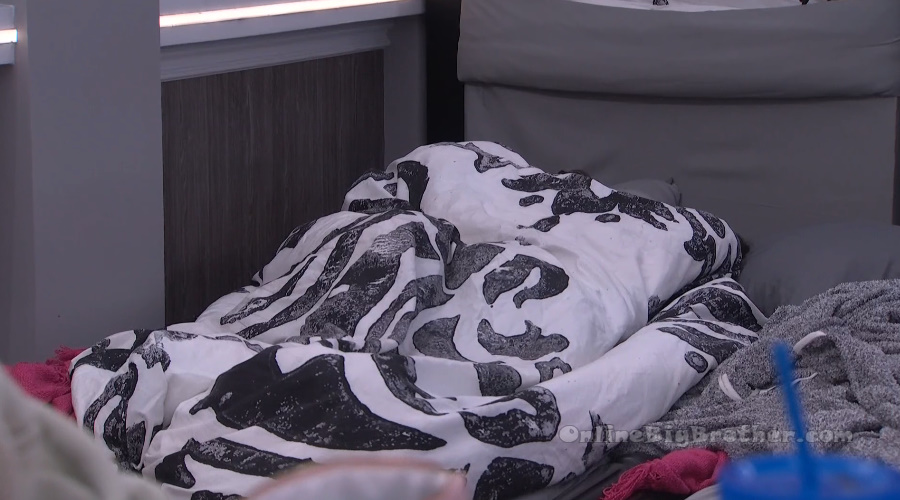 8:47pm – 9pm Kitchen – Felicia and Cirie.
Felicia – you or me might win it (HOH). Cirie – if we win it, what are we doing? Felicia – that's what we have to figure out what side we're aligning with .. which is our better move? We could put up .. to keep everyone happy we could put up Bowie Jane. Bowie Jane is worried. She said are we okay? And I was like oh yeah you're fine. I said I don't think they're as tight with Blue as they used to be.. they'll put her yup. Cirie – girl, they lying to everybody. They're the ones that need to go up. Felicia – they really do. Cirie – and everybody will jump on board. Felicia – I would put up one of them. Cirie – you have to put up both of them.. if one of them wins the veto then you got both of then here looking at you. Even if one of them goes its a significant edge. Felicia – now with one of them gone now they have to run to somebody here. There you go! That's really the way it has to go. Its a hot damn mess. Can you imagine one of us wins HOH and we have that on our resume that we took out Matt or Jag? Cirie – I ain't scared because they're coming for us anyway. We're just biding our time. I would do it! I don't give a f**k! What's the worst that could happen?! One of them here? Because they're still going to be a bigger target than us.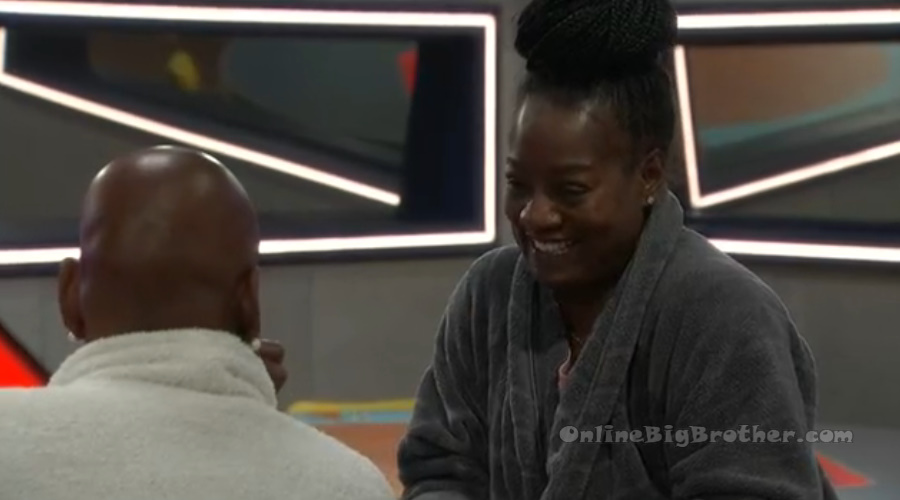 9:54pm Comic Bedroom – Cirie & Felicia
Felicia and Cirie are trying to think of the longest words they can think of.. misrepresentation, biodegradability's, etc. Cirie start studying the Clorox wipes tub for words. Cirie – how about this one – Unrecognizable?
Meanwhile the others are in the games room playing bumper pool, etc.

10:10pm Bowie challenges Cory to a game of chess.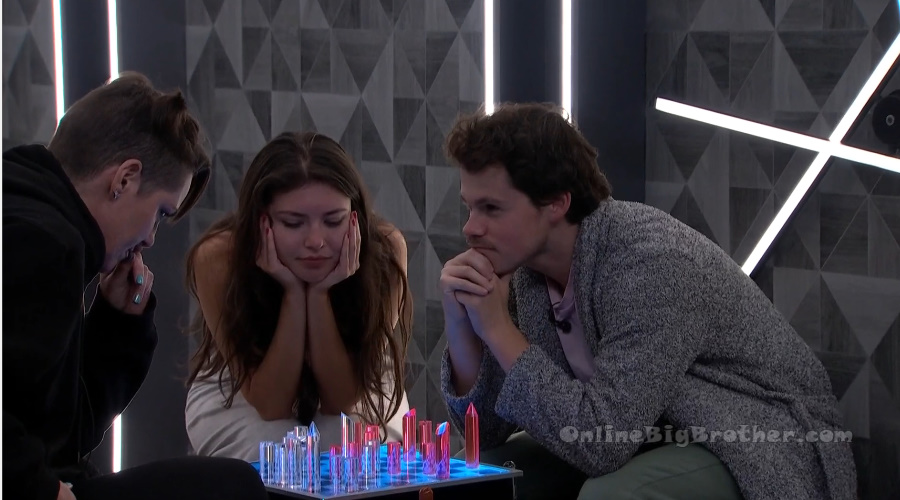 10:17pm Comic Bedroom – Matt and Felicia
Felicia – So I am hearing a couple different things. I am hearing Cory. I am hearing Blue. Matt – you're putting one of those ones up? Felicia – that's what I am hearing. Matt – I think Cam wants to freak me out. He said the whole house is turning on me. For what though? You know what I mean? Felicia – he's lying. Matt – he was like better win or you're going to be next in jury. But its like I haven't betrayed anyone but I do see your point. I've been hearing the same .. those two (Cory and Blue). What's hard at this point is everyone wants to tell people what they want to hear. If Blue were to go put people would put Jag up. Felicia – who does Jag want to put up? Matt – I think he would go for.. Either Blue or America.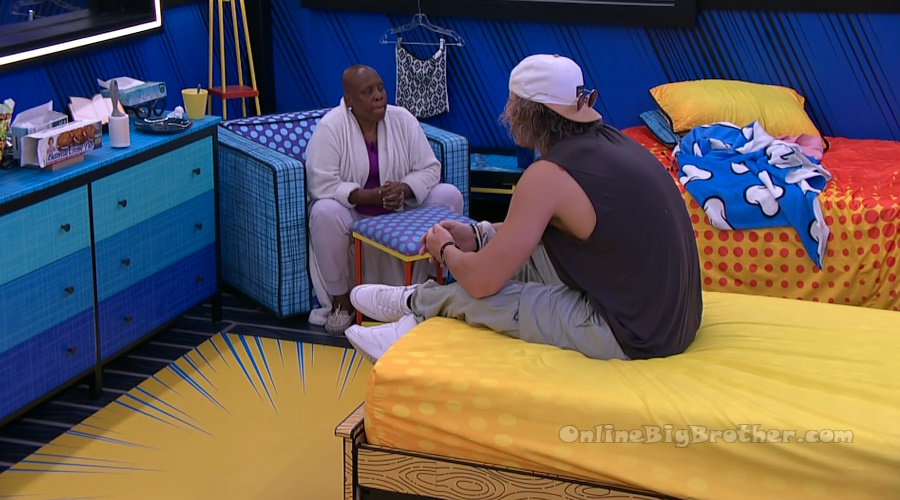 11pm – 12am HOH room – Bowie and Cameron
Cameron – The thing is I am still so very very confused. I am not campaigning .. I get it. I understand but I absolutely cannot understand why because I cannot tell you how invested in the four I was. And I know you have heard things… I don't know what things you've heard and I don't know how to justify. Bowie – well even that morning when you came to me and said there must be some truth in the Meme thing and I was like do you not trust me? Cam – well I was talking directly to you. It wasn't like I was going around. Bowie – I was like wait!? Cam – I was really confused. You were so starkly against the Cory thing. Bowie – it was just way too much blood like.. Cam – I know. Cam – I just wish we could have talked about it and I gave ya'll the opportunity to tell me what was going on. We could have had a conversation about it. Cam – I wish you could have told me what was happening. Cam – its not like he had any obligations to Cirie and Felicia. It was a move for me so I didn't understand why. And I still don't understand why. Bowie – I feel very worried talking because you're all around the house. Cam – I've got nothing. Ya'll got the votes. I have no way out of this. I am here literally just to talk to you. Bowie – Coupled with the what I had heard about my name being used as a pawn for next week. Cam – wait what? A pawn? Why would I pawn you? Bowie – if you were to be put up you were suggesting I be put up with you. Cam – absolutely not.. oh my god you're serious!? Why would I want you up as a pawn next to me!? Bowie – because then you figured you would win veto and then whatever happens with me happens. Cam – no that would be in a worst case scenario who would I sit next to … who would one of them sit me next to come after me and worst case scenario would be you. Of course Matt and Jag sitting next to each other would be awful for all four of us. You sitting next to me would have the absolute worst case. Bowie – and there were other things. Cam – this is really eye opening. Bowie – well you've been talking around the house. Cam – now. ..after I was put on the block by the one person I never would have done anything to. Why would I offer you a final two. Bowie – you didn't offer anyone else a final two? Cam – absolutely not. Who would I offer a final two to? Bowie – I don't know. Cam – of course I had Red.. that was my final two. Bowie – I know final threes and this and that. Cam – I haven't offered a single thing to anyone. Who could I have offered a final two to? I didn't have the ability to offer anything to. Bowie – I was excited to work with you to be honest. Cam – I was 100% in that. Bowie – well I just didn't think it was real. Cam – this has happened to me my entire game. Bowie – well is that because you were talking? Cam – this is a blindside to me. Bowie – come on.. when you walked out of the room you said if that's how its going to be. Cam – a blindside to me is my own alliance putting me on the block. That is a blindside. Bowie – I was just going off little bits ..there were heaps of information. Cam – tell them? Bowie – not that you've been all around the house today. Cam – I had nothing to lose .. but before that I didn't say a word. I wish it all could have gone down a lot differently. I still don't know what you were told about me. Its not the first time it has happened to me. When I came back I was completely in it. Bowie – the Cory thing was push push push .. I would have been out next week if I had done that. Cam – by who? You not only would not have had blood on your hands.. you would have been a hero. America wouldn't have wanted you, she would have wanted me because she would have know I talked you into it.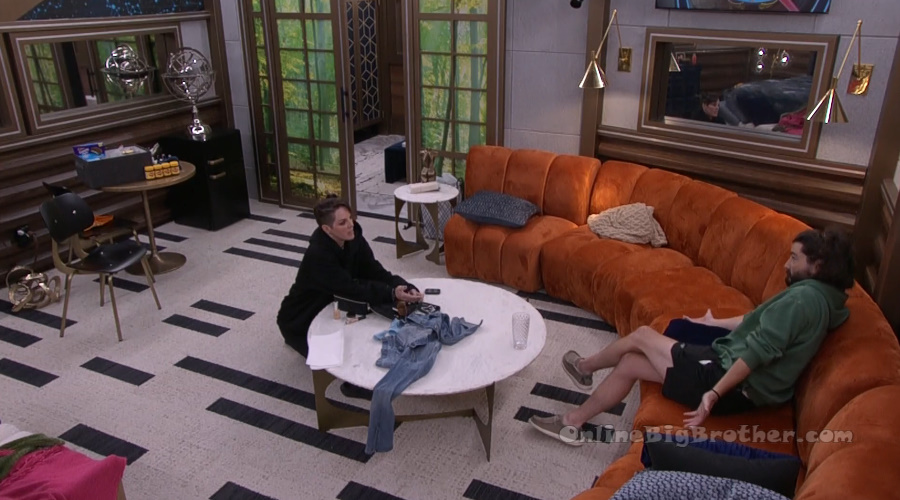 1:40am
The house guests are sleeping..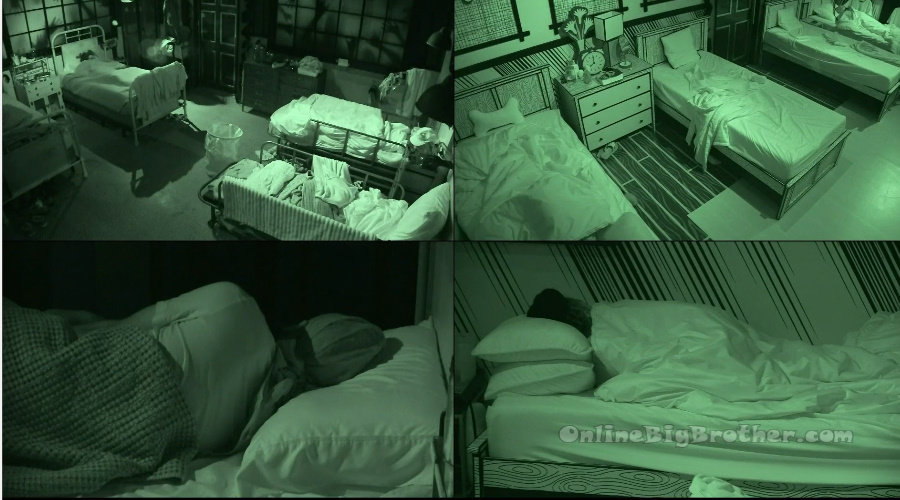 If you've enjoyed our updates this season and want to leave a tip you can do so through PayPal.
You don't even need a Paypal account to contribute. Any amount is greatly appreciated!