Quick Big Brother Spoilers
INVISIBLE Head of Household: Jag
Nominees:
POV Players:
POV Winner:
Veto Ceremony:
Havenots: ?
Lock your ranks in before midnight
The Situation: Jag won the invisible HOH. (He also gets to play next week for next weeks HOH.) He wants Blue out this week with plans to nominate Felicia and Blue.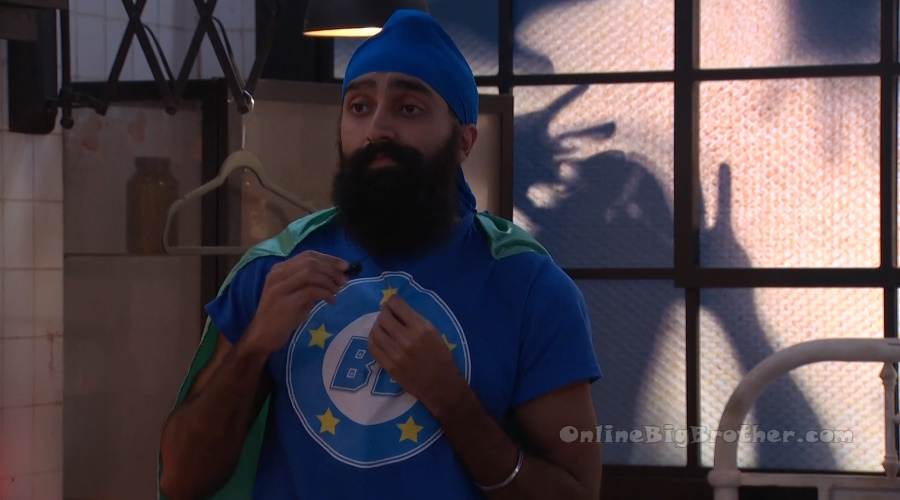 9:20am The house guests are super tired after the very late HOH comp. Jag is getting dressed in his Comp costume for his upcoming diary room sessions.
9:36pm Comic Bedroom – Felicia and Cirie
Felicia – if Matt or Jag are not on that board (nominated), then we know that one of them has the thing (invisible HOH). If Jag is not up there, then you know he has it. If Matt is not up there he had it. If Cory ain't up there, then you know he had it. Cirie – That's too many assumptions. Blue was on the outside. Cory and them were already talking to Blue so it could be Blue that put up Matt or Jag. Cory and them are already thinking of me and you because we the non threats. Whoever has it has so many options to be able to diffuse it wasn't me.. that would be too obvious. Cory could be going it wasn't me. Matt and Jag could be like really you think I would be that obvious. Felicia – so they're going to put up Matt and Jag or they're going to put up me or you and deflect. Cirie – time is too short to deflect right now especially with them like this (at each other). Its going to be stupid for them to waste an opportunity. This is the only opportunity they got to hide. If they don't take it now, when are they going to take it. They looking at each other like this.. they have to take it now. They have to take it now. They ain't got no more opportunities. Its 3 weeks after today. Are you going to look them in the face and put them up or are you going to put them up while you got it. Felicia – right and say it wasn't me.. because everyone is going to say it wasn't me. Cirie – if I wait the next 3 weeks I have to look at you. This is their only opportunity, do you think they're going to let it go?! Felicia – we gonna see. Cirie – they're dumb but they ain't that dumb. It could be a Cory and Blue. It could be Cory and Jag. It could be Matt and Blue.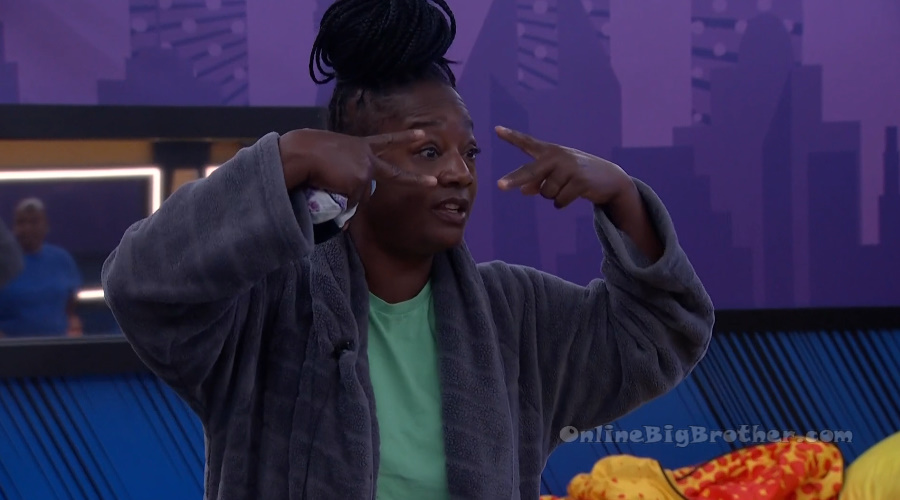 9:50am Bathroom – Cory and Blue.
Cory – the whole design of this twist is to make a big move. Whoever is nominated .. like we talked about how it will be obvious but I don't know if it will be. Blue – I don't think it will be. I think that is what people want to think because they're f**king all detectives and investigators in this god damn house but its not going to be obvious. Cory – like bat sh*t noms like Felicia and what?! Its funny because everyone went to bed except for the HOH thinking it was them. Its no way it was me or America you know what I mean? I think if you were going to go the safe route it would be Cirie and Felicia… then there is Bowie too. Blue – I think me and Bowie is the safe route. I think Cirie and Felicia is way too safe. Cory – I mean .. I don't know .. who would make those noms. If everyone feels good about those noms .. if you were going to go safe. You would go the two people that you don't have as much of a relationship with. You know what I mean!? If you're going to take a swing. Take a swing. There is no middle ground. Blue – yeah I hope so. I know everyone is freaking out. At least everyone seems to be freaking out.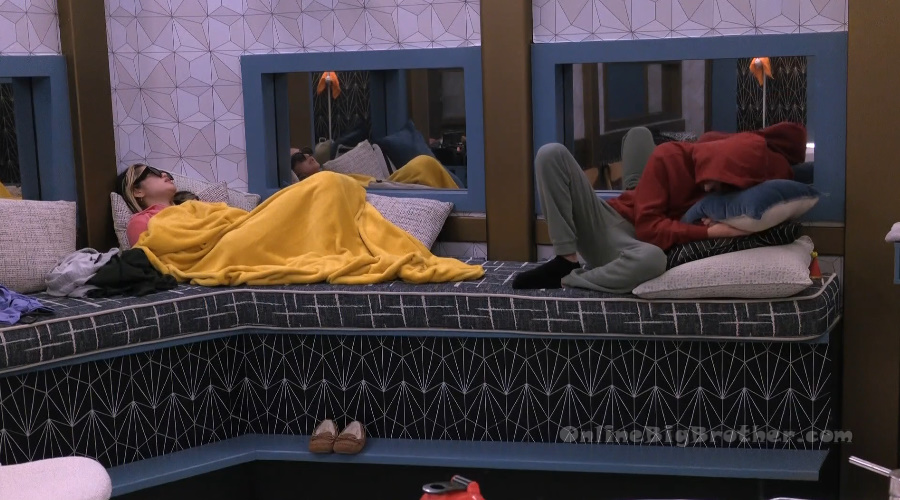 10am Storage room – America and Cirie.
Cirie – I believe it wasn't you. I promise you it was not me. America – I know it was fast. I thought we were good and now this is just a free shot. Cirie – we will see from whoever is on the board. I think its going to be me and Cory. I do because there is no other reason for people not to tell us. We talked about it yesterday.. like there was a plan. The plan is already changing. Cirie – f**k hopefully its not both of ya'll. If its not both of ya'll then its doable. If its both of ya'll then we'll see what the veto sh*t is. That is the only other hope. America – I think its going to be both of us and they're going to blame it on Blue. Right!? Cirie – MOTHERF**KER! He (Jag) didn't even say what his time was. At least Matt came in and said what his time was. America – he said it was 9:09. Cirie – GIRL BYE! BYE!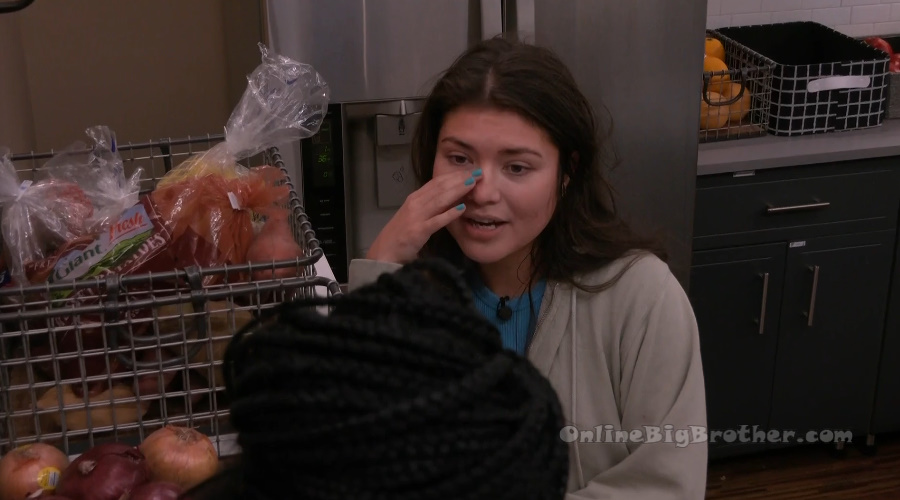 10:57pm Living room – Jag and Cory.
Cory – is it you? Jag smiles. Jag – I was trying to f**king find.. you're the first person I've told. I was trying to find Matt after my DR but he is all f**King everywhere so.. Cory – do you want to go to the humiliverse so that I can cry. I am going to go sh*t my pants. I'm going to go up there and sh*t my pants. Jag – bullsh*t. Should I put up Blue and Felicia.. is what I am thinking? Cory – that was going to be my noms. Jag – or should I put up .. or is it even worth it to do a backdoor? Cory – I don't think so .. if you put up Felicia and Blue they'll think it was me.. which is fine. I am going to be safe but I am going to have the backlash. I am going to deny it. They're going to think its me and we're going to move forward with next week. Cory – I was telling America, I think it is Blue because I trust Matt and Jag .. and also no one is going to get that f**king time other than Jag. I thought I did fine and I got 11 (minutes). Do you want to tell America? Jag – I am going to tell America. Do you think I should tell Bowie? Cory – I don't think there is a reason not to.
11am – 11:10am Bathroom – Matt, Cory, America and Jag.
Jag to America – did you talk to Blue? America – I did, she's denying it. Cory – I think Felicia won. America smiles. Matt – do you really? Jag – there is no way Felicia won. America – Cirie was like it took me 8 minutes to go up the ladder. Cory – I am getting heavy vibes its Cirie. Jag – there is no way its Cirie. Jag smiles at America. America – COCK A DOODLE ZOOM? Jag – COCK A DOODLE ZOOM I f**king pulled this one off baby!!!!! Cory – wait what? They hug. Cory – he told me on the couch 1 second ago. Jag to Matt – I wanted to tell you because you told me about yours (when Matt won the special power) but you were all over. (Jag told Matt last night) Jag – Do I put up Blue and Felicia. Matt – I am worried about the veto. Jag – I get to name the replacement. BB blocks the feeds. Cory – we can keep it a secret until noms are done and then whenever you tell her (Bowie).. like you just told me and America. I think she will believe you told Matt. That's fine. Jag – I am thinking that. If the noms are Felicia and Blue .. there's no reason why Cirie couldn't know. I am just worried about Felicia. Cory – I think it is better for all of us if know one knows. Matt – they will never be able to pin.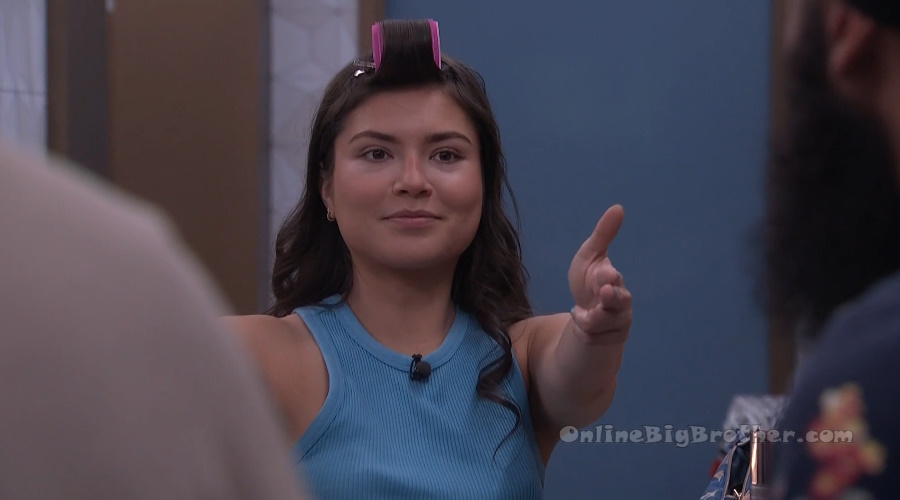 11:31am Bedroom – Jag and Bowie.
Jag tells Bowie that he won the invisible HOH. (So much for keeping it invisible, everyone but Blue/Cirie/Felicia know now.) Bowie hugs and congratulates him. Jag – I just told Matt and I just told you. I haven't told anyone else. Matt joins them. Jag – I am thinking of putting up Blue and Felicia or Cirie and Felicia.. if we want to backdoor Blue. Bowie – I wouldn't put up Cirie. Matt – I wouldn't put up Cirie but we can always save her. Jag – my gut is telling me I should tell Cory and America because I am not putting them up so they'll feel tight with us. Bowie – what about when you have to do a replacement. Jag – you're saying if Blue wins? And Cory or America go up then they automatically know its one of us anyway. There is no point in not telling them. Bowie – okay. Jag – the moment Blue is on the block they're going to know it was one of us.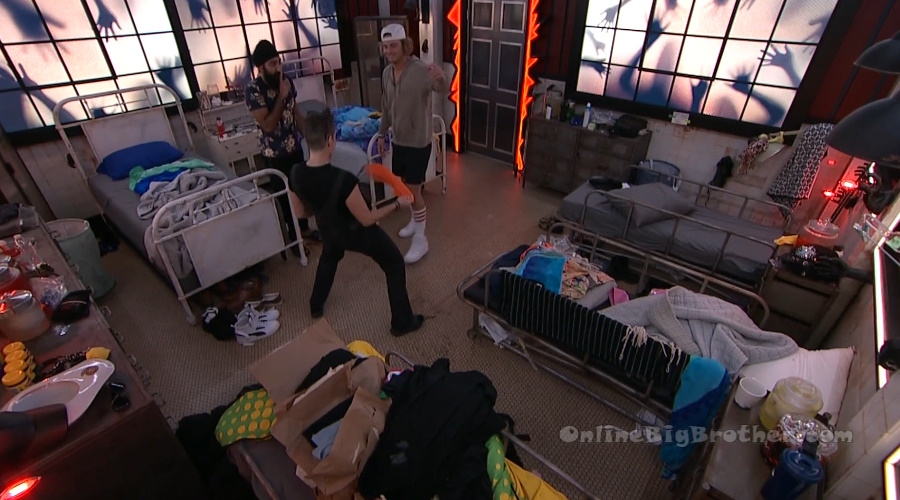 11:53am – 12:04pm Bedroom – Jag and Matt.
Matt – I think the best plan is Felicia and Cirie but makes it hard is telling Cirie. Jag – if its Cirie and Felicia and me .(in the veto).. and Blue plays. Its really going to be me versus Blue and the other two people because Cirie and Felicia aren't as good at vetos. But if its Blue next to Felicia, like Cirie is not going to get chosen so now suddenly its 5 vs 1. Cirie will be good no matter what. Noms will change. There is no world where Felicia beats me in the veto. That means Cirie will get take off the block no matter what. I think I should talk to Cirie and let her know. I'll tell her that you know and Cirie knows. Matt – tell her that you just told me right now. Jag – should I tell Cory and America that I told Bowie? Matt – the thing is once everyone knows that everyone knows they start talking about it. Jag – yeah.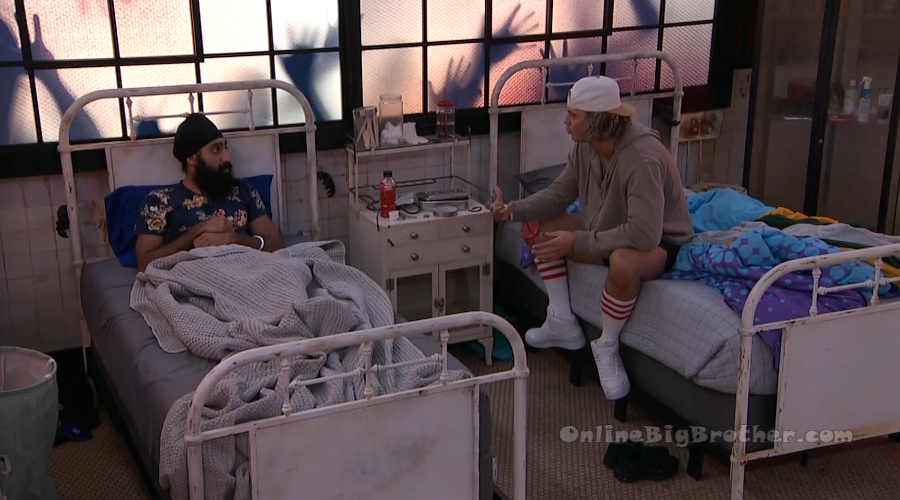 12:45pm Comic Bedroom – Felicia and Blue
Felicia – I do believe that it was Cory or Jag that won. I am watching their behavior. One of those two won. The pictures will be the tell all. I think they're going to do something stupid so that people won't be able to figure it out. I might be wrong but that's my gut. Blue – I think there is a weird world where you and I go up. Me because I am the target and you because you're the pawn. I am trying to learn to shut the f**k up. I am just trying to figure out who I can trust.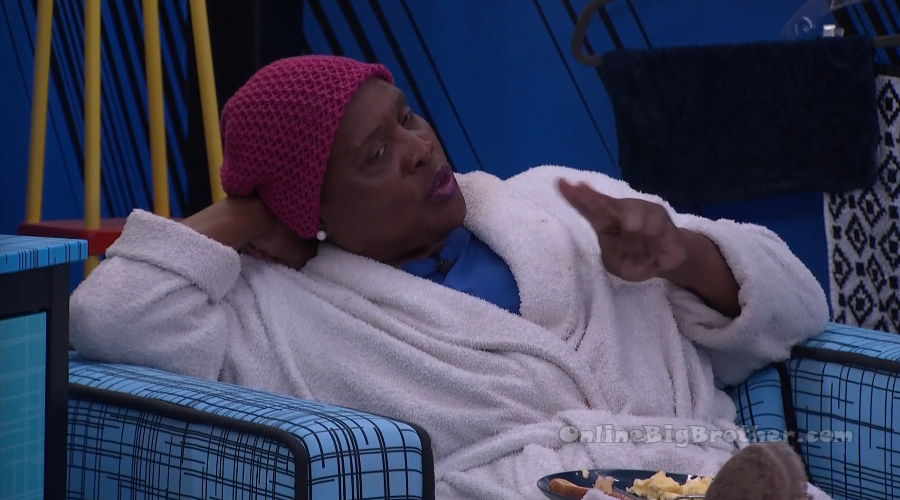 3:04pm Comic Bedroom – Cirie and Felicia.
Felicia – if you and I are on that wall I am going to say you got to be kidding me. They gave you this super power and you still put up me and Cirie? You could have done that sh*t without a super power so you wasted an opportunity. Cirie – DUMMIES! Felicia – I wish I had got it because I wouldn't have wasted this opportunity. Ya'll ain't even willing to play the game. Ya'll don't even deserver $750,000! Like I am going to be thinking about this for whoever hits those final two chairs because you don't take a super power like this and put up me and Cirie. Why do you guys keep playing us as your pawns because you're scared to show your hand. This ain't game play. Cirie – sure ain't! And I am going to look at everyone of them. Felicia – clearly you guys aren't the superfans you say your are because this some sh*t right here! They did this because they're trying to get the game to shift and ya'll still playing stupid. Cirie – yup! Yup! Felicia – all these damn unanimous votes and house meetings .. when is that sh*t going to stop! Felicia gets called to the diary room.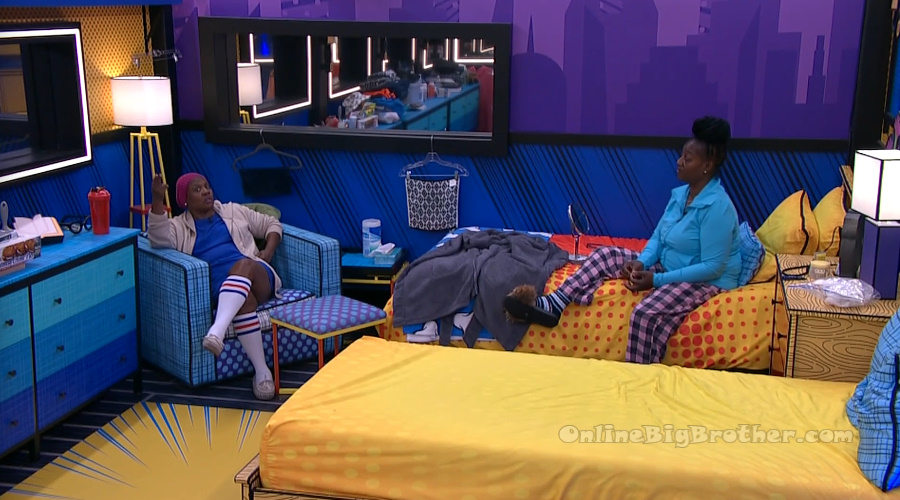 3:20pm Bathroom – Matt, Cory and America.
Cory – They were probably pissed that Jag won and he is telling people. Its going to be a boring week. Even though I am sure everyone loves Jag. Matt – I am sure people are loving this week no matter what. Cory – as a view I would be so mad if anyone told anybody. Matt – I know. I feel like its good that he is telling us because it means he trusts us. America – I was scared like why isn't anyone saying anything.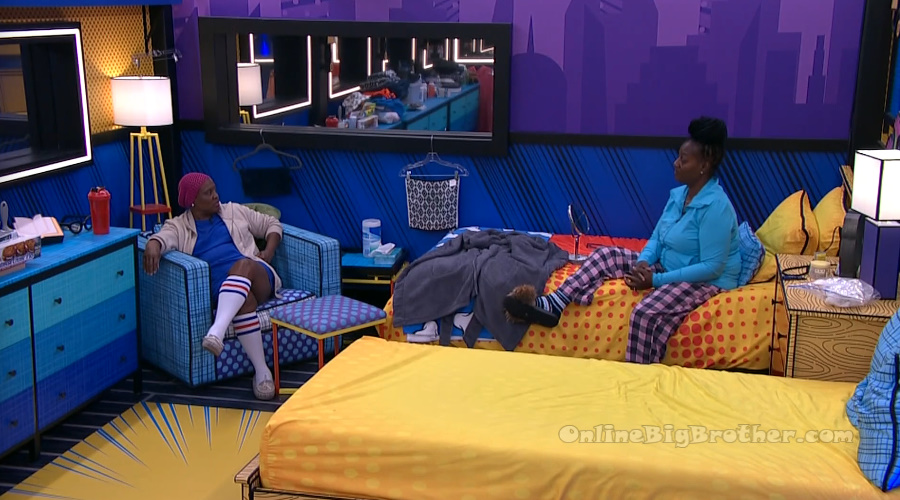 3:29pm The live feeds switch to the pound cams.. looks like the nomination ceremony is happening now..
What to leave a TIP? Any amount is greatly appreciated!
Tips go directly to pay the site costs associated with running this site.
Thank you in advance!