3:50pm Living room - Bruno brings up Brittnee and Johnny making out last night. Johnny says hey I had a lot of fun! Bruno says do what you got to do. Brittnee says we're friends! It was a friendly exchange of kisses. Don't have to worry about you getting weird on me! Johnny says NOPE! Johnny says you don't have to worry about getting poked. No awkward morning afters. Brittnee says I don't have to text you, you don't need to text me. They talk about Jordan trying to make out with Brittnee. Brittnee says he was close. Jordan says no if it was close it would have happened.
-Post has been updated-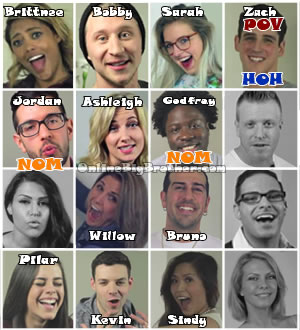 Big Brother Links
Bitchy Big Brother Blog
Big Brother attwx
Hamster Watch
Quirkydudes Archives
Big Brother Archive
Big Brother Gossip
OnlineBigBrother Forum
I Love Reality TV
Big Brother Junkies
The Reality Junkies
Big Brother Fans Blog
IHateBigBrother!
Big Brother 2009
Big Brother Network
Big Brother Insider
The Big Brother Forum
Because You're Addicted
yakkityyaks