-Post has been updated-
Recent Spoilers
-Post has been updated-
5pm The live feeds return from being blocked for the power of veto competition to take place. Cass says I feel like you're kind of at piece with it. Tim says maybe I am, maybe I want to win. Cass says you said you wanted it in your hands to help who you wanted to win. TIm says I'm not in that place yet. Cass says I think if you were standing up there you would do it. Tim says that was for live TV. Cass says I'm not ready to go. I'm not at piece with it. Tim asks then why didn't you win it. Cass says I tried! I almost had it. Phil grabbed it right out from under my face.
-Post has been updated--Post has been updated--Post has been updated--Post has been updated-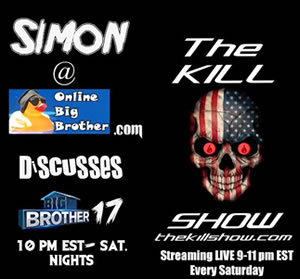 Simon from Onlinebigbrother on THE KILL show Saturdays @ 10pm
http://thekillshow.com
9-11pm
Big Brother Links
Bitchy Big Brother Blog
Big Brother attwx
Hamster Watch
Quirkydudes Archives
Big Brother Archive
Big Brother Gossip
OnlineBigBrother Forum
I Love Reality TV
Big Brother Junkies
IHateBigBrother!
Big Brother 2009
Big Brother Network
Big Brother Insider
The Big Brother Forum
yakkityyaks