-Post has been updated--Post has been updated-
12:40am In the bedroom - James says I knew that was going to get the tears going. Meg says I am going to look like the damsel in distress. James says well it makes me look like the knight in shinning armour. Shine my armour Squire! James says na, its no big deal, I wouldn't want you to go before me. Meg says I wouldn't want you to go before me. James says it's going to happen. It's going to be boring. James says I really shot myself in the foot. Everyone is too scared to pull the trigger on Austin and the twins. At this point I don't even care because they're going to do it to us. Meg says but you could tell she (Vanessa) was trying to say it too. She keep saying I'm open, I'm open. James says if they (Aus-twins) win HOH next week we're f**ked.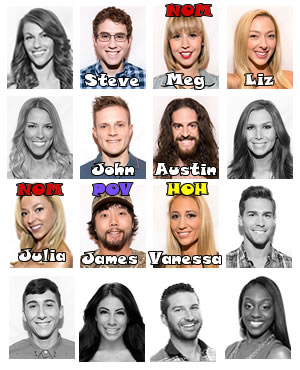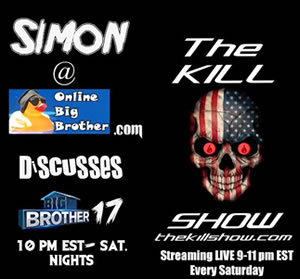 Simon from Onlinebigbrother on THE KILL show Saturdays @ 10pm
http://thekillshow.com
9-11pm
Big Brother Links
Bitchy Big Brother Blog
Big Brother attwx
Hamster Watch
Quirkydudes Archives
Big Brother Archive
Big Brother Gossip
OnlineBigBrother Forum
I Love Reality TV
Big Brother Junkies
IHateBigBrother!
Big Brother 2009
Big Brother Network
Big Brother Insider
The Big Brother Forum
yakkityyaks