Quick Big Brother Spoilers
Head of Household: Matt
Nominees: Cirie & Felicia
POV Players: Everyone
POV Winner: JAG
Veto Ceremony:
Havenots: No more havenots
Lock your ranks in before midnight
The Situation: Felicia is Matts target however Jag and Bowie may want Cirie out instead.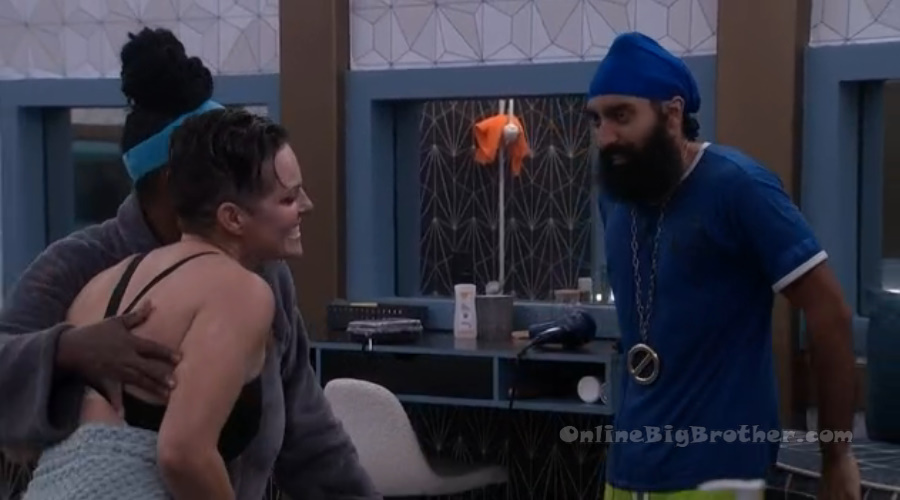 11:13am till 1:31pm The live feeds were blocked for the power of veto competition
JAG WON The Power Of Veto!!
Surprise Surprise!
Bathroom – Jag, Bowie and Matt.
Jag – Cirie was doing really well too. She was neck and neck with Bowie. Matt – my thing fell four or five times. Matt – that was the Halloween comp. Cirie – what did they call it. Felicia – Camp Veto. Cirie to Matt – I thought you were going to win it. I just wish I started the way I finished.
Bedroom – Jag and Bowie.
Bowie – now its got to be Cirie. She was good at that. Jag – she was, Mama Fe wasn't even close. Bowie – maybe you can lead the charge with that. Jag – we both might have to but I'll chat with Matt first a little but then maybe all of us can. I'll plant the seed. Bowie – yeah. Jag – see how open he is to it. Bowie – I feel like she could win a comp especially if there is no fitness. Like that one was really easy. Jag – yeah. That wasn't a physical comp, it was a stay calm. Bowie – yeah and she stayed calm.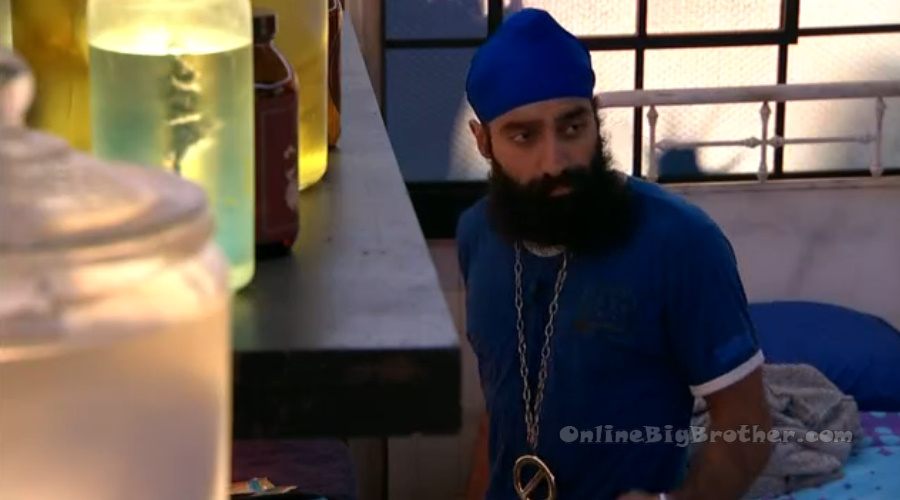 Bathroom – Matt and Felicia
Felicia – so what do you think? Matt – I don't know if he will use it. Maybe he will use it on you again and Bowie goes up. Either Cirie goes home or Bowie goes home. I'll talk to him to see if he will use it. We'll see .. obviously you guys have your talks with him too. Either way I think you'll be okay. Felicia – I just want you to be secure. I know you can't play HOH next week.. You are good. Matt – oh thank you. I appreciate it.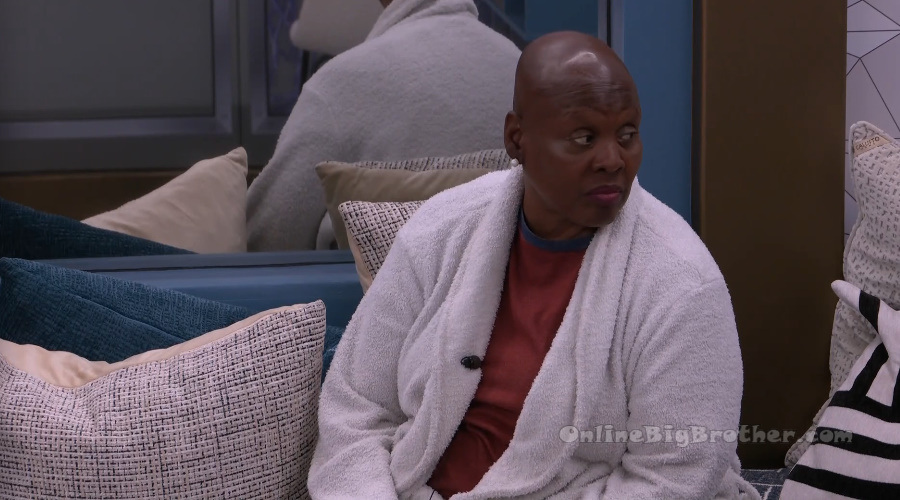 1:45pm Backyard Hot Tub – Matt and Cirie
Matt – No matter what you're good. Cirie – are you sure!? Matt – I promise you. Cirie – okay, alright. Matt – you're good. I refuse to let anything happen to you. Cirie – okay. I appreciate it. Jag feels the same way about me? Matt – oh yeah. You're good. No all of us do. No they will not. Don't worry. Don't you worry. Cirie – okay. I won't. Matt – it will be us four next week. Cirie – okay. I am just chill then. That one was fun a little bit.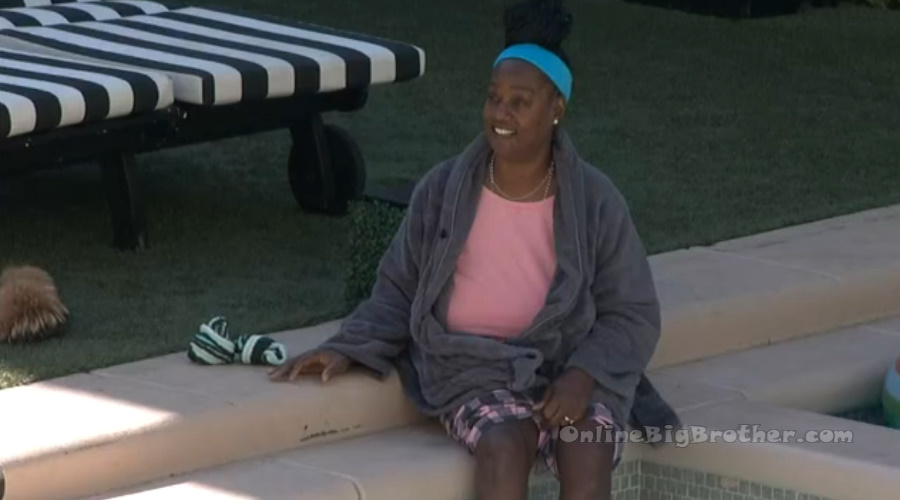 2:07pm Backyard Hot Tub – Matt, Cirie, Felicia and Jag
Matt – we started talking about Reilly and I started crying. I was wine drunk. As soon as Blue said something about Reilly I was like.. I started crying and then we all started crying. Felicia – you're excited for Finale night now HUH? Matt – yeah, yeah. Jag – that was even before you got the letter. Matt – yeah.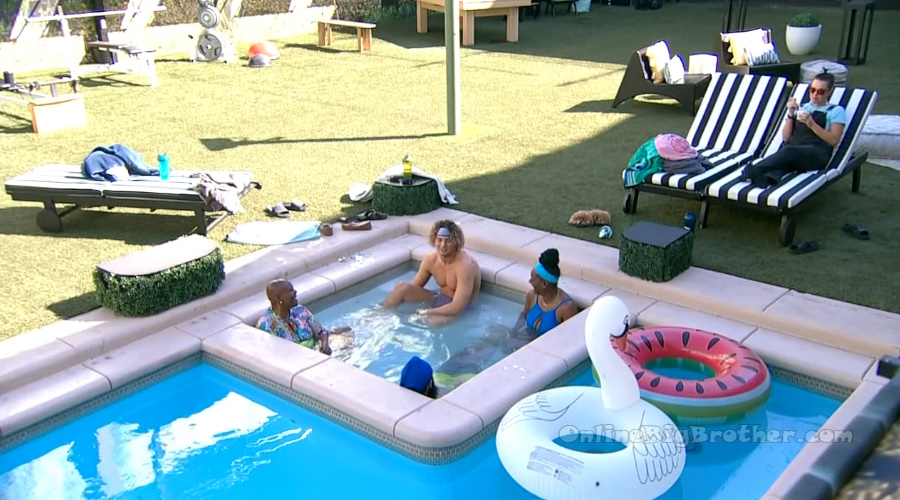 2:20pm Hot Tub – Cirie and Felicia
Cirie – what are you thinking. Felicia – Its questionable what they're going to do.. because they should be saying we did it. Final four. Cirie – MmmmHmmmm.. Felicia – they didn't say that.. because all he has to do is pull on person down and put Bowie Jane up and then we're final four. Bowie Jane joins them.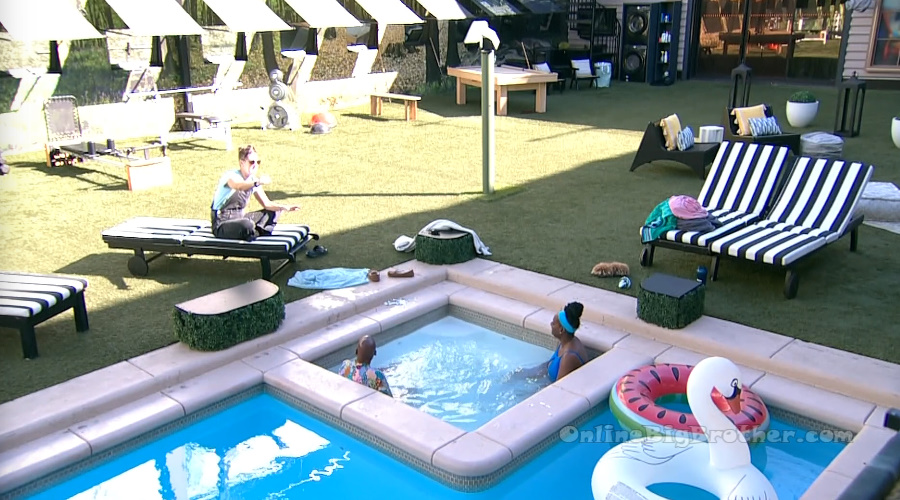 2:45pm Backyard – Felicia and Bowie
Felicia – so I will have to chat with you later Bowie Jane. Bowie – yeah let me know. Felicia – because… yeah here we go. Later, I'll wait till I take my shower. Just thinking about who you'll evict and who will stay. Its been a long road. Bowie – it sure has .. crazy! Felicia – crazy, crazy, crazy! Bowie – yeah well we'll chat after your shower.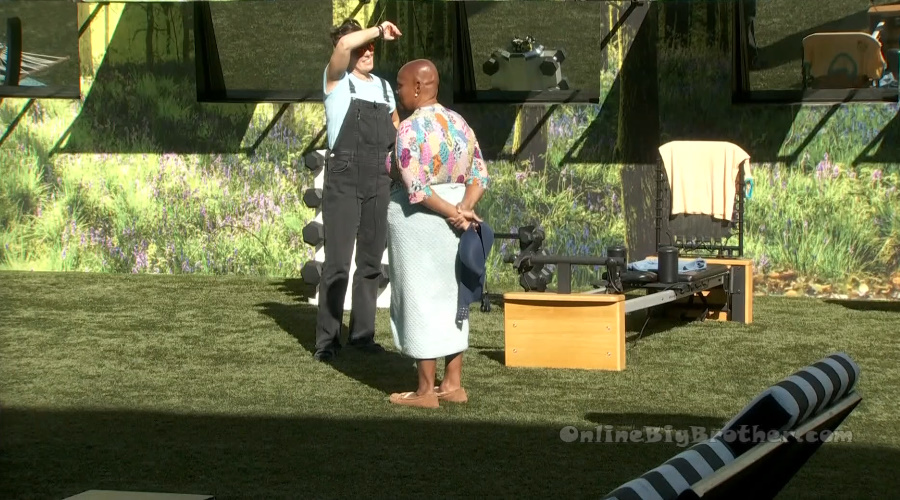 2:52pm Feeds cut to pound town..
3:20pm Still blocked..
3:59pm Still not back yet..
What to leave a TIP? Any amount is greatly appreciated!
Tips go directly to pay the site costs associated with running this site.
Thank you in advance!