Quick Big Brother Spoilers
Head of Household: Matt
Nominees:
POV Players:
POV Winner:
Veto Ceremony:
Havenots: No more havenots
Lock your ranks in before midnight
The Situation: Matt is putting Felicia and Cirie on the block with Felicia being the target.
1:30 am Jag and Matt preparing food for Cirie and Felicia.
Felicia – mmmmhmmmmm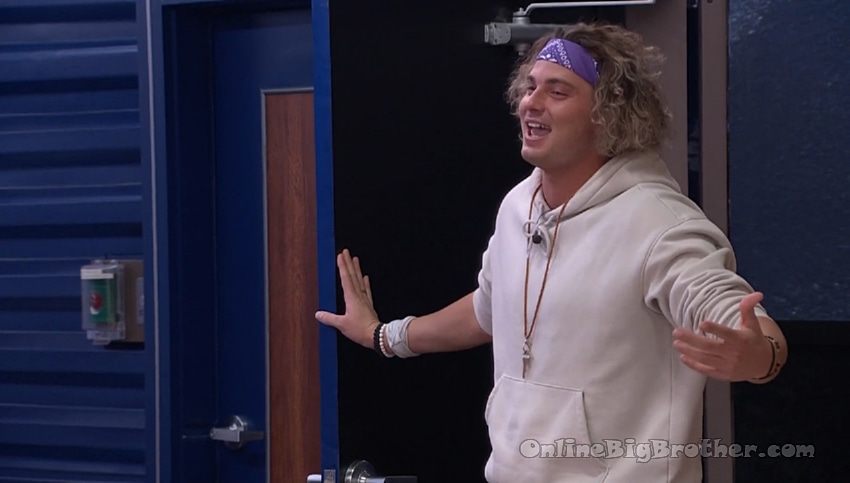 1:51 am Matt – who wants to see my HOH room.
Matt gets a letter from Reilly and a picture of Reilly with his mom.
Matt – that's Reilly with my mom
Matt and Jag high five and HUG.
Matt – that's REilly..
Matt is very happy. "ohh what that's wild.. lets go Reilly"
Matt – that's REilly.. I Guess I'm getting engaged.. she's proposing to me..
Matt holds the picture.. "that means something BRO.. to go see her"
Jag – if she went out of her way to see your MOM there is definitely something.. WOW
Jag jokes if Reilly goes on her knees to propose to him on Finale he's "Throwing up"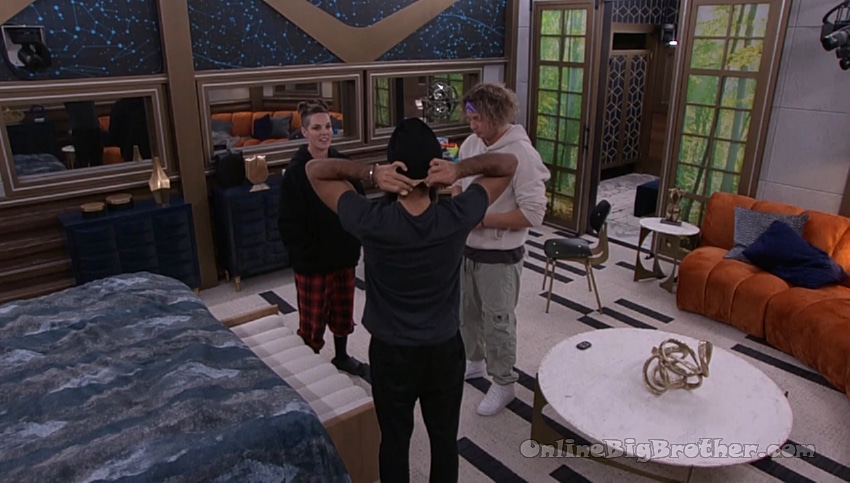 2:24 am Matt, Bowie and Jag
Matt is still smiling about Reilly.
Jag – two weeks left and you will see her.
Jag – this is a showmance but it really didn't start on the show.
Jag talks about when he won the first HOH they were up in the HOH Crying for Reilly.
Matt – Crying for Reilly
Jag – now it means something
Matt – I'm not getting carried away
Matt says "They" always wanted him to play up the Reilly thing "OKay I don't want to be creepy"
They go on about the first couple weeks in the game where Reilly got "Cooked" first then Jag but Jag came back.
Jag – Today has been THE best day of the entire season based on what has happened.
Bowie – everything went as planned.
Matt says the HOH they just played could have been America's HOH.
Matt – we're here for 100 days now aren't we?

Jag gets his hands on some treats from the HOH basket.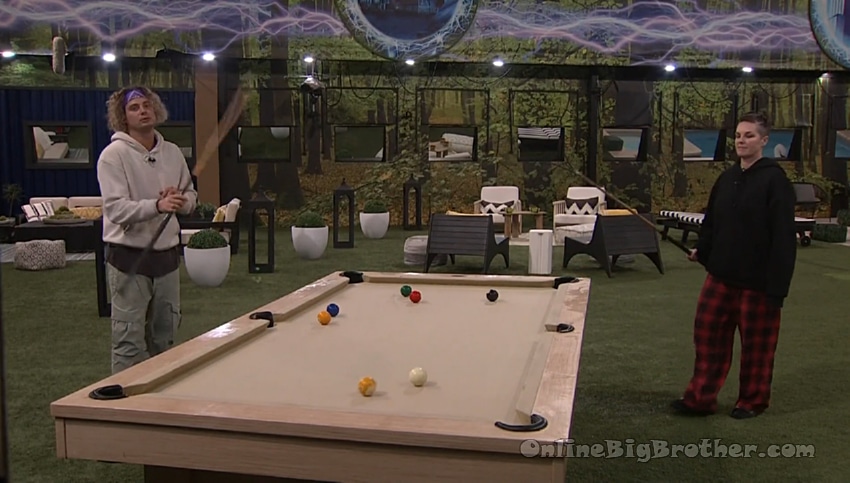 3:00 am Bowie, Matt and Jag
They're still going on about how perfect this night was winning all the competitions AND getting a letter/picture from Reilly. (Matt is a day away from planning the wedding)
They talk about tonight second HOH where the MOMMA were close to winning.
Jag – Momma FE was so salty.
Bowie – She was sitting on the sidelines MAD
Matt – we were saying love you MOMMA FE
Bowie – she was like NO YOU DON'T
Jag – in the kitchen she was like 'WHY was everyone coming after me'
Matt – it was equally distributed
Jag – it was two on two
They talk about how Felicia was saying they should rotate who is the pawn because she's sick of it.
Matt – remember when I hugged her "I love you MOMMA FE" and she said 'That's a FAKE A$$ hug'
Jag – whatever ..
Matt – She was like 'that's a fake a$$ hug..'
Matt – alright you're getting cooked.. here's a fake a$$ PAWN situation
Matt – we know the speeches will be Anti Jag and MAtt.
Bowie – Felicia will drag Cirie for votes.
They agree Felicia will need to votes from Jag.
Matt for the 50th time "Wow REilly sent me a letter"
Jag – Reilly sent you a letter man
Matt – she could have been in nashville doing whatever she wanted.. I'm glad I saw that.
Matt says they have 4 people against 1 in the veto, "If Cirie wins I'll beg her not to use it" (Fat chance)
Jag and Matt bring up how they wish Bowie was in their early alliance. They explain to her that they thought she was tight with Hisam.
Matt – I'm putting them both up I'll tell Cirie she's the pawn and will have to trust me. Felicia is going home she can't keep her mouth shut.
Jag mentions how Felicia told Blue she's leaving right before the vote "that was the one rule we had. "she was like don't be mad Jag"
Matt – she wanted you in trouble
They sh1t on Felicia a bit.
Talking about saving both their bottles of wine for Saturday. Bowie says Felicia told her she likes sweet wine and her is very dry.
They laugh about putting it into their water bottle and drinking it through the day. Bowie points out they might get wine from Big Brother to so they have 3 bottles.
Jag – I'm so happy
Matt – we can enjoy this week
Bowie – If America was here we couldn't be hanging out.
Jag gets called into the Diary room.
Bowie complains that all season every time she tried to play pool with someone the other people in the house will start rumours that she's in an alliance.
Bowie – Apparently it was Cameron then Red then apparently I was next because I was hanging around them playing pool… now I play as much pool as I want.
Bowie tells Matt if Cirie or Felicia had won that HOH Matt/Jag would have been on the block.
Matt – 100%
Matt – No matter what You are going to survive and Jag will survive even if you have to go up. There's always a chance of someone winning a veto and taking themselves down.
Matt – you know Cory and America will be trash talking us
Bowie – the whole house is going to be mad at us
Matt – they are going to be bitter
Bowie – very Bitter..
Bowie says the three of them need a name, "It's the only real thing and it doesn't have a name"
Bowie – sinking ships
matt – that's so bad though
Bowie – it's kinda dumb
Matt – firing squad..
Bowie – line drawers
Matt – drawing lines (LOL give up)
Matt – the line drawers..
Bowie – yeah.. nawww, I got nothing in my head.
Matt – we are the lifting squad too
Bowie – Remember on the bikes the movement.. Jag, you and me was the movement..
Matt – I want something about us drawing lines or taking shots.
Bowie says she's glad they started winning HOH's because for the longest time it was only Jag.
Matt now saying that Cirie wants some wine so he's saving some for her so she feels safe.
Bowie – Felicia will be greedy with the wine
Matt – you've seen them they were terrible.. her and America
Bowie – they literally shoved drinks into their pockets. They get the big glasses out..
They go on about how happy they are America is gone.
Bowie says the Jury is not pissed at Cirie/Felicia because they didn't do anything the jury will be pissed at the three of them, "Everyone hates" because they were the ones taking the shots. (Drawing the lines.. lol)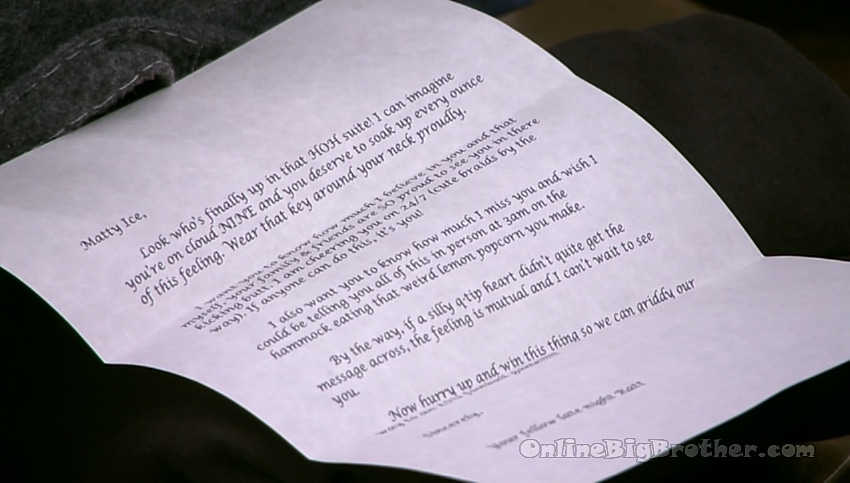 3:52 am Matt alone in the HOH. Camera gives us close up of Matt's HOH letter from Reilly
Matt listens to his Album mutters to himself "Lets go"
3:54 am Bowie's HOH pictures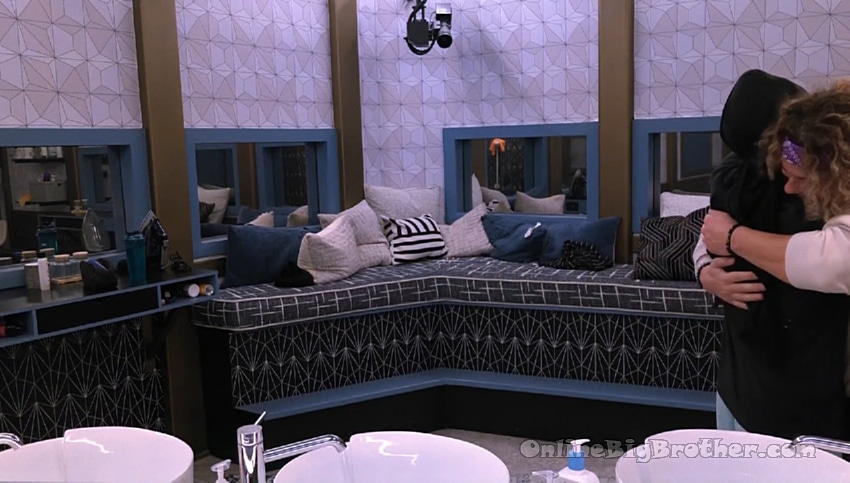 4:10 am Matt and Jag
Matt tells Jag about how awesome his Album is "Let's go"
Matt – I got called into the DR..
Jag hugs him "I'm so happy for you"
Matt – you're good.. All three of us BOOM..
Matt – I want to talk to you first in the morning I have to figure out what I am going to say to the MOMMAS. With Cirie I'll be like you have to be a Pawn. I'm sorry. Bowie did us a favour by not putting us up.
Matt – you have to go up don't worry you have four people playing in the veto not five.
4:23 am Felicia, Cirie, in bed. Matt still milling around.
4:29 am
Jag and Bowie chatting about the final 4 HOH. They're golden as long as Cirie doesn't win.
Bowie points out that Felicia isn't good at competitions under pressure whereas Cirie is good under pressure "She's use to running around a operating room"
Jag says they'll talk about it after they secure the veto.
They agree Cirie and Felicia are scheming
Jag – that's why I don't trust either of them.
They talk so much Big Brother turns on the lights. They cover their faces.
Bowie – they normally don't do that?
Jag – Don't Cory and America talk till 5am every day do they turn on the lights for that.
Lights turn off again.
they put their microphones on.
Jag – once we win the veto we can cook either one of them..
Lights go on again.
Bowie – Big BRother what's the problem can't we talk in the dark.
Jag – I'm confused people talk in the dark. WE're going to have to wake up in 2 hours..
Bowie – this did not happen to Cory and America.. or anyone else that stayed up late.
They decide to go to bed cause it's almost 5.
4:41 am
Bowie points out to Jag that Cirie hasn't played in any Vetos whereas Felicia has and lost them all.
7:41 am
zzzzzzz
What to leave a TIP? Any amount is greatly appreciated!
Tips go directly to pay the site costs associated with running this site.