Quick Big Brother Spoilers
Head of Household: Jag
Nominees: America and Blue
POV Players: Blue, America, Jag, Matt, Felicia, Bowie
POV Winner: Jag
Veto Ceremony: Veto was not used.
Havenots: ?
Lock your ranks in before midnight
The Situation: Blue is the target this week. No Flip in sight.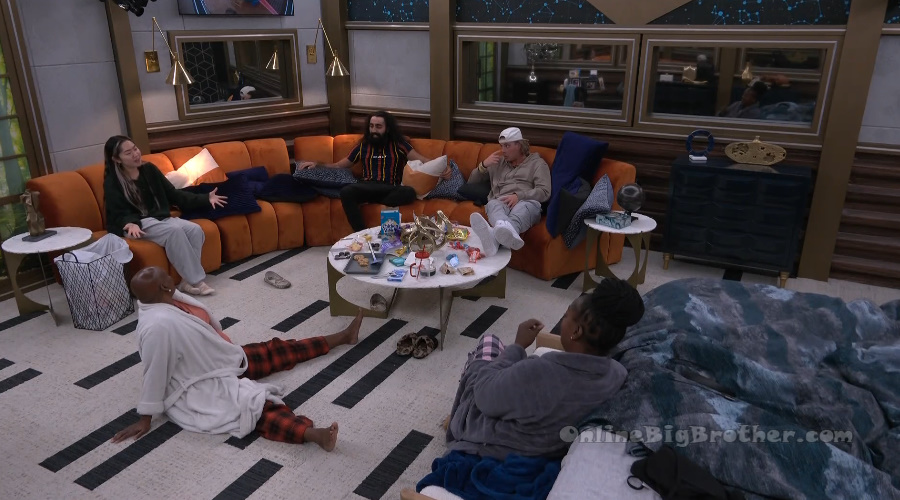 7:13pm HOH Room – Matt, Jag, Bowie Jane and Blue.
They're doing wave length with a story. Made up stories about them where they go around the room each adding to the story.

Jag offers some snacks to America. America – can you chew them up first?! Jag – yup! Jag pretends to bird feed America. (Chew candy up and spit it into her mouth) America acts like she's ready. Jag – BRO! Felicia – I am going to throw up!! Jag – that's crazy! Felicia – did you and Cory do that? Jag – answer honestly! Yes you did. America – no, we talked about it. He wouldn't do it. Blue – he will. America – I am trying to get him to. I just don't get grossed out by stuff like that. Jag – alright! Okay! Blue – the beverage component of it makes me gag! Like okay spit in my mouth whatever but the second a soda is involved that's where I draw the line. America – I've had all sorts of chewed up food in my mouth. Felicia – I couldn't even hang .. that would make me gag! Jag – what's the best. America – like a parfait. Jag – what's the worst? America – like a burger. Felicia – so what makes you want to do that?? America – its just funny. Jag – Don't YUCK her YUM! Felicia – no I am just trying to figure out if there is something to that though. Jag – are you the spitter or the spitty? America – both. Jag – which do you prefer? America – Spitty.. the one receiving right?! Jag – yeah. WOW! Matt – I'm the spitter. Jag – I see a match being made. America – what's up Matt!? Felicia – what if someone spit in your mouth. America – Cory tired that .. that's not what I mean. He was trying to be funny.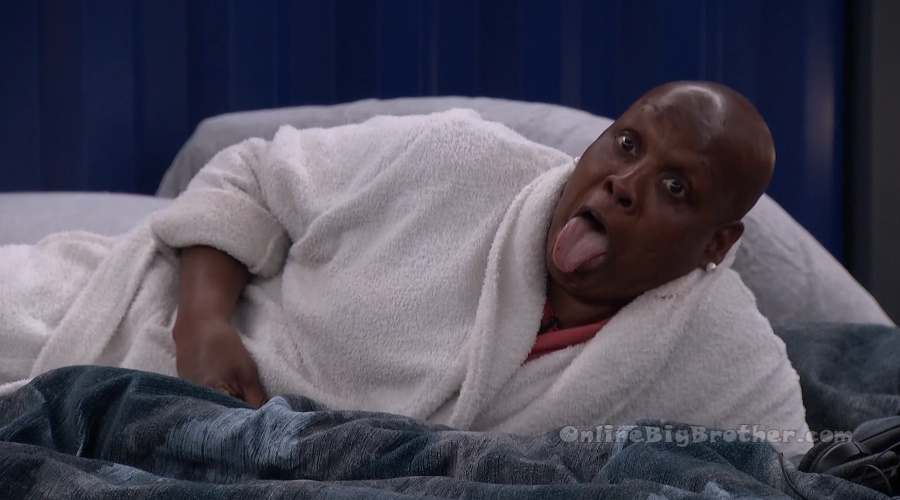 8:30pm Kitchen – Bowie Jane and Felicia
Bowie – I said to Cirie nothing really game wise to report. I haven't really talked game today. Felicia – I do hate the fact that Thursday she (Blue) is going to be caught off guard. Bowie – well hopefully he (Jag) is going to tell her.. right? Felicia – well he can't really say you aren't going to get the votes. He can only say what he wants that basically tells her the answer. Bowie – yeah right!? Felicia – but we can't say you're going home. Bowie – yeah. Felicia – yeah. Bowie – so is he going to? Felicia – I think he is sometime tomorrow .. tomorrow night.. tomorrow evening or Thursday morning. We said give her as much time as possible so that she can enjoy her last day. Bowie – yeah. Felicia – you tell people too early and then they can't recover from that. Bowie – yeah. Felicia – I said you definitely don't want to tell her before Wednesday. He might even wait till Thursday morning. Bowie – right. I mean the longer you leave it the more of a blindside it is .. that's the only issue. Felicia – and its probably going to be a split vote because Cirie doesn't want to do the 4 – 0 because she feels like she promised Blue so she doesn't want to go back on that so she said that she wants to …she wants to force Jag to have to show his hand and have to vote to be the decider (tie breaker). I was hoping to talk to him and be like rather than having 3 – 1, lets just go the split vote. I would rather have the split vote than 3 – 1. Bowie – yeah.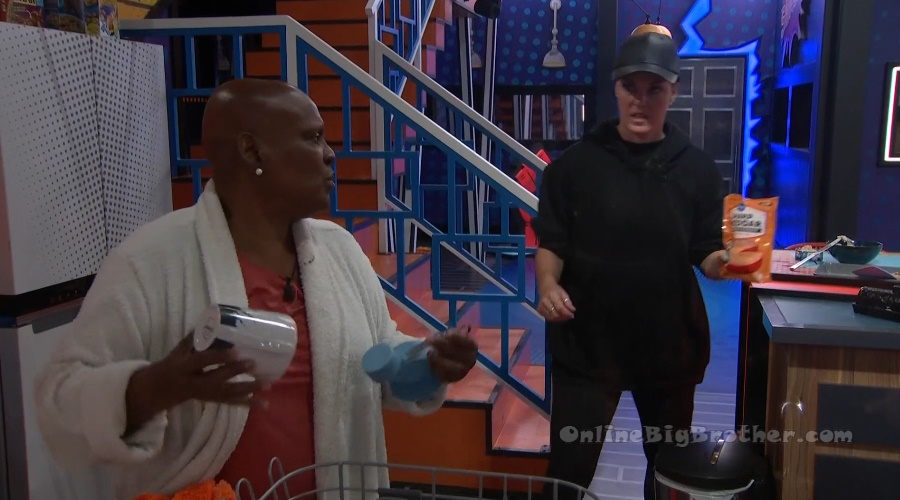 8:46pm HOH room – Matt and Jag.
Matt – I think we're good. I don't want to say that because you can never be too sure. Jag – well do we want it to be a 2 – 2 vote? Matt – we can, I am down with it. I don't care. F**K it! That helps us way more. Jag nods. We'll just see what they do. We'll see they end up doing anything. Matt – we'll talk to them again. That's what's pissing me off and making me feel weird. Jag – what? Matt – they just keep pushing. Even Felicia was kind of pushing for it. I was like what!? And then she comes to agreement. Jag – I feel like I should talk to her (Blue). Matt – do you think you're thinking of keeping her? Jag – no, its just more so giving her the heads up for me she's my target. Matt – do you think Cirie told Blue? Jag – yeah. Matt – I just think Blue is not acting. Usually she shows more worriedness… she seems confident she's staying. Bowie joins them. Matt is worried once Jag tells Blue she will then come to us (Bowie / Matt) and campaign harder or throw us under the bus. America joins them. Matt tells her that they're (Cirie & Felicia) are pushing to vote the other way so that they don't look suspicious. America – its just really nerve racking because its always been unanimous or one person that everyone wants out. Matt – and if it is a tie .. it won't matter. America – Jag will be able to do it. Matt – yeah.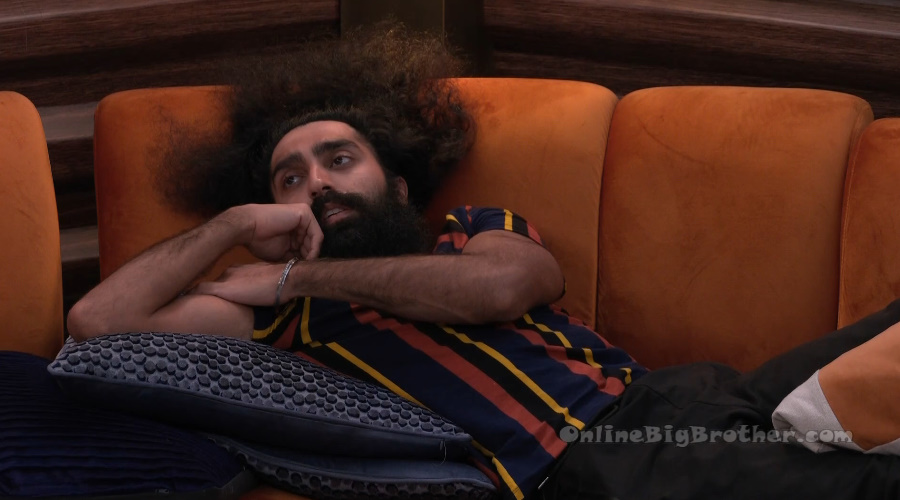 8:50pm Comic Bedroom – Cirie and Felicia.
Felicia – what I may do is go up tomorrow.. and be like we're not sure but America may have overheard us talking .. when we were talking about whether or not we should do the split vote. Cirie – we didn't realize she was laying in that bed. Felicia – because when I came in she wasn't in that bed. That's why I am not sure if she knows. And we still didn't say it is going to be a 2 – 2 vote. We just said it might be. We'll wait till tomorrow because he is going to tell her (Blue) tomorrow. She's going to know Cirie and Felicia are voting for her and so she'll be coming to us campaigning hard or throwing us under the bus.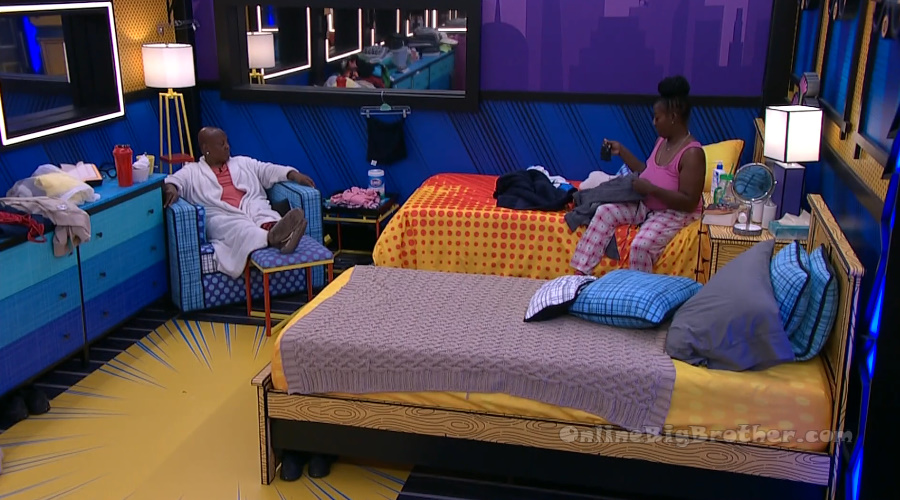 9:23pm Comic Bedroom – Blue, Cirie and Felicia are studying the days / events of the season.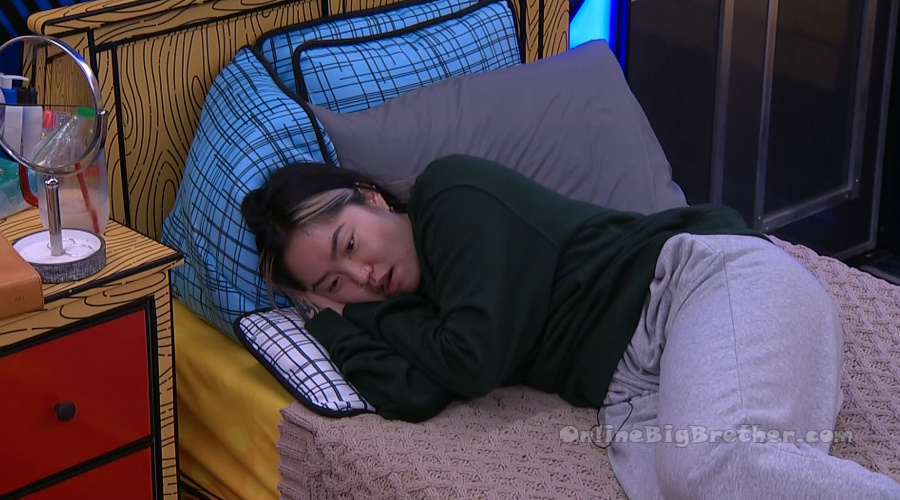 9:34pm HOH room – Matt, Jag and America.
Jag – regardless of who it is, everyone has a strong case at that point. (In the final 2 spots) America – who would you rather sit next to if it was them two (Ciire/Felicia)? Jag – I don't give a damn! America – I'm taking the whole thing anyway! Jag – no it doesn't matter because no matter who I am sitting next to the person next to me will have a strong case. America – I guess my thing is the target for me is Felicia. I don't think Cirie will switch up her game in the next two weeks.. she will be playing the same way. Matt – all of a sudden she becomes this comp beast and wins 4 in a row. Blue joins them.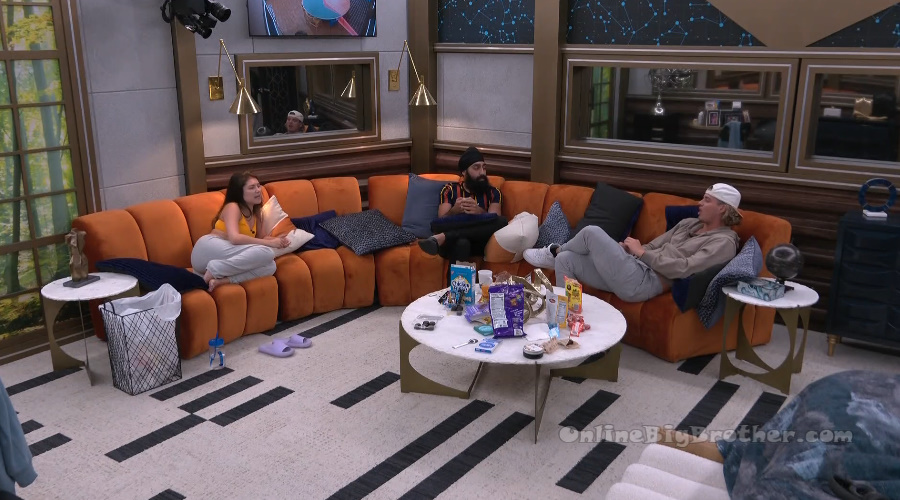 9:55pm Bathroom – America and Bowie.
America – Right now I feel like the end is in sight. It is so close.. two weeks! Bowie – it is, I just don't know how to get there. America – I feel like the whole week by week thing, I've been doing that all whole game. Like how do I maneuver and you know what I mean. And its been pretty easy because there have been other people that have been bigger targets every single week. Bowie – it was so much easier before. America – there were so many other options.. and now we're down to the point where.. Bowie – this week is easy I think. America – see even then I am nervous. Bowie – I just talked to Matt and I was like no chance I am changing. America – And I trust both of ya'll (Matt/Bowie). I trust all three of you (Matt/Bowie/Jag).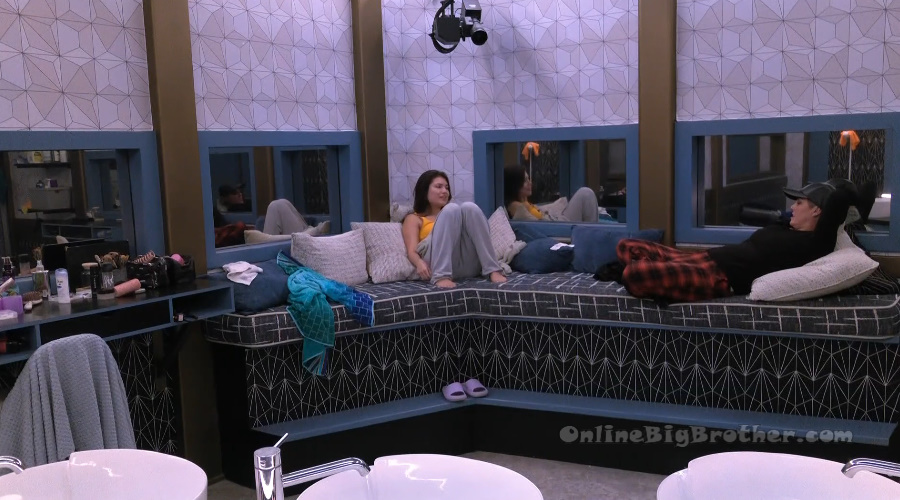 10:10pm HOH room – Jag and Blue studying the days / events of the season.
10:35pm Bathroom –
Blue studying with America and Bowie.
10:43pm HOH room – Jag and Matt
Matt – I confronted Cirie about her I said that's not cool saying that I wanted Jag out. I said Felicia has said something … I don't mean to sell anyone out. I said Cirie – I don't want you telling anyone. You can't tell anyone but I said like apparently he (Jag) thinks I want to target him and it lead back to you saying that. And she said the F**K when have you ever told me something like that? And she said.. I said Felicia I wanted to see what happens and then the same thing happened again.. this. I said it came from Felicia. She said that you had said that. And she goes the f**k!! She told me 30 days ago you said that. I said what the f**k would I say that 30 days ago.. it makes no sense. She said a month ago I had said that. But why would I have said that? Jag – to who? 30 days ago you said? Matt – that I was going to target you. Jag – to who? To Felicia? Matt – to Felicia. Jag – oh. Matt – I said Cirie why the f**k would I ever tell Felicia something like that? And that's why I was like wait!? I don't know what is going on here bro! And the fact that she was like a month ago .. so this is like day 85.. 30 days ago.. that's day 50? That's soulmates. The targets were always Jared and Cameron. So why would I .. I said I told her .. Cirie did you say this about me? And she was like What the f**k?! She grabbed the bible bro! She said I f**king swear on my life! She said I've never said anything. She said that Felicia had come to her and said Matt came to me 30 days ago and said I wanted to take Jag out. But why would I ever say that? Jag – was that when the whole blow up happened? Matt – no, I wonder if its bad math and they're thinking week 4 because we 4 I said I was going to vote you out. Jag – yeah. Matt – That's two months ago though. Jag – that's way to early. Matt – that's the only time I've said yeah I'll vote Jag out. Jag – what else did you tell Cirie? Matt – just that. I said you can't be saying this to Felicia because she is probably going to sell you under the bus if she is saying things like that .. like that's not cool because now my name is being trashed and that's not cool. I know I should have said something but I needed the truth. Jag – F**k .. so you don't think that now Cirie is going to go to Felicia? Matt – no. Jag – I think she is. I think this f**ks me though. You shouldn't have said anything because here is the thing it doesn't matter who said what.. both of them… either way I know you didn't say anything, so one of them is lying. It doesn't matter who is lying but now if it gets back to Felicia that I told you and you told Cirie. I told Felicia I wasn't going to tell anyone so me telling you and you telling Cirie .. and Cirie now going to Felicia… now going into the double Felicia may know that she can't trust me so now she might put me and you on the block again. Whereas if we hadn't said anything and she was still under the impression that she can trust me and you.. The risk of her finding out is worse than the benefit of us know that like its Felicia playing games or its Cirie playing games. It doesn't change our course. Matt – I should have just let them keep playing their game.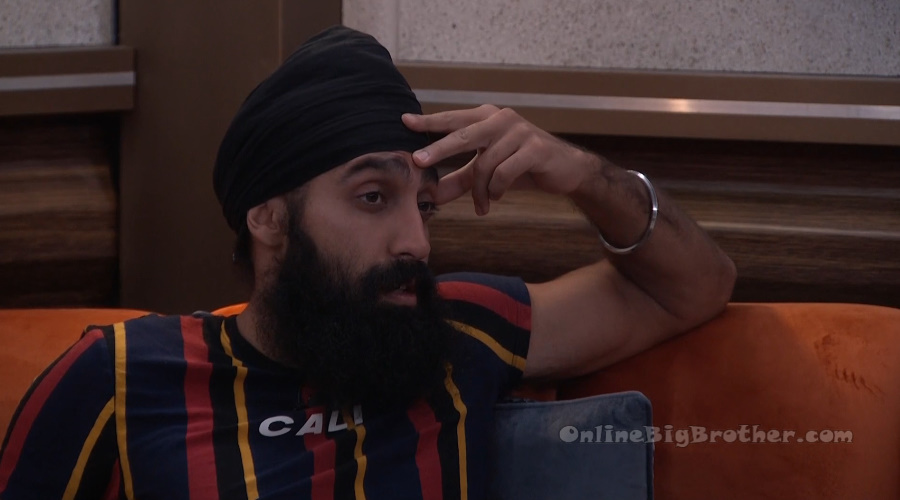 11:10pm Bathroom – Matt and Cirie.
Matt – he is nervous that I know now.. he doesn't want Felicia knowing anything. You can't say anything to Felicia. Cirie – I am not going to say anything. But here is the thing do I tell him that her plan is to split you two up to try and make you guys fight. Should I say something no? Matt – it doesn't hurt.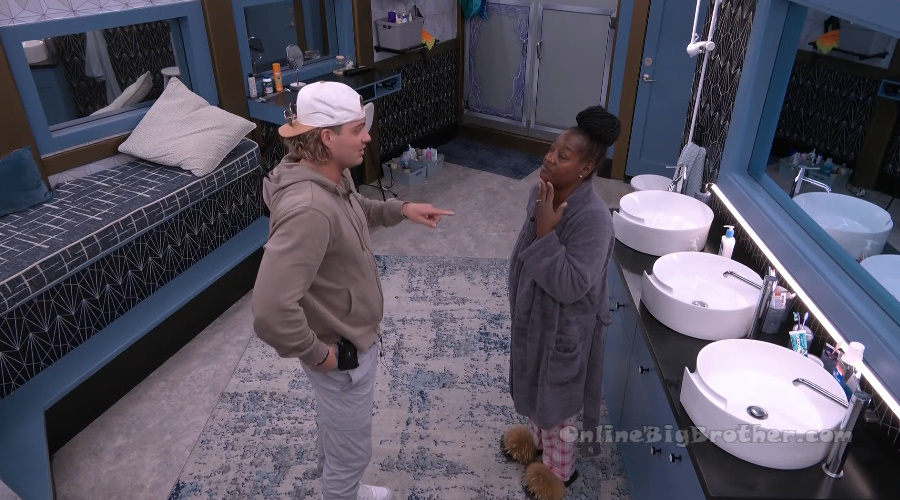 11:13pm – 11:40pm HOH room – Cirie, Jag and Matt.
Jag – so Felicia told America about a split vote? Cirie – MMMmmmmhHHhhhh.. Jag – I didn't know about that. Cirie – yeah. She was going to apparently tell you that Ameria overheard it when we was talking about it. So please don't say anything to her .. let her tell you. She told me that you talked to her this morning and you agreed to the split votes. Jag – obviously I said that I wanted it to be unanimous. My outcome is pretty clear. Jag – we have you (Matt) and you (Cirie), Bowie and we could probably get Felicia too. Cirie – yeah if you tell her its unanimous, we're not splitting it. I don't give a damn If she votes different. They talk about telling Blue or not. Jag – if any one person tells her that will just make her to go to everyone else. Cirie – I don't want to blindside her but I also don't want her to try when nothing is going to change. Do you make her try when it is not changeable. Do you say it on Thursday. Jag – I think its a Thursday thing if I say it at all. Cirie – it will just send her on a campaign. I don't want to say anything. I don't want to have to tell her Blue stop. I think for me, I would not say it to her. What are you even going to say .. like you're not even voting. What are you even going to say to her. I wouldn't even tell her? I don't think we should do it. I don't think you should say anything.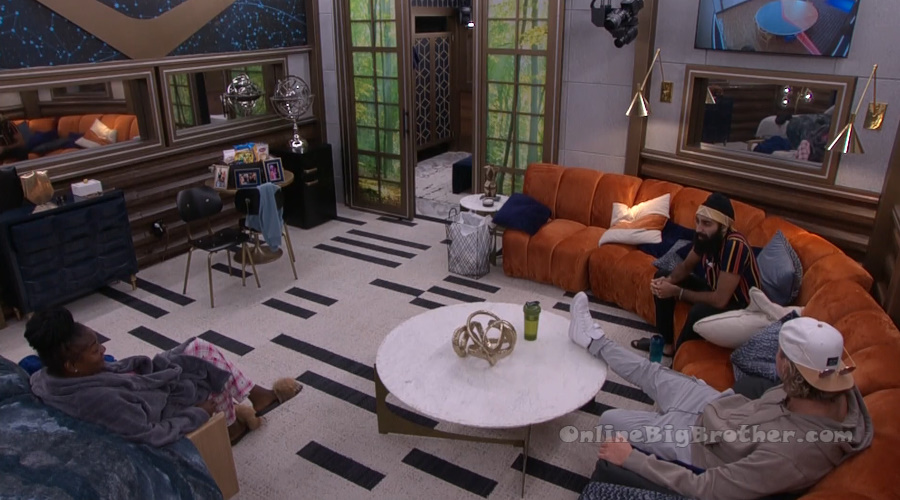 If you've enjoyed our updates this season and want to leave a tip you can do so through PayPal.
You don't even need a Paypal account to contribute. Any amount is appreciated! 🙂