Quick Big Brother Spoilers
Head of Household: Jag
Nominees: America and Blue
POV Players: Blue, America, Jag, Matt, Felicia, Bowie
POV Winner: Jag
Veto Ceremony: Veto was not used.
Havenots: ?
Lock your ranks in before midnight
The Situation: Blue is the target this week. No Flip in sight.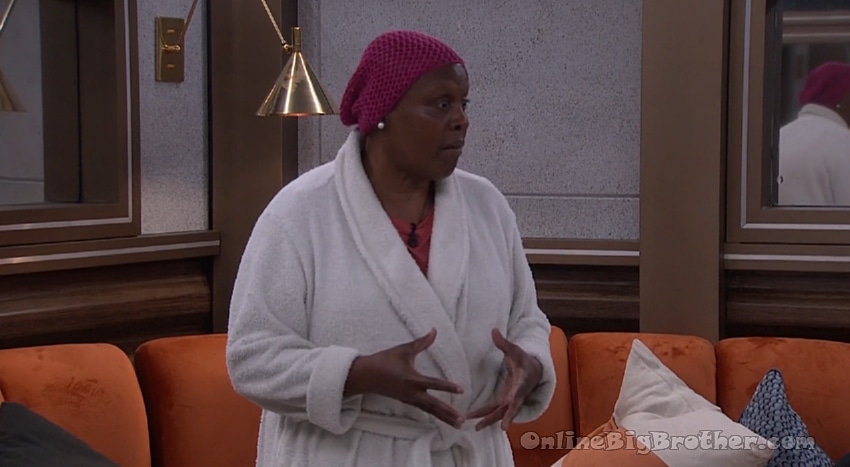 3:15 pm Felicia and Jag
Felicia – Final 5 I said what's the plan whos the target and he said "Bowie Jane"
Felicia – He said the final four is me, you, Matt and Cirie.
Felicia says she asks Cirie "Matt really said to you at some point we have to get Jag out"
Felicia – she said 'don't say anything to him wait until he says anything"
Felicia – he didn't buy the bait when I asked him what was the plan. The way he said it to me is he's sticking to the plan.
Felicia thinks Cirie and MAtt could possible be "doing something on their own"
Jag – Cirie's got a lot of relationships with people
Felicia – she does. I said to Matt I feel sorry for Blue she's going to be blindsided. She's in a final 3 with you (Matt) and Cirie and She was trying a final 3 with me and Jag.
Jag – Here's the thing. At the end of the day whether it's a 4-0, 3-1 or a 2-2, Either way Blue's going home. For me it doesn't matter I'll cast the vote to evict Blue.
jag doesn't mind if they want to vote to keep Blue if it's going to jeopardize anything Felicia had with Cirie.
Jag – clearly Cirie trusts you and she doesn't trust me.
Jag says if Cirie is voting to keep Blue then Felicia should to to deny her from getting a jury vote.
Felicia – I'm hoping to win this first HOH and I'm putting up America and Bowie Jane. I'm being straight up to you that is what I will do. I believe Cirie will do the same.
Felicia – now if America won she's putting you guys up. If Matt wins I want to believe he's putting up America and Bowie Jane.
Jag – yeah
Felicia – with Bowie I'm not sure she's probably putting up America and one of us. That is what I want to work with you to see if she'll put up Cirie instead of me.
Jag – I'll do that.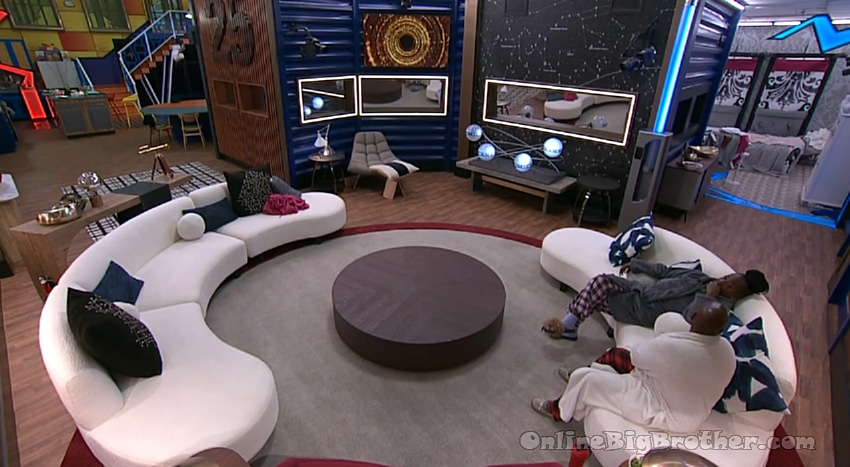 3:45 pm Felicia and Cirie
Felicia – Jag's prepared to break the split vote.
Cirie – ohh yeah?
Felicia – mmmmhmmmmm
Felicia – I said you have to be willing to do that. He said I would prefer unanimous but f*** it. If you want to do two votes to her I don't care I'll do the split vote and get the dirt on my hands.
Felicia – I said OKAY
Cirie – OKay, good he should.. he should..
Felicia – I don't know what that does to America.
Cirie – we can talk that down with America.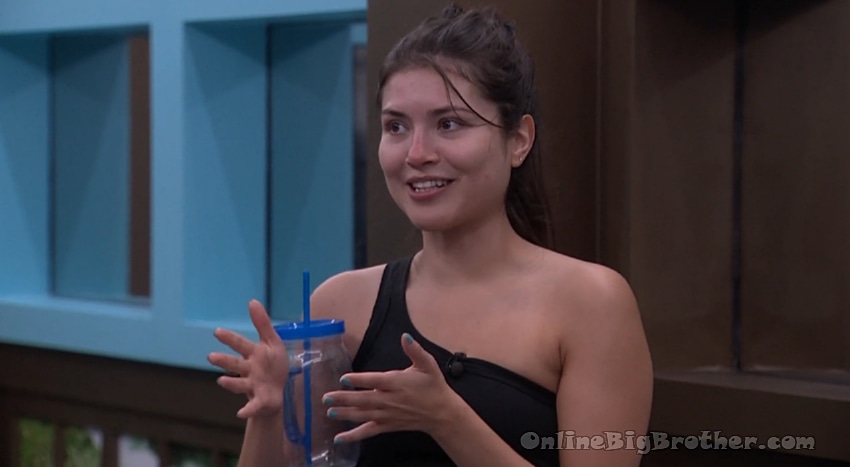 4:30 pm Bowie and America
Bowie says they have the votes to keep America her, Matt and JAg are solid.
Bowie says she doesn't trust Cirie and Felicia. "There's some good bloody players in here and people are really prepared to lie"
America – everyone lies and it's scary. I saw it last week. Cory was like I knew it was going to happen that morning.
America says Blue "might cry"
America says she never got along with Blue in a game sense. "Jared never trusted me"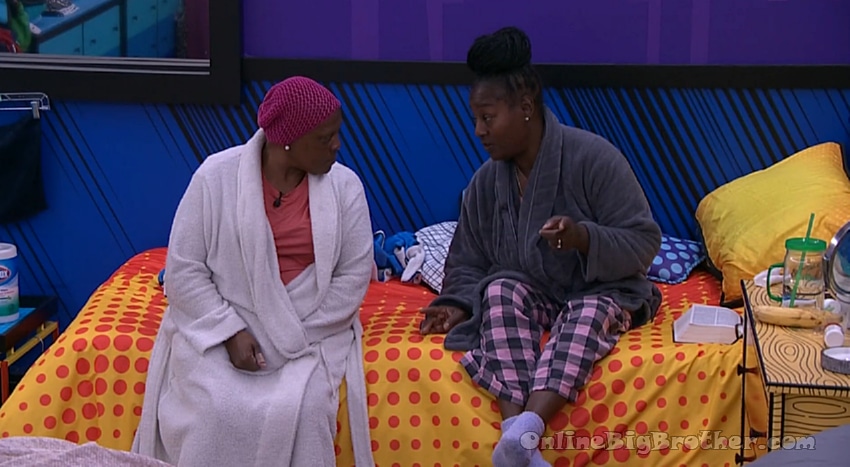 5:00 pm Cirie and Felicia (Tough to hear)
Cirie says they need to talk to America and tell her whatever she hears it's not them going against her.
Cirie – this is us making someone show their hand.
Cirie – she has to know beforehand it ain't about us voting her out.
Cirie – we didn't want him to get off scot free.
Felicia says they need to try and win this HOH. "we have to, I think we can win it"
Cirie – we only have to beat Matt or her (Bowie jane)
Felicia says maybe Matt wins after the double and takes a shot at Jag.
They continue to fantasize about winning a HOH and making a shot.
Cirie thinks they can talk Bowie Jane into not using the veto next week so they can take out one of the guys.
Cirie really wants Jag to go during the double it will be much easier. "I see myself putting him up but I also see him winning the veto"
Felicia – MMMmhmmmm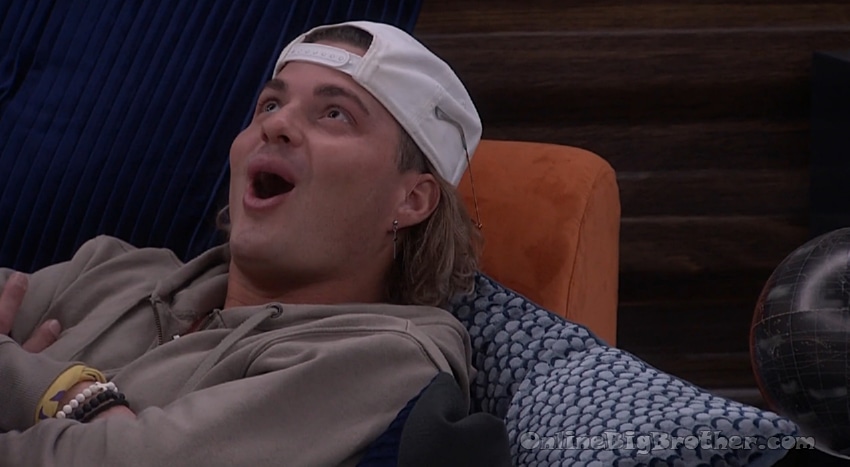 5:08 pm Matt and Jag
Jag says if Cirie and Felicia vote to keep Blue it'll show America that Matt, Bowie and JAg are with her. "if they vote to keep Blue it isolates them from America"
Jag – did Cirie mention me at all to you.. like take me out or anything?
matt – nope
Jag – you have to be careful.. I don't know what Cirie is doing. This morning Felicia came in here. I woke up to doorbells. Felicia was like I have crucial information. Cirie went to Felicia and told her that you are trying to get me out
Matt smiles "WOW"
Jag – yeah
Matt – no way she said that
Jag – felicia came in here.
Matt – Cirie told Felicia and Felicia told you that?
Jag – Yeah, Apparently you and Cirie had a conversations
Matt – we have a conversation yesterday morning it was me reassuring we need to get Blue out.
Jag – from that what Cirie said you said we have to get Jag at the double or at teh 5..
Matt – BRO.. They are trying to get between us.
Matt – they want to get carried and they want us to go after each other so they can get to the end.
Jag – Damn why the f*** would Matt say that.
MAtt – What if Felicia is making that up?
Jag – Felicia could be making that up too. Either Cirie said it or Felicia is making it up.
Matt – or Cirie is making it up. that's F***ing weird
Jag – Cirie has sold us out already.
Jag doesn't think it benefit's Felicia to come to him now and lie about that. "I can't play in the HOH so I can't take a shot at you"
Matt – Felicia is going to SNUB Cirie in a way.
Matt asks him what they want, Cirie, Felicia, Matt, Jag or Bowie, Cirie, Matt and Jag
Jag – I want me you and Bowie For sure. Bowie is the only one that is actually loyal to us.
matt agrees says he feels better with that.
They agree that Bowie will take the shot at Cirie/Felicia but if it was Cirie/Felicia they'll take the shot at one of the guys.
Jag – for us to make it to the end Bowie needs to be the third person
Matt agrees.
Jag reminds him a couple times that the common thread of this week's issues have been cirie. Brings up Cirie's half hearted attempts to save Blue and now her telling Felicia that matt wants him out.
Jag says Cirie wants to throw him under the bus on thursday by having him cast the deciding vote.
Jag – Cirie out of everyone that has been evicted the one person they say to protect and trust is Cirie, WHY?
Jag – how is it that everyone trusts Cirie?
Matt – right
Jag – Reilly all of a sudden out of the blue.. Cirie came in sold everyone out and said I want to keep you. Cory wasn't down, America wasn't down, Jared wasn't down.
Jag – Cirie did not F***Ing fight for Reilly. SHE DIDN'T there's no chance. She tricked Reilly into thinking that.
Jag – She's really good at selling people out and making the person that leaves feel close.
Jag – Cirie is f***Ing around..
Matt – she's laying low but isn't laying low.
Jag points out Cirie is trying to get close to America all week.
Matt – hopefully America sees through it
Jag – Hopefully but I don't know.. Cirie has tricked everyone else.
Jag points out that everyone from all the alliances were super solid with Cirie.
Blue joins them.

6:05 pm Cirie and Felicia
Felicia says Jag doesn't want Blue to know she's leaving this early.
Cirie says Cory told her right before he was with America that he saw America "Straight up lie" to Jag.
Felicia – was the Reilly vote. She said she was going to keep REilly but she never had any intentions to keep Reilly.
Cirie – Cory said she's a liar.
Felicia says if they take out jag who is their final four? "me, You, Matt and America?"
Cirie – mmmhmmmm
Felicia – I don't know if I trust that sh1t
Cirie – what do you mean?
6:40 pm Felicia has been rolling cookies. Cirie watches
"mmmmhmmmmm"
They talk about baking "from scratch"
Cirie says her husband are now alone so they spend a lot of time "Trying to cook something delicious and watch something good"
6:54 pm Cirie and Felicia talk about the type of saran wrap they use.
After a pause of nothing being said
Cirie – mmmhmmmmm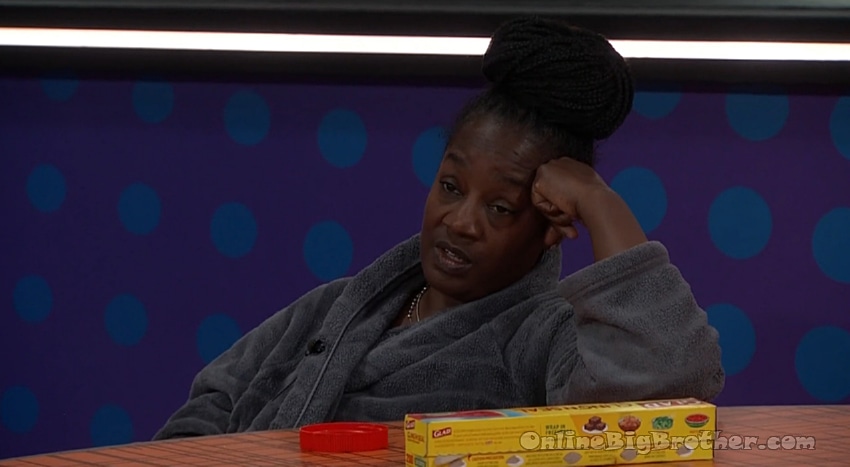 Cirie says she's worried about what America is going to say to Jag.
Cirie asks what Jag is saying his plan for double.
Felicia – he said America and then when we get to the five it's Bowie Jane.
If you've enjoyed our updates this season and want to leave a tip you can do so through PayPal.
You don't even need a Paypal account to contribute. Any amount is appreciated! 🙂