Quick Big Brother Spoilers
Head of Household: Matt
Nominees: Cirie and Felicia
POV Players:
POV Winner:
Veto Ceremony:
Havenots: No more havenots
Lock your ranks in before midnight
The Situation: Matt is putting Felicia and Cirie on the block with Felicia being the target. As it stand now if veto is used a Momma goes.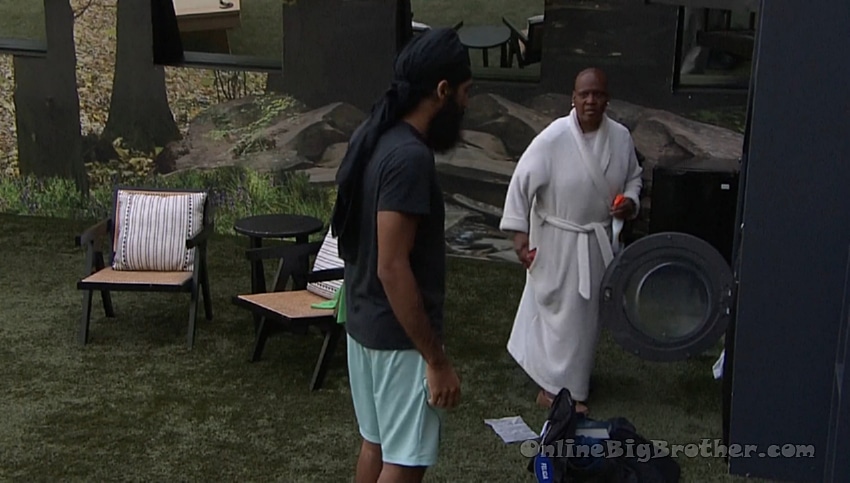 10:00 am Houseguests are mostly up.
Jag – I'm so thankful that the outside it open.
Jag thinks this means it's a basement veto.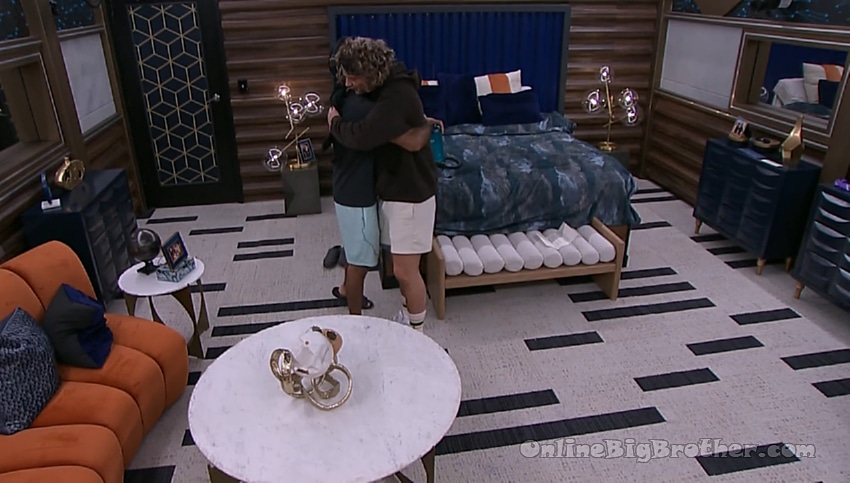 10:05 am Matt and Jag
Matt – I couldn't get to bed until 7
Jag – Same I was up
Matt – just thinking about everything
Jag – Dude I'm so excited about this.. I'm so happy for you
Matt – it was a nice letter..
Jag says seeing Reilly's picture and letter after Matt winning HOH feels like his two best friends in the house.
Matt complains about Felicia always coming up for meetings.
Jag points out that right now he's having his meeting with him.
Matt says for next week as long as one of them wins veto they make it to final 3.
Jag goes on about how one of their three have to win the veto.
Jag – out of the three of them Bowie will for sure take us to the final 3.
Matt – I'm just scared of her teaming up with Cirie and coming after us
Jag – no she's not going to do that.
Jag – we had to win this HOH I don't know about Cirie and Felicia. Blue had been in Cirie and Felicia's ear.
Matt trying to figure out if they should let Cirie win the next HOH.
Jag – Whoever wins HOH they are going to be in the final three at this point.
Jag – for next week there's three ways to make it to the final 3, Winning HOH, Winning Veto or having the vote.
Jag – for you there's two ways you can't play in the HOH.
Jag says maybe Bowie should win HOH put the two of them up maybe that will make her feel comfortable to not win the veto.
Jag – teh Veto LOW KEY is the most powerful, the veto is 3v1 the HOH is 2v1, Veto will be easier it's me, you and Bowie versus Cirie.
Jag – this next HOH I'm going to get it..
They high five.

Jag – I'm not screwing that one up.
Matt – the MOMMAs are going to campaign to me today it'll be either Bowie or you.
Matt will tell Cirie "don't worry you are the pawn.. Jag no brainer, Bowie didn't put me up when she was HOH she could have. Therefore I can't put Bowie up.
Jag – Cirie will ask what if Felicia wins Veto? you are going to say Bowie goes up and Bowie goes home?
Matt – I'll have to
Jag – what will you tell Felicia?
Matt – do I tell her we're backdooring Bowie?
Jag – does the backdoor even make sense?
Matt – I don't want Bowie to get nervous and play her hardest in this veto.
Matt – what if I say I'm backdooring you?
Jag – they won't believe it.
Jag – Tell Felicia 'I want Bowie gone she doesn't have to sit on the block for that to happen the only thing that has to happen is she doesn't win the veto"
Mat t- the better chance for her to not feel like she needs to win the veto is if she's not on the block.
Jag adds to tell her that whoever wins the veto Bowie will go home.
Jag – at this point, like LOOK, there's five of us. Once we win the veto I don't even think it has to be a blindside. It could be but I don't think it has to.
Matt – what do you mean?
Jag – let's say tomorrow I win the veto.
Matt – keep the noms the same
Jag – yeah, it's not a blindside
Matt – for Felicia it is. She'll be like 'I had a weird feeling, she'll play a guilt trip and try to make us all feel guilty she did that yesterday already'
Jag – that was so weird. At this point we just need to win the veto. The three of us have to pull out another win.
Matt – I got 6 you got 8 that's 14 (comp wins holy sh1t)
Jag – that's pretty good. those are good numbers
Matt – COOKING
The talk about being in the final 2 as the "minutemen" and it being "So Iconic"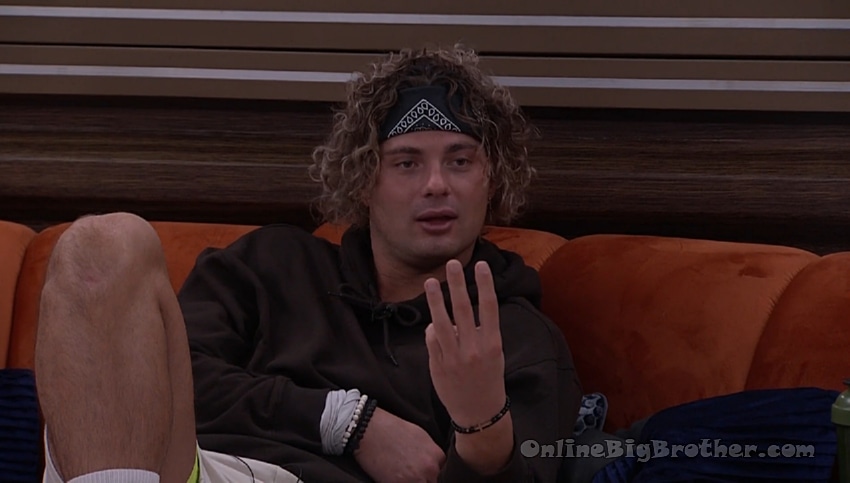 Matt – Three more comps before the final.
Jag – we're going to make it happen.
Feeds cut. When we're back they are planning their strategy to win the final HOH.
Matt called to the Diary room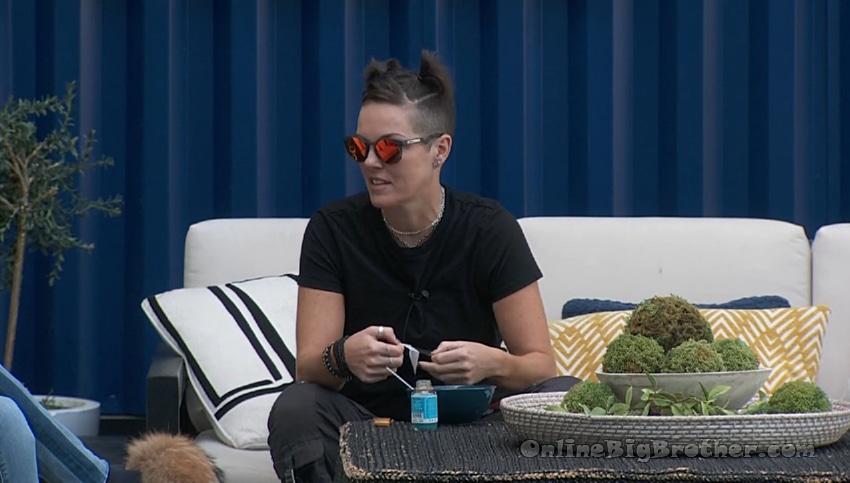 11:00 am Cirie and Bowie
They talk about how happy Matt was to see the picture of Reilly and get the letter. They liked seeing him so happy. Talk shifts to sh1tting on Felicia.
Bowie – yesterday telling Blue, what a silly move (Felicia told Blue she was being evicted)
Bowie we know what she did it. She's selfish
Cirie – it was her spirit
Bowie – She didn't care about Blue that's not why she did it. She's no fooling anyone. She was so paranoid yesterday.
Cirie – before yesterday before it started. Just speak of the devil put her into a tailspin
Bowie – it really did. She tried a last minute flip, when she said 'how are you voting, are we still doing this?'
Bowie – what do you mean 'are we still doing this'
Bowie adds that Felicia was saying that Cirie was also unsure about the vote. "I didn't believe it"
Cirie says Kirsten went home because she was playing the game too hard and So did Hisam. Felicia is being put on the block because she's playing the game too hard.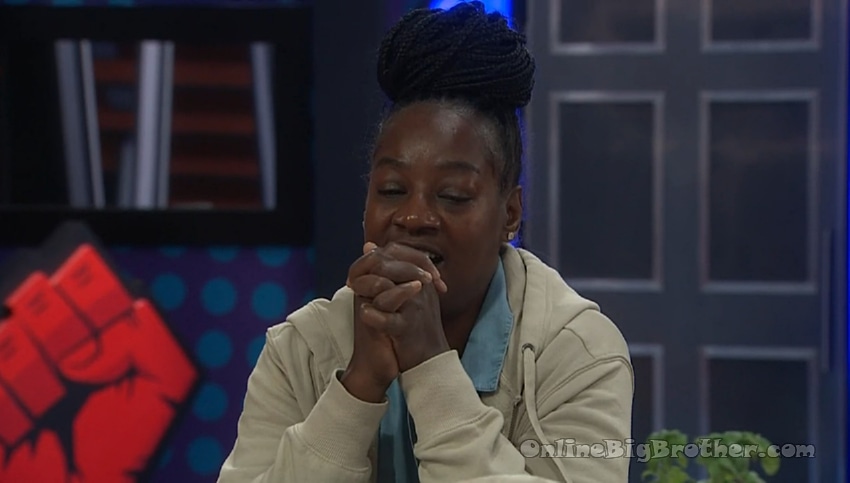 11:11 am Matt and Cirie
Sh1tting on Felicia.
Cirie – do I even need to ask who's going up?
Matt – I'm going to have to put up someone. I need to talk to Bowie.
Cirie – you told me you will never put me up.
Matt says it doesn't matter who goes up the veto matters says that the only thing that can't happen is Felicia winning the veto.
Matt – I can't play next week so I have to be careful. I can't put up Jag.
Cirie – Bowie has never been on the block and we have her. There's not reason she should even be worried.
Cirie – just out of fairness if we are in a four you will have to tell her about the four and you keep putting the one person up. Especially after you told me you will never put me up.
Matt – I know I know
Cirie – Reilly is watching remember what she said
Matt – I know I know
Cirie – anybody's else's HOHI would expect it but not yours.
Matt – I know.. I have to talk to Bowie. I know she'll.. UGH…
Cirie – it's us.. Felicia should be worried.
Cirie goes on about how Bowie should go up based on "Fairness" (MIST)
Matt points out if Bowie goes up she could play harder in the Veto.
Cirie – She's never gone up. If Bowie Goes up nothing will change that it's me, Bowie, You and jag till the end.
Feeds flip to Bowie and Felicia chit chat.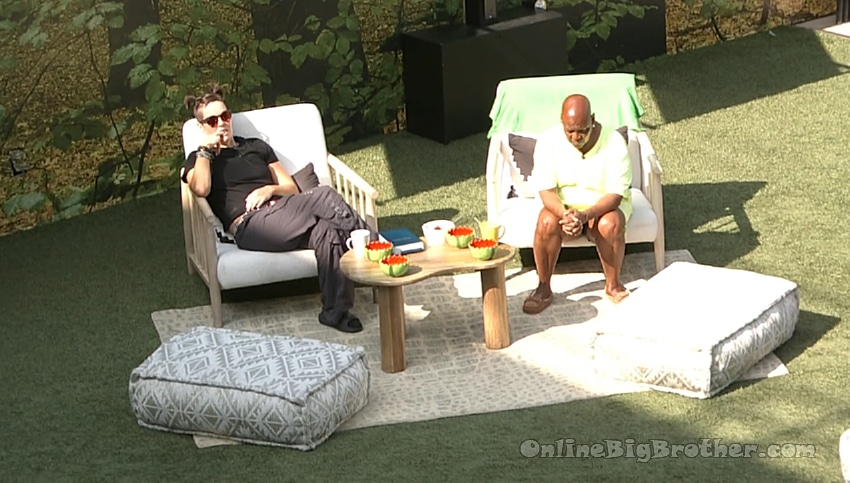 11:23 am Felicia and Bowie
Felicia complaining that everyone was after her during the HOH.
Bowie thinks they were also going after jag.
Felicia – I wanted Matt or Cirie to win because they haven't won HOH that was the goal. I was trying to figure out why is everyone coming after me?
Felicia – Jag's been HOH twice, Let's take him out first. it was like they were determined I would be the first one out.. like OKAY
Felicia – I know it's a game but it still showed me something. I just need day 100 to get here so I can take my a$$ home. I am so tired of this.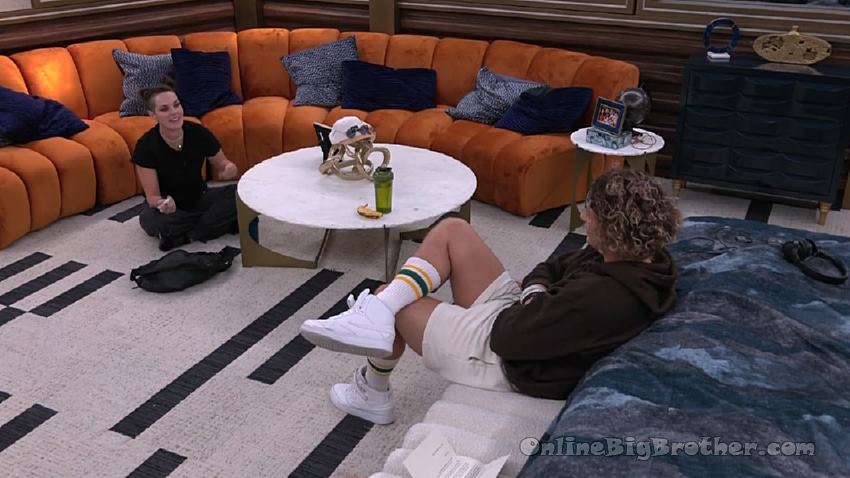 11:56 am Matt and Bowie
Matt tells her Felicia and Cirie are going up.
Matt – Cirie will go after Jag over me but if Jag goes up I'm in danger. If Jag wins Veto i'm on the block.
Matt – I felt awkward when in the kitchen when Cirie was like 'Boy don't you think about putting me up'
Matt – I was like Yeah… F****
Bowie – She should have won. She hasn't done anything
He'll tell Cirie Felicia is the target if Felicia wins veto he's telling her Bowie is going up and out. he reassures her that she is not the target Cirie will leave in that scenario. with Felicia he'll say they are both pawns and Bowie is the target. His angle to Felicia will be that he doesn't want her to try to win the veto.
Bowie mentions they should throw the veto to her she won't use it then Felicia won't be mad at Matt.
Matt says he has no problem being a savage and winning the veto and telling Felicia/Cirie he's not using it.
Bowie tells him earlier last week Cirie was telling her she wants to make the vote to evict Blue 2/2 so Jag has to show his hand. It wasn't only Felicia they both were (True)
They start sh1ting on America for a bit. After talk moves to Felicia freaking out yesterday.
Bowie points out that Cirie and Felicia have done jack sh1t for weeks (Very true.. other than the MIST)
Bowie tells Matt to say to Felicia and Cirie that you have to win competitions to prove your loyalty.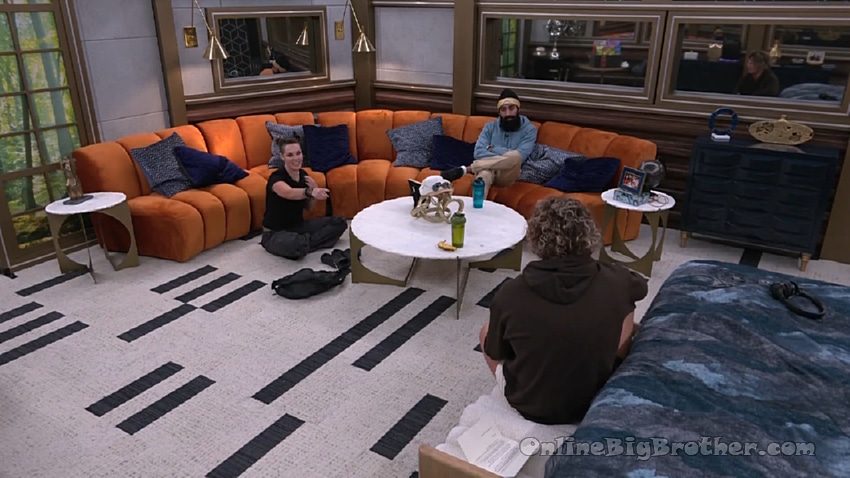 12:38 pm Matt, Jag and Bowie
Matt – Bro Cirie was like PUT her (Bowie) Up she was like 'don't do that to me I Always had your back'
Matt – In the kitchen she goes 'I'm good right?'
Matt brings up Cirie saying that Bowie has never been up and she should go up for the team. He's going to throw that back at Cirie and point out he's never been up. If Bowie had won HOH would she be pushing him to go up?
Jag says Cirie/Felicia are tripping downstairs because him and Bowie have been in the HOH so long.
Matt laughs says Bowie called it.
Jag – Cirie said to me that Felicia said to her if they both go up she'll know that Matt/Jag Played them.
Bowie – So what
Jag – Cirie said that to me. I was like Cirie you yourself said that don't pretend it was Cirie.
Bowie – she's been doing that a lot she said Felicia said that but really she's saying it. (True.. MIST)
Matt brings up if he doesn't put Cirie up and Cirie wins HOH she pulls Felicia down Jag has to go up and Cirie/Felicia control the vote. This point alone means Cirie and Felicia HAVE to go up.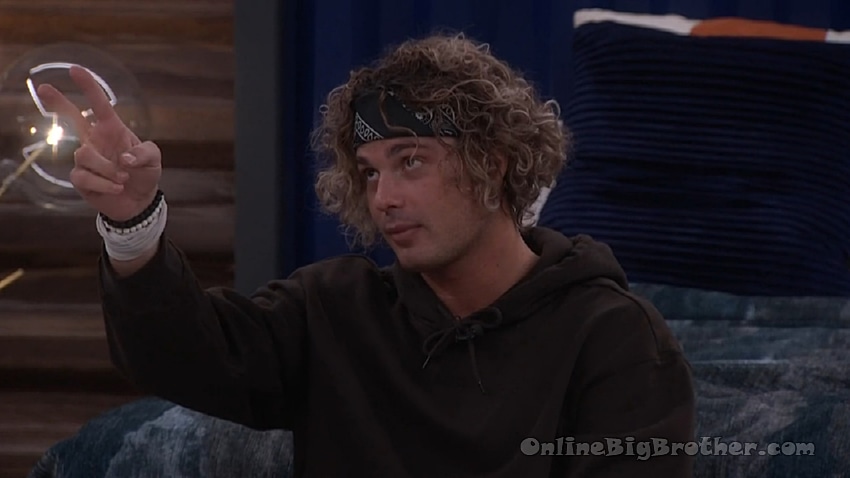 12:46 pm Matt and Felicia
Matt tells her that she's going up as the pawn.
Felicia – I've been the pawn 6 times this is 7, who else is going up
Matt – Cirie, My target isn't you, I can't put Jag up. Bowie is the target. I can't put her up I need her comfortable. Bowie will play hard if she's on the block. When she's not on the block she doesn't play as hard. If I make her feel comfortable we can all be there.
Matt adds if Bowie wins the veto Cirie will be the target, I talked to Jag "Jag is a vote I am the deciding factor"
Felicia – can I trust you and Jag on this
Matt – yes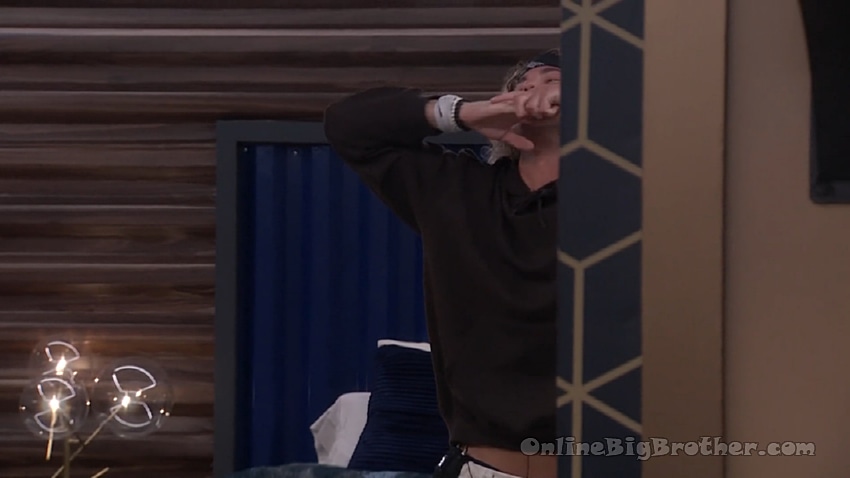 On her way out Felicia says "I trust you MATTY ICE"
Matt – I got you, I got you, I'm sorry.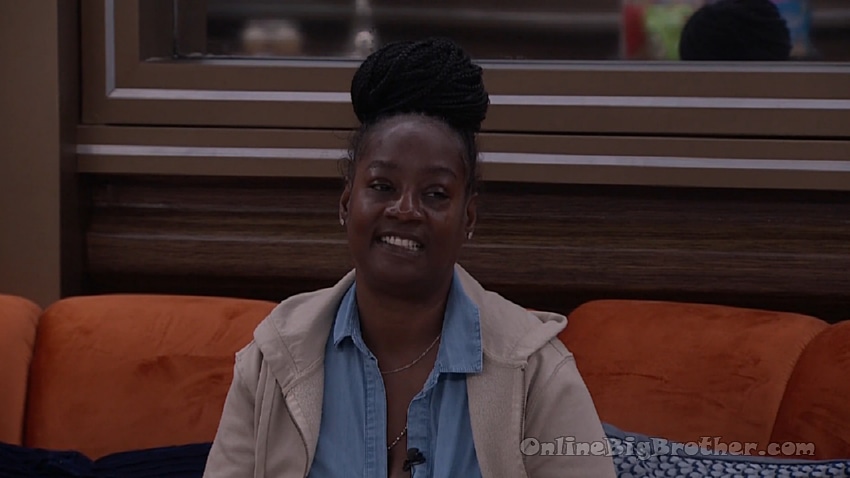 12:56 pm Cirie and Matty ice
Matt tells her she's going up the target is Felicia.
Matt – I know you are going to be safe.. here's the thing to I am willing to backdoor. At the same time Bowie's won 2 HOH's and she's never put me up.
Matt – everyone in this house wants Felicia gone.
Matt says Cirie will be here next week.
Cirie – okay, what's the plan for you, Jag and Bowie to be final three
Matt stutters.. for me I want Felicia gone it's best for my game.. I love Jag of course.. is this the week?
Cirie laughs "there's only one week left"
Matt says if he put Jag up right now he would play his heart out and win the veto.
Cirie – let's say you win the veto then what?
Matt – it's going to suck but I'll Have to deal with three days of that. use it on hims then… what sucks is I go into next week not playing Felicia will COOK me, Bowie will cook me. I can't make moves too early.
Matt – you are safe.. Jag and Bowie are not voting you out they will vote Felicia out. They never talk bad about you. They talk bad about Felicia.
Cirie says she's not mad at him she's looking forward to seeing what happens with the veto. Brings up that everybody's chances are better at winning if Jag is gone.
Matt – also while I'm here feel free to use the bath and shower anything, all yours.
Cirie -mmmmhmmmm
Matt offers her a glass of wine on Sunday.
Cirie – Okay..
matt – it's not a fair trade
Cirie – NO It's not Mother F***Er
Matt – it's the least I can do
Cirie – Especially since I let you win yesterday (wait what)
Matt – I know I know..
Cirie – mmmhmmmmm
Feeds flip..

1:13 pm
Cirie says there might be a possibility Matt takes a shot at Jag.
Matt gives him a rundown of his talks they both agree Felicia has to go this week.
Jag – you're lying to both of them it's part of the game.
They talk about how Cirie is doing better in competitions lately.
Jag and Matt talk about how nobody this entire season have stayed as loyal as Matt and Jag have.
Matt says Cirie is starting to plant things. THey agree Bowie was the one person they were able to trust in this house.
Matt – no one wanted to work with us because we're threats. Bowie is awesome
Jag – Bowie is awesome dude.. we did so good
Matt – we're all f***ing loyal to each other.
They go on about their competition wins.
Matt – one more week BRO
Jag – we just have to win this next one.
Matt – No matter what we get rid of one of the MOMMAS and we take on the other one no matter what. (LOL)
Feeds flip to Cirie alone in the backyard going "MMMMhmmmmmm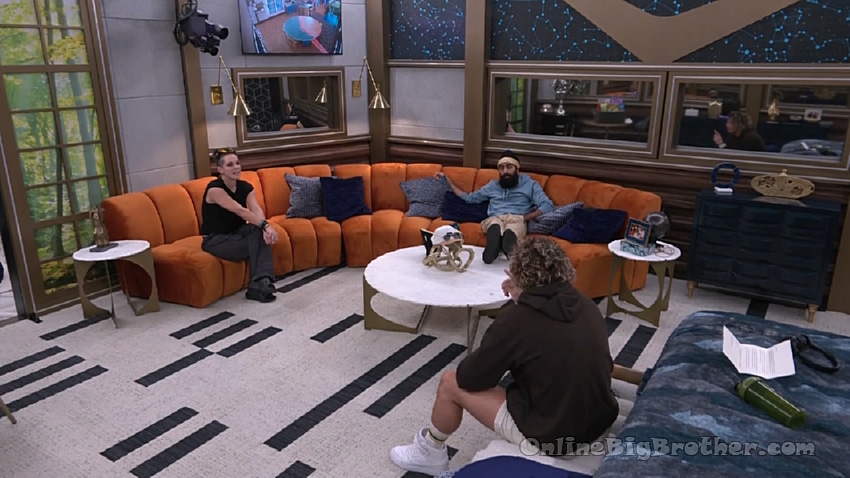 1:40 pm Matt, Bowie and Jag
Trying to come up with a name for their alliance
Bowie asks how it went. Matt gives her a rundown.
Matt says Cirie has been trying to plant seeds to get him to go against Jag.
Matt- I need them both comfortable I don't want this house to be uncomfortable all week.
Matt says Cirie has played survivor she knows how to plant seeds.
Matt is making Cirie thing he'll be making a big shot but he's not doing what she thinks.
Bowie – Felicia is not a very good liar Cirie is much better at it. When she gets caught she moves away from it.
Matt says Jared was also a very good liar.
Matt says Cirie's side of the house were so disloyal to Jag
Jag – so Disloyal. I almost got f***ed BRO I was so blindly loyal.
Matt – they were good liars
Jag brings up jared putting him next to Red as a pawn.
Matt- but you weren't
Jag – I almost got cooked
Jag mentions Even Matt was saying put me up as a pawn.
Matt – I would have been COOKED
Bowie – You know what Cirie said to me before? I said ahh the Jury is going to be mad just a reminder that I got blood on my hands and she doesn't and she goes…..
Matt- this is why it can't me them in the end because they will win
Bowie – they will win.
Jag – they have no blood on their hands
Matt – no blood I know and people will be bitter
Bowie gets to finish her thought "she said we'll you've always played the middle"
Bowie – I was like ahhh C'mon… She played the middle
Jag – she lives in the middle. she doesn't pick a side
Matt – she knows this works, she's done it in survivor her formula works. She's always gone final 2. she does it over and over that is why she's been in final 2 multiple times. (misted people)
Bowie – YEAH
JAg – which is crazy
Matt – multiple times final 2
Jag – we're just figuring this out right now
Matt – her next step will be breaking us apart that is how she gets final 2 survivor but we smart.
Bowie – in survivor you have only 30 days to work something out here it's 100 days. Hang on a second things aren't matching up.
Jag – they're (Felicia and Jag) are cooking something outside anyways.
Bowie – there's nothing to cook just win. All they can do is win.
Jag – I want them both out of the house I'm sick and tired of them. (same)
Bowie – same, Cirie and Felicia have been in every single alliance.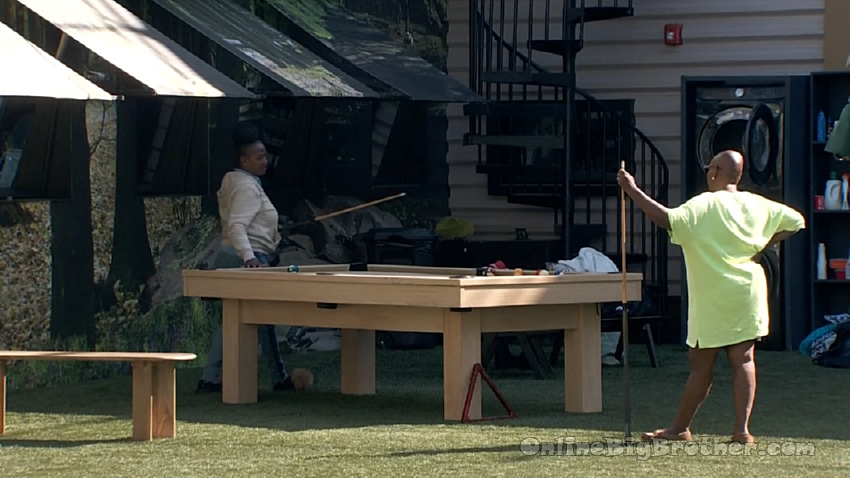 Feeds flip to the MOMMMAs playing pool feeds return to Jag/Matt/Bowie trying to figure out their alliance name.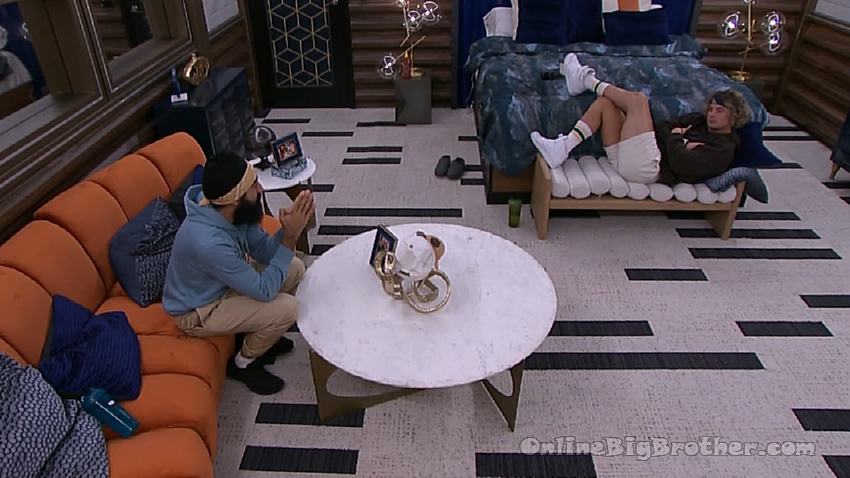 2:18 pm Jag and Matt
Jag – Truly here is what happened the moment Cam left, fugitives are over but the moment Cam left we turned it up. We became the mafia. When Cam left I won my comps got Cory out, Blue out, Bowie won got america out, You won. You know what I mean?
Matt – My big move! I got Felicia out.
Jag – you won the vetoes
Jag – we're not running from shots anymore we're taking the shot they're running
They decide their final 3 with Bowie is the Mafia.
Matt – it's iconic
Jag – it's iconic
(Sigh)
Bowie joins them and they agree on the mafia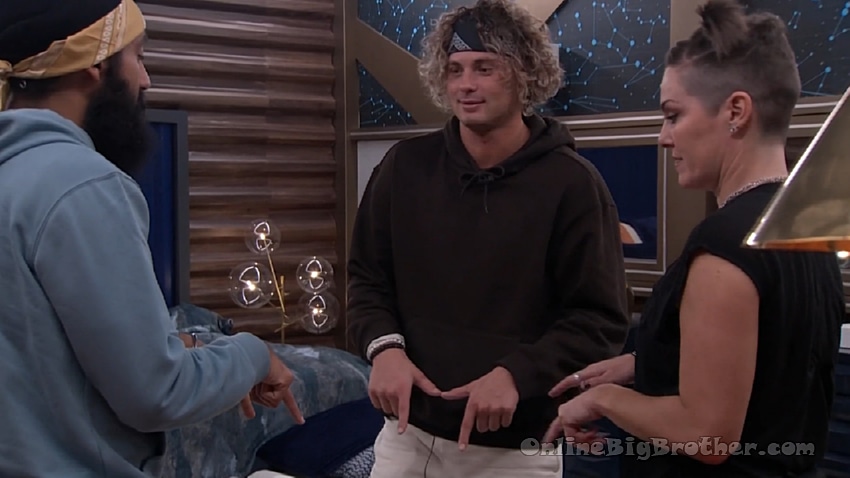 They start to work on a new mafia hand signal. Matt is really keen with the fingers showing a M for Mafia.
Bowie – the m for mafia turns into a W for winners (LOL wtf)
Feeds flip to the MOMMAS playing pool
2:33 pm feeds cut to pound for the veto Ceremony
3:51 pm Feeds return everyone playing pool. Cirie and Felicia on the block.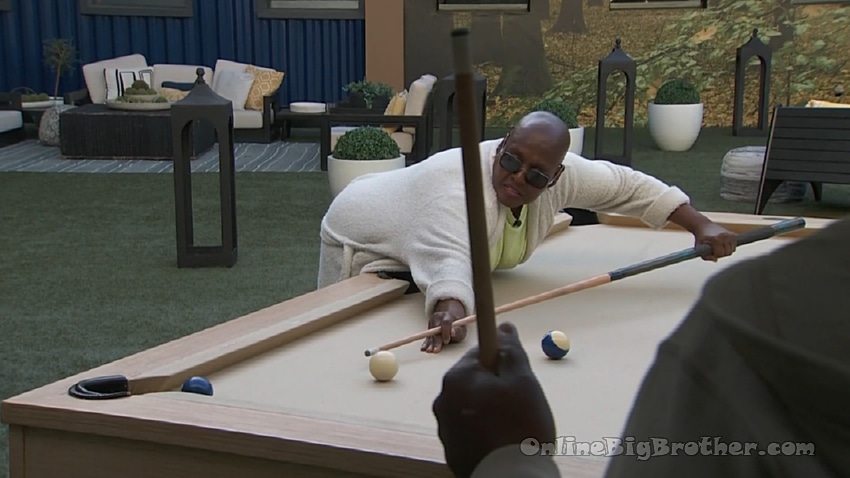 4:00 pm pool with some chit chat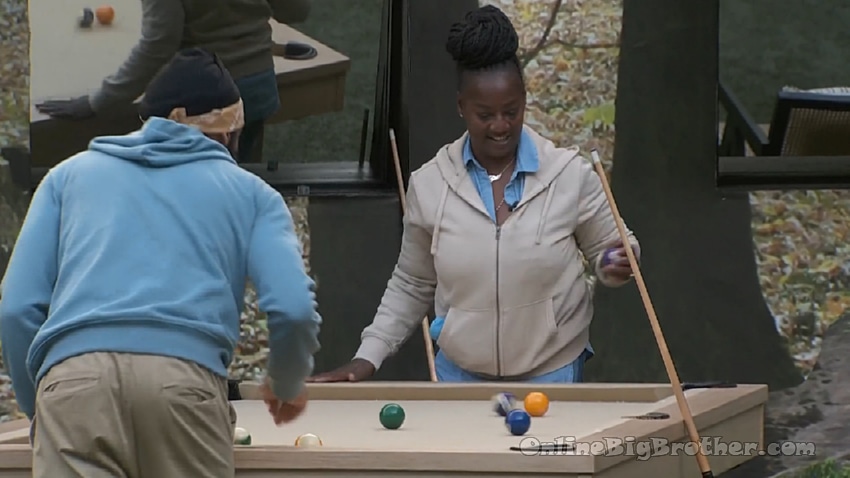 4:12 pm Jag, Cirie and Matt messing around with the pool table.
Teeth out Meat in #BB25 @DawgsBigBrother pic.twitter.com/C4NbF2xvt1

— OnlineBigBrother.com (@bigbspoilers) October 27, 2023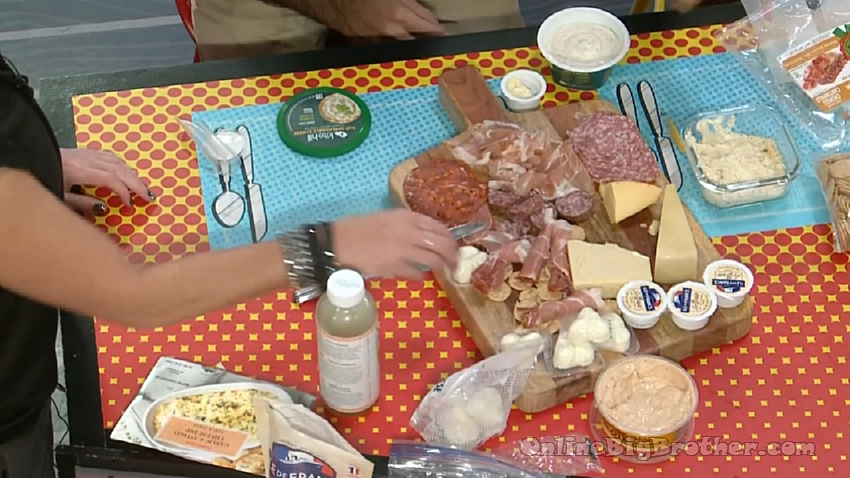 4:26 pm They are enjoying a meal of deli meat.
What to leave a TIP? Any amount is greatly appreciated!
Tips go directly to pay the site costs associated with running this site.